If you are wondering if Bluey is available at Disney World (or Disney Land), the short answer is no, Bluey is not currently available.
Continue reading to understand WHY and WHEN we can expect Bluey to show up, and what to do in the meantime if that little someone in your life is BLUEY CRAZY!
The Rise of Bluey: An International Sensation
On October 1, 2018, the Joe Brumm-created program made its debut on the Australian Broadcasting Corporation (ABC Kids) and the British Broadcasting Corporation.
The blend of relatable family values, humor, life lessons, and delightful animation quickly caught the attention of viewers around the world.
In 2019, Walt Disney Company, recognizing the potential of Bluey, acquired the international broadcasting rights. Since then, the show has been available on Disney+ and the Disney Junior network, further boosting its popularity.
Disney Parks: The Ultimate Fan Experience
Disney Parks, known for their immersive experiences, often integrate popular characters and shows into their attractions.
Given the enchanting world of Bluey and its widespread popularity, it's easy to see why fans are eager to see Bluey and her family in Disneyland Resort and Walt Disney World Resort.
Disney Junior characters already have a strong presence in Disney Parks, making the addition of Bluey character interactions seem like a logical move. However, there's a significant barrier to this dream becoming a reality.
The Ownership Hurdle
Despite Disney owning the international streaming rights to Bluey, the merchandising rights remain with BBC Studios.
This means that currently, Disney cannot introduce Bluey and family character interactions in their parks, much to the disappointment of fans.
Bluey in Real Life: The Touring Show
For now, the closest fans can get to 'meeting' Bluey in person is through Bluey's Big Play, a live show touring the United States. Although this show is not a Disney venture, it offers a chance for fans to see their favorite characters brought to life.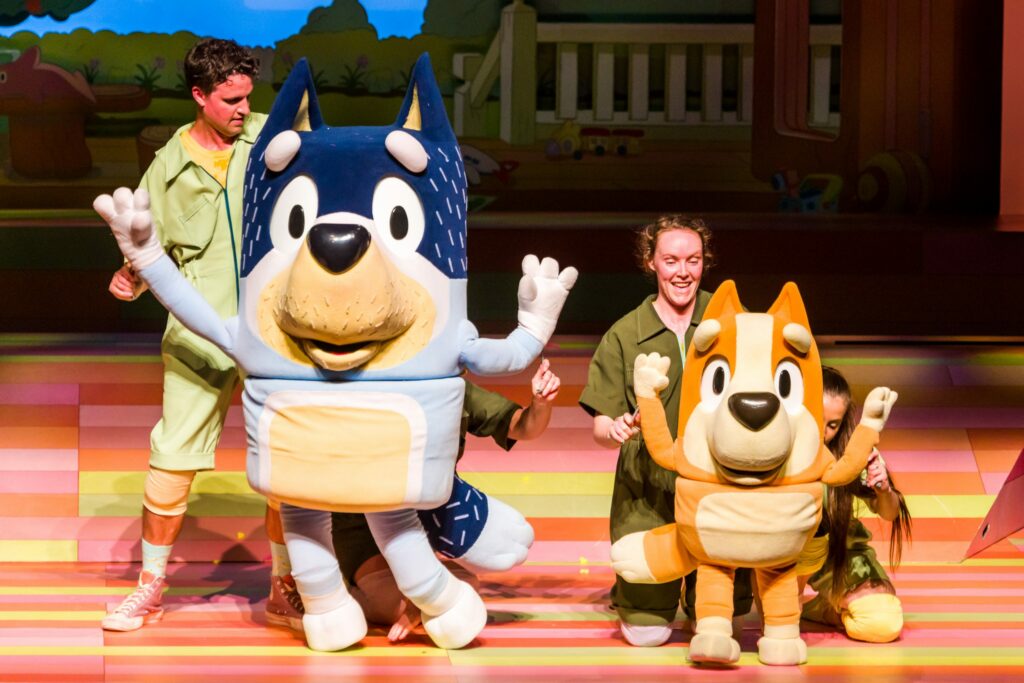 What Does the Future Hold for Bluey at Disney Parks?
Disney's CFO, Christine McCarthy, has mentioned that the company plans to leverage consumer data from Disney+ to inform the Imagineers – the creative brains behind Disney's theme parks. This data-driven approach could potentially open doors for Bluey to make an appearance in the parks.
Interestingly, theme park reporter Scott Gustin revealed that Bluey outperformed all Disney shows, including the popular Disney+ original, The Mandalorian, in terms of viewer popularity.
The Success of Other Disney IPs in Parks
Disney has a track record of bringing beloved IPs to their parks. The recent developments around EPCOT's newest attraction – Journey of Water, Inspired by Moana, and the confirmed development of an Encanto-themed attraction reaffirms this trend.
Given Bluey's popularity, it seems possible that Disney could be exploring opportunities with Ludo Studio, the creators of Bluey, to bring the lovable Australian Shepherd to the parks. However, as of now, Disney has remained silent on this possibility.
The Dreamworld Connection
It's noteworthy that Bluey and Bingo have made appearances in the Australian theme park, Dreamworld. In Dreamworld's "ABC Kids World" section, several children's shows, including "The Wiggles" and "Bananas in Pajamas", have been translated into kid-friendly rides. Could this be a hint at a future Bluey-themed ride?
Bluey and Bingo are visiting Dreamworld! Don't miss their Live Interactive Experience, find out more – link in bio. #dreamworldau | Instagram
Bluey's Big Play: A Closer Look
Bluey's Big Play is set to tour America, with some shows offering a VIP Meet and Greet experience. According to descriptions, the show doesn't feature full-costumed characters but rather puppets operated by fully visible puppeteers. The VIP add-on, however, does mention a photo opportunity with a Bluey costume character, offering a glimmer of hope to eager fans.
The Unresolved Question
While the question of 'Will Bluey be at Disney World?' remains unanswered, the popularity of the show, the data-driven approach of Disney, and the potential for collaboration with Ludo Studio might just turn this dream into a reality.
Until then, fans will have to content themselves with watching Bluey on Disney+ and maybe catching a glimpse of her in Bluey's Big Play.
In the end, the magic of Disney is all about bringing dreams to life. Who knows, maybe the next dream to be realized will be the sight of the vibrant Blue Heeler puppy, Bluey, and her family, bounding around in Disney Parks.
Share this post on your Facebook, Twitter, or Pinterest page with the easy share icons below.
Neal Tucker is one of the world's most engaging Disney influencers, with thousands of views and responses across his blog, podcast, and social media profiles every month.
Get started with more D Is For Disney content here