Disney does holidays better than anybody. There's the headless horseman and Jack Skellington on Halloween. We get incredible, gorgeous Christmas decorations. Eye-catching Chinese New Year banners and celebrations abound! It's all done in the signature Disney style. Disney makes sure your holiday experience with them is like none other in all the land. Now, with Disneyland Eggstravaganza returning to Disneyland in Anaheim, California this year, you can enjoy Easter with Disney, too!
Disneyland Eggstravaganza: Where, When, and How
From April 5-21, 2019, Disneyland Eggstravaganza will take place at Disneyland, California Adventure, and Downtown Disney in Southern California. Guests will be able to purchase a Disneyland Eggstravaganza map and sticker packet for $6.99+tax. (Park admission is required unless you plan to stick to the Downtown Disney District.)
The Disneyland Eggstravaganza 2019 map and sticker pack provide visitors with a way to keep track of all the Easter eggs they spot. The eggs themselves will be hidden all over the theme park.
The eggs will be decorated like familiar Disney and Pixar characters that everybody knows and loves. This will give everyone a fair shake at spotting every last one in their Easter egg hunt at Disneyland.
On top of a great time hunting for Easter eggs, Disneyland Eggstravaganza 2019 is a great photo opportunity. Pull out your phone or camera and snap some great shots for the Instagram feed!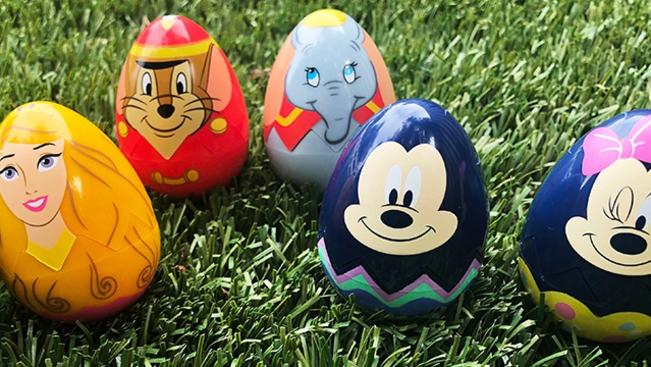 Once you've found all the eggs and marked your map with the provided stickers, there's more. Simply show it at one of the redemption locations for a special Disneyland Eggstravaganza surprise prize!
The Disney Parks Blog points out the locations as well. The first redemption spot is Disney Showcase in Disneyland. The second is Elias & Co. at Disney California Adventure. The third is World of Disney Store located in Downtown Disney.
How Do You Celebrate?
Will you be exploring Disney during the Disneyland Eggstravaganza 2019? I definitely want to. I've been an Annual Passholder for years, but I have yet to be able to take part in the Disneyland Eggstravaganza. I'm excited to hopefully get my first chance this year.
What's your favorite way to celebrate the holidays with Disney? Let me know in the comments!
Subscribe to the newsletter so that you will get all the most exciting Disney holidays news straight to your inbox.
Have a magical day!
Share this post on your Facebook, Twitter, or Pinterest page with the easy share icons below.
Neal Tucker is one of the world's most engaging Disney influencers, with thousands of views and responses across his blog, podcast, and social media profiles every month.
Get started with more D Is For Disney content here