Disney+ launches in November of this year, and fans cannot wait (aka, "I cannot wait.") With so many shows coming down the pipeline, details have started to come through on what those programs might look like. This week, we got even more insight into Monsters at Work, an animated series based on Disney/Pixar's Monsters, Inc. and Monsters University.
This week gave us two packets of awesome sauce: the Monsters at Work logo and a brand new character rendering. First, check out the new logo below for Monsters at Work. It shows the traditional M with an eyeball, followed by straightforward typography work. Don't miss the nuts and bolts reference in the O of WORK on the second line. Subtle and delightful.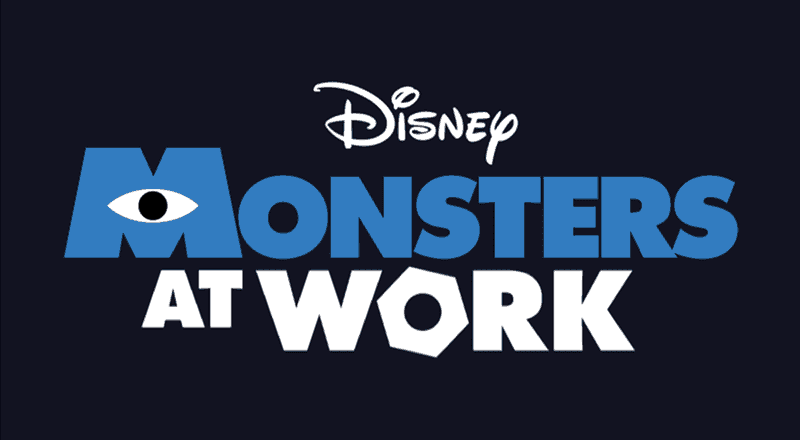 Next up, we have a brand new character rendering for the Monsters at Work series, the first one! It's for a character named Tylor Tuskmon that will be voiced by Ben Feldman (Superstore).
Ben Feldman shared the character animation on Twitter, and people love it (aka, "I love it so much.") If you're like me, you love the Monsters, Inc. universe and cannot wait for the new series to launch in 2020 on Disney Plus.
The new animated streaming series will start six months after the end of the original Monsters, Inc. The show features an all-new cast of characters that have been hired at the Monsters, Inc. corporation.
In addition to Ben Feldman, other voiceover performers will include Henry Winkler and Kelly Marie Tran. Of course, John Ratzenberger will be present, because he was in the original, and it's Pixar! What would a Pixar film be without Ratzenberger? Along with him, Jennifer Tilly and Bob Peterson also make their return.
For now, this will have to hold us over until we get more images or a teaser trailer to whet our appetites even more.
What do you think of the Monsters at Work logo and character animation rendering? Let me know in the comments or on social media!
Here's everything you need to know about Disney+ before the November launch!
Have a monsterific day!
Share this post on your Facebook, Twitter, or Pinterest page with the easy share icons below.
Neal Tucker is one of the world's most engaging Disney influencers, with thousands of views and responses across his blog, podcast, and social media profiles every month.
Get started with more D Is For Disney content here