For coffee fans that also love Mickey Mouse, the time has come: the Disney coffee subscription service package is here, and it's perfectly caffeinated for Mouse House lovers.
Check out all the delicious details from Disney and Joffrey's Coffee & Tea below to start sipping!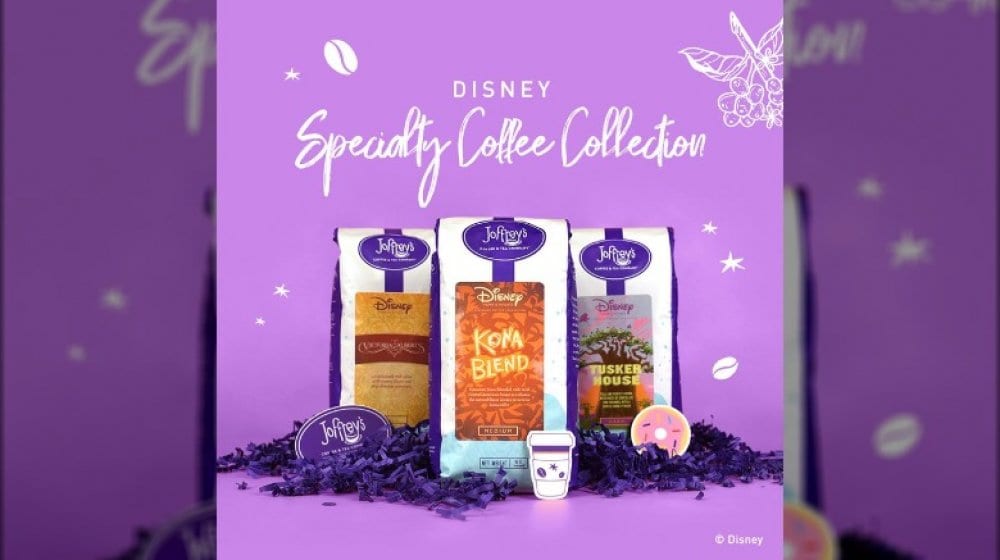 What Is the Disney Coffee Subscription?
Disney just announced a brand new coffee subscription package that comes from Joffrey's Coffee & Tea.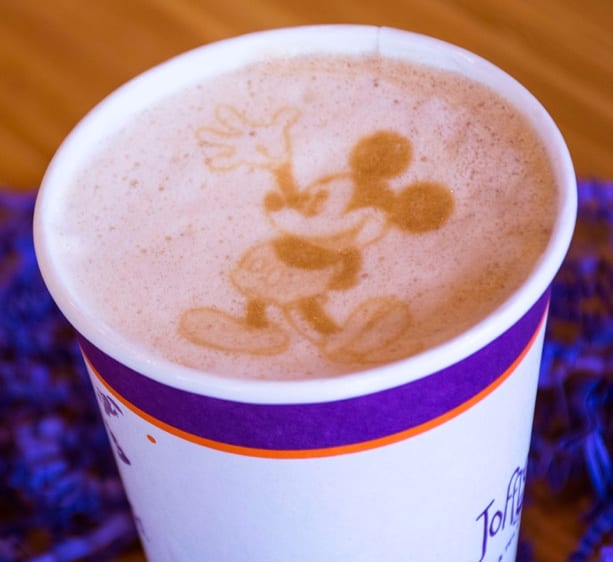 Here is the official webpage for the different coffee bean blends.
Here's what Joffrey's site has to say:
Our freshly roasted coffee delivered to your home or office on your schedule.

Subscribe to one of our three specialty coffee collections.

Every month you will receive a curated selection of three bags of coffee for your collection.

Select length of subscription for your convenience: 3 months, 6 months, or 12 months.

Lastly, Sip and Sit Back!

Joffrey's Coffee & Tea
That's right!
You can now get Joffrey's Disney coffee to sip on in your Minnie Mouse mug from the comfort of your very own comfy couch while watching a little Disney+.
What Blends Are Available?
Take a look below to see all the different Disney coffee blends available from Joffrey's Coffee & Tea.
These are the individually priced options.
Scroll down to the next sections to view the different options for the subscription packages.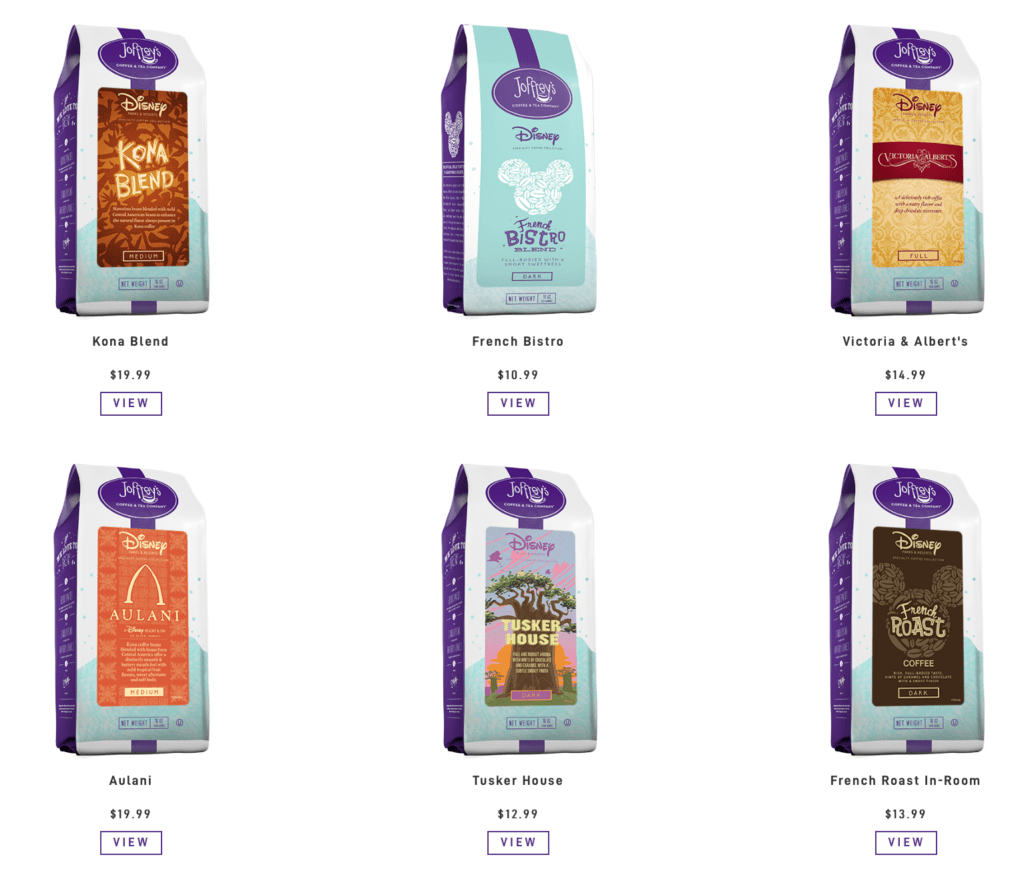 As you can see, there's blends from Aulani, French Bistro, Tusker House, and a lot more. All appear to be reasonably priced as well.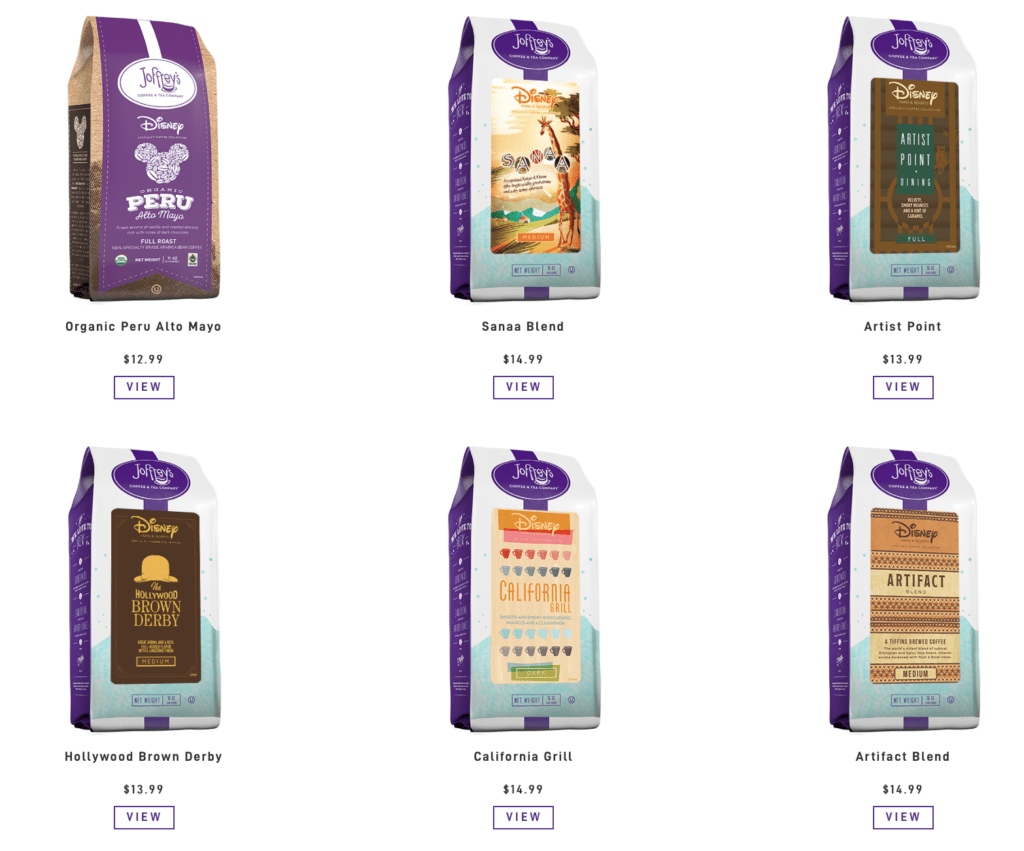 Here we have a Peru blend, a Derby Brown blend, and a California Grill blend for the coffee packages.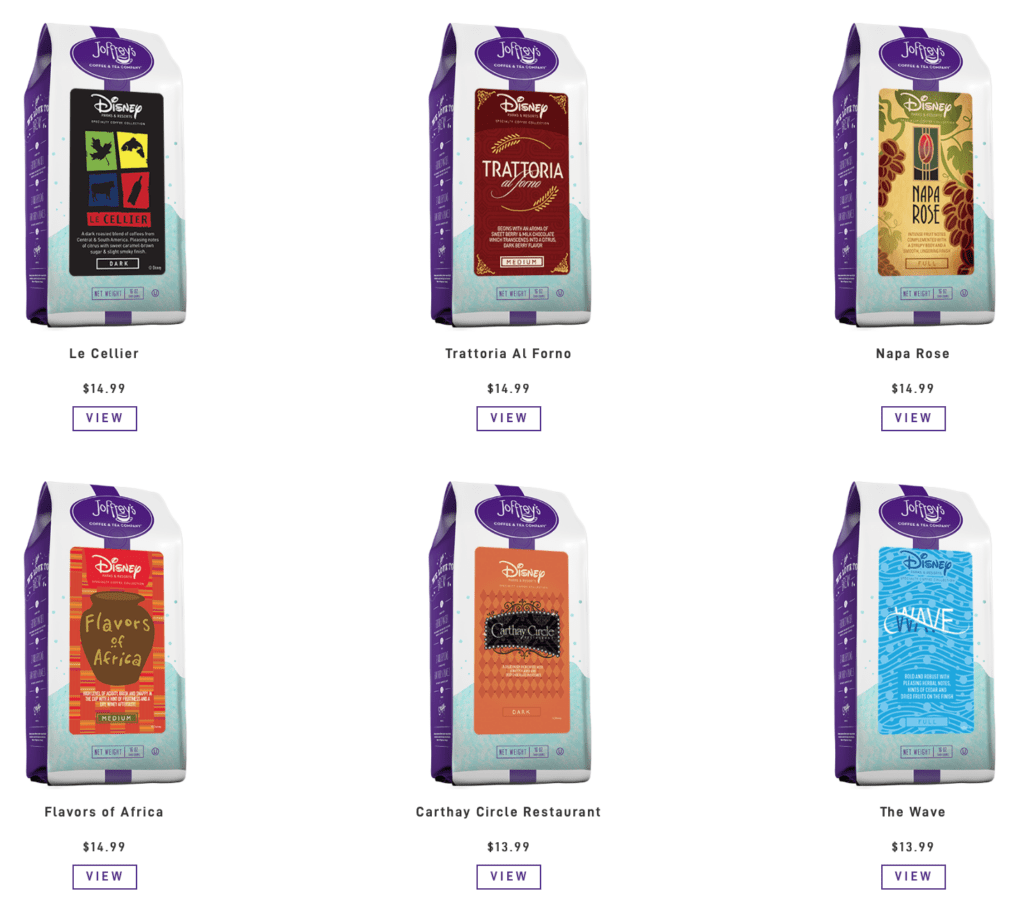 In the section above, you can see a blend dedicated to Carthay Circle in Disneyland, The Wave, and even the Flavors of Africa coffee bean blend as well.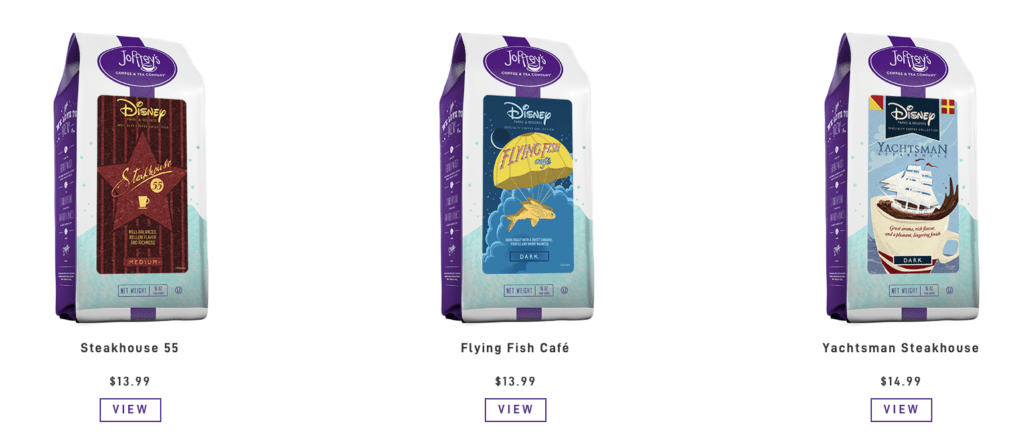 Finally, the Disney coffee blends include Steakhouse 55, Flying Fish Café, and Yachtsman Steakhouse.
Now, let's get into the monthly coffee magic…
How Does the Disney Coffee Subscription Work?
Here's how the whole caffeinated package works.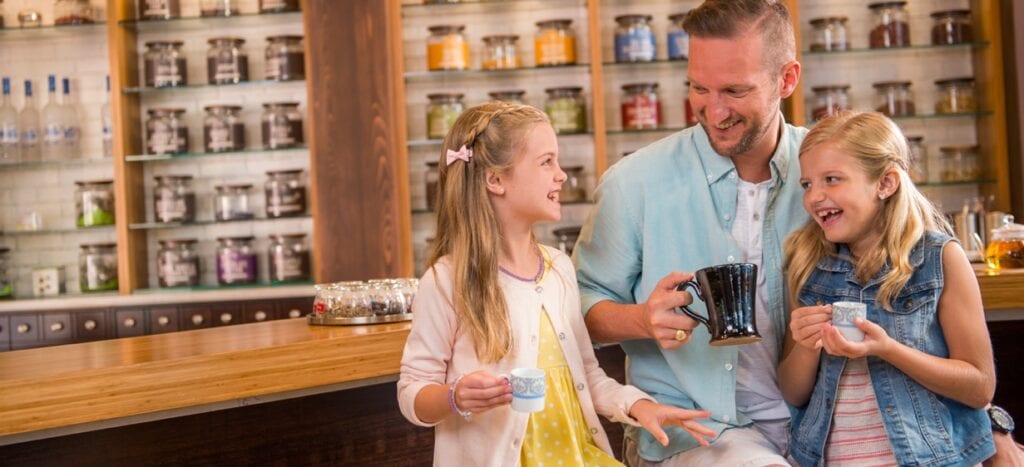 Disney and Joffrey's have made sure that the process is very easy and straightforward.
Once you get to the website, you just follow the page all the way down and make your selections right on the screen.
1. Choose Your Collection
First, you will choose your collection.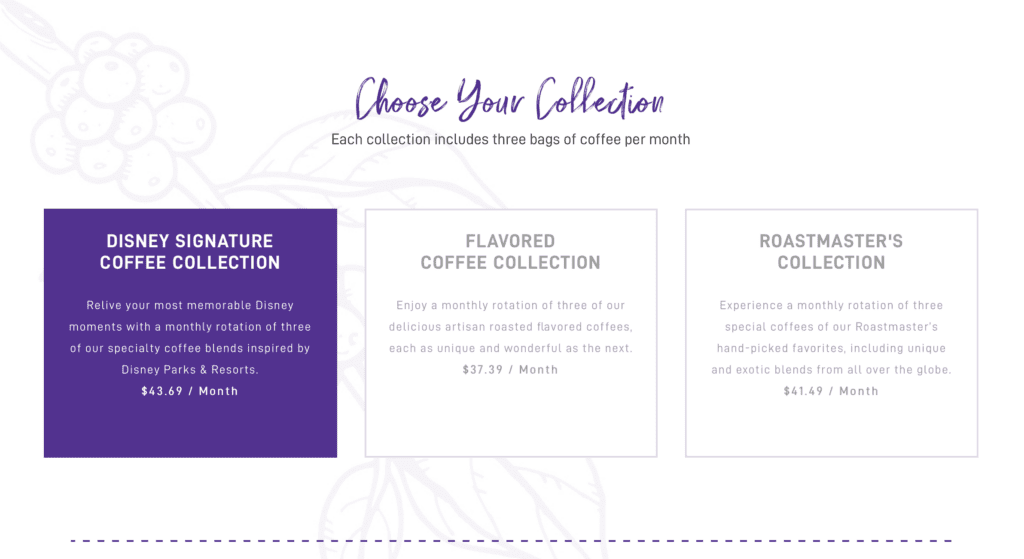 All the collections (3 in total) include 3 bags of coffee delivered right to your door every single month that you subscribe:
Signature Collection – $43.69 / Month
Flavored Collection – $37.39 / Month
Roastmaster's Collection – $41.49 / Month
2. Choose Your Grind
Second, you will choose your grind.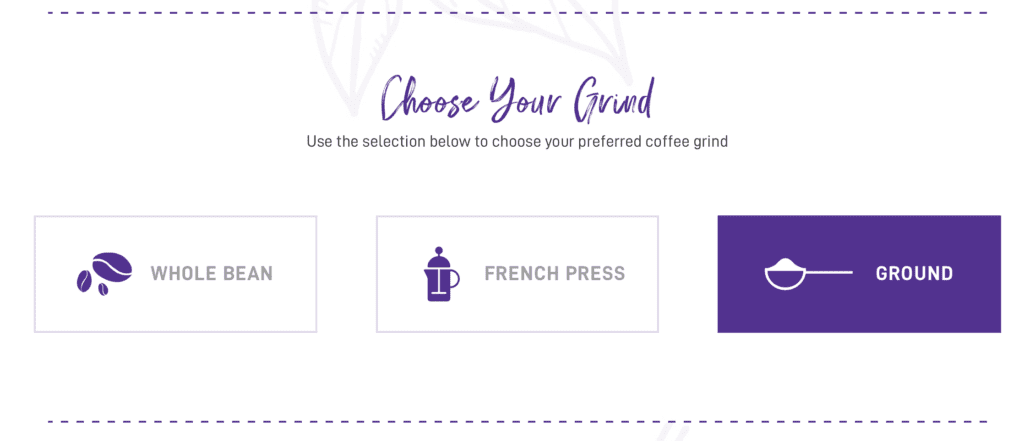 This step also has 3 options of Disney Coffee Subscription available for you to choose from for your magical morning grind:
Whole Bean
French Press
Ground
3. Choose Your Duration
Third, you will finally choose your duration.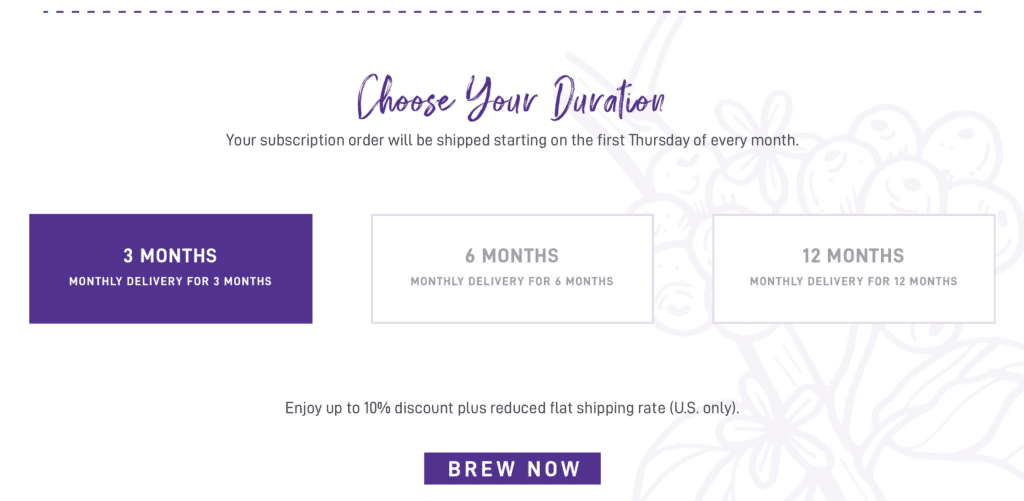 During this step, you will select how long you want to subscribe for.
There are currently 3 duration options:
3 months
6 months
12 months
All of them are the same in features, but they simply last for different lengths of time.
Disney Coffee Subscription Magic
If you're a Disney lover and a coffee sipper, you will absolutely want to check out this delicious offer.
My wife and I have bought the coffee from the Disneyland parks, but this makes getting Mickey Mouse mugfuls of caffeination that much easier!
Will you be subscribing? Let me know in the comments below or on Twitter @disfordisney_.
If you're looking for another Disney subscription box, check out this magical Little Mermaid subscription box.
Share this post on your Facebook, Twitter, or Pinterest page with the easy share icons below.
Neal Tucker is one of the world's most engaging Disney influencers, with thousands of views and responses across his blog, podcast, and social media profiles every month.
Get started with more D Is For Disney content here