If you're anything like me, you love summer and you love Disney, so there's nothing like a great Disney summer sales event to get us all ready for the beach and the theme parks, just as soon as they're open again!
Check out all the awesome stuff Disney has on sale right now for a limited time to keep us cool while looking like hot stuff! 😉
View the items below as well as many more that are only available on the Summer Sales Event for ShopDisney.com right now.
As with all big sales events, this one won't last forever, so scroll down and then hop over to get something fun for yourself, your family, or a friend.
With Walt Disney World reopening on July 11th, it's time for a little #TreatYoSelf before we all head back to the parks!
Or the pool and the beach. Even just a sprinkler in the front yard.
Honestly, I'm happy with any of these options, so long as I can wear my Disney gear the whole time. 🙂
What Categories Are There for the Shop?
That's a great question.
Currently, ShopDisney has 4 categories for the summer sales event:
Toys
Clothing
Home
Accessories
Here's a quick sampling of some of the top pieces in clothing and accessories.
Check out the goodies from all four categories below.
Disney Summer Sales Toys
Disney Summer Sales Clothing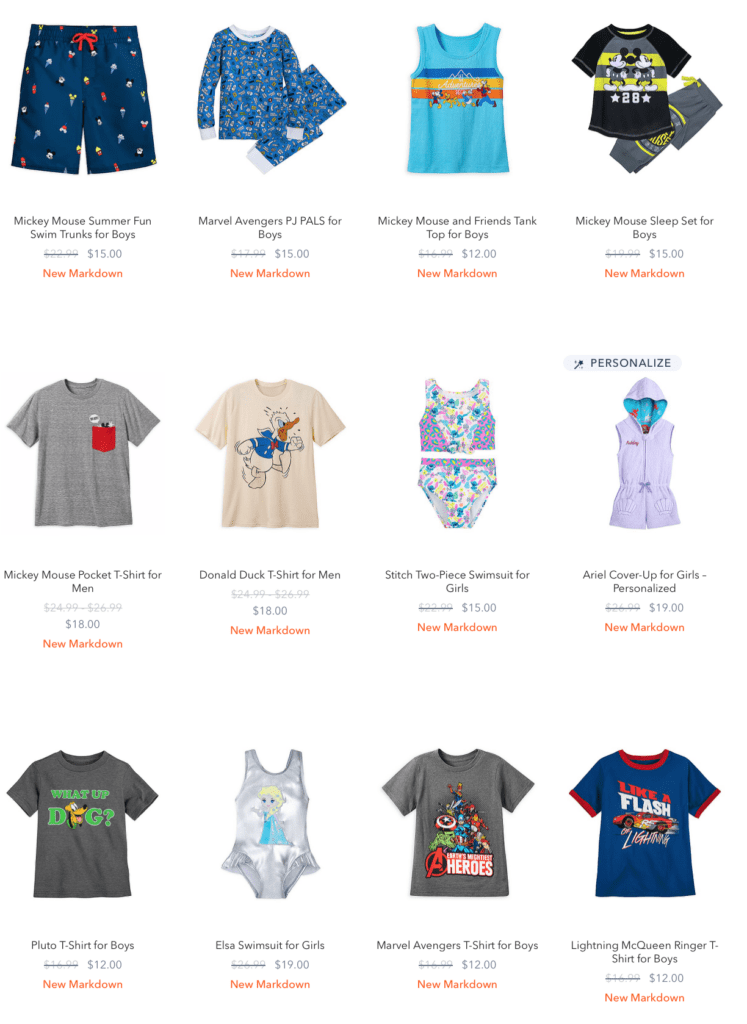 Disney Summer Sales Home
Quick note: Yes, you are reading that correctly! The Ghost Host spirit jars are now on DEEP DISCOUNT! You can get the Gus jar for just $22.49, plus an extra 30% OFF of that!
Okay, back to window shopping! 🙂
Disney Summer Sales Accessories
Wrap Up
What do you think of this year's summer stuff?
Personally, I'm a huge fan.
Yes, maybe I'm a LITTLE BIT biased because I love EVERYTHING Disney ALL the time…
BUT…
I do really and truly like a lot of the new goodies that they've made available for this event!
The shirts especially caught my eye. The one with Mickey Mouse hopping out of the front pocket is just wonderful and fantastic.
"Oh, Boy!" indeed.
Fan of toys or clothing items? Consider checking out the Minnie Mouse Main Attraction collection, too.
Do you go for home goods or personal accessories more? Let me know in the comments or on Twitter @disfordisney_.
Thanks for being here, and I hope you have a magical day!