People are asking, "How will the NBA affect Walt Disney World trips and vacations this summer and fall?" Here is everything you need to know about staying and playing at #WDW in 2020, with the NBA living next-door.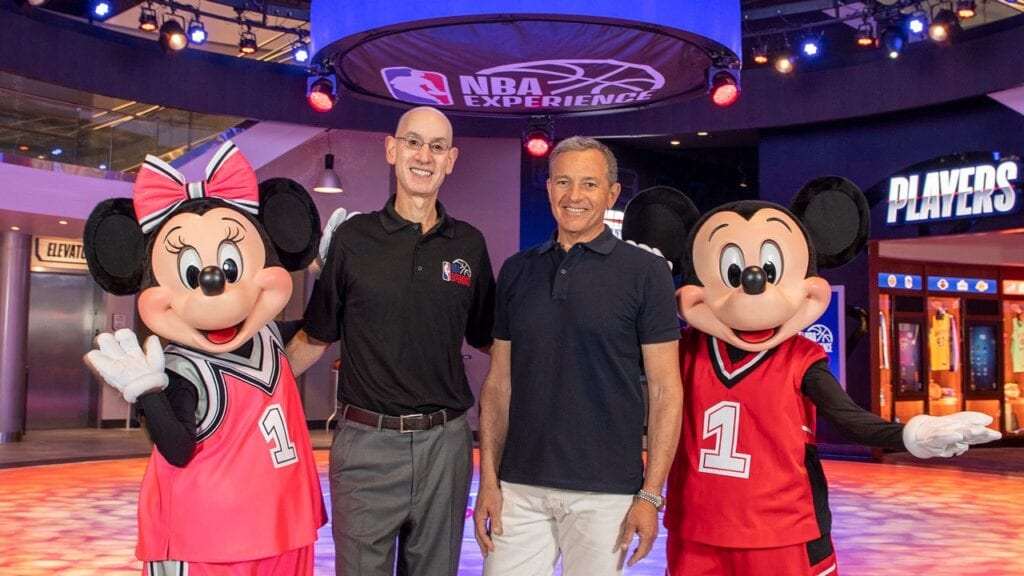 Major Updates
The NBA Board of Governors and the NBAPA have both voted to approve July 31st as the season restart day with 22 teams playing in Orlando, Florida.
Sources also confirm that the players and their families will be confined to their resort areas: Gran Destino, Grand Floridian, & the Yacht Club.
The players will be tested regularly for illness and will NOT be allowed to enter the Walt Disney World theme parks.
Unconfirmed: The only possible exception to visiting the Disney Parks might be tours through Disney's Animal Kingdom.
The NBA and Disney World: Your Questions Answered
According to The New York Times, the NBA plans to house their players and teams' staff at the ESPN Wide World of Sports Complex.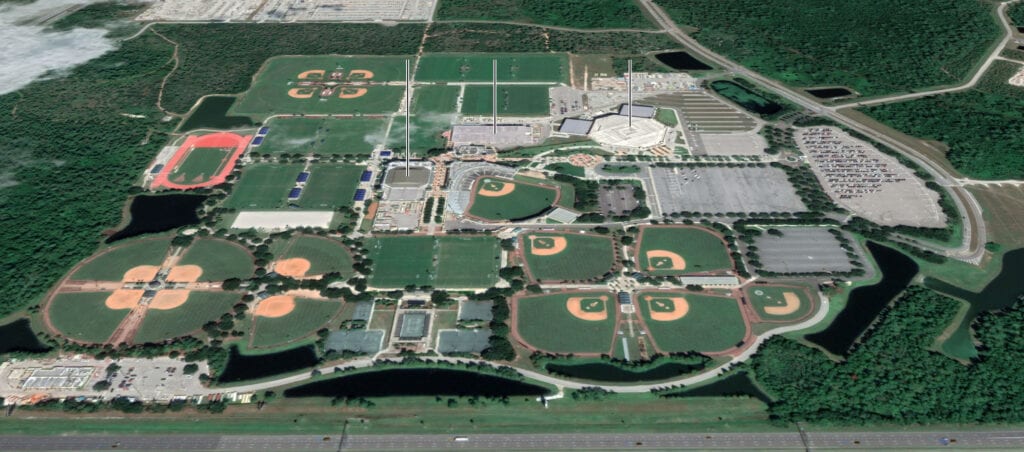 This is a massive area filled with baseball fields, parking lots, a track, and, yes, basketball courts.
It even has restaurants and hotels for the players to live and dine all in one place.
In a word: perfect for the NBA.
And the MLB and MLS, I suppose, but those are an entirely different matter…
As Bleacher Nation reports, we're probably looking at "22 teams, possible play-in games, and a July 31st start date."
What teams, you ask? Well, we don't know for sure, but BN makes the following lineup seem pretty likely.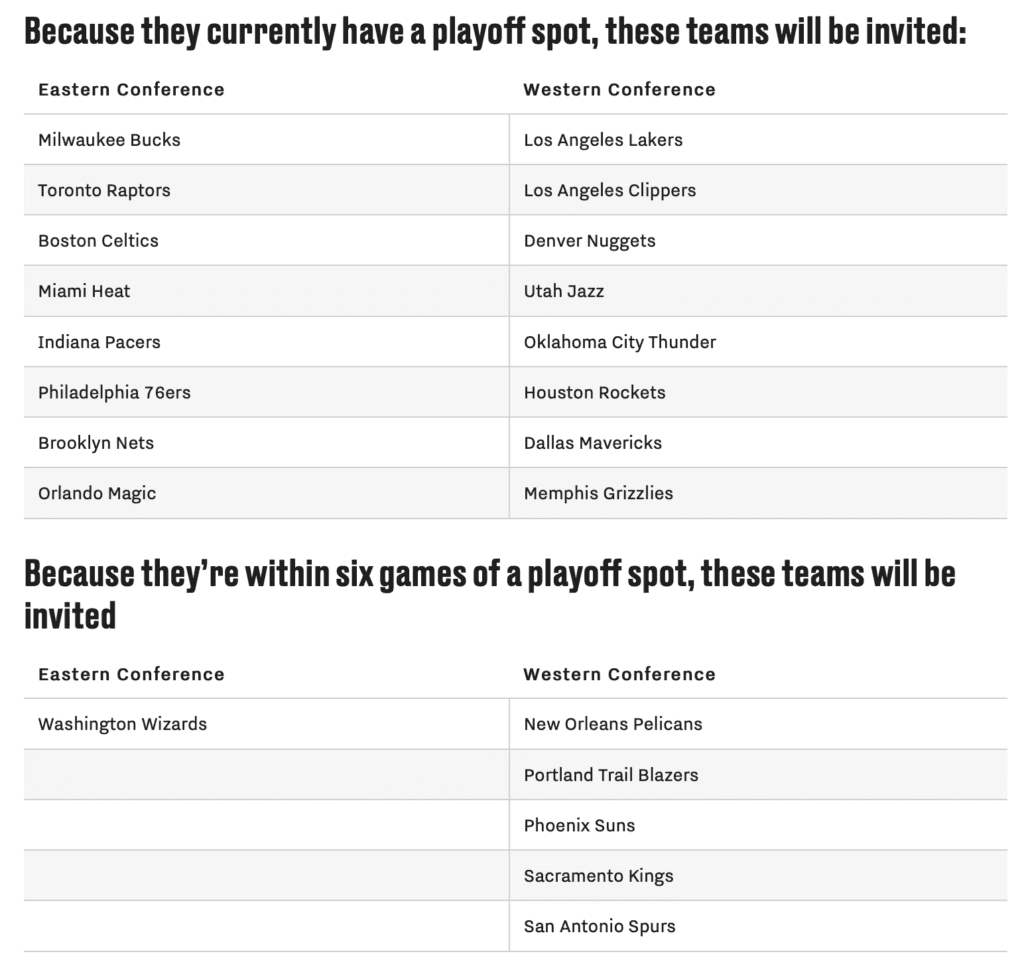 With all that out of the way, let's get into all the big questions and answers regarding the possibility of the NBA's season playing out at Disney World for the rest of 2020.
How big is ESPN's Wide World of Sports Complex?
The Wide World of Sports area is 220 acres in size.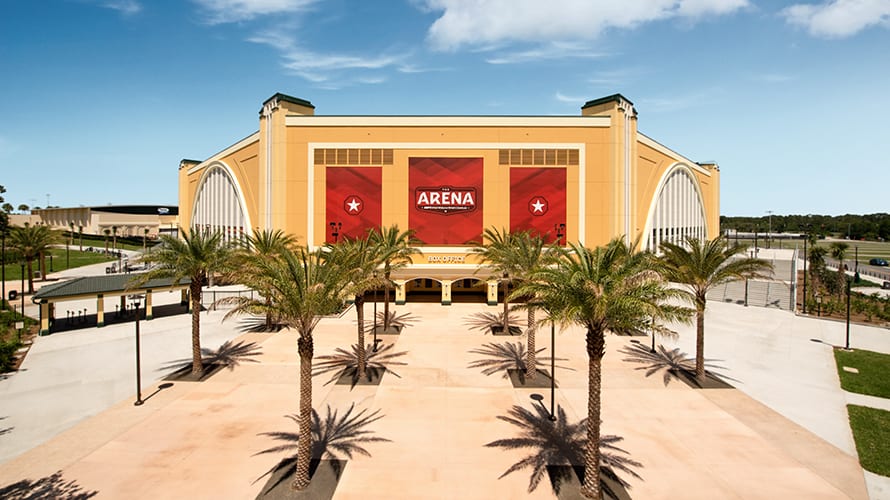 AKA, HUGE.
According to the official website, the Arena has the following accommodations:
2 venue spaces
A box office entrance
Concession areas
Room for up to 8,000 seats
It is more than enough space for the NBA teams to play their games during the remainder of their 2020 season or postseason, however the case may be.
And that's just one building!
Not only that, but I highly doubt they will be needing all (if any) of those 8,000 seats for spectators.
If it goes like many expect, there won't be any fans in the stands during the NBA's games for the remainder of the season, no matter where they happen to play.
Where are the sports complexes located in relation to Disney World?
If you're staying at one of the Walt Disney World Resort hotels, then you might want to know how close the NBA players will be to you and your family and friends.
Take a look at the map below from Google Maps.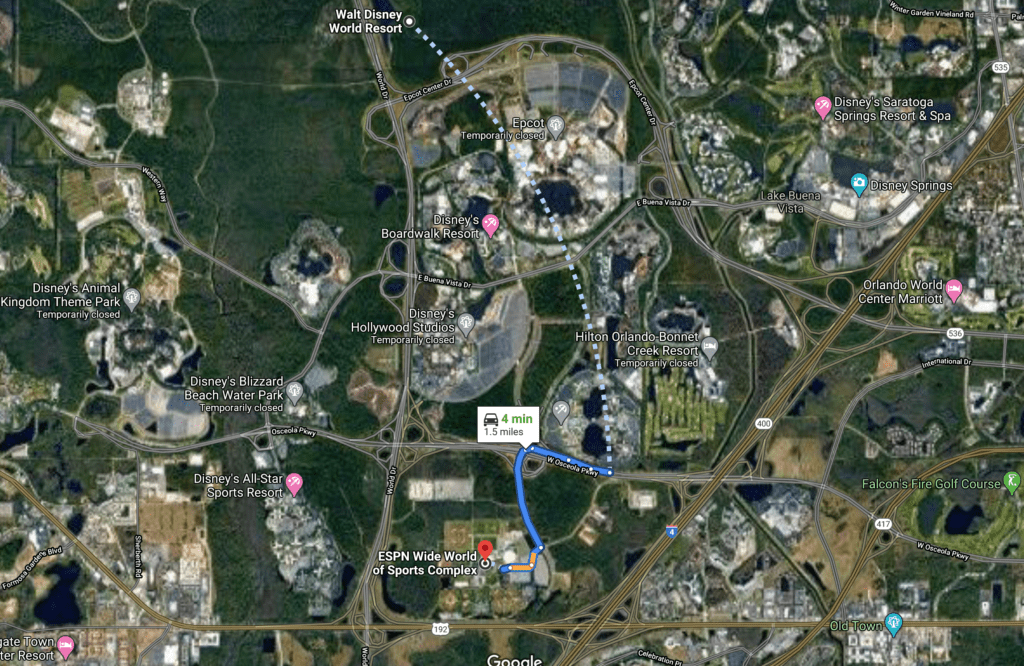 As you can see, it's a short drive from one to the other. But, importantly, that doesn't mean you'll be running into LeBron or Giannis or Kawhi anytime soon.
On the map, you can see the ESPN Wide World of Sports Complex near the bottom, Disney's Animal Kingdom Park off to the middle-left, and EPCOT near the top.
Simply put, yes, the parks are nearby as far as driving distance goes. But the basketball courts and all the rest of it live in a completely different area altogether.
What Hotels Will the NBA Players Stay at Disney World?
CBS Sports reports that the teams themselves will be staying specifically at Gran Destino, Grand Floridian, & the Yacht Club.
Here is the breakdown by NBA team and Disney Resort (via CBS Sports):
Gran Destino

: Bucks, Lakers, Raptors, Clippers, Celtics, Nuggets, Jazz, Heat

Grand Floridian

: Thunder, 76ers, Rockets, Pacers, Mavericks, Nets, Grizzlies, Magic

Yacht Club

: Blazers, Kings, Pelicans, Spurs, Suns, Wizards
The Coronado Springs Hotel Rumor
NOTE: Below is some previously reported information regarding the Coronado Springs Resort. While that resort hotel may potentially still be used by the NBA in some capacity, the players and teams appear to be staying elsewhere for the moment. These Coronado reports and photos remain here for reference.
According to Bleacher Nation, the hotel the players would primarily stay at included Disney's Coronado Springs Resort.
BN goes on to write a little about the NBA Board of Governors and the quality of the Coronado itself:
More details continue to emerge as we near the NBA Board of Governors vote on a plan to formally resume the 2019-20 season. I guess there was some previous concerns about the housing available for players during this potentially extended Disney stay, but a quick google search look at the Coronado Springs Resort … and I think these guys will be more than comfortable.

Bleacher Nation
This is what they're referring to…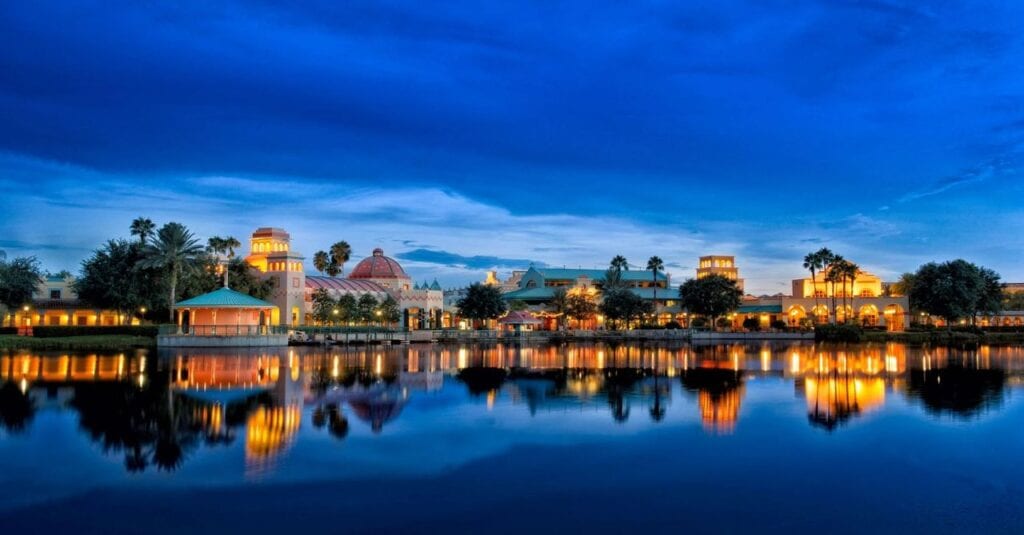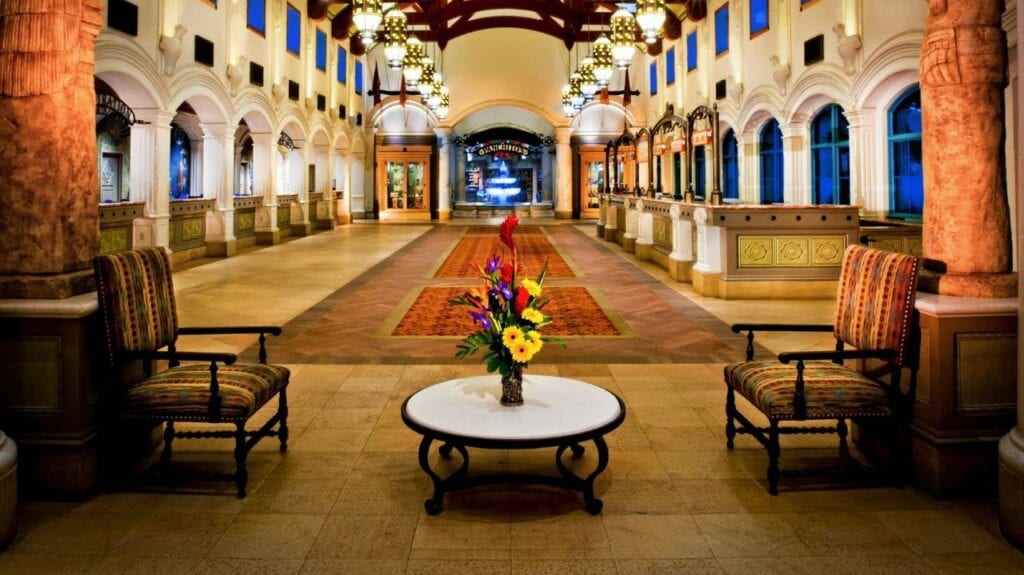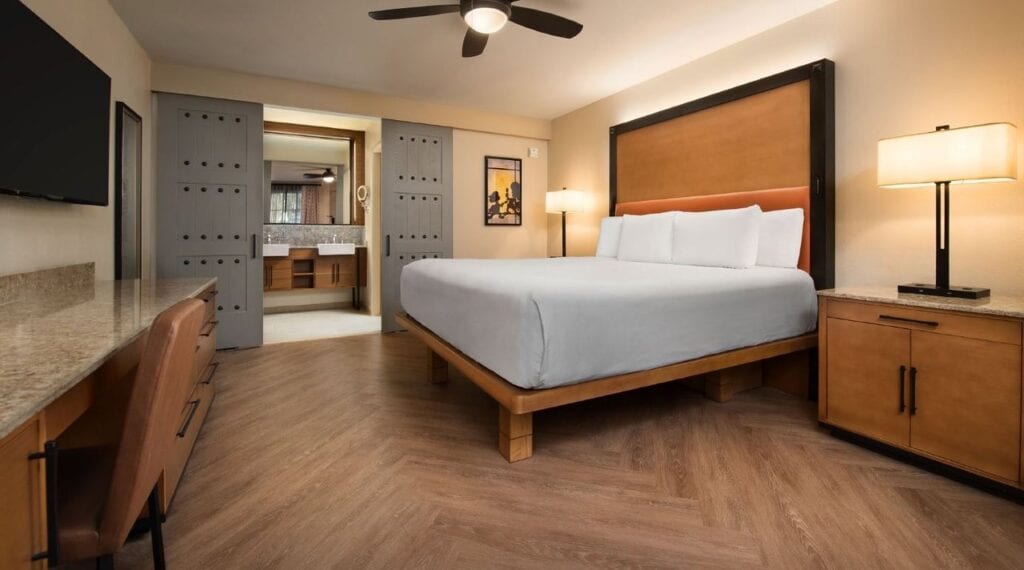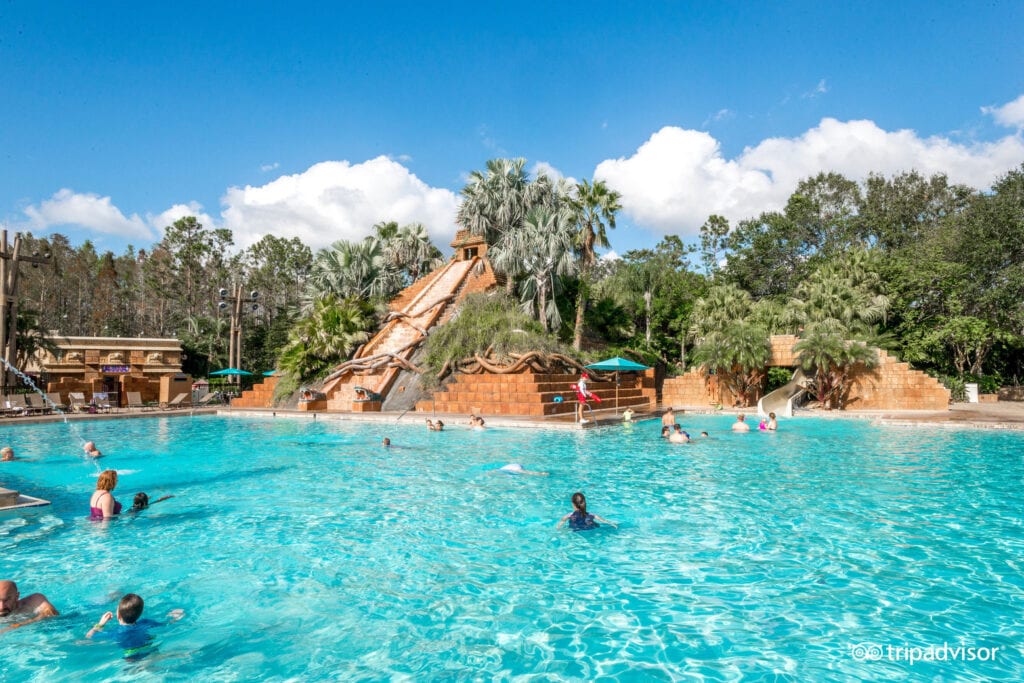 Not too shabby, huh?
NBA Hotel Wrap Up
Basically, here's what all this means…
Regardless of where the players, teams, and their families end up staying, you most likely won't have to deal with them in any capacity, other than on your own hotel room TV screens.
You, your friends, and your family can all stay on property at Walt Disney World without worrying that all the rooms will already be booked by King James and the rest of the Los Angeles Lakers.
Note: If you haven't booked your stay yet, consider this guide to getting lower rates than you'd ever dream of (even if you're taking the whole family!).
Why Disney World? Does Disney have any experience hosting sports?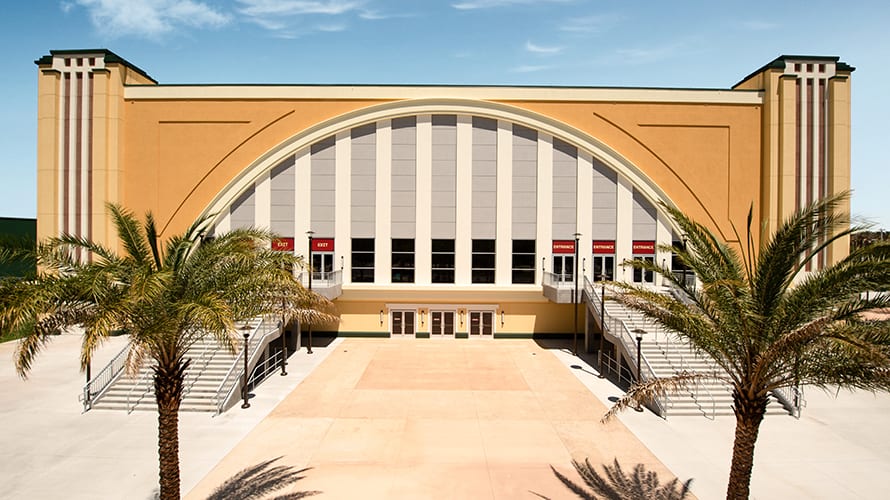 Here's the short answer…
The NBA and Disney (ABC) have a major financial relationship as it pertains to airing televised basketball games.
Also, to quote the New York Times again: "The yellow-walled sports complex…has twice hosted the Jr. N.B.A. Global Championship."
So, yes, Disney World does have experience putting on sporting events, and basketball in particular, but the conditions are the primary motivator here, both in terms of dollars and cents, as well as the complex's seemingly perfect fit for the NBA right now.
Since Disney has all this space for such sporting events and the necessary housing, it's more or less exactly what the NBA needs at a time when choices are otherwise rather slim.
And sports fans are growing rather weary of watching marble racing and Roomba games. I speak from experience on this one…
Here's another way to look at it: Disney and ABC are essentially one and the same company.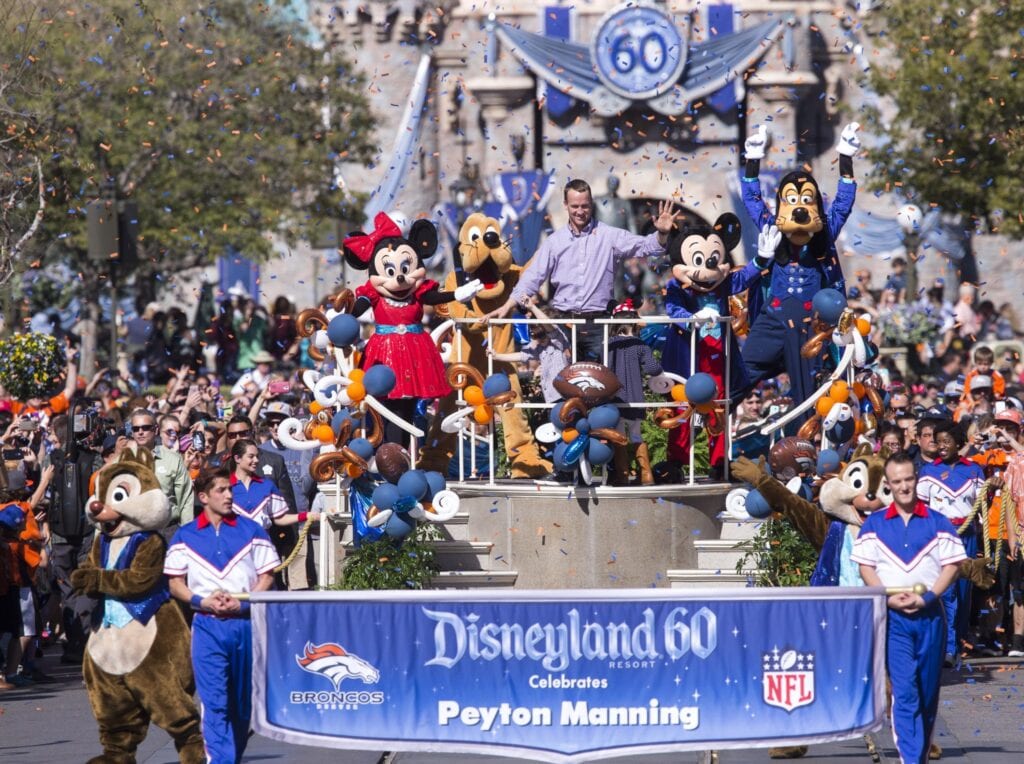 Technically, The Walt Disney Company (or TWDC) is the parent company, which owns ABC.
TWDC also owns ESPN, Pixar, Marvel, Lucasfilm, and most of Hulu and National Geographic, among many others.
Disney World does not have specific experience hosting entire seasons (or substantial portions of seasons) of major sporting associations like the NBA, though they have done the Junior NBA Games, as noted above.
Of course, this is exactly what we may be seeing later this year: an entire NBA post-season (at least) played at Disney World's sports complexes.
But, you can almost definitely remember at least one Super Bowl winning player every year exclaiming that they're "going to Disney World" during the after game celebrations.
For history buffs: This actually dates all the way back to the 1980's, though it still remains a tried and true staple of the NFL season's climax – as much as end zone dances after touchdowns.
In other words, sports and Disney go back a long way in a number of different capacities, even if this precise situation hasn't been attempted before.
Personally, I believe it'll probably all work out just fine. And I'm ready for some live sports. Watching Tiger Woods and Peyton in the celebrity tournament was fun, but we could all use some team sports again, I think.
How will the NBA affect Walt Disney World trips and vacations this year?
One of the main questions to which people want answers is this one. "How will the NBA affect my Disney World trip or vacation with my family and friends this year?"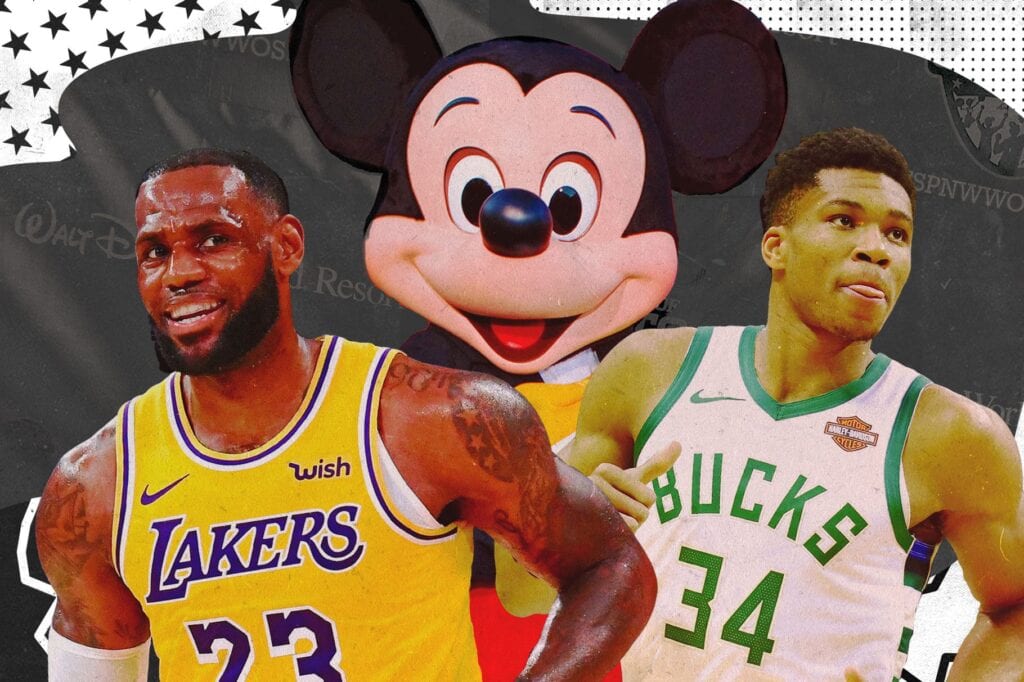 It's a great question, and there are a couple of answers, depending on what you mean exactly.
We'll take a look at each possible way the NBA might affect your trip.
This way, you can know more or less exactly what to expect if you're going to the Magic Kingdom this year.
Question:

 Will I be able to book a hotel room, or will they all be filled with NBA players already?
Answer: As noted above, the players will most likely be staying at the Coronado Resort, with the implication that all the other hotels at Walt Disney World Resort will still be available for the public to make reservations for their family trips and vacations.
Question: Will the parks be closed down or being used by the NBA players?
Answer: The players will need to remain on their own resort property. This is due to the global illness still being a risk factor. Here's a Twitter source confirming that NBA players and families will not be at the parks at all during their stay.
Question:

 Will I be able to watch any of the NBA games in person?
Answer: Due to the health crisis, it's not likely that fans will be allowed to attend the games and sit in the stands to watch their favorite teams and players during the rest of the NBA season and post-season. It's just too many people in close proximity to one another. What's more, the NBA isn't even sure if fans will be able to attend in the stadiums during the 2020-2021 season, either. One suggestion is 15-20% capacity until a vaccine is ready and mass produced.
Question:

 What about restaurant reservations? Will they all be booked up by the NBA?
Answer: As with the resort hotels, the same most likely goes for the restaurants as well. In order to maintain health and safety, the NBA players will probably be eating at or near the Coronado Resort.
I hope that all this helps you to understand the whole NBA at Disney World situation a bit more. Also, I hope that you still plan to make your Disney World vacation!
There's no reason to worry that all the hotel rooms or restaurant reservations or anything else will be all booked up solid with NBA teams and players and personnel.
As far as we know, the National Basketball Association has no intention of shutting down the theme parks. That wouldn't make a whole lot of sense, anyway.
The NBA just wants what all basketball lovers everywhere want in this crazy moment: live basketball games played for fans to watch on TV.
So, plan your trip to the most magical place on earth and, fingers crossed, you can also watch a little basketball when you head back to your hotel room at the end of the day…
Related Articles
What if Disney designed the logos for the NBA teams?
Major League Soccer will return to play at Walt Disney World along with NBA
Share this post on your Facebook, Twitter, or Pinterest page with the easy share icons below.
Neal Tucker is one of the world's most engaging Disney influencers, with thousands of views and responses across his blog, podcast, and social media profiles every month.
Get started with more D Is For Disney content here