We just found out that Disneyland, California Adventure, and Downtown Disney District, as well as the hotels, will likely be reopening here in Southern California in July. Now, Josh D'Amaro, the newly appointed Chairman of Disney Parks, Experiences and Products, has a message for all of us. It's a message of hope, encouragement, and, dare I say it, magic. In fact, Josh writes, "The magic is returning."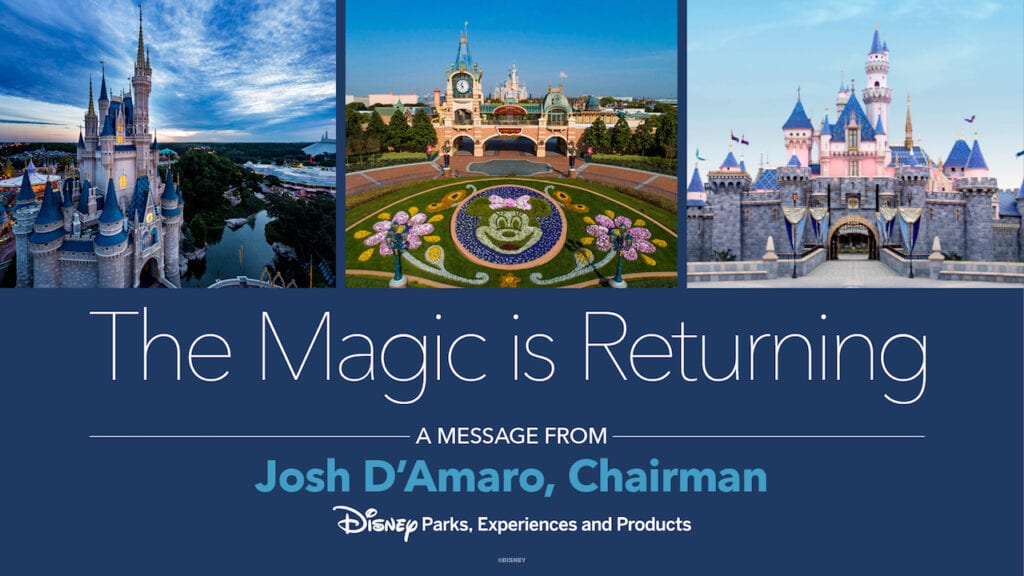 Josh D'Amaro: "The Magic Is Returning"
As if the news couldn't get any better!
The new head of Disney's parks, Josh D'Amaro, has written a personal letter to all of us in the Disney Resorts family.
Read the full letter below from the Disney Parks Blog website.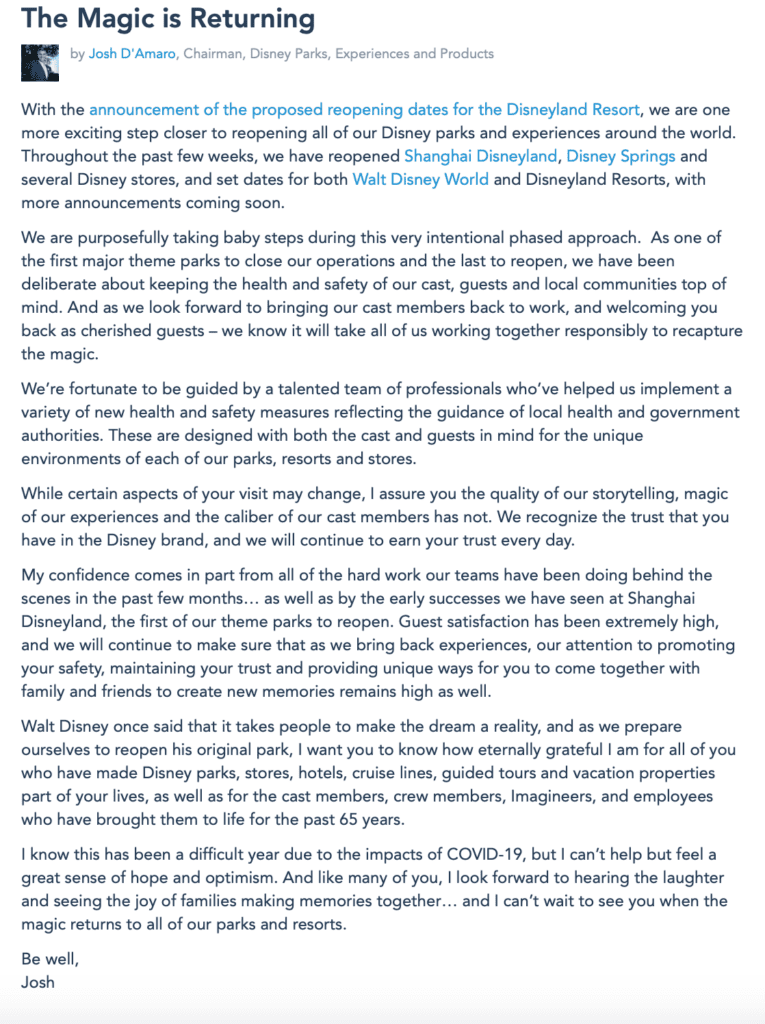 Highlights from the Letter
There's a lot packed into this concise letter. He is able to get a lot communicated in just a few short paragraphs here.
As the newly appointed leader for the theme parks division at Disney, Josh D'Amaro clearly takes his role very seriously and wants to do a fantastic job.
Let's start at the top and move our way down this magical letter.
Mr. D'Amaro points out that Disney has been incredibly cautious this whole time.
As one of the first major theme parks to close our operations and the last to reopen, we have been deliberate about keeping the health and safety of our cast, guests and local communities top of mind.

Josh D'Amaro, Disney Parks Blog
Josh also wants to make sure that all of us have the right expectations and experience the magic of Disney when we get back.
While certain aspects of your visit may change, I assure you the quality of our storytelling, magic of our experiences and the caliber of our cast members has not. We recognize the trust that you have in the Disney brand, and we will continue to earn your trust every day.

Josh D'Amaro, Disney Parks Blog
Whether we go to Disneyland, Walt Disney World, or wherever else we call our Disney home, it's obviously important to him that we get the magical world we all know and love. That, to me, is huge.
He closes out the letter with a reminder. D'Amaro notes that this has been a tough year so far. We're not even halfway through 2020, but it's felt like much longer than that.
With the second half of the year still ahead, I think that Josh wants to make sure Disney gets this right.
Keeping all that in mind, here's how the letter ends:
I know this has been a difficult year due to the impacts of COVID-19, but I can't help but feel a great sense of hope and optimism. And like many of you, I look forward to hearing the laughter and seeing the joy of families making memories together… and I can't wait to see you when the magic returns to all of our parks and resorts.

Josh D'Amaro, Disney Parks Blog
If that's not a letter of hope, I don't know what it is!
Like so many of you, I can't wait to get back to the Disney Parks and Resorts. There really is nothing else like them on earth.
Related Articles
Read more about Disneyland's plan to reopen in July
Share this post on your Facebook, Twitter, or Pinterest page with the easy share icons below.
Neal Tucker is one of the world's most engaging Disney influencers, with thousands of views and responses across his blog, podcast, and social media profiles every month.
Get started with more D Is For Disney content here