Learn how to make Disney churros at home with the official Disney Churro Recipe. Disney World and Disneyland are known far and wide for their delicious food, from the savory to the sweets. One of the most loved and adored foods is the Disney churro.
Here's the recipe for you to make it in your own kitchen to eat at home today!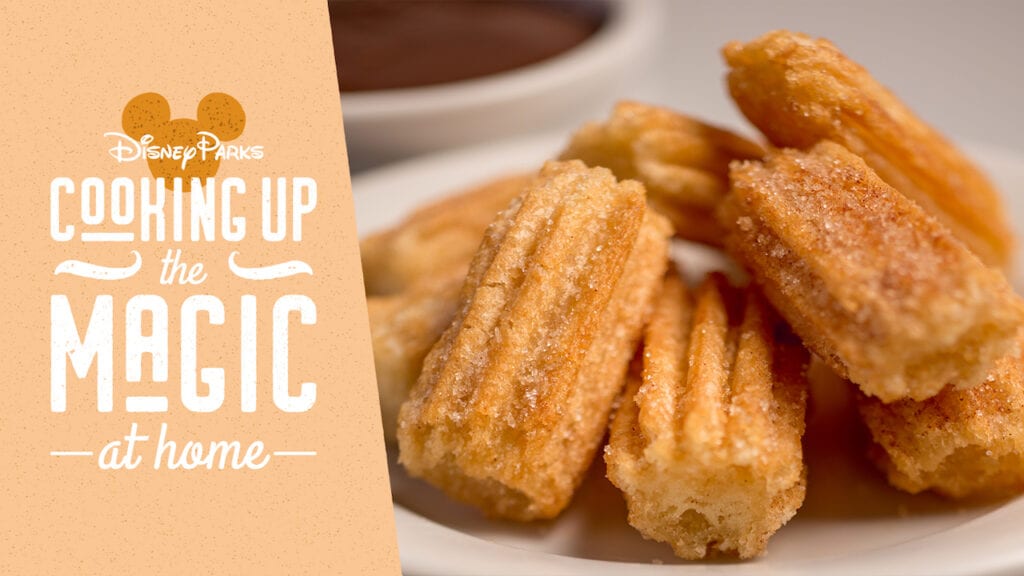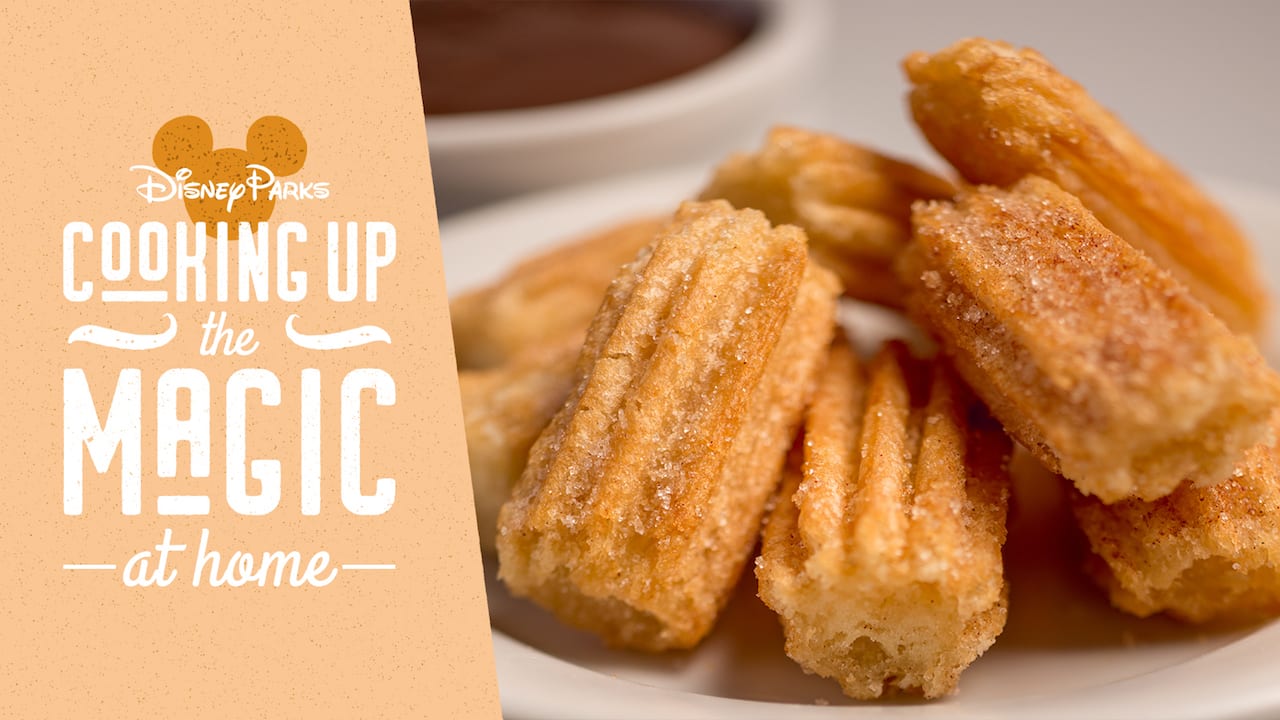 Disney Parks Blog Recipe
According to the official Disney Parks Blog, there are a few things they want us to know about the Disney churro recipe.
So, before we get started, let's take a look at what they have to say about the Disney churro recipe at home:
These past few weeks, we've seen many of you sharing Disney recipes and creating your very own magical moments right at home. Being a BIG fan of Disney Parks snacks myself, this has inspired us to share one of my favorite recipes so you can continue creating #DisneyMagicMoments.

While our parks are temporarily closed, you can still enjoy a delicious Disney churro – because you can make them yourself at home! This recipe is inspired by the delicious snack that can be found at all of our parks across the globe.

The recipe serves four people and is a perfect snack to enjoy while enjoying some of the other fun stories we shared last week, like our special virtual viewing of the all-new "Magic Happens" Parade at Disneyland park, the behind-the-scenes tour of Walt Disney Imagineering or a creative at-home recreation of Kilimanjaro Safaris at Disney's Animal Kingdom!

Alex Dunlap, Food & Beverage Communications Coordinator, Disney Parks Blog
In other words, there's really nothing like a Disneyland or Walt Disney World snack while enjoying the magic of Disney.
At home, we can all make the magical foods ourselves with the official delicious Disney churro recipe from Mickey Mouse himself!
The Official Disney Churro Recipe
The following recipe is issued directly from the Disney Parks blog website that we detailed above.
AKA, you know it's going to taste great, because it's Disney official!
Scroll down past the ingredients and instructions to see images provided by Disney Parks Blog on their Instagram page.
Disney Parks Churro Bites
Ingredients
1 cup water
8 tablespoons butter
¼ teaspoon salt
¾ teaspoon ground cinnamon, divided
1 ¼ cups all-purpose flour
3 eggs
1 ½ cups vegetable or canola oil
½ cup sugar
Instructions
Combine water, butter, salt, and ¼ teaspoon cinnamon in 1 ½-quart saucepan over medium heat. Bring pot to rolling boil.
Reduce heat to low.
Add flour and stir vigorously until mix forms a ball. Remove from heat and let rest for 5-7 min.
Add eggs, one at a time, and stir until combined. Set aside.
Using caution, heat oil in medium skillet or 1-quart saucepan over medium-high heat or until temperature reaches 350˚.
Spoon dough into piping bag fitted with large star tip. Pipe 1-inch strip of dough over saucepan, cut with knife, and drop into hot oil. Repeat until churro bites fill saucepan with room to fry.
Fry churro bites until golden brown. Remove with slotted spoon or mesh spider strainer.
Drain churro bites on paper towel.
Mix sugar and ½ teaspoon cinnamon in medium bowl. Toss in churro bites until coated. Place on serving plate and serve with favorite dipping sauce.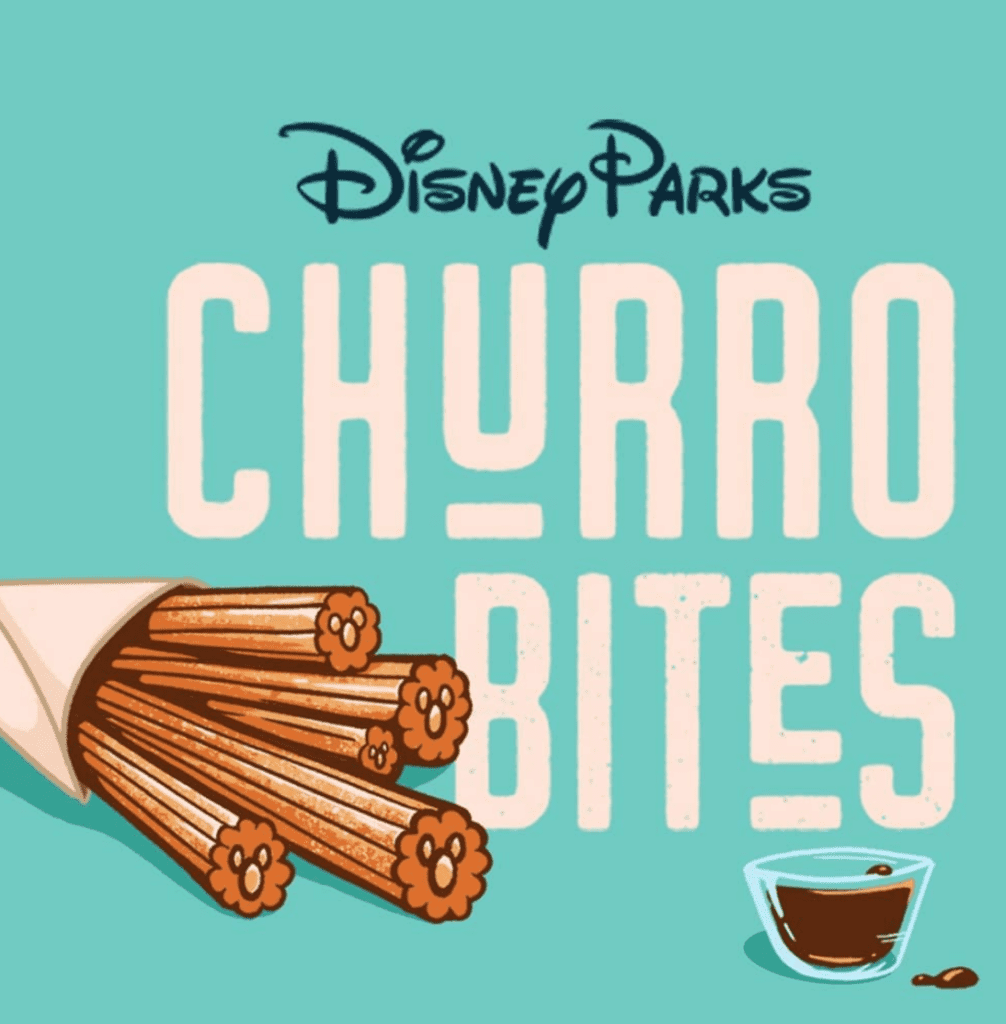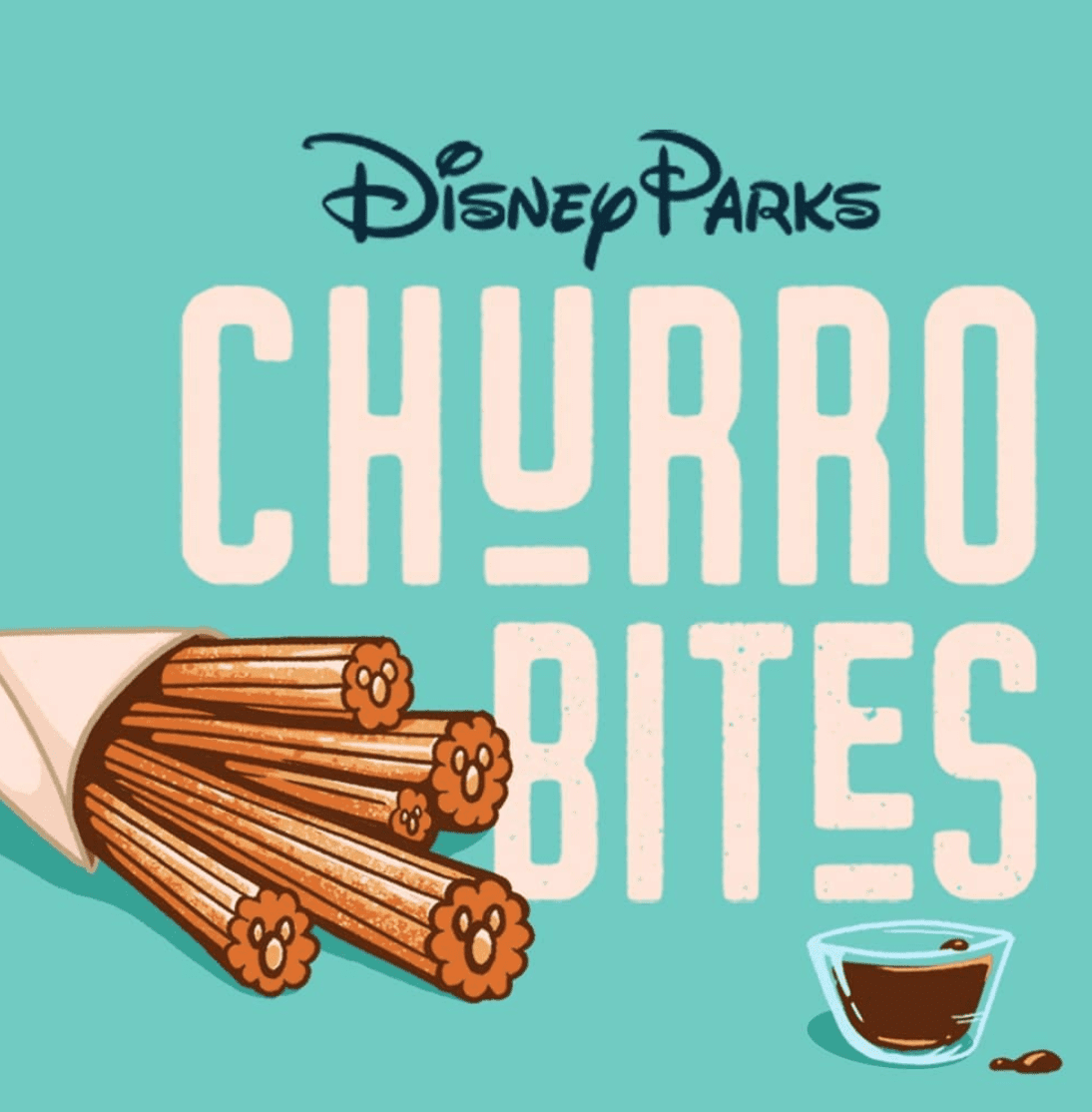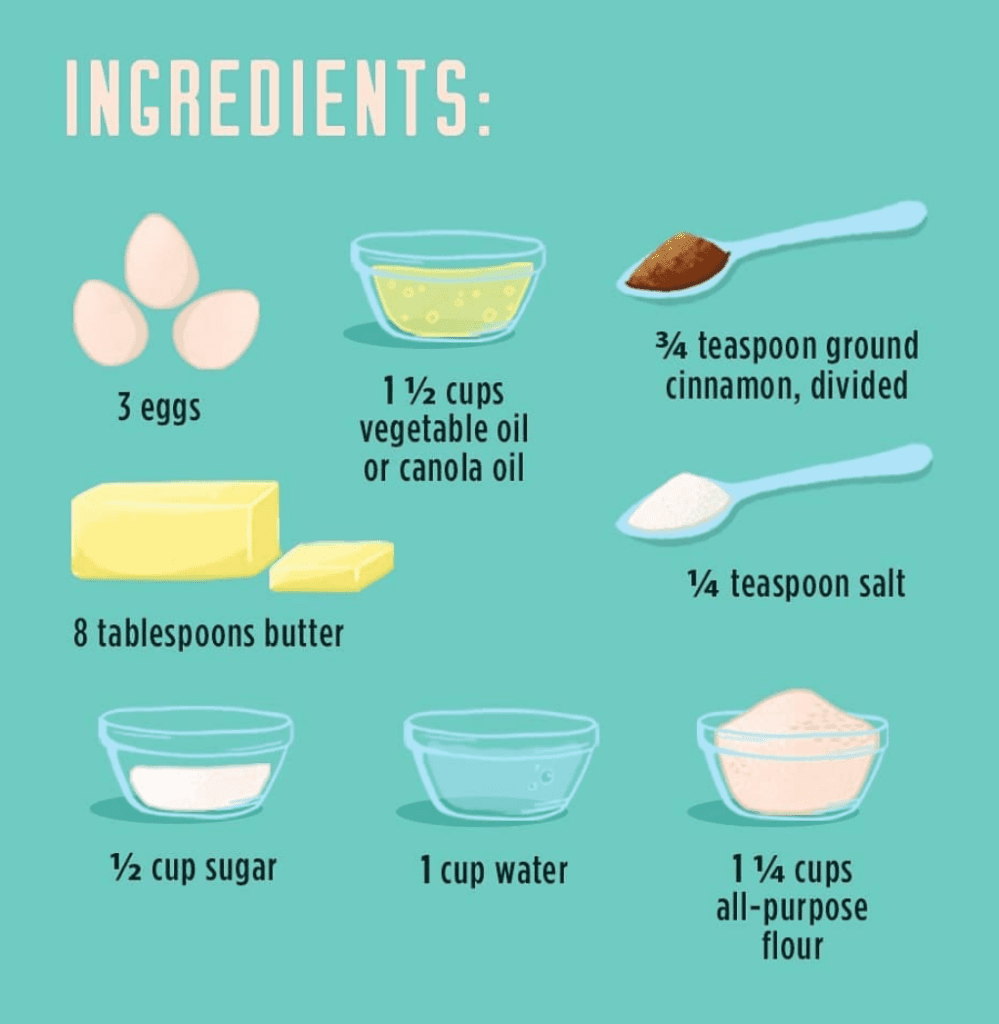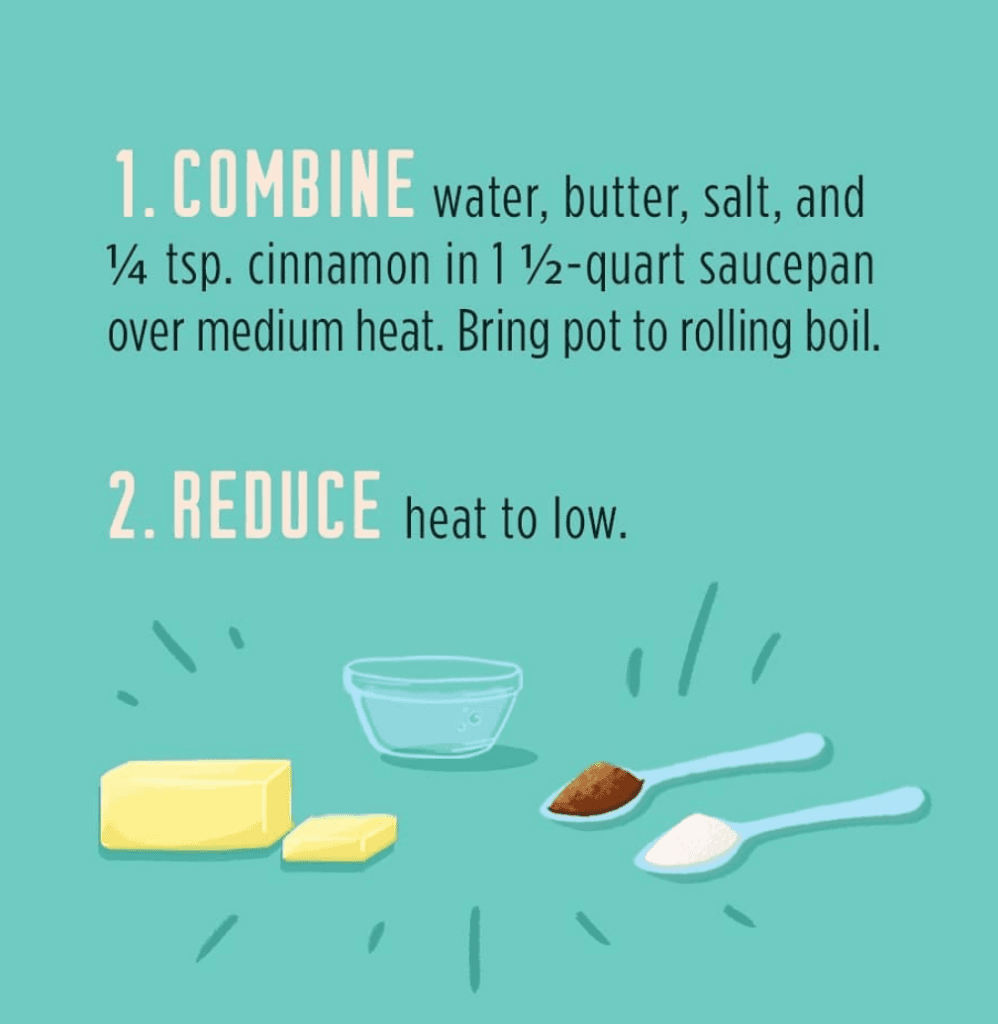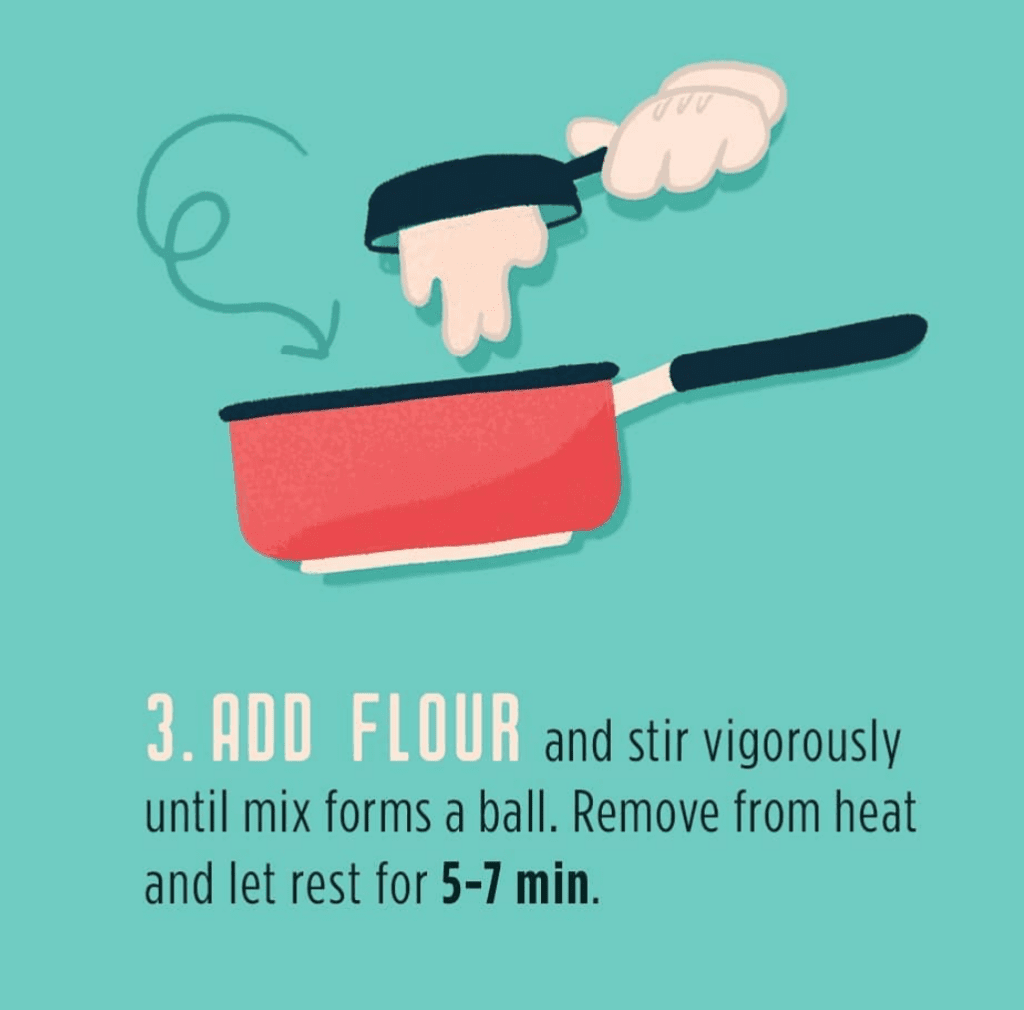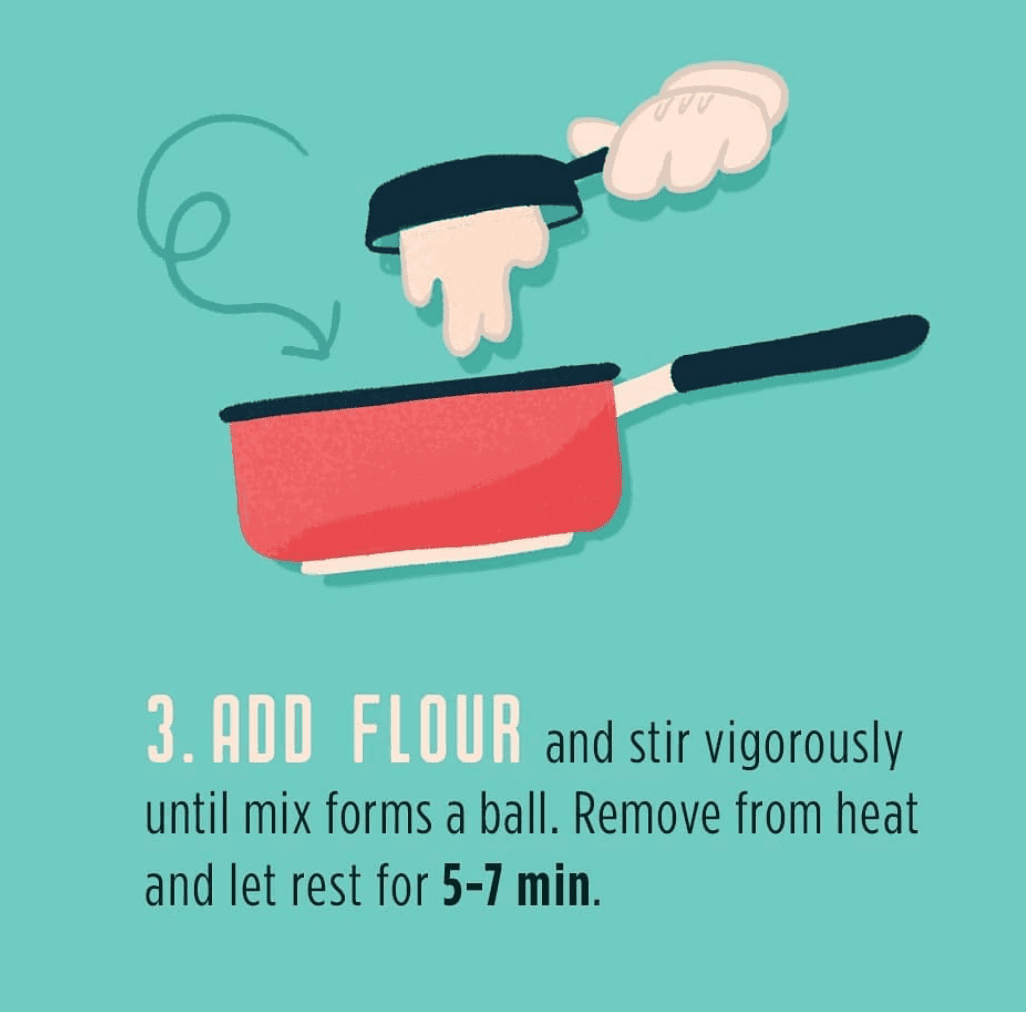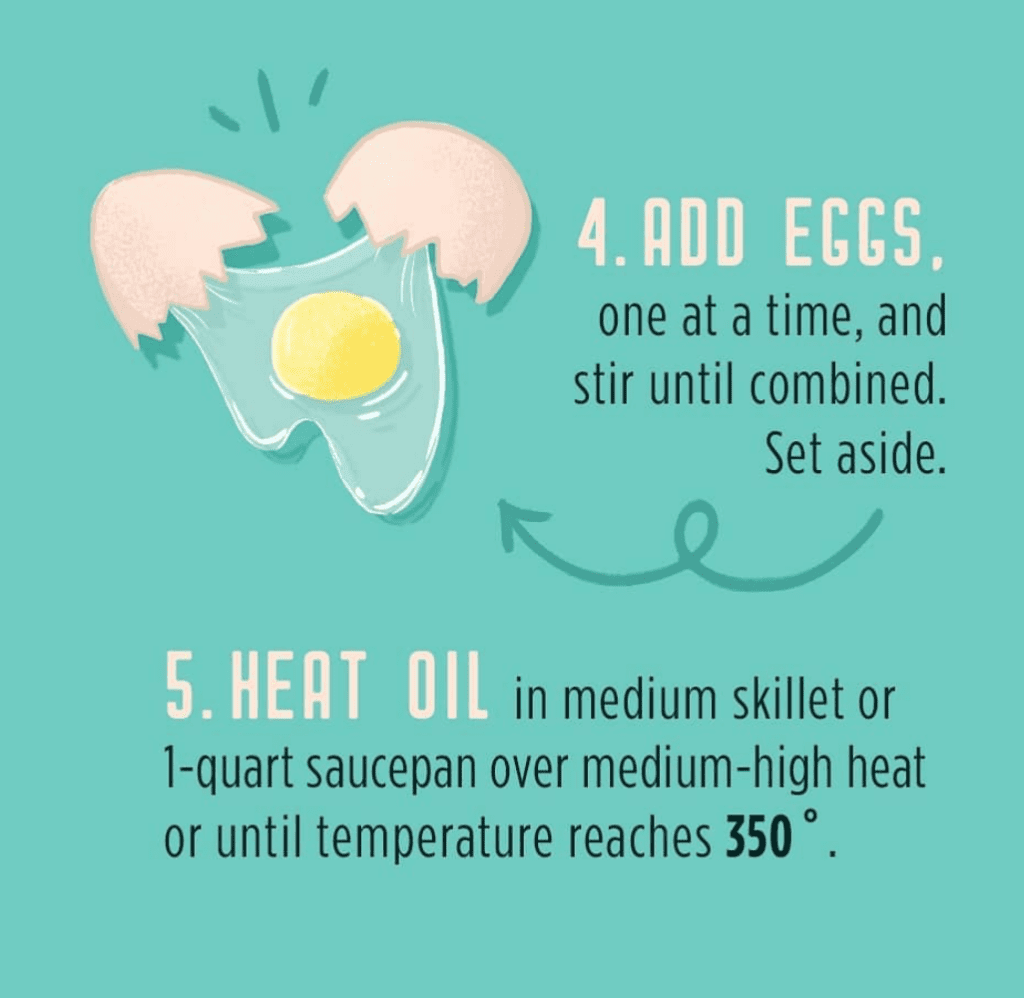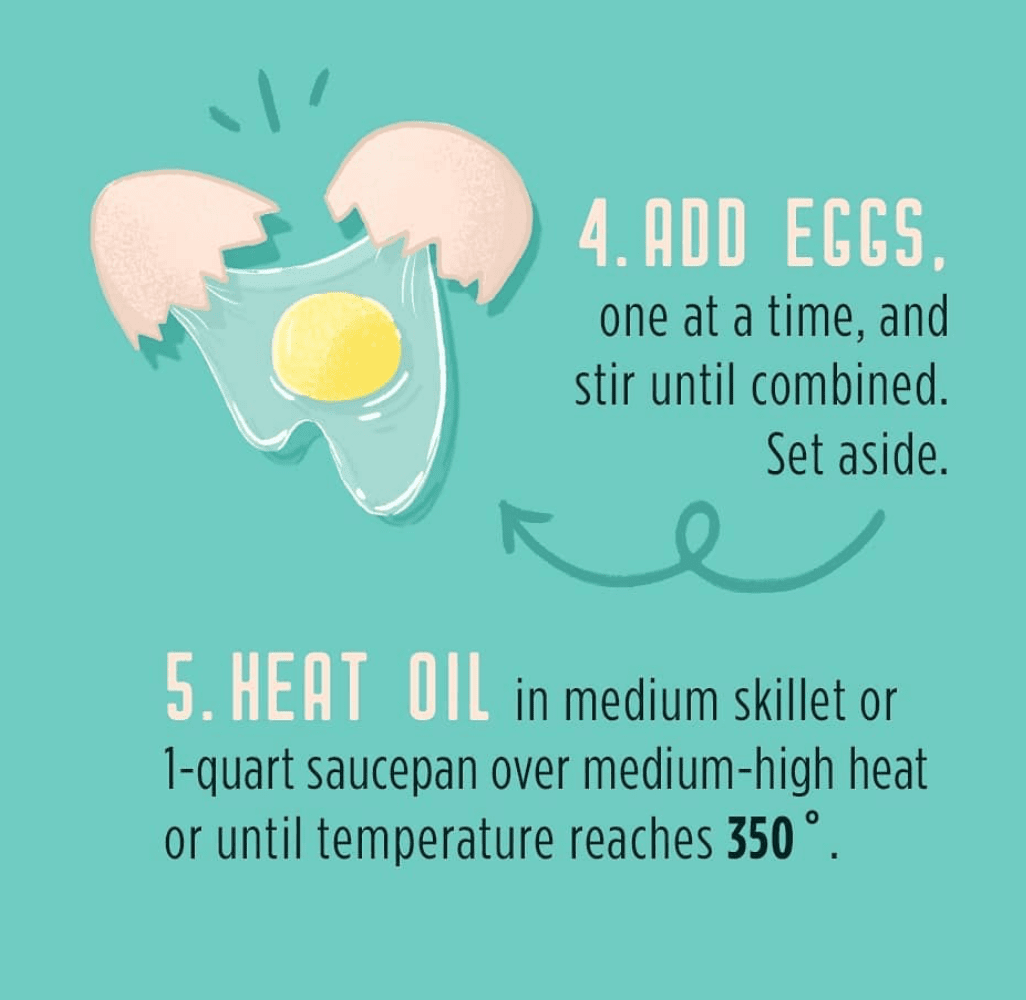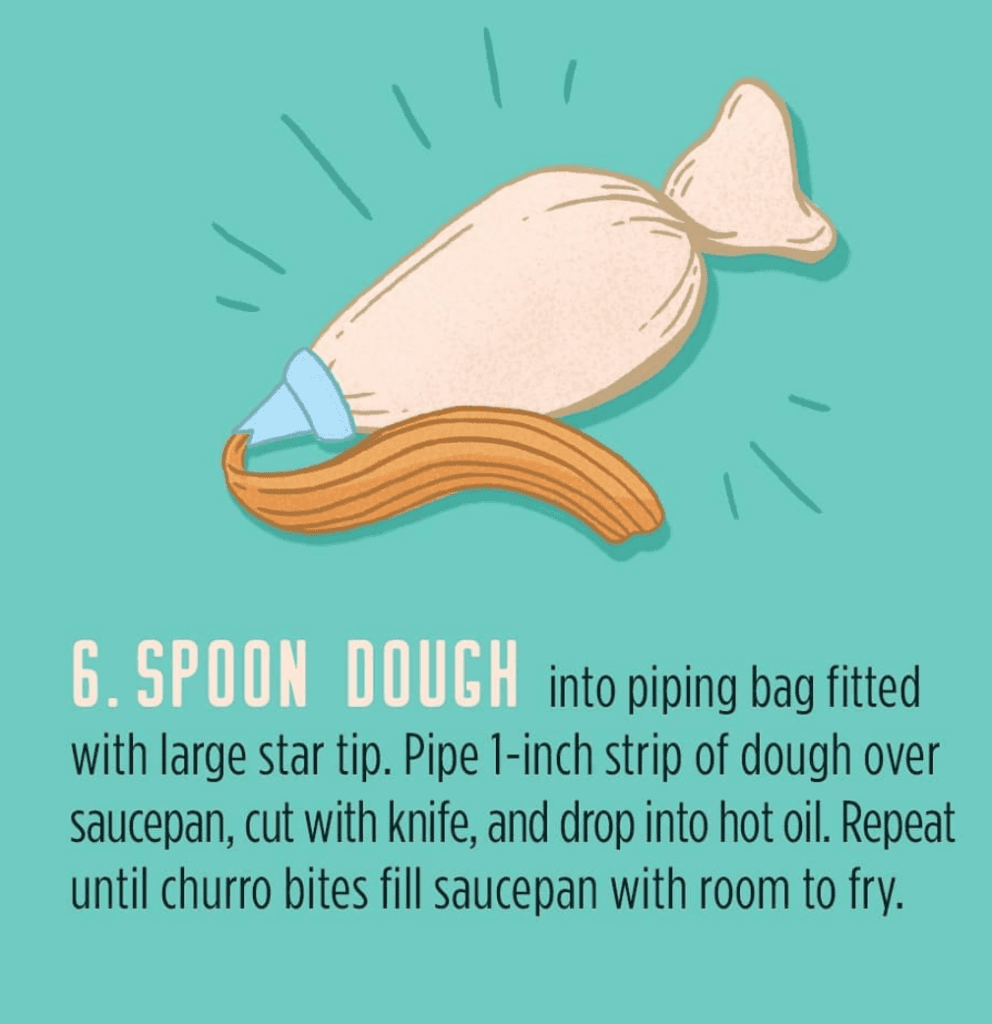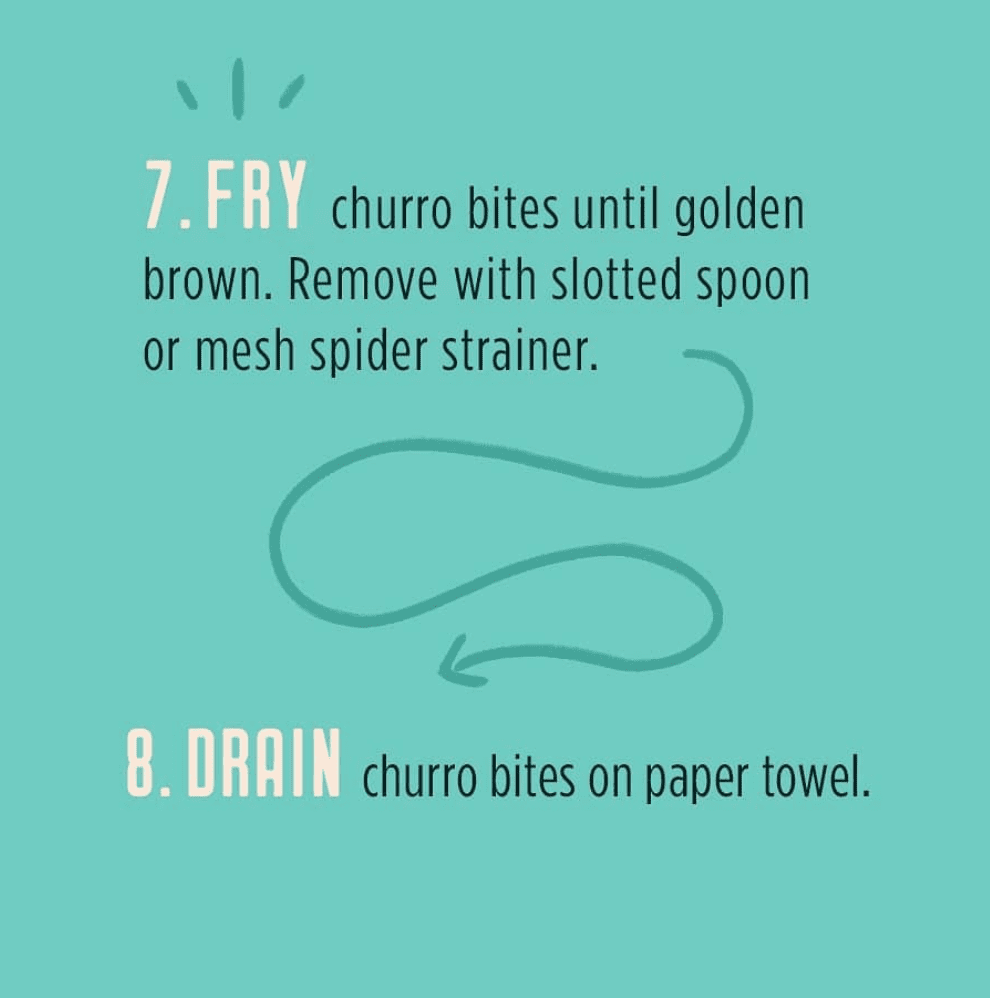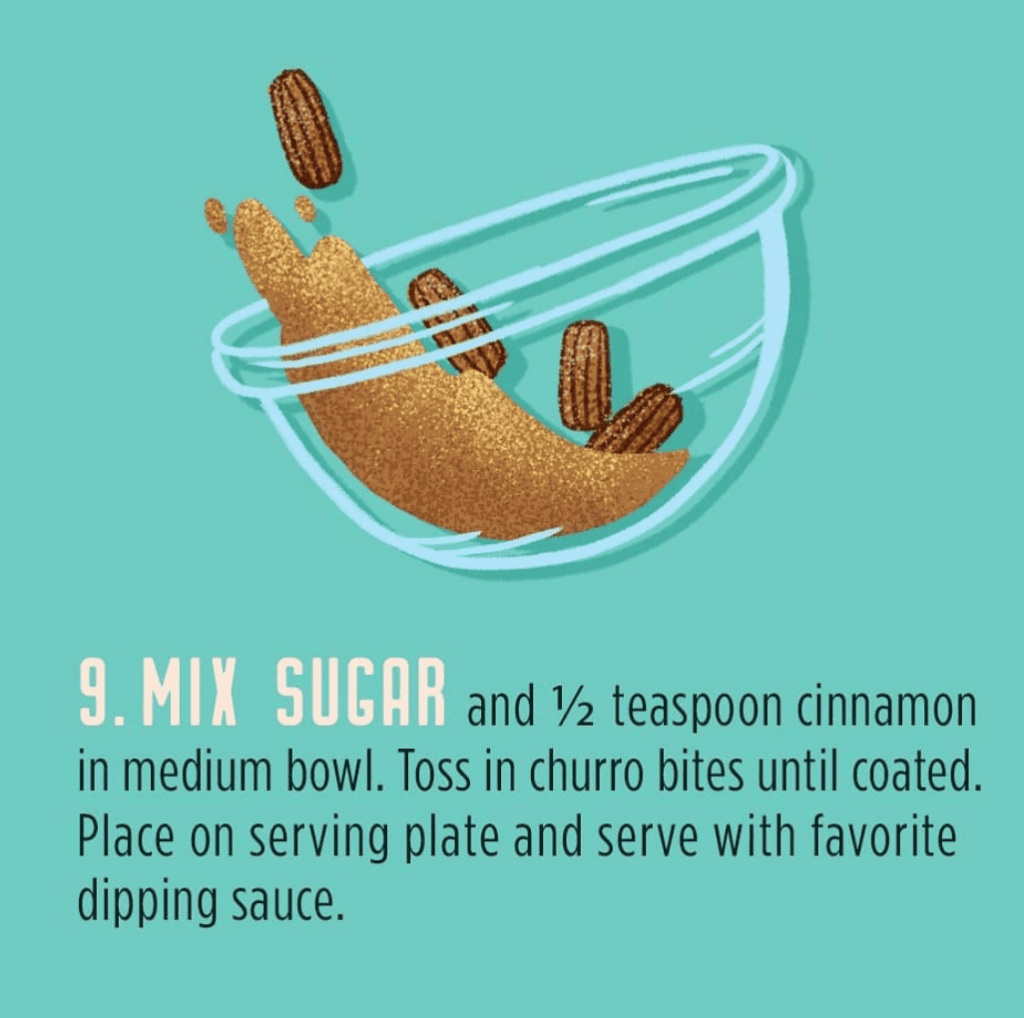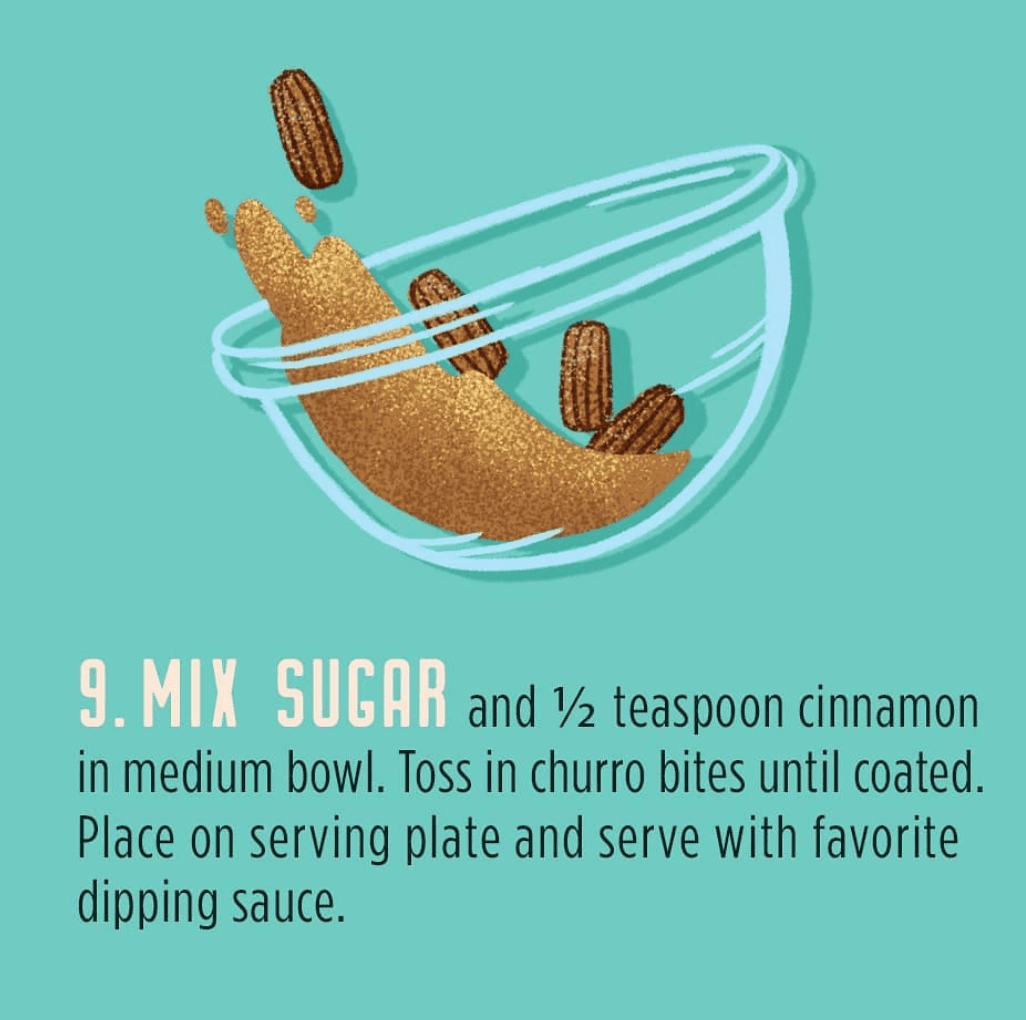 Disney makes the following note on the recipe page:
Note: This recipe has been converted from a larger quantity in the restaurant kitchens. The flavor profile may vary from the restaurant's version. As a reminder while preparing this recipe, please supervise children who are helping or nearby.

Disney Parks Blog
Disney Churro Recipe Download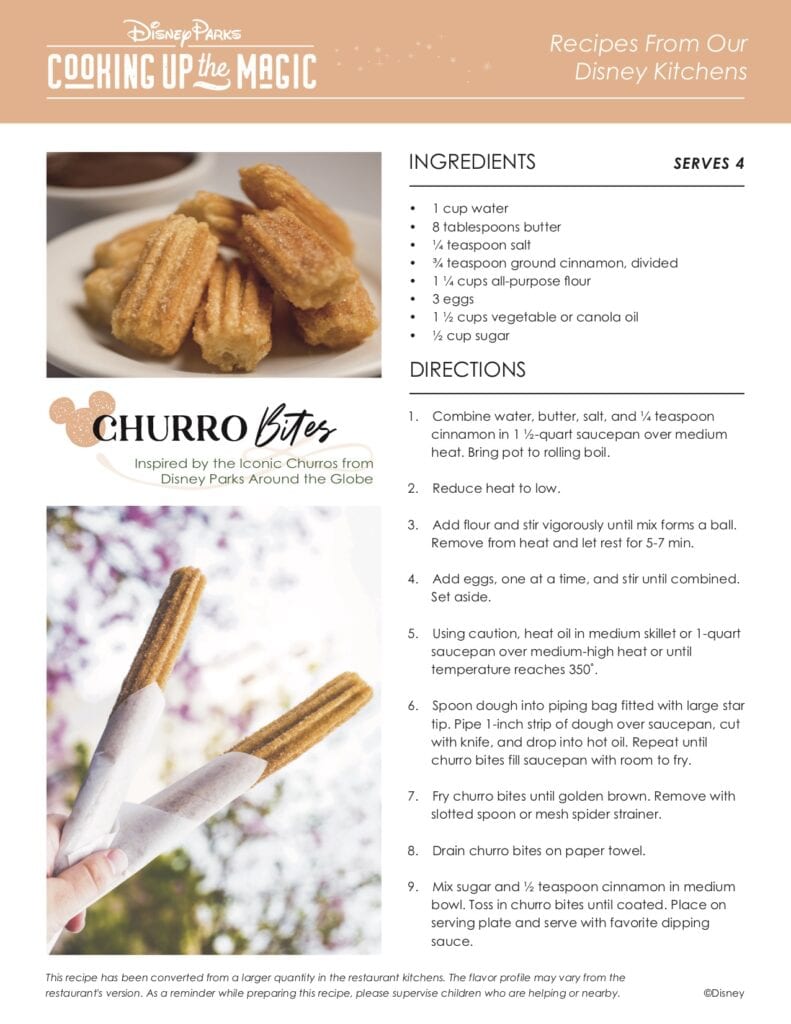 After you make this delicious recipe at home, let me know how it goes in the comments section below or on social media @disfordisney_ on Twitter and Instagram.
Keep Reading
Share this post on your Facebook, Twitter, or Pinterest page with the easy share icons below.
Neal Tucker is one of the world's most engaging Disney influencers, with thousands of views and responses across his blog, podcast, and social media profiles every month.
Get started with more D Is For Disney content here