If you're a fan of The Mandalorian and have a special Star Wars birthday party coming up, then you need to see all 22 of these totally perfect Baby Yoda cake toppers. The Force is strong with this Baby Yoda cake topper! 😉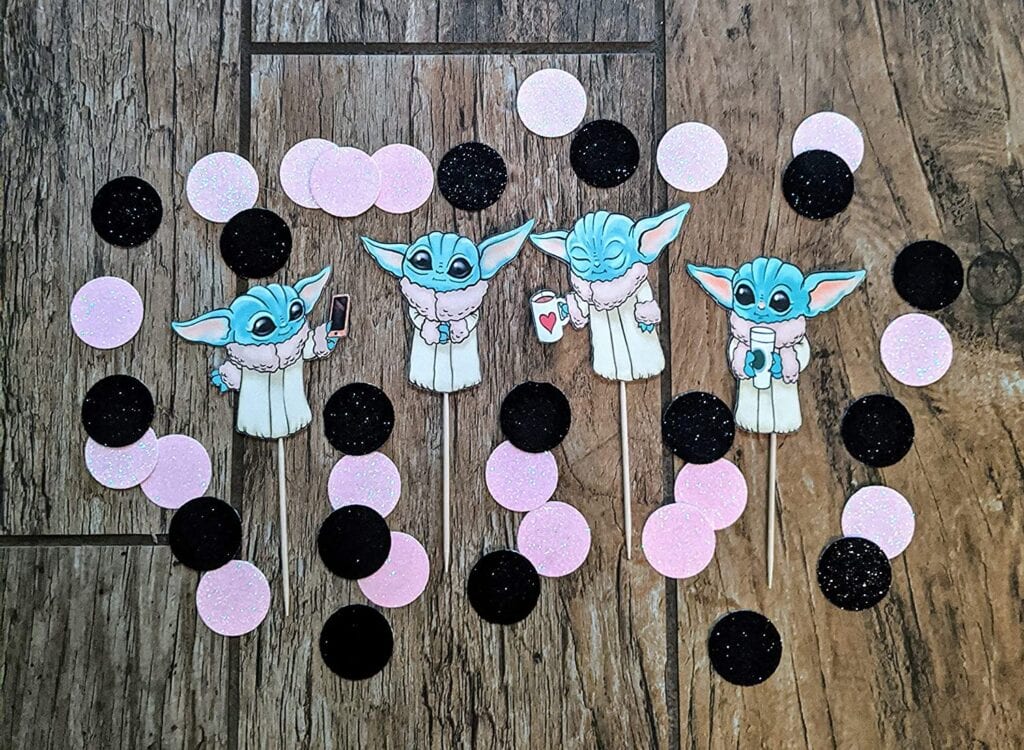 Note: All product images on this article are courtesy of Amazon, unless noted otherwise.
What Is a Baby Yoda Cake Topper?
If you're familiar with the wildly popular Star Wars TV show series on Disney+, The Mandalorian, then you already know who Baby Yoda is, and that he's taken the world by storm.
So, how can you let Baby Yoda add even more magic to your galactic Star Wars birthday party?
Get a wonderful Baby Yoda cake topper!
These little green guys go perfectly on top of cakes, cupcakes, cookies, cookie cake, ice cream cake, pie, and really just about anything else you can possibly think of for a birthday party.
With that in mind, here's the list of 22 totally perfect Baby Yoda cake toppers for a fun Star Wars birthday that's out of this galaxy!
22 Totally Perfect Baby Yoda Cake Toppers from Star Wars
This first Baby Yoda cake topper not only features The Child himself, but it also says HAPPY BIRTHDAY in big, sparkly, glitter-filled letters.
How can you say no to that sparkly face?! 😀
If you're in the mood for some Baby Yoda cupcakes, then look no further…
This is an absolutely adorable cupcake topper of The Child AKA Baby Yoda.
Plus, it has a little ring on the back, so you can take it home as a party favor, too!
Sometimes, you don't want to have the cake topper actually pop out of the top of the cake.
Instead you just simply want the lovable character to lie flat on top of the cake or ice cream cake or cookie cake.
For those types of decorations, check out this cute Baby Yoda flat cake topper.
If you like the idea of the cupcake toppers with the ring on the back…
Then you should definitely check out this one.
It has a very subtly different take on the idea of Baby Yoda in his bassinet, by making his appearance more sparkly than in the one above. There really is something for everyone!
Some cool features of this one:
Single color (blue-green, teal, turquoise)
Sparkly and glittery
Flat and easy to handle
Says "HAPPY BIRTHDAY" in big bold letters
This one is identical the previous The Child cake topper, with only one exception.
The difference is that this one below is completely solid black, as opposed to the greenish blue color of the Baby Yoda cake topper above.
Here's a fun and creative set of FOUR totally different and unique Baby Yoda cake toppers.
The full set comes with 12 total cake toppers and 4 different designs:
Starbucks Baby Yoda
Selfie Baby Yoda
Sweet and Simple Baby Yoda
Heart Mug Baby Yoda
This Baby Yoda cake topper set comes with 48 total pieces, with 12 totally different designs that you can use to put on cupcakes and make each one unique and special.
One of my favorites of the whole list is The Lion King parody one below with the Mandalorian and the Child… See if you can spot it!
It even comes with a Santa Claus version of Baby Yoda in a sweet, little red Santa hat, in case you're throwing a holiday Star Wars party!
Keep Reading
MEGA LIST of Baby Yoda Toys and Merchandise: Plush, Clothing, Funko Pops, Home Goods and More!