Singer-songwriter Zach Sobiech had a No. 1 hit on iTunes in 2013 with the song "Clouds." Sadly, Sobiech passed away shortly afterward in May 2013 at only 18 years old. The upcoming movie Clouds on Disney Plus will celebrate the life of Zach Sobiech. You can watch the Clouds trailer right here!

Who Was Zach Sobiech?
Teenage singer-songwriter Zach Sobiech was a member of the Minnesota band A Firm Handshake.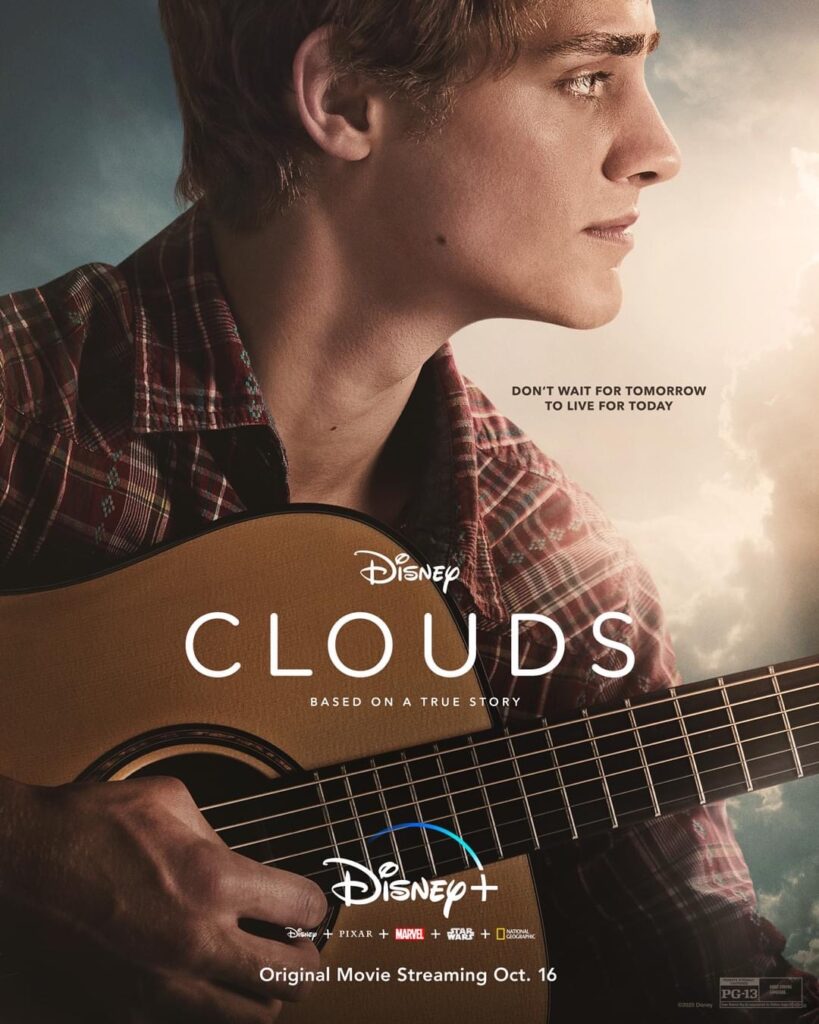 He wrote the hopeful song "Clouds" after being told by doctors in May 2012 that he had less than a year to live because of osteosarcoma, a rare type of bone cancer that primarily affects teenagers and young adults.
Sobiech initially released "Clouds" as a YouTube video in December 2012 where it became a viral hit.
As of September 2020, the video has over 14.5 million views!
"Clouds" also appeared on music charts in Canada, the United Kingdom, France, Belgium, and Switzerland.
After Siobech's death, many artists have recorded tribute versions of "Clouds."
This includes an all-star version featuring artists like:
Ashley Tisdale
Colbie Caillat
Sara Bareilles
Jason Derulo
Actors like Bryan Cranston, Rainn Wilson, and Chris Pratt
The all-star music video was directed by Justin Baldoni, who also has directed the movie Clouds on Disney Plus.
Clouds Trailer on Disney Plus
Recently, Disney has released the Clouds trailer for a movie about Sobiech's life based on a book written by his mother, Fly a Little Higher: How God Answered a Mom's Small Prayer in a Big Way.
Disney released the Clouds trailer in September 2020.
The Clouds trailer features star Fin Argus, who is also an actor and musician.

Argus plays Sobiech in the film. Argus previously worked with Disney when he appeared in two episodes of Agents of S.H.I.E.L.D. in 2020.
The cast also includes actor-musician Sabrina Carpenter, who previously appeared on the popular Disney Channel series Girl Meets World as Maya Hart.
She also played Jenny in the Disney Channel Original Movie Adventures in Babysitting, and as the voice of Princess Vivian on the Disney Channel series Sofia the First, and the voice of Melissa Chase on the Disney XD series Milo Murphy's Law.
When Can You Watch Clouds on Disney Plus?
Disney acquired the film Clouds in May 2020 from Warner Bros. Clouds is the first movie that Disney has acquired from another movie studio to premiere exclusively on the Disney Plus streaming service.
In a statement about the film, director Justin Baldoni said:
"With the future of the theatre business up in the air, it was extremely important to me to ensure Zach's message of hope, faith and triumph in the face of adversity truly had the opportunity to touch as many hearts around the world as possible."
You can watch Clouds on Disney Plus exclusively when it premieres on the streaming service on October 16, 2020!
Keep Reading
Everything Coming to Disney Plus September 2020
Share this post on your Facebook, Twitter, or Pinterest page with the easy share icons below.
Neal Tucker is one of the world's most engaging Disney influencers, with thousands of views and responses across his blog, podcast, and social media profiles every month.
Get started with more D Is For Disney content here