There's so much great content on Disney+ that it can be hard to keep up. That's a "good problem," as far as we're concerned! Specifically, many people are curious about the third season of Amphibia, and when it's coming out on Disney Plus. If that's you, then you are in the right spot! People are asking, "When does Amphibia season 3 come out on Disney Plus?" Another similar question is this: "When will Amphibia season 3 come out?" No matter how you ask it, you need to know the answers! Get all the Amphibia facts right here on DIFD.
[FULLY UPDATED WITH EXACT RELEASE DATE!]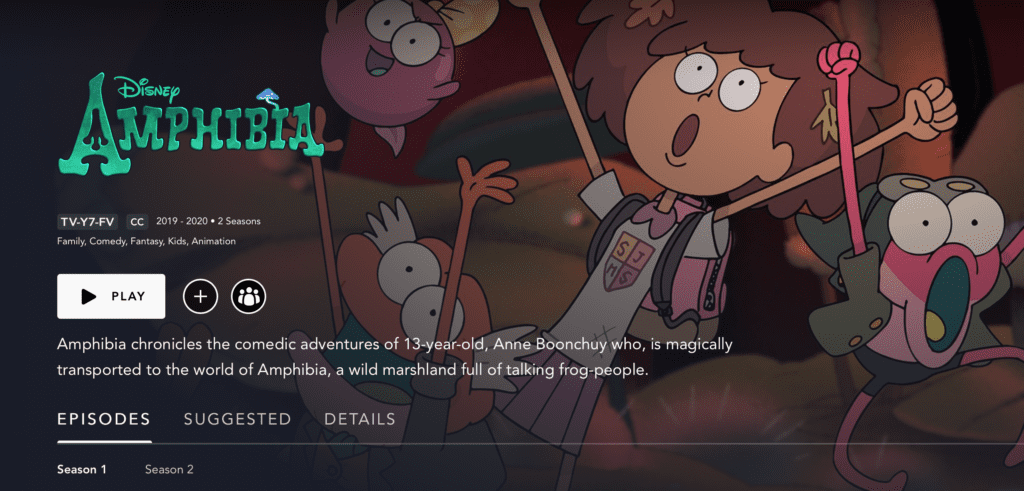 When Does Amphibia Season 3 Come Out on Disney Plus?
For fans of the popular Disney Channel TV show series Amphibia, there's been a lot of questions about the release of the show…
In particular, people are asking about Season 3.
To be even more specific, people have been asking a lot of Season 3, Episode 1!
No matter how you slice it, there's a few questions that have been going around in Disney Amphibia fandoms online…
Especially for people that have been keeping a close eye on the popular animated Amphibia series from Disney.
So, here's the biggest questions of the day:
When does Amphibia Season 3 come out? The Season 3, Episode 1 premiere "The New Normal" will come out for the first time on Saturday, October 2, 2021, at 9:30 AM Eastern US time. The show will debut exclusively on Disney Channel and DisneyNOW, but not on Disney Plus.
When will Amphibia Season 3 come out on Disney Plus? Amphibia Season 3 (the first 5 episodes) comes out on Wednesday, November 3rd, 2021, on Disney Plus. Based on previous seasons, our best estimate is sometime after February 12, 2022. But the specific release date and time is not currently announced by Disney, so nobody knows for sure.
However, we expect it to be available to stream for subscribers on Disney Plus after the third season completes its television run on the Disney Channel for cable subscribers.
---
---
---
Why February 12, 2022?
Here's how we came up with February 12th, 2022, as our ORIGINAL best guesstimate for the Amphibia Season 3 release date on Disney Plus…
Only 5 (five) episodes are currently showing up on IMDb.
BUT: Season 1 and Season 2 both have 20 episodes each…
So we can likely also expect that for Season 3.

If Season 3 has 20 episodes that release roughly every week — starting from October 2, 2021 — then Amphibia Season 3 would end on or about February 12, 2022.
That's the math as we see it so far.
Please do let us know if you have more details — in the comments section below, or on Twitter here.
Why So Much Confusion Around Amphibia Season 3?
There has been some confusion online due to a number of things.
One confusing factor is that one of the cast members announced on Twitter that the show would be streaming on Disney+ as well…
…but that has unfortunately not been the case (at least in the United States).
Without any clarifying info, it seems most likely that the actor simply misspoke. Hey, mistakes happen!
With all of that in mind, however, we still expect Amphibia Season Three to release on Disney Plus at some point in the first half of 2022.
Amphibia Season 3, Episode 1 "The New Normal"
According to D23.com…
The newest episode of Amphibia will feature the following exciting details:
Created and executive produced by Matt Braly (Gravity Falls), the latest adventures of the Emmy® Award-nominated series—which kicks off with a special extended-length episode—finds Anne and the Plantars transported from Amphibia to her hometown of Los Angeles, where the Frog Family must learn to navigate the complexities of this modern-day world, conceal their identities as talking frog people (easier said than done!), and search for a way home. But that's not all the news that's fit to print: Season three will also include a 22-minute Christmas special featuring a song written by Rebecca Sugar (Steven Universe)! Check out a cool sneak peek at the new season—first released during the show's recent Comic-Con@Home panel—above…

D23
So, there you have it, folks!
That's all the details available right now now on when will Amphibia season three come out on Disney Plus.
Have a magical day!
You Need to See This Next
Is the Disney Channel Actually Shutting Down? Here's the Answer.
Share this post on your Facebook, Twitter, or Pinterest page with the easy share icons below.
Neal Tucker is one of the world's most engaging Disney influencers, with thousands of views and responses across his blog, podcast, and social media profiles every month.
Get started with more D Is For Disney content here