With the release of the new TV show Pam & Tommy, television fans around the country are asking one extremely important question: "Is Pam and Tommy on Disney+?" Is it on Hulu? Where can it be streamed? Here is everything that you need to know about the new TV series. Where to watch, when to watch, how to watch, and more. All your questions are answered right here.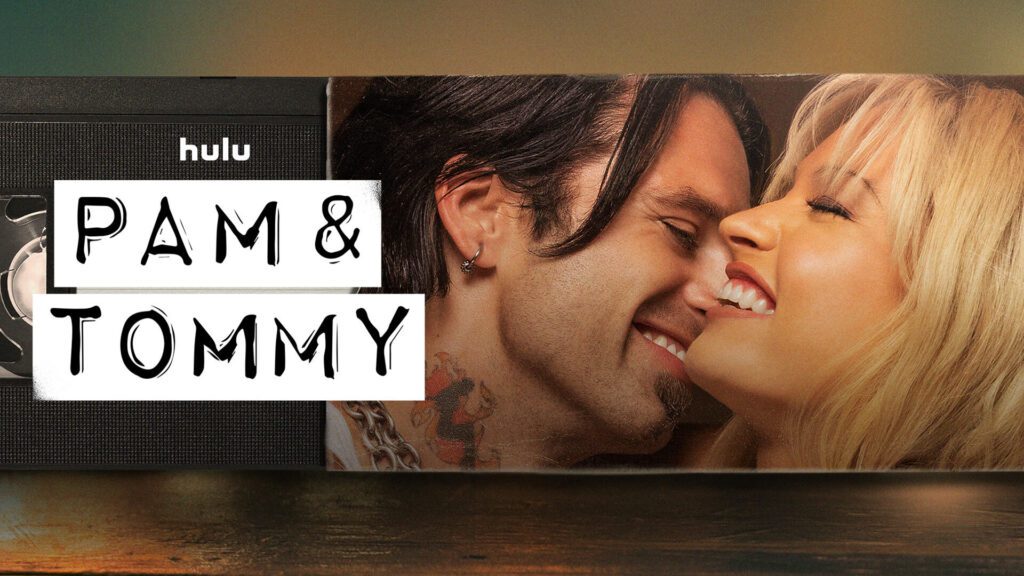 Is Pam and Tommy on Disney+?
It's been a couple of decades since the Baywatch and Mötley Crüe stars had their heyday.
Yes, today we are discussing the infamous love story between Pamela Anderson and Tommy Lee.
Specifically, there's a brand new television show that features the two of them, played by Lily James and Sebastian Stan respectively.
Both actors have connections to Disney already.
Lily James played Cinderella in the live-action remake.
Sebastian Stan has played (and still plays) the role of the Winter Soldier.
He has done this for year snow, both in the Captain America and Avengers movies, as well as the Falcon and Winter Soldier TV show.
With all of this excitement around the new series — as well as its stars — people are clamoring to know more about it, as well as how and when and where they can watch it.
If you're here, that's probably you, too!
So… Let's get right to it.
Is Pam & Tommy on Disney Plus? No, Pam & Tommy is NOT on Disney+ in the US, but it is currently streaming on Hulu in the US. Pam & Tommy is, however, streaming on Disney Plus in the United Kingdom (UK), due to differences in streaming rights across the pond.
In other words…
If you're in the US, then you'll have to watch Pam and Tommy on Hulu exclusively (US streaming link here).
If you're in London, England, or elsewhere in the UK, then you'll be able to watch the show on Disney+ (UK streaming link here).
Pam & Tommy Full Episode Release Schedule
The first 3 episodes are out and available to stream now.
Episodes release Wednesdays weekly at roughly 3AM Eastern time / 12AM Pacific time.
Episodes #1-3: February 2, 2022
Episode #4: February 9, 2022
Episode #5: February 16, 2022
Episode #6: February 23, 2022
Episode #7: March 2, 2022
Episode #8: March 9, 2022
View the release schedule and more details for all 8 episodes is on IMDb here.
There you have it, folks!
Now, you know exactly where you can go right now to stream Pam & Tommy: The Greatest Love Story Ever Sold.
Happy streaming!
Get Hulu to Stream Now
Share this post on your Facebook, Twitter, or Pinterest page with the easy share icons below.
Neal Tucker is one of the world's most engaging Disney influencers, with thousands of views and responses across his blog, podcast, and social media profiles every month.
Get started with more D Is For Disney content here