My shirts are Disney. My backpack is Disney. Nearly all my figurines are Disney. So it makes perfect sense that my computer and phone backgrounds would also be Disney. In fact, my iPhone background has been Rocket and Groot for around a year, maybe longer. Disney computer wallpapers just make life that much better. We have to look at our devices all day long, so they might as well have something pleasant on them when we do!
The internet is enormous. Trying to find Disney computer wallpapers will send you from one site to another, just trying to wrangle the exact one you're looking for. Not to mention that a lot of wallpaper sites aren't all that good or worth your valuable time. Well, I thought that was a bit too much work for everyone, so I took the liberty of doing it all myself.
Note: The websites here are intended for Disney computer wallpapers and Pixar computer wallpapers. I will post a separate article in the near future on Star Wars and Marvel.
In this article, you will find the ultimate resource list for Disney computer wallpapers. These are all really good websites with free backgrounds, live wallpapers, free screensavers, computer themes, desktop wallpapers, and more. If you're looking for Disney computer wallpapers, you can finally stop. The search is over. You've arrived!
Now, just scroll or tap through this list of links (and a few of my favorite Disney computer wallpapers) and download as many as you want. Why not? They're all free anyway!
Bon appetit!
Free Disney Computer Wallpapers and Cell Phone Backgrounds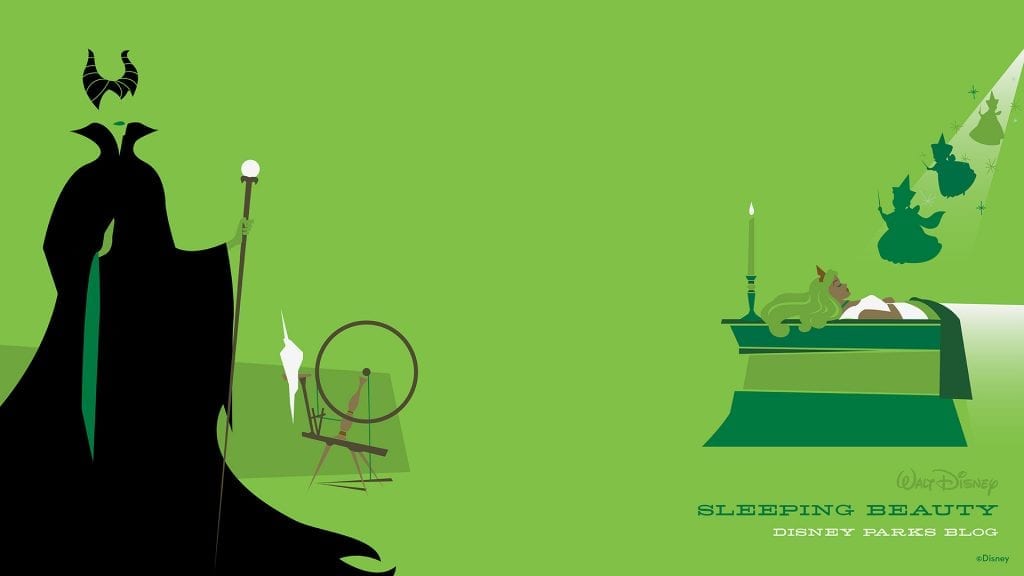 Disney itself has to be my first offering. As the creators of all this great content, it makes sense that they would also be the first place to look to get Disney computer wallpapers for it.
Above, I've chosen a minimalist rendering of Sleeping Beauty, with Maleficent looming nearby. You may not have noticed them at first, but you can see Aurora's fairy godmothers – Flora, Fauna, and Merryweather – swooping in over her in the background on the right.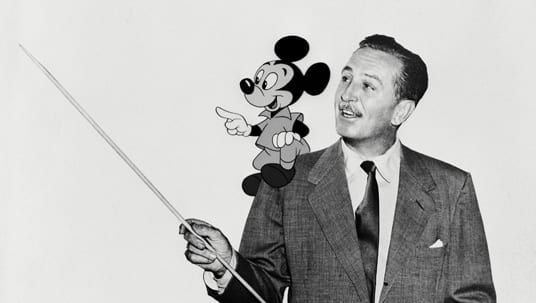 The next source is another official Disney website. D23 is the official fan club of The Walt Disney Company. They have so much amazing content on here, in addition to the free Disney computer wallpapers.
The above photo is probably my favorite of their Walt wallpapers. Or Waltpapers, if you will… Sorry not sorry. Had to.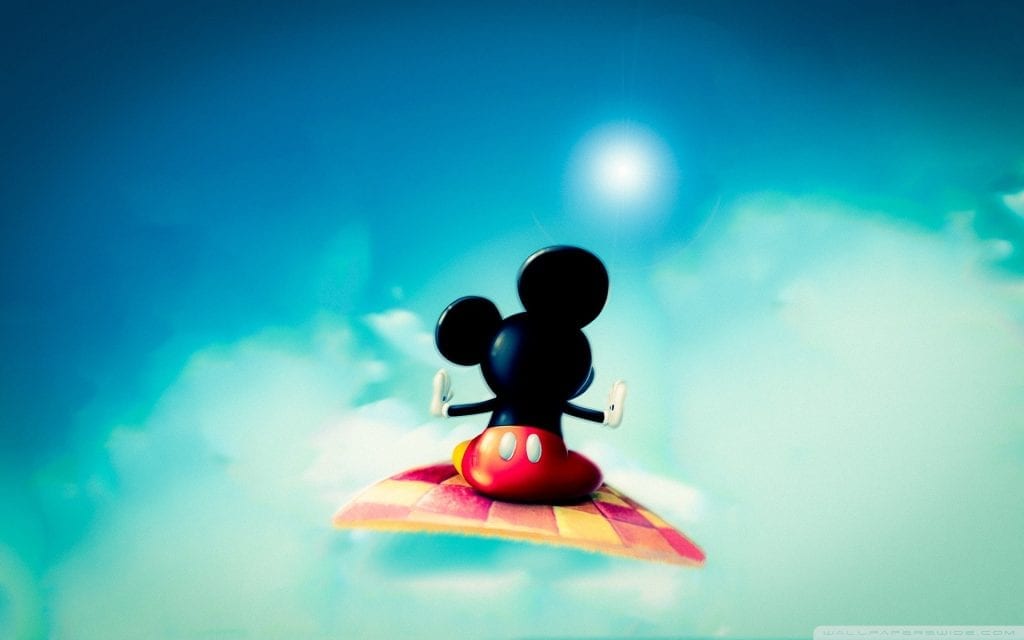 Of the plethora of more general wallpaper niche sites out there, Wallpaper Play has to be near the top of the list. They have very high quality images from both the Disney parks and the movies, as well as some original artwork turned into backgrounds. This site is easily one of my favorites.
I couldn't resist the above painting of Mickey Mouse on a flying, magical carpet. So beautifully done, and a perfect representation of what a Disney computer wallpaper can be.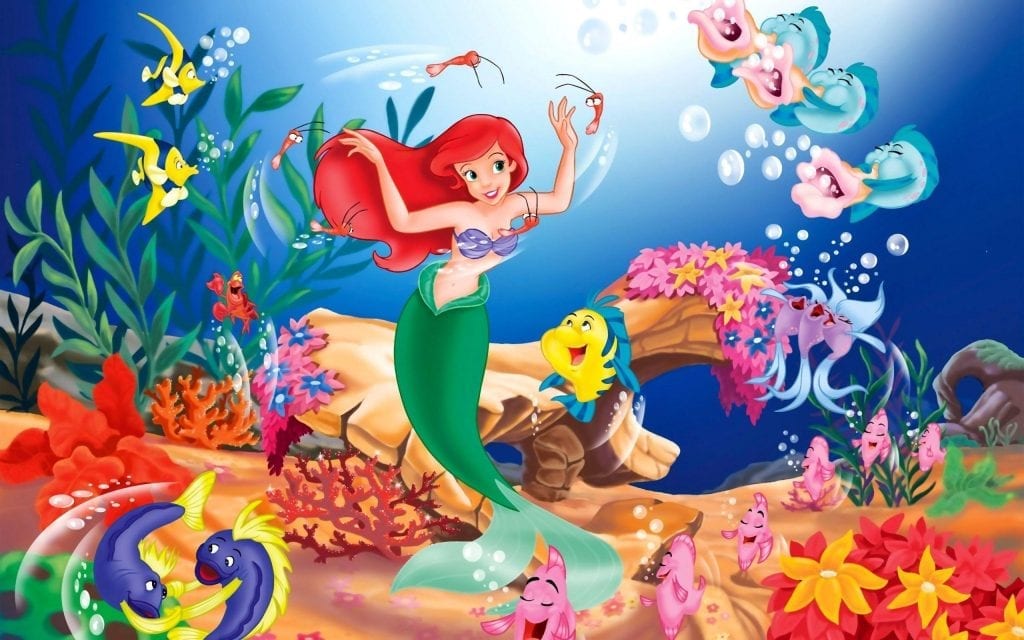 A similar site to Wallpaper Play, Wallpaper Cave features lots of animation from the many great Disney and Pixar films. They also have at least one nice drawing of Mickey Mouse rendered in pencil and a couple of photographs from the parks in the mix.
You'll probably spot a few that are also on the previous website, but Wallpaper Cave has a really good selection of Disney computer wallpapers that look just like the movie they come from without being a photocopy. The one I chose above is a good example of that. (We're also big fans of The Little Mermaid at this house.)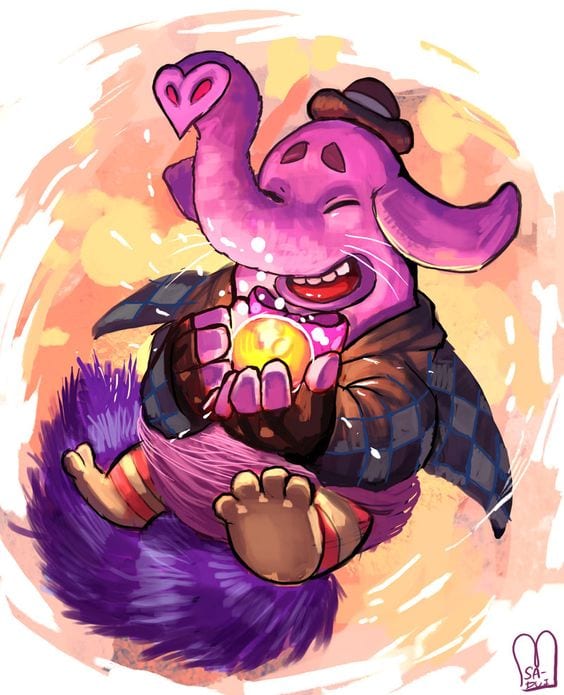 I'll leave you with one final source. That's right: Pinterest. You may not think of it as a place to get animated images, because it's so well known for DIY projects and home design. But Pinterest has a lot more than backyard fire pits and do-it-yourself wedding ideas.
If you do a quick search for "Disney wallpapers" on Pinterest, you will find a treasure chest full of great artwork and imagery from the Disney movies and Pixar films. They have pretty much any character you could want, no matter how obscure. One of my personal favorite characters in all of Disney is Bing Bong, so I've chosen him as my Pinterest example.
Did you find the wallpaper you were looking for? Do you have a favorite Disney computer wallpaper source? Let me know in the comments!
Subscribe, follow, like, share! Have a magical day!
Share this post on your Facebook, Twitter, or Pinterest page with the easy share icons below.
Neal Tucker is one of the world's most engaging Disney influencers, with thousands of views and responses across his blog, podcast, and social media profiles every month.
Get started with more D Is For Disney content here