Whether it's actually for a birthday or another kind of party or event, a Disney princess bounce house rental can be a gamechanger for your child's day. You might even want to buy one so they can jump around year-round! If you purchase one for sale, then you've got it forever. Get one with a slide, and you're really cooking with gas.
The problem is that some people have difficulty locating one to rent. Never fear! I've put together a simple, easy way to find a Disney princess birthday bounce house rental for your child's special day.
[adace-ad id="6138″]
Where to Rent a Disney Princess Bounce House
Depending on where you live, you might find a licensed Disney princess bounce house rental easier or harder. Location, location, location, right? Bouncing house rental companies are location specific. This isn't something you're going to find at the Disney Store.
The first thing you will want to do is check on Google or some other search engine for "Disney princess bounce house rental near me" and see what comes up. Small, medium, and large (sometimes called "giant") sizes are available. They even have starter bounce castles for your little ones.
If you happen to live in a major metropolitan area, it will be easier for you. Below, I've covered four areas that are very easy to book an inflatable princess bounce house rental: Southern California, San Jose, Florida, and New York City (and surrounding areas).
(If you are outside these areas, again, try a quick Google search and see what comes up. Better yet, click here, because I've done it for you!)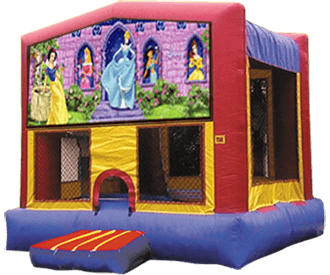 In San Jose, there are plenty of options, but one of the best is Astro Jump. They've been renting out bounce houses (moonwalks) for 30 years! The above image is taken straight from their website. It's a great, classic moon bounce with Disney princesses emblazoned on the front. Perfect for any birthday party or special day.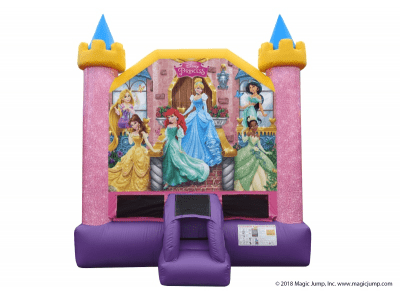 For those in the Southern California area (like me), Magic Jump Rentals offers a location tool, so that you can simply type in your zip code and bounce house rentals fill right up. They've been in the bounce house business since 1996, so they know what they're doing. You can rest assured you'll be in good hands with them.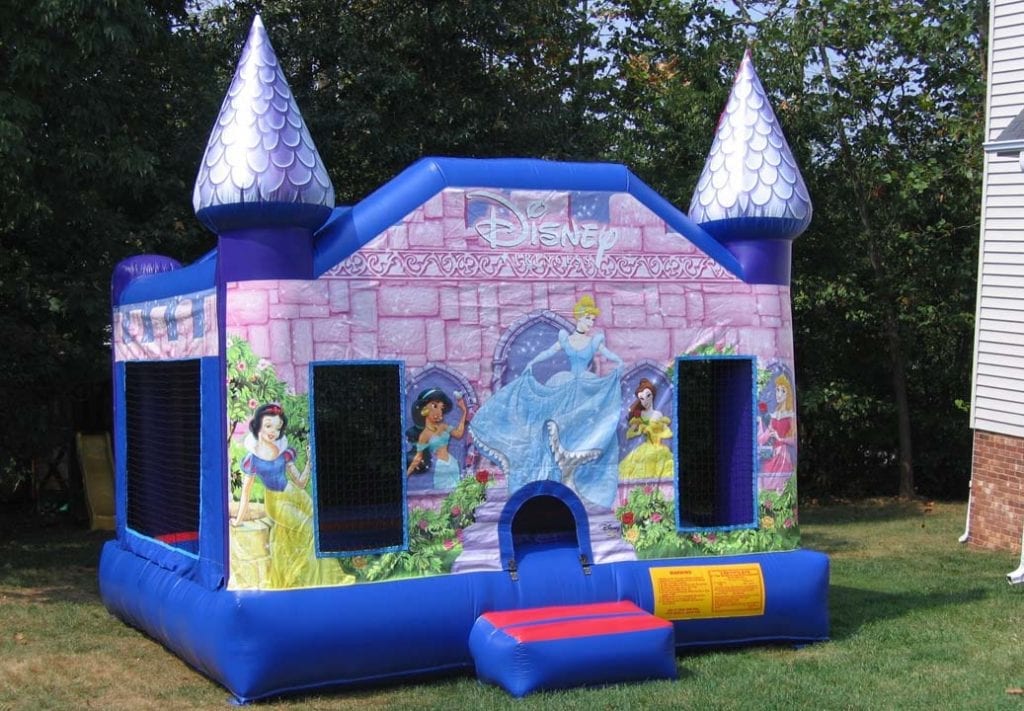 If you're in Florida, then you should check out Bounce Party Rentals. They have a nice selection, and they do all the delivery and set up for you. This way, you don't have to worry about getting it ready to go. You can just enjoy being with your child and family on their special day, whether it's a birthday or something else.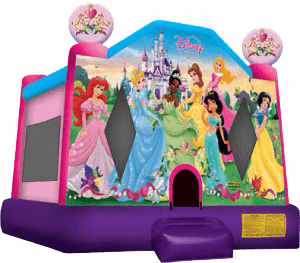 Another great location for a Disney princess bounce house rental is New York City. With such a high population, they have a lot of options to choose from. One of the best is Clowns.com. They service all five boroughs, plus Long Island and Westchester. If you're in or around New York, Clowns.com has your bounce house rental needs covered.
Where to Buy a Bounce House
If you are considering the fact that your daughter or son will want to play on an inflatable bounce house for several years, you might end up simply wanting to buy one instead. There are wholesale bounce houses, bouse house manufacturers you can contact, bounce houses with slides for sale, bounce houses for sale by owner, the more general castle bounce for sale, and many others.
It's an investment, of course. Once your child is past their bounce house years, you can sell it. These things have been in style for decades, and there seems to be no end in sight. They're just endless fun.
The first stop for finding an inflatable bounce house for sale is Bounce Houses Now. They have a 13′ x 13′ moonwalk for sale that costs $2,195. It ships within 1-3 business days, according to their website.
For another great option for purchasing a princess bounce house, look no further than Amazon. Check out all these amazing options:
These aren't all Disney princess bounce houses, but they are all great options if you're looking to buy one instead of renting.
At the end of the day, buying or renting something like this can really make a big difference in your child's birthday party or other event. If you have another resource, please add it in the comments!
Remember to subscribe, follow, like, and share! Have a magical day!
Share this post on your Facebook, Twitter, or Pinterest page with the easy share icons below.
Neal Tucker is one of the world's most engaging Disney influencers, with thousands of views and responses across his blog, podcast, and social media profiles every month.
Get started with more D Is For Disney content here