Everybody loves to color. I know I do. It's an enjoyable activity for the whole family that is also super calming. Coloring books are fun and satisfying partly because you have a completed project when you're done. The only hiccup is that you have to go searching for the right ones that you want. Well, for those hunting down free Peter Pan coloring pages for kids and adults, you've come to the right place!
Peter Pan is one of Disney's most beloved characters from the Peter Pan movies. There's Peter Pan, of course, but also Return to Neverland. That one is sometimes called Peter Pan 2. Peter Pan, the princess fairy Tinker Bell, the Lost Boys. They are all here for you to color.
It's easy to see why Peter Pan is so loved. He's adventurous, impulsive, and he can fly! Not to mention he reminds us to stay young forever. I know I loved Peter Pan as a kid, and still do as an adult.
Toys and games are wonderful, of course, but sometimes children (and parents!) want a fun, quiet activity. It makes total sense that people would want to have Peter Pan coloring pages to play with and explore.
Colors, pages, books, sheets! What more could you need? Coloring in books is fun for the whole family to enjoy. Kids and adults both enjoy page coloring. Whether the coloring sheets are printed out on paper or saved to an iPad or tablet for coloring book fun on the screen, it's always a great time.
Have a nice, cozy weekend day or school-night in and enjoy the simple pleasures of coloring in pages from one of the most lovable characters of all time: Peter Pan.
Pages of coloring galore are near. Just follow the second star to the right, and straight on 'til morning! (Channeling my inner Peter Pan…). Enjoy!

The Best Free Peter Pan Coloring Pages for Kids and Adults
Peter Pan Coloring Sheets from Coloring-Book.info
This first website is by far one of the most popular for Peter Pan coloring pages for kids and adults. Coloring-Book.info has lots of delightful drawings from the movie and much more. You and your child can color in Peter Pan, Wendy, the Lost Boys, Captain Hook, Smee, Tinker Bell (everyone's favorite fairy!) and many others.
The whole gang is here in JPEG or PDF format. Download any of the above printable pages and sheets to start coloring right away!
Peter Pan Coloring Pages from Mom Junction
Another fantastic free Disney coloring website is Mom Junction. This one offers plenty of drawings that are not from the movies themselves. Nice closeup coloring pages of Peter Pan in a variety of different situations.
Peter Pan flies, captains a ship, and carries Wendy away to safety! Download any of the above printable JPG or PDF pages and sheets for FREE! Start coloring right now if you want!
Another favorite online free coloring book source of mine is Hello Kids. This is primarily a phone and tablet app. But, you can color right on the website, too, with their built-in coloring! They have so much good stuff, it's overwhelming (in a good way!). Peter Pan coloring pages are everywhere.
One thing I love about Hello Kids is that each of the characters from the movie has its own category. Peter Pan has his own category. The princess of all the fairies, Tinker Bell, has her own category. The Darling family, too! See below for example.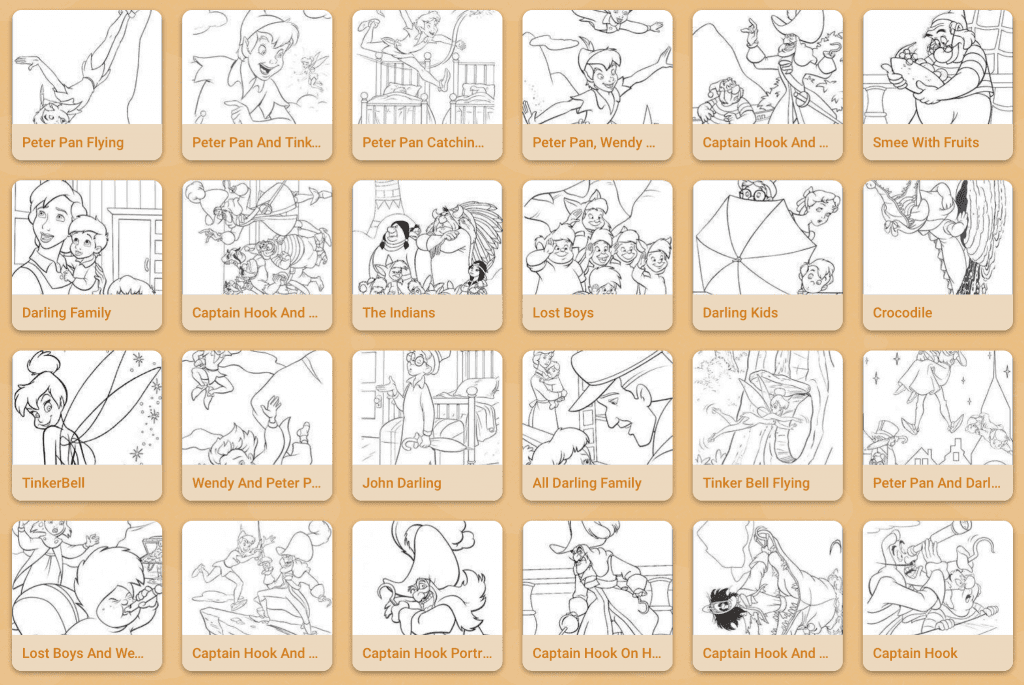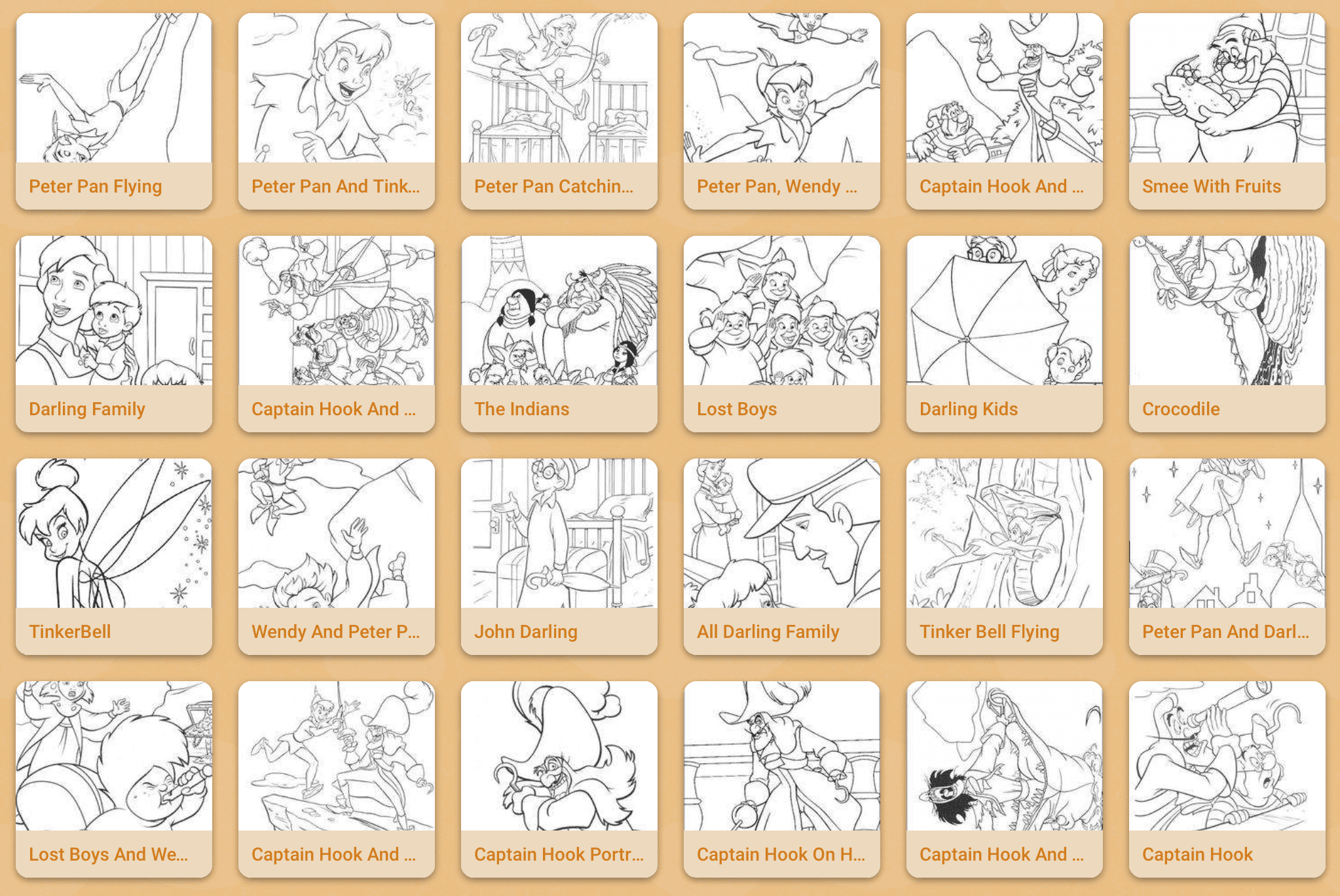 They make it super easy! Just find the exact Peter Pan coloring character you're looking for and get started.
Download the app here for iPhone and iPad and here for Android and Google Play. That way you can get all of the above JPEGs or PDFs, so you can color immediately!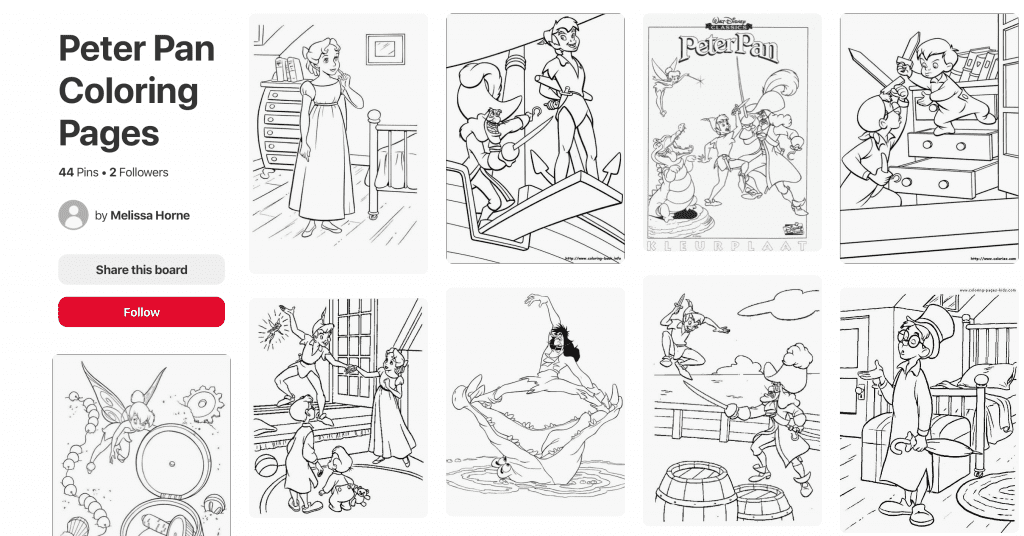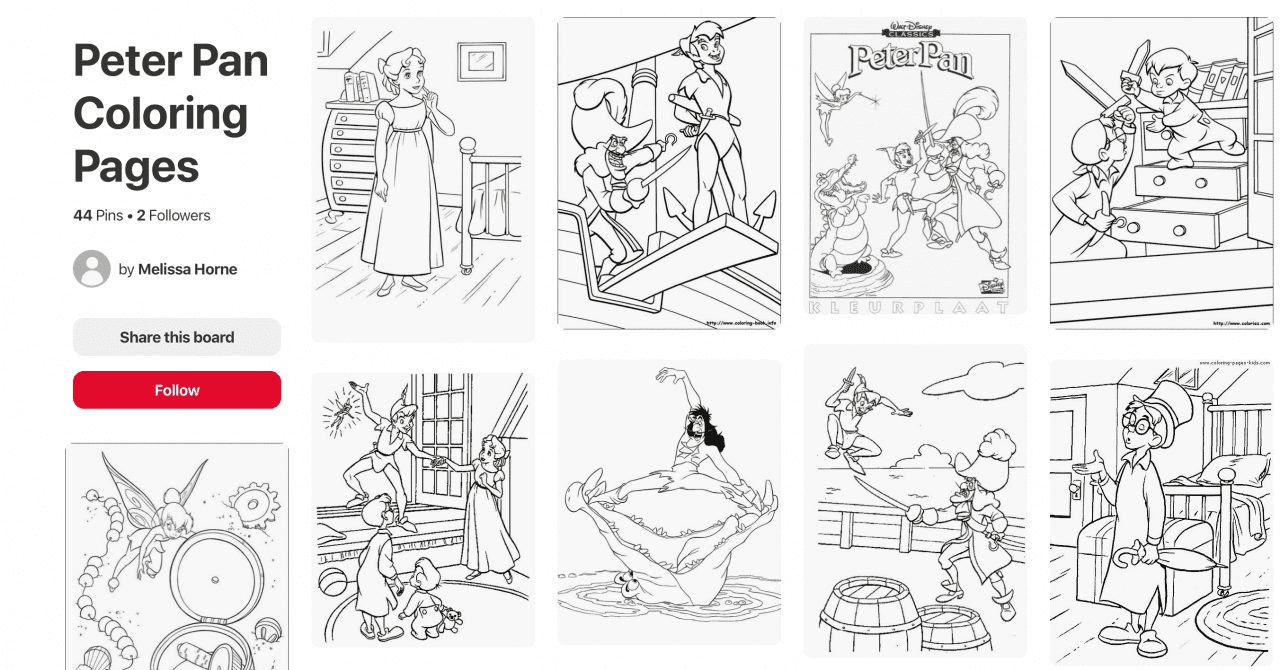 Last, but not least, is Pinterest. Pinterest has so much great stuff for kids and adults alike. It's really a wonderful source for printable coloring books, pages and sheets online for the whole family to enjoy.
Above is a screen capture from one of the many Pinterest boards devoted to coloring books. This one in particular focuses only on Peter Pan coloring sheets. You can see that pretty much all of the characters are represented here for your coloring entertainment!
Even More Free Coloring Books and Resources!
If you're looking for even more free coloring pages, books and sheets, I've got that, too! Head over here to see free Buzz Lightyear coloring pages.
You can also watch the video below from Toy Art's channel on YouTube. The artist shows kids and adults alike how to draw and color Peter Pan.
If there's a specific Disney character or Pixar movie you want to color or see, let me know! I'm always looking for more of the best Disney coloring materials for you and your family.
Have a flying good time while coloring, and have a magical day!
Share this post on your Facebook, Twitter, or Pinterest page with the easy share icons below.
Neal Tucker is one of the world's most engaging Disney influencers, with thousands of views and responses across his blog, podcast, and social media profiles every month.
Get started with more D Is For Disney content here