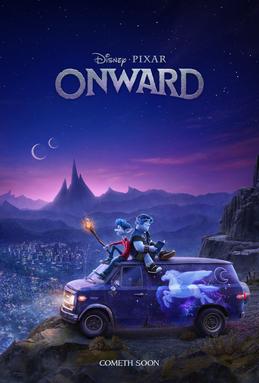 It's been a minute since Pixar released a film with a brand new storyline, characters, and world. Coco was the last entry that fit this description, and it came out in 2017. With the film Onward, that's about to change. Pixar's new Onward teaser trailer has just been released, and it takes us into a fun new fantasyland of adventure.
The main characters are brothers played by Tom Holland (Spider-Man) and Chris Pratt (Guardians of the Galaxy). If you ask me, judging from this little snippet of teaser trailer awesomeness, they are P-E-R-F-E-C-T for these roles. Pratt's lovable oafiness is always heartwarming and hilarious at the same time, and Holland plays outmatched kid on an adventure better than anyone else right now.
Other stars include Julia Louis-Dreyfus (VEEP, Seinfeld) and Octavia Spencer (Ma, The Help). The film is directed by Dan Scanlon (Monsters University) and is set to be released next year on March 6th, 2020.
Onward to the Pixar Theory?
Apart from the fantastical world and the lovable characters, one thought did cross my mind: how would this film fit in with the Pixar Theory? If you aren't familiar, the Pixar Theory is the idea that every Pixar film exists in the same time continuum, beginning and ending in some ways with the character Boo from Monsters, Inc.
For my money, I just have to wonder how Onward would fit in that timeframe and how we might see more dots get connected along the way. If you have any thoughts, please share in the comments or on Twitter @disfordisney_.
If you haven't had a chance to watch the Onward teaser trailer, I highly recommend it. It's fun, fantastical, and introduces us to this wonderful new world of adventure. Take a look below, and let me know what you think in the comments.
Read about how Pixar will create a series of short films released on Disney+!
Have a magical day!
Share this post on your Facebook, Twitter, or Pinterest page with the easy share icons below.
Neal Tucker is one of the world's most engaging Disney influencers, with thousands of views and responses across his blog, podcast, and social media profiles every month.
Get started with more D Is For Disney content here