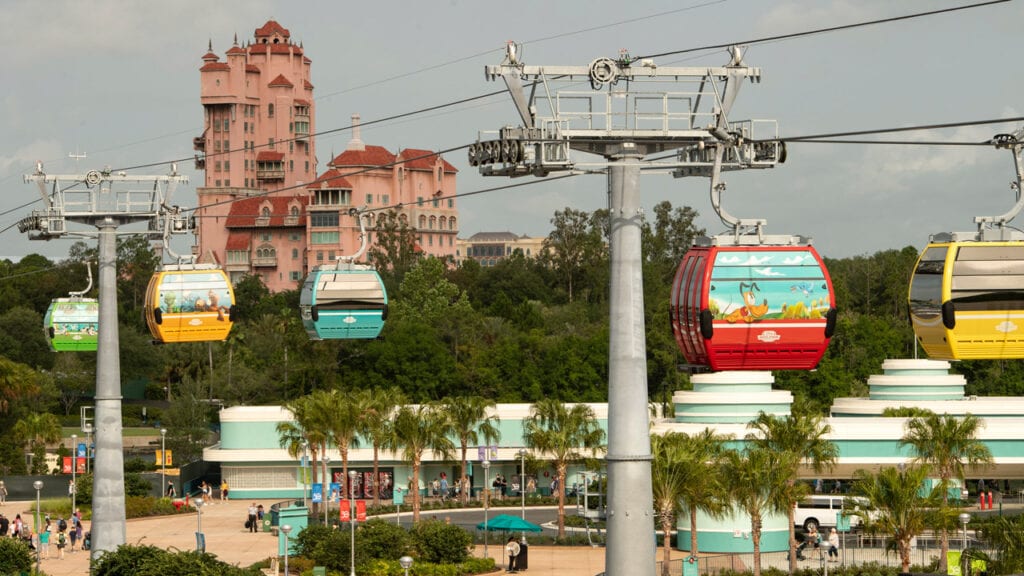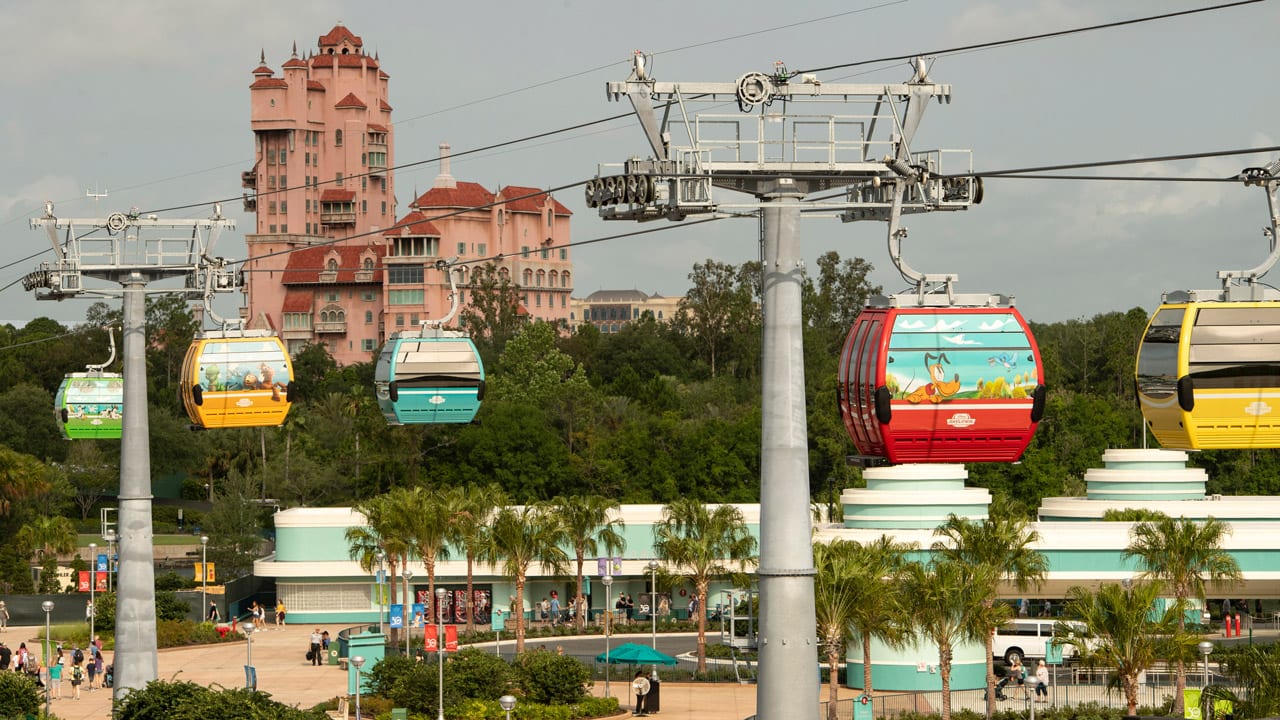 Introduction
Planning a trip to Disney World presents all sorts of fun challenges, such as how to get around using the Walt Disney World Skyliner Gondolas.
The parks offer buses and the hotels have shuttles, but the Disney Skyliners gondola lift system provides a unique way to experience the parks from above while also giving you a practical way to get around to the different resorts and theme park areas below.
Thankfully, there's a lot of information that can help you make this decision. The tough part is how spread out all this info – including photos, maps, videos, tweets, and everything else – happens to be.
All the Details You Need Are Here
Because of this unique challenge, I've looked far and wide and pulled together all the best sources into one place for the complete guide to the Walt Disney World Skyliner Gondolas. If you're having trouble deciding if they're worth it, or you just want to know what the experience is like before hopping aboard, you're in the right place.
Also, there's cute Mickey Skyliner merch, and I just couldn't help but share it. Okay, moving on…
Here's the short and sweet overview of everything we'll cover:
The Must-Know Basics of the Disney Skyliner
History of the Walt Disney World Skyliner Gondolas
Where to Board the Skyliner Gondolas
How Long It Takes to Ride from One Station to Another
Frequently Asked Questions
And More…
After this, you'll be a Skyliner expert. So, without further ado, let's get into it!
Quick Facts: The Must-Know Basics of Walt Disney World's Skyliner Gondolas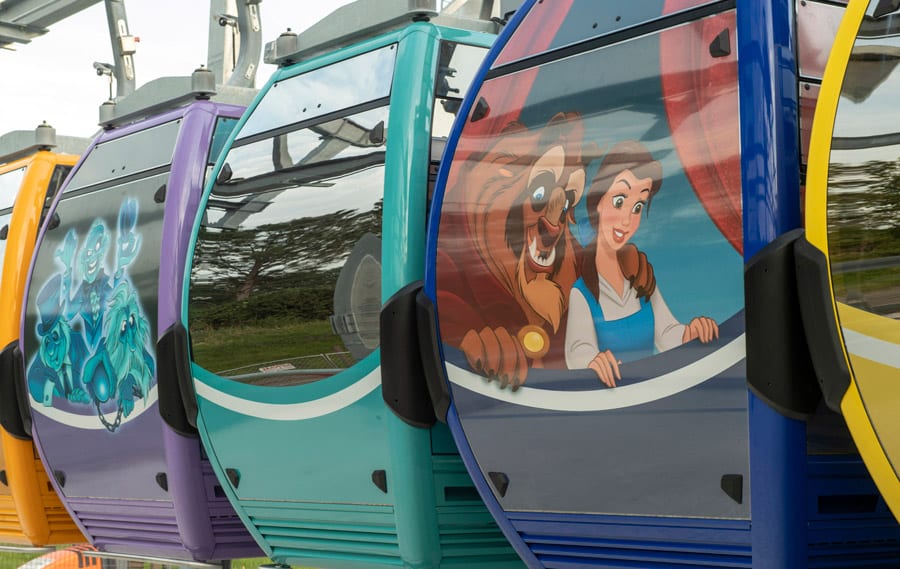 Here's all the basics that you need to know about the Skyliner Gondolas before we get into the details of the ride, how it came to be, and the best way to have a great experience making use of it.
Official name: Disney Skyliner
Opening date: September 29, 2019
Location: Walt Disney World Resort in Orlando, Florida
Number of lines: 3 (Epcot, Hollywood Studios, Art of Animation & Pop Century)
Number of stations: 6 (5 are loading zones, 1 is not)
Number of gondolas: ~300 cabins
People traveling at any given time: Almost 3,000 riders
Distance covered: ~6 miles
Operating hours: 6:45am – 10:30pm (*check schedule daily as times may change)
Number of connected hotels: 4 (Disney's Caribbean Beach Resort, Disney's Art of Animation Resort, Disney's Pop Century Resort, and Disney's Riviera Resort)
Fun fact: The WDW Skyliner is the only gondola system of its type across all of North America that has double loading.
Alright, now I'm going to cover the history, then I'll get into some the necessary details and talk about how best to use the gondolas at the parks.
If you enjoy Disney history as much as I do, I highly recommend checking out The Art of Walt Disney. My wife and I have a copy of this book, and we adore it. You can usually get a copy for much less than the retail price on Amazon. Great coffee table book, but also just a fantastic art book and an interesting read, too.
Okay, back to the Skyliner!
History of the Walt Disney World Skyliner Gondolas
Here's a bit of the history of the Skyliner system. Because it's so new, there's not a ton of "history", but I enjoy the history of just about everything, so I'm including it here. As times goes on, I'll update this section (only with the juiciest bits of info of course).
Note: If you're not interested in this section, feel free go down the page to the next sections, where I cover everything you need to know about this ride to get the very best experience for you and your family and friends on your next vacation or day trip.
Planning and Construction
From February through July of 2017, The Walt Disney Company made plans to install a new lift system at Walt Disney World. Bob Chapek, then the chairman of Disney Parks Experiences and Products, and now CEO, ran the planning phase.
The idea was for a new transportation device to move people between each of 4 hotels and offer a new perspective from which to view the parks themselves.
About the same time, the Minnie Vans were developed along with a facelift to Epcot itself. Throughout 2018, the lifts were being built, and by early 2019, tests were being run on the passenger cabins along the Hollywood line.
The Grand Opening
On July 15, 2019, Disney announced that the Skyliner Gondolas would officially open to the public on September 29th of that year, which is exactly what happened.
That's the short history of the Walt Disney World Skyliner Gondolas in a nutshell. I will be sure to update this with necessary information as time goes on and new, exciting updates are added to the Disney Skyliner system.
For a bit more Disney Parks history, read this article on the updates to Cinderella's Castle at Disney World and Sleeping Beauty's Castle at Disneyland.
Now, let's move into the practical details you need to make the most of your town with the Disney Skyliner.
Locations: Where to Ride the Disney Skyliner Gondolas
Where can you ride the Disney Skyliner? That's a great question! In order to get around using the gondolas, it's important to know where exactly it starts and stops. (In the next section we'll look at how long each trip takes as you ride the lift system throughout the parks.)
Note: For the best insider info on how to plan your Disney World trip for a small fraction of the cost that most people pay, I recommend this guide. It's written by Beth Haworth, a Former Disney Cast Member and Best Selling Travel Writer, and she offers a 100% money-back guarantee. You don't have to be a millionaire to have an extravagant Disney vacation. She proves it.
There's a grand total of 6 Disney Skyliner gondola stations (but only 5 have loading zones). Here's the full list of all the Disney Skyliner locations where you can hop on and off of the Skyliner gondolas, along with a map of all the places as well.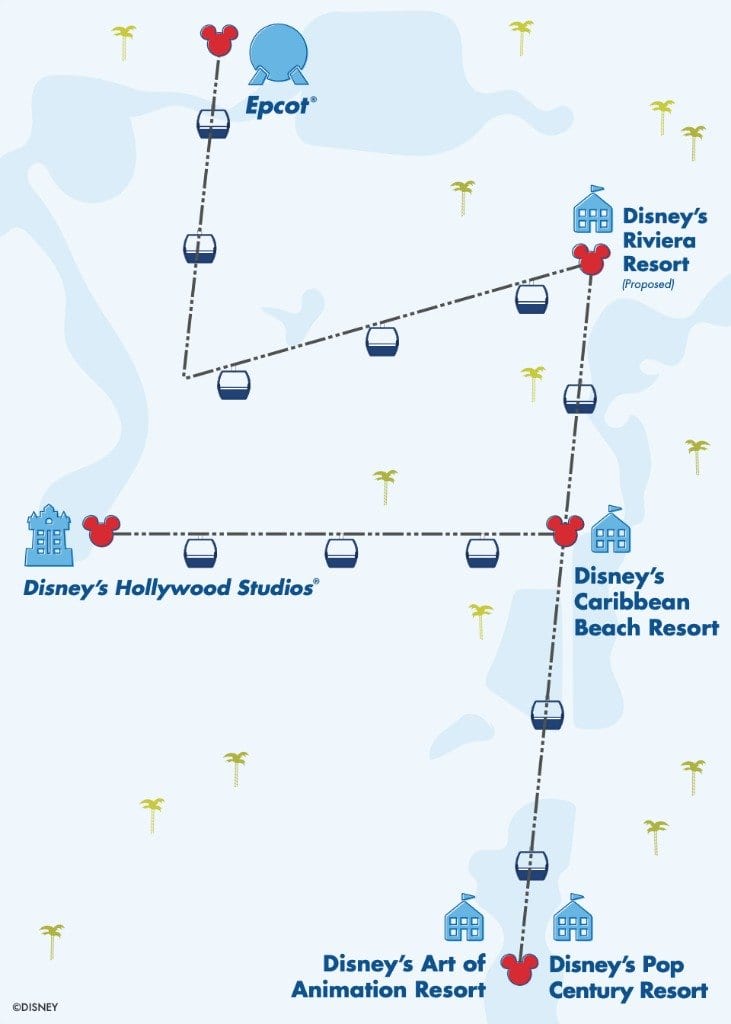 List of 6 Walt Disney World Skyliner Gondolas locations:
Art of Animation Resort
Pop Century Resort
Caribbean Beach Resort
Disney Riviera Resort
Epcot International Gateway
Hollywood Studios Main Entrance
Turn Station (This is not an actual stop, so don't try to leap out here!)
2 Quick Notes
The Caribbean Beach station acts as the central station for the Disney Skyliner gondolas.
The Turn Station isn't an actual station. It's just a spot for the gondolas to turn between Epcot and the Riviera Resort.
Those 2 facts will become more or less apparent once you're more familiar with the gondolas' routes, but I wanted to point it out so you know exactly what to expect and what to look out for.
Travel Time: How Long It Takes to Ride the Skyliner Gondolas
Here are the travel times for the different routes that you can take along the Disney Skyliner lift system.
Going from Caribbean Beach Resort to Pop Century Resort / Art of Animation Resort: 4 minutes
Traveling from Caribbean Beach Resort to Riviera Resort: 3 minutes
Going from Caribbean Beach to Hollywood Studios: 5 minutes
Traveling from Caribbean Beach Resort to Epcot's International Gateway: 12 minutes
Going from Riviera Resort to Epcot's International Gateway: 9 minutes
See the Infographic Map at the bottom of this post for a visual reference. Feel free to download it and take it with you on your phone or print off and throw in your pocket for the parks.
Disney Skyliner Frequently Asked Questions (FAQ)
Q. How many people fit in one Disney Skyliner gondola?
A. Each gondola cabin fits a total of 10 passengers, 5 per wooden bench on each side.
Q. Can I stand in the gondola during my trip?
A. Standing is not allowed during the ride.
Q. Should I ride the Lyft Minnie Vans or Skyliner?
A. While there are several forms of transportation at WDW, some people get into the specific pros and cons of the Minnie Vans vs. Skyliner. There are 2 main things to consider:
Where are you going? Depending on your location, you may choose one over the other. See the map and infographic on this page for details.
Does cost play a factor in your decision? Skyliner is free, while Minnie Vans are not.
The answer to these 2 questions can help you determine which one works best for you and your daily park travel needs.
If you're not familiar with the Minnie Vans, here's a quick photo to see what they look like from the official Disney Parks Twitter account. These can pick up you from the Orlando International Airport and take you to and from your hotel as well. Plus, they're adorable. So, they have that going for them…
Q. Are food and/or drinks allowed in the gondolas?
A. Yes, food items and beverage drink items are allowed.
Q. Are the Skyliner gondola cabins air conditioned?
A. No, the gondolas do not have air conditioning inside them. They have window vents to provide air circulation and a slight breeze.
Q. Do the gondolas ever get stopped?
A. Yes, the gondolas do occasionally get stopped, just like any other ride at the park. Bad weather can cause this, or a temporary disruption in service. If this happens, you might want to have some water or a little handheld fan with you so you don't get too hot, because, again, the cabins are not air conditioned.
Q. What should I do in case of an emergency?
In the event that you have an emergency while riding the Disney Skyliner, don't worry. Disney has installed an emergency call box in every gondola cabin. Simply push the call button for help. There's a sticker above each call box that will remind you of this while on the ride.
Q. What is the Skyliner Guest Services phone number?
A. Skyliner Guest Services can be reached at 407-827-2515. This number is posted on a sticker in each gondola car.
Q. Will I get motion sick while riding in the Disney Skyliner gondolas?
A. This will depend on the person. While there's a little bit a movement to the ride itself, it's pretty uneventful overall. If you have a tendency to get motion sickness, it's highly recommended that you sit facing forward, in the direction of the movement. Sitting backwards can cause certain people to get motion sickness. For myself, I take a little Bonine before a trip to the parks if I know I'm going to be riding any particularly fast or spinning rides.
Q. Can I stay on the ride from one end of the parks to the other?
A. Yes, you can take the Skyliner from one end to the other, but Disney does not allow guests to stay in the cabin after it reaches one of the end points. You're more than welcome to get back in line and wait 10-20 minutes for another trip.
What's It Like Riding the Walt Disney World Skyliner Gondolas? (VIDEOS)
If you want to experience the Disney Skyliner Gondolas before visiting the park or riding in a cabin, then you can watch these two fantastic videos made by Disney enthusiasts and experts.
Each one offers something a little different and provides a "window" (pun intended) into just what the ride looks, sounds, and feels like from a first person perspective.
So, get ready for the best seat in the house and a fun POV trip aboard the Walt Disney World Skyliner Gondolas.
Here's the first one…
And here's one more…
Finally, here's some more evidence of just how awesome the Disney Skyliner really is at Walt Disney World.
Pretty cool, right? I've always loved "ride throughs" or "ride alongs", because they allow you experience the ride firsthand even when you're not actually there at the theme parks.
If you want another closeup look at some parks that haven't even been built yet, scroll through this post on the new Marvel Land Avengers Campus at Disneyland.
Wrap Up
The most important thing to remember is that the Skyliner Gondolas can be a fantastic travel resource for you and your family as a free and convenient way to get around the parks, but they also allow you to see the theme parks from a completely new angle and perspective.
Don't forget to enjoy the view of the scenery and to listen to the narrator's fun facts about the Disney Skyliner system and the parks themselves. Again, the Disney Skyliner is both free transportation and just a fun, cool cabin riding experience.
Are you currently planning a trip or considering it? If you've ever wondered how to find the cheapest tickets to Disney World or Disneyland, you can view some of the best places online to get your family trip tickets without spending a fortune or even get free tickets.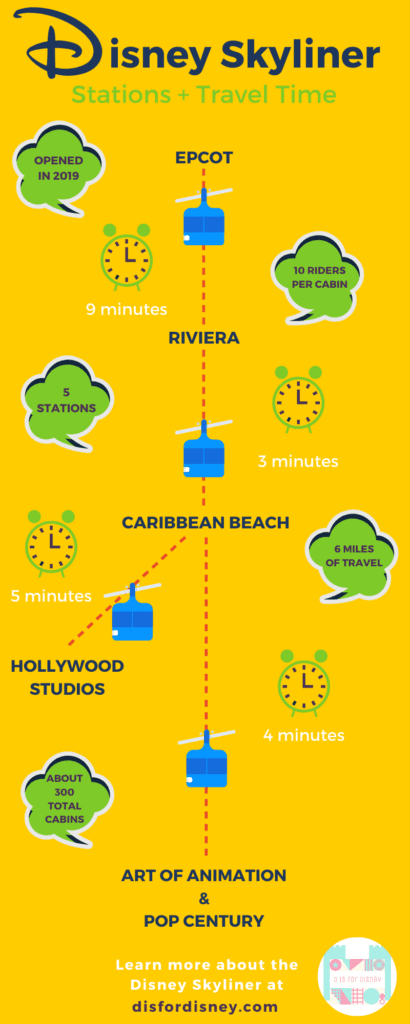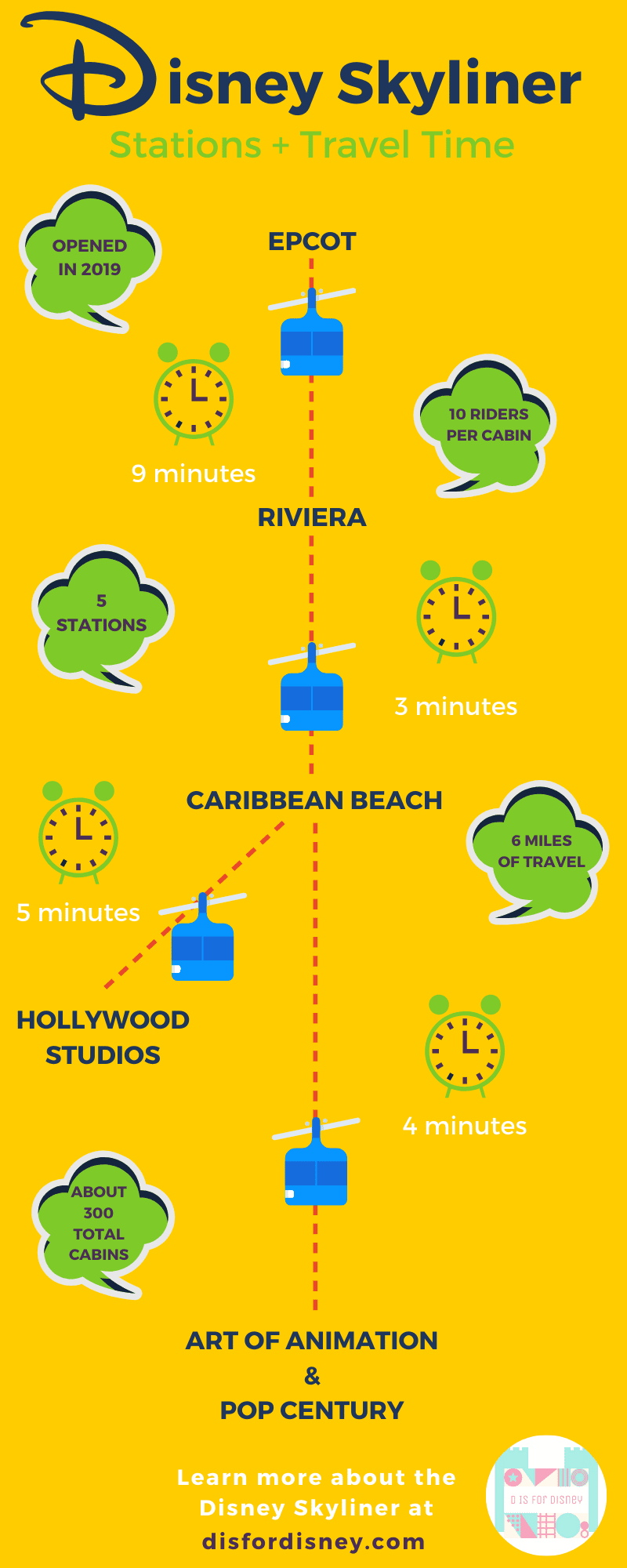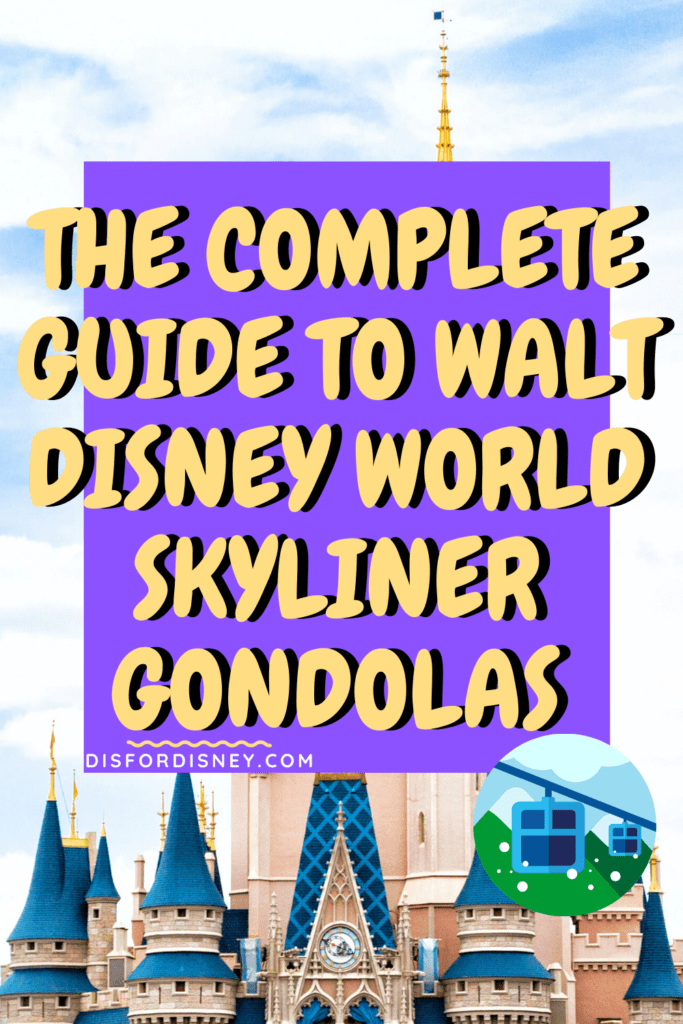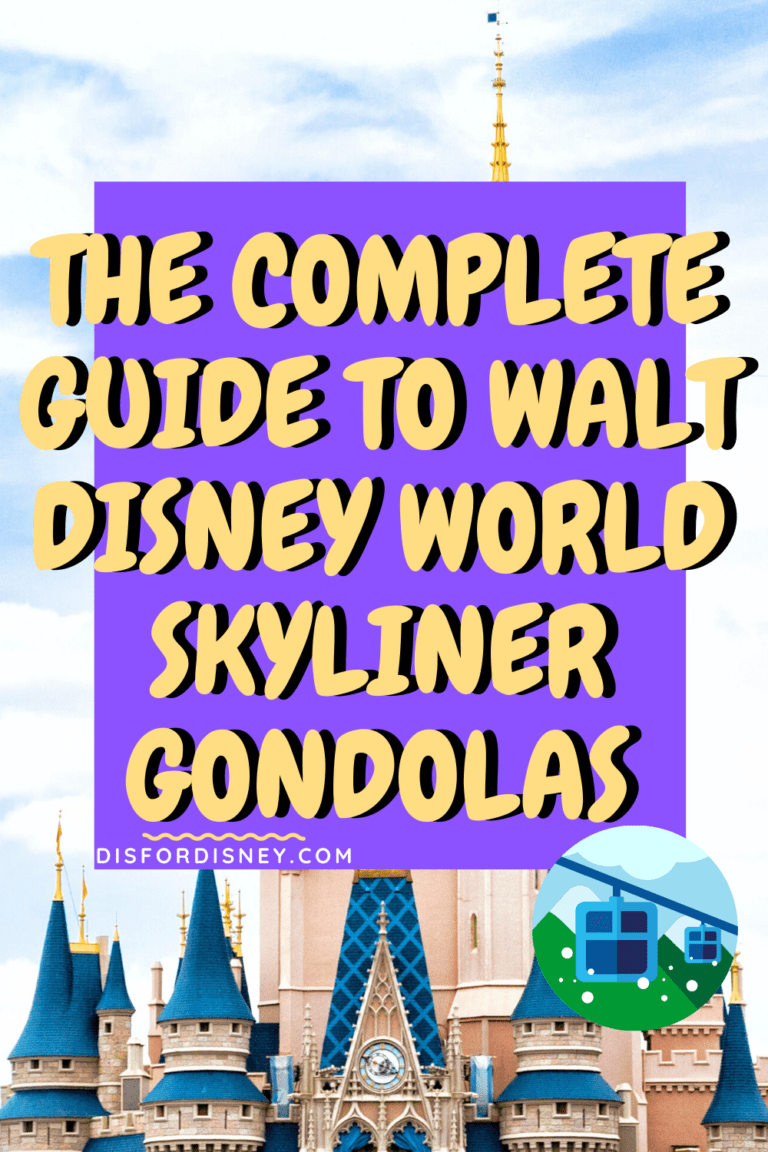 Share this post on your Facebook, Twitter, or Pinterest page with the easy share icons below.
Neal Tucker is one of the world's most engaging Disney influencers, with thousands of views and responses across his blog, podcast, and social media profiles every month.
Get started with more D Is For Disney content here