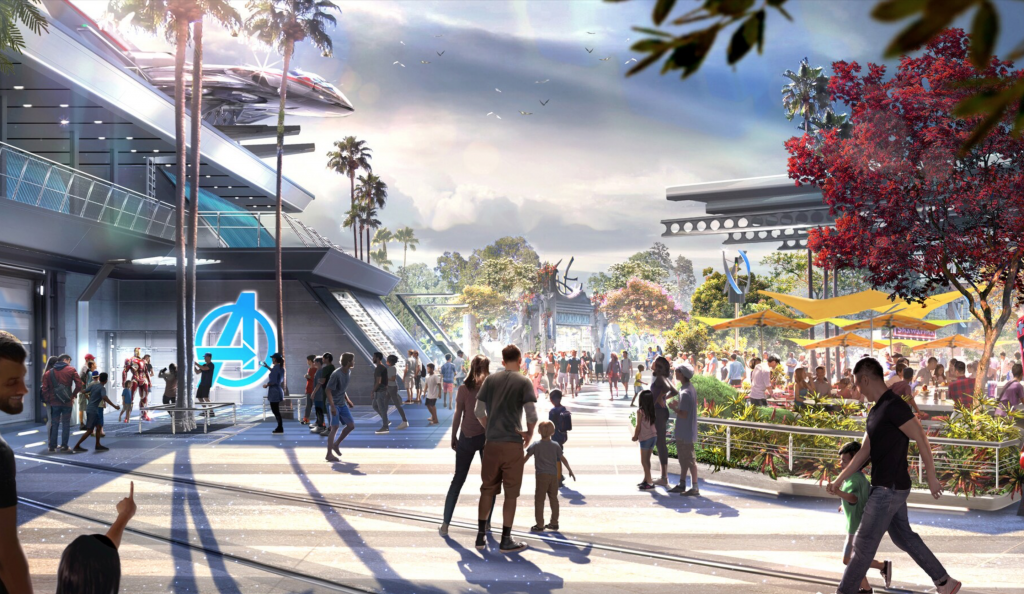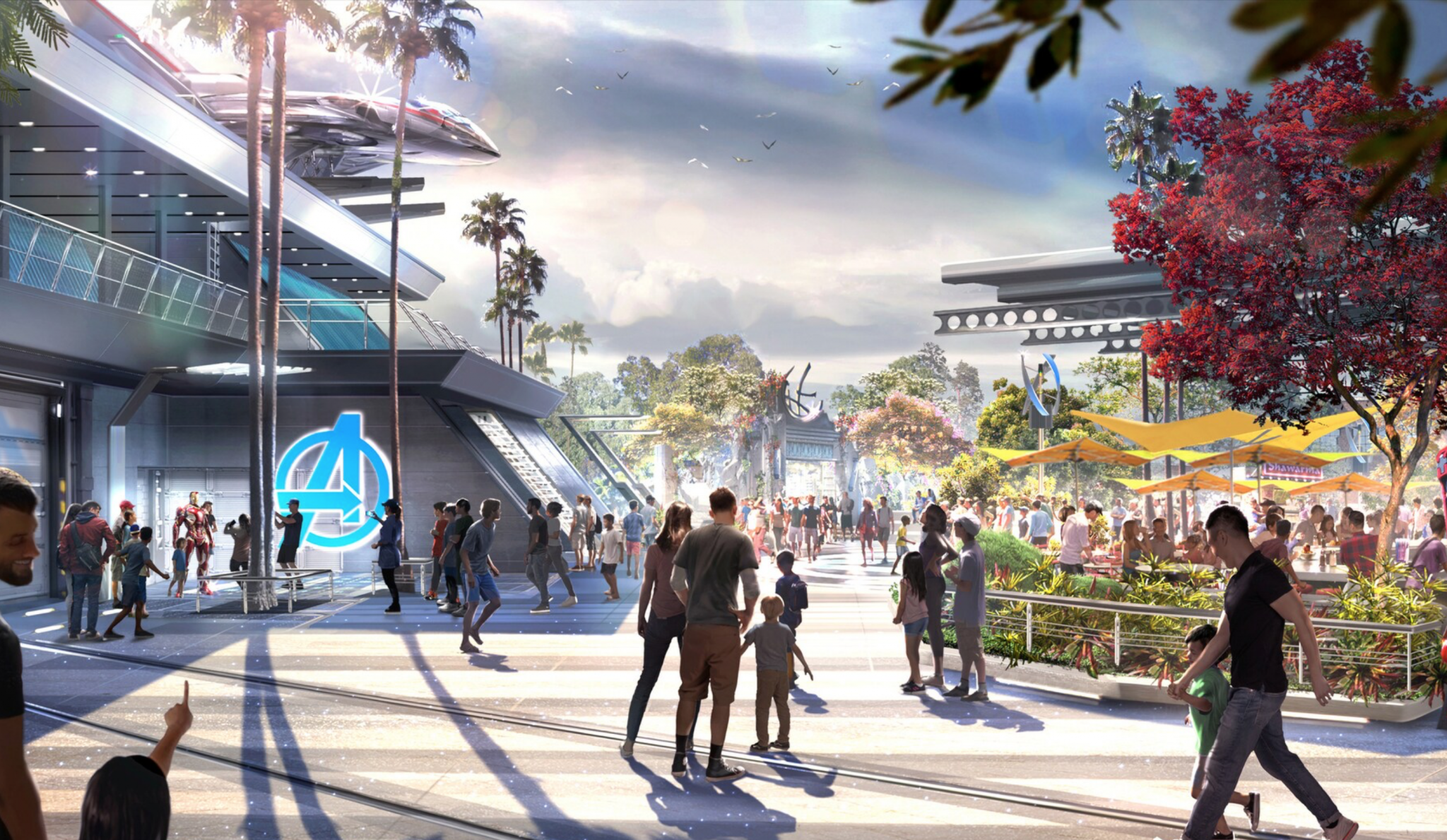 I am very excited about the new Avengers Campus at Disneyland California Adventure, or what a lot of people (myself included) are unofficially calling Marvel Land.
In sort of the same way that Galaxy's Edge is lovingly called Star Wars Land by some, I have a feeling the name Marvel Land at California Adventure will stick as well.
Disney announced this week that the park is set to open on July 18th, 2020. That's this year!!!!
This blog post will cover the Avengers Campus (Marvel Land) and what it will look like, the rides and attractions, what the restaurants and food looks like, the characters, and everything else.
In other words, here's what to expect at Marvel Land…that we know of so far.
Alright, let's get into it…
Avengers Campus: Details for New Marvel Land Area at Disneyland
While it sort of feels like Galaxy's Edge just opened up, I'm already ready for a brand new world to get going again. Disney seriously knows how to keep the excitement pumping on all cylinders.
And I CANNOT WAIT.
When Avengers Endgame came out I almost peed myself in the concessions line I was so excited. If I don't die of excitement on the tram to the Marvel Land, I'm sure it's going to be a great opening day.
Okay, here's the details that we know so far.
When is opening day for the new Avengers Campus at Disneyland in Anaheim, California?
July 18th, 2020
Which parks will have an Avengers Campus or Marvel Land type area?
California Adventure will feature their Avengers Campus (Marvel Land) at Disneyland in sunny Anaheim, CA, on July 18th, 2020.
Next will come Disneyland Paris in June of 2021.
Finally, Hong Kong Disneyland will get what's being called the Stark Expo, as in Tony Stark, as in Iron Man.
Now, Hong Kong already has the Iron Man experience there (opened in 2017), so it's not totally clear on how that's being changed or upgraded, but apparently it's getting new material (source).
Will the Disneyland Avengers Campus replace anything or be on a different property?
This is a really good question. It's one that comes up all the time when the Disney theme parks get new attractions and rides.
For the current Marvel Land addition/expansion, Disneyland will have to replace a few attractions. In fact, it's already happened.
Out here at Disneyland, the Avengers Campus has replaced quite a few things actually:
1. Tower of Terror already replaced by Guardians of the Galaxy Mission Breakout.
2. A Bug's Land replaced by new Avengers Campus attractions, not yet open.
3. It's Tough to Be a Bug replaced by new Avengers Campus attractions, not yet open.
So, basically all of the oversized vegetation and such that made that part of the park feel like you were in the A Bug's Life movie.
It was neat, and I know some people really miss it (I still occasionally see petitions about bringing back some of the characters from there). That said, I'm so excited about the Marvel Land/Avengers Campus.
I know if and when they get rid of another of my favorite rides (RIP Tower of Terror) I'll start a petition too, but for the moment I'm looking forward to this one.
What Rides Will Be in the New Marvel Land Area at the Avengers Campus at Disneyland?
Guardians of the Galaxy Mission: Breakout!
Of course, we already have this one, but it's still technically part of this Marvel Land area.
WEB SLINGERS: A Spider-Man Adventure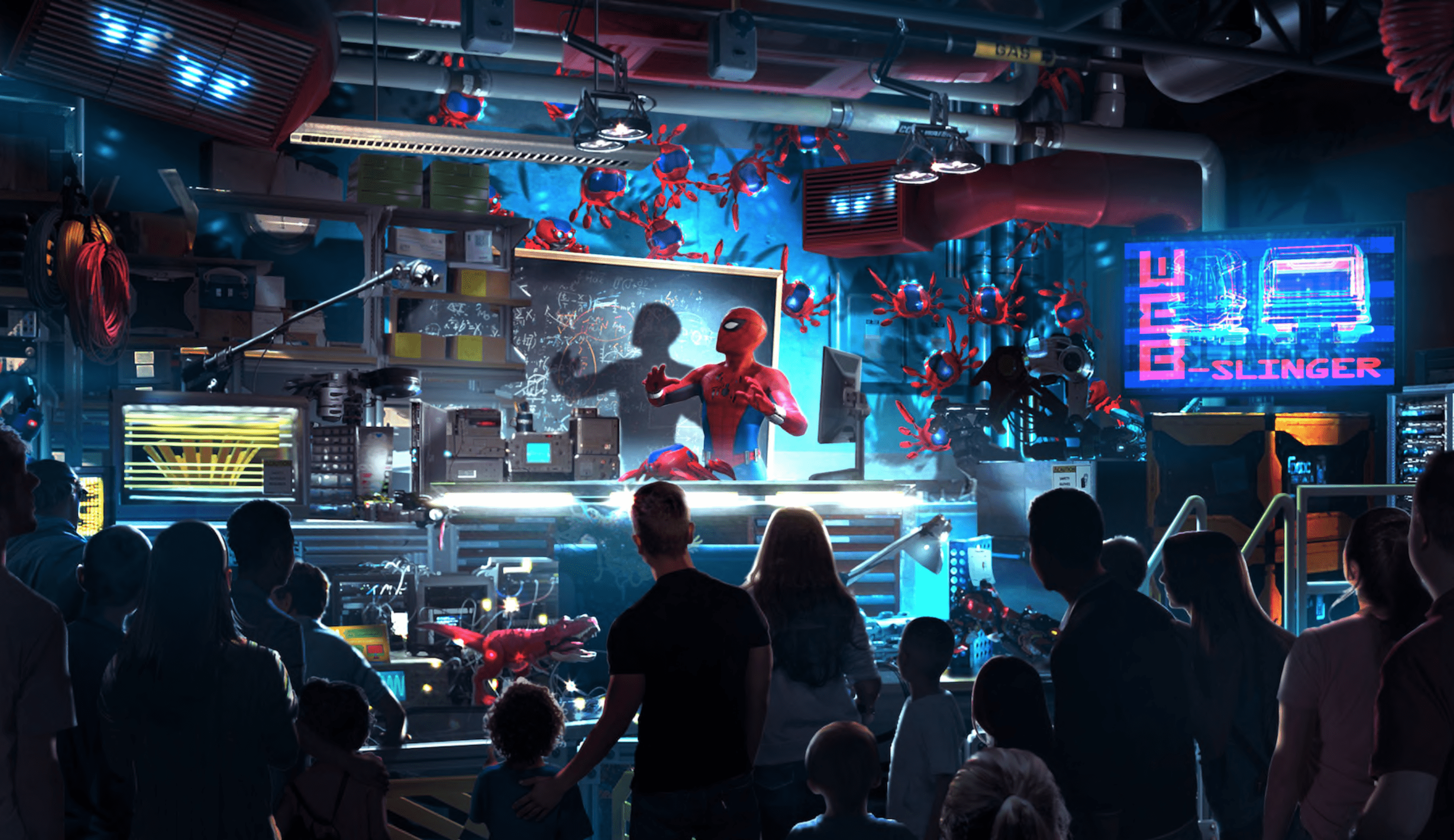 Adding to this, we will also get a new ride called WEB SLINGERS: A Spider-Man Adventure. As you can see from the artist graphic renderings, it looks RAD.
Here's what Disney says about the new Spider-Man ride on their website:
"WEB Open House Goes Haywire
Embark on an action-packed adventure alongside the amazing Spider-Man! When Peter Parker's helpful but otherwise buggy Spider-Bots get stuck in replication mode and escape from a WEB Workshop, Spider-Man must stop the rampaging robots before they wreak total techno-havoc across Avengers Campus. Problem is, they're rapidly leveling up and becoming tough to beat!
Your task? Hop aboard a WEB Slinger vehicle and help weave a frenzied web to trap these arachni-rascals in true Spidey style. It's up to you to unleash your inner hero and save the Campus from complete chaos!
Perfect for recruits of all ages—with no height restrictions."
Sounds pretty great and super fun to me.
Also, apparently Tom Holland will be reprising his role there as well, which is super exciting. It just wouldn't feel right without him, would it?
Who knows, maybe he'll surprise us all by showing up in the Spidey suit on opening day, like he did randomly last year. My wife and I were totally there that day and COMPLETELY missed it. Oh well, there's always next time, right?
[Note: WEB stands for Worldwide Engineering Brigade.]
Doctor Strange's The Sanctum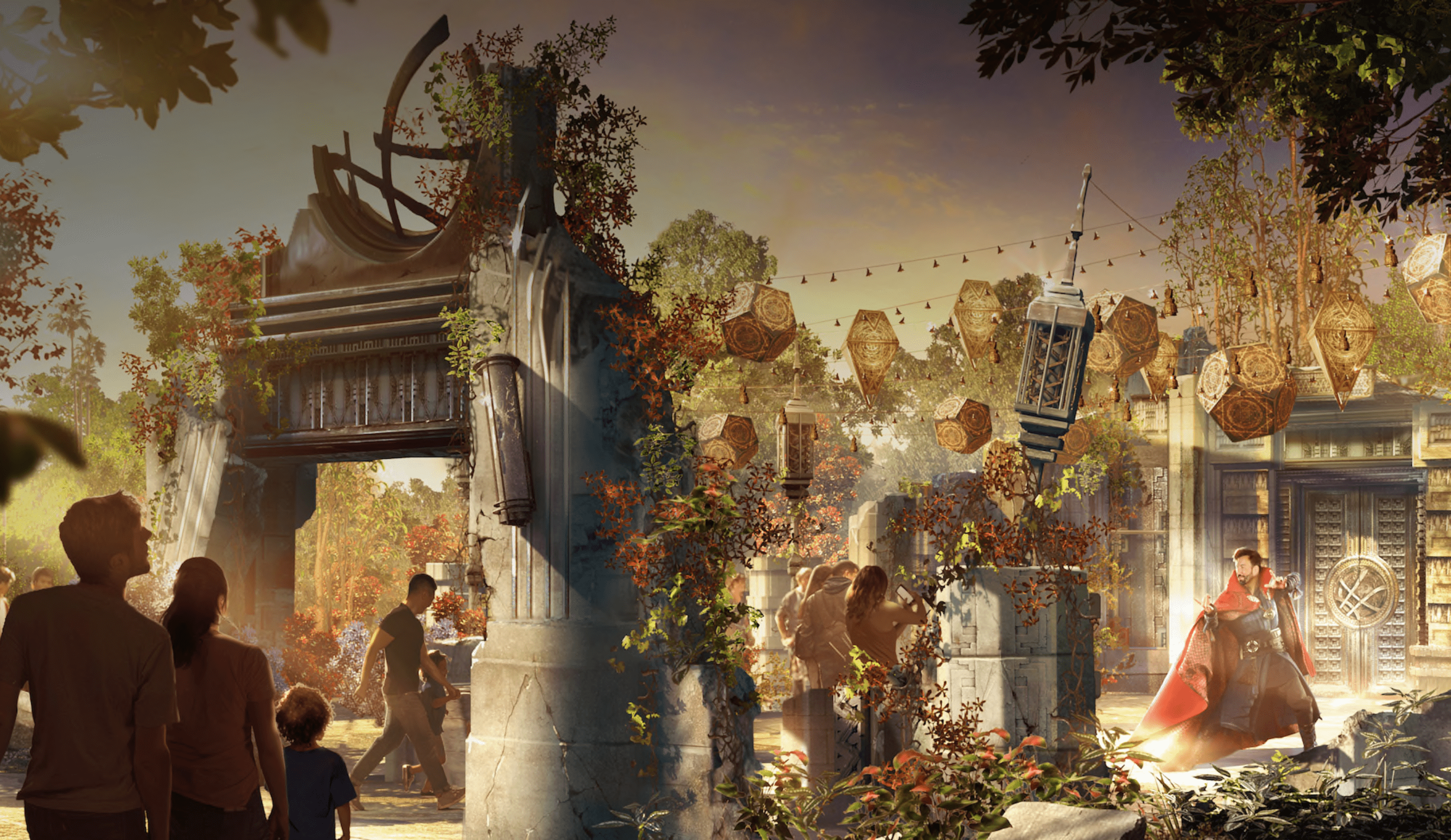 Next is The Sanctum with one of my personal favorite characters, Doctor Strange.
This particular Marvel Land attraction's description on Disneyland's own website is as follows:
"Encounter the Master of the Mystic Arts
You and your fellow recruits have been invited to visit the Avengers Campus, meet Doctor Strange and open your eyes to the mysteries of the multiverse. Don't miss this once-in-infinite-lifetimes chance to learn the secrets of the mystic arts.
You'll feel like time will stop when you come face to face with Doctor Strange and he demonstrates his mystical abilities. Who knows, someday you may need this knowledge to defend the earth, and our reality, from threats beyond your imagination!
An Ancient Site, Hidden for Centuries
For as long as anyone can remember, rumors of unexplained events and energies have emanated from a remote location in the hills outside Los Angeles.
In the late 1940s, a Stark Industries complex was built on the location. Decades later, Tony Stark invited Doctor Strange to the Avengers Campus to enlighten recruits about the mystic arts. Doctor Strange suspended the area's cloaking spells and revealed the Sanctum to the world.
Come, discover for yourself what has been hidden for centuries. See the ancient ruins and learn from Doctor Strange about the long-ago battle that threatened to tear a hole in the fabric of time and reality, which resulted in the creation of the amazing Orb of Cagliostro.
The Orb is known to be especially active at night. Visit after dark and you might see the Sanctum flowing with magical energy!"
There's a whole lot to unpack here.
1. I have to wonder how this will tie into the movies and how people will sort of parse this information with the previous films in the MCU canon. If I see a good fan theory, I'll let you guys know ASAP. Because it sounds really interesting to me.
2. The graphic renderings look a little like a magical version of Indiana Jones during the day to me. Which I'm completely good with. The queue for that ride is so cool and fun and immersive. Wouldn't expect any different from Disney for these new attractions.
At night, however, the Dr. Strange area looks quite different, as you can see. It's all neon and bright and lit-up. Basically a perfect setup for nighttime Instagram shots. #nofilter amirite?
3. And finally, we get to meet Doctor Strange! He's an incredibly underrated character in my opinion. He is so insanely powerful and his backstory is very moving and poignant to me.
I'm happy he's getting some solid treatment at the parks. I love the other major characters, but he's one that I took to personally, so I'm glad this is happening.
AVENGERS HEADQUARTERS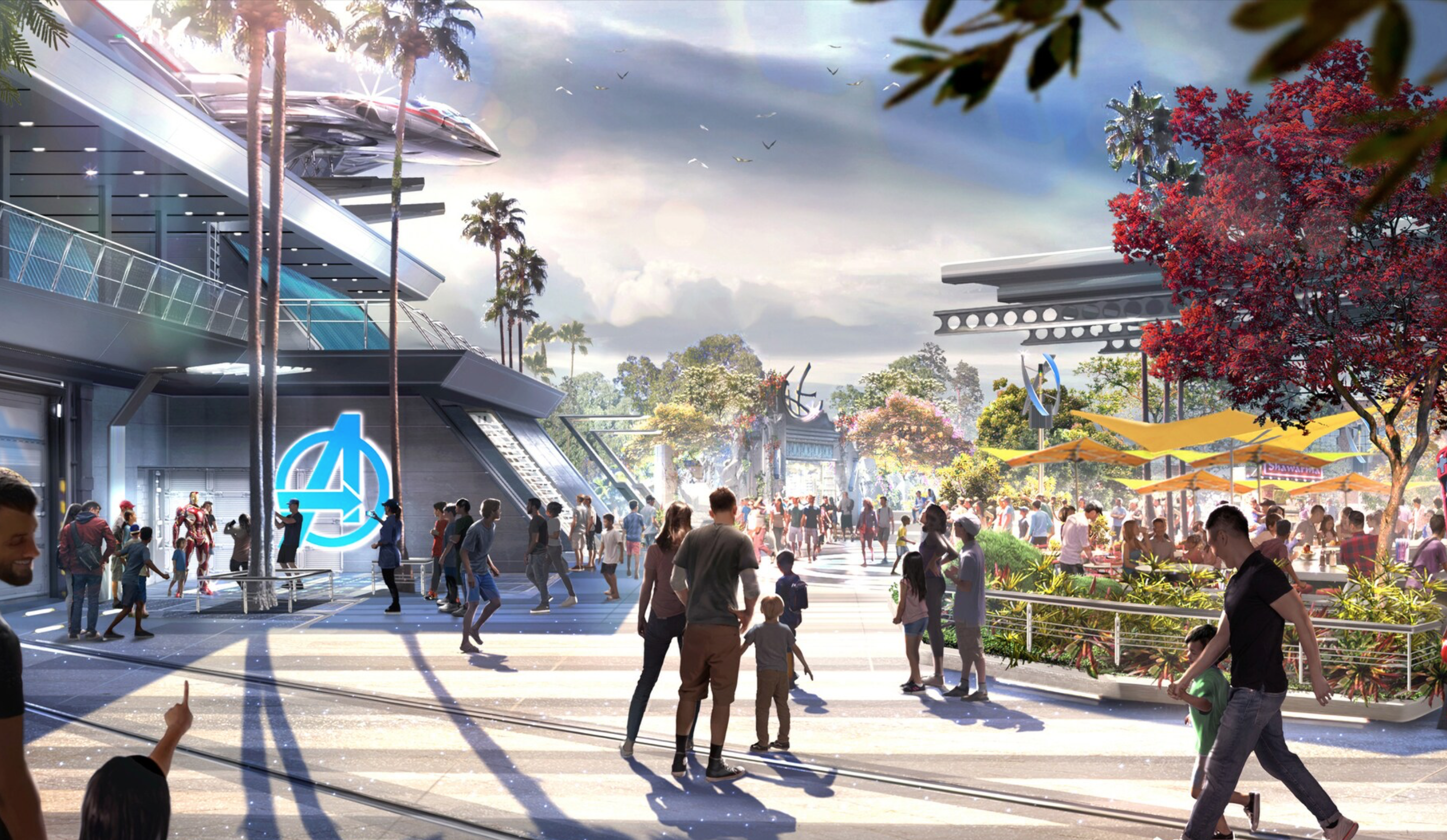 Next, let's take a look at all the awesome details on the Avengers HQ attraction at Marvel Land.
The Avengers Headquarters is one of my personal favorite parts of the movies. Whenever they spend time there, I'm super jealous. And now we all get to go!
According to the Disneyland website, this is what it entails:
"The Avengers Stand Ready
The gleaming Quinjet that rests high atop the Avengers Headquarters building is bound to attract attention—maybe even some unwanted attention.
There are reports that the villain known as Taskmaster is plotting a break-in, and the Avengers are on high alert. Brave Super Heroes like Black Widow, Iron Man, Captain America and Captain Marvel greet new recruits and scan the horizon for potential threats.
If Taskmaster and his gang of mercenaries do appear, our heroes are ready to defend the Avengers Headquarters, which would surely lead to an action-packed confrontation on the rooftop and all over the building. You'll definitely want to be there to see what happens.
Who knows, new recruit, maybe someday you will join the Avengers on their next adventure!"
1. How cool would that be to work on the Quinjet for Marvel Land? I imagine it'll be like the Millennium Falcon in a way, a sort of central set piece that attracts major attention / photo opps, except that it's way up high instead of on the ground.
No word on whether we'll be able to actually go up near it or inside of it yet that I've seen. But I obviously want to.
2. From the artist renderings, you can see the characters around the massive building/jet: Black Widow, Iron Man, Captain America and Captain Marvel will all be there.
Super stoked about this. The character meet and greets just get cooler and cooler. The Star Wars ones are out of this world and I expect these to be very similar, with more interaction and such before, during, and after the photos.
What Restaurants, Food, and Merchandise Will Be Open in the New Marvel Land Area?
Food and merch! Two of my favorite words in the English language!
The Pym Test Kitchen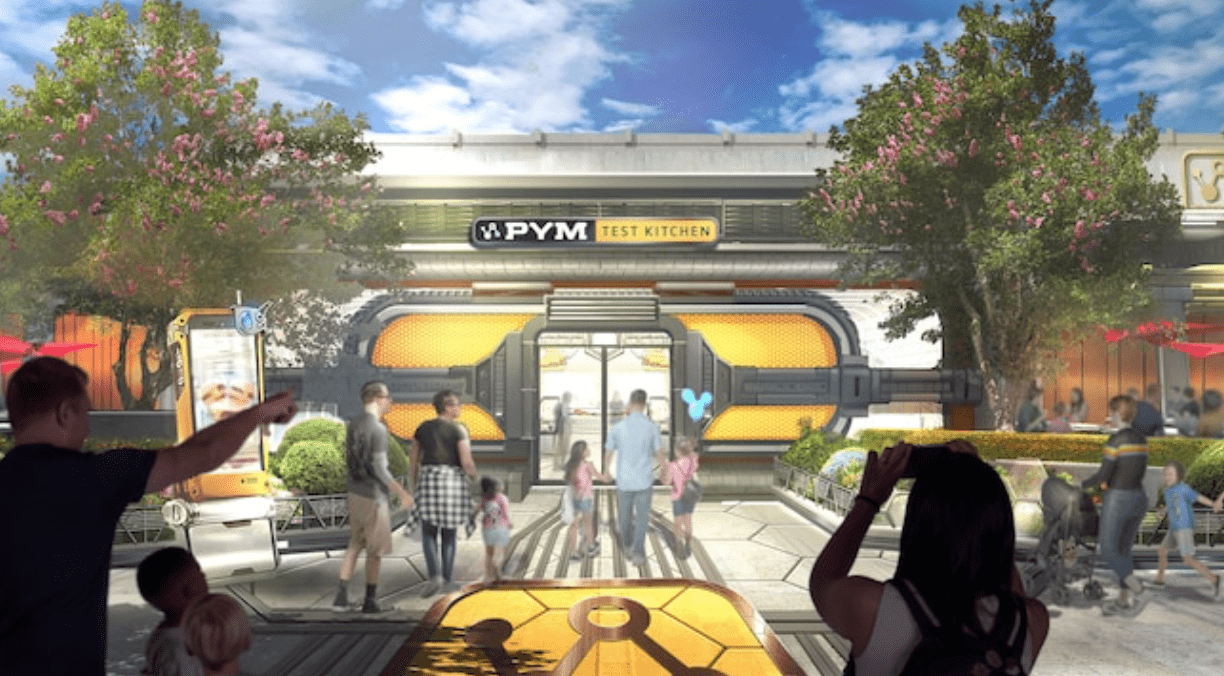 The Pym Test Kitchen is up first. As in the Pyms from Ant-Man and the Wasp. Hank and his gang.
Here's what they say:
"Hero-Style Dining
On an urgent mission to fight hunger? Head to Pym Test Kitchen for phenomenal food at unusual scales! Utilizing the revolutionary shrink-and-grow technology of Pym Particles, Ant-Man and The Wasp lead a team of research chefs as they pioneer a menu packed with massive meals, tiny treats and shareable bites that save the day.
This old lab facility-turned-quick-service restaurant features a seating area and bar amidst décor that incorporates remnants of ongoing experiments—gigantic soda cans, humungous condiment bottles and massive cellphones recycled into menu boards. Stop by to taste-test their latest innovations in food science and conquer uncontrollable appetites on the spot!"
1. If there's one thing I love more than food, it's themed food. AKA, I am 100% on board for this one. I can't wait to see what the enlarged and shrunken food options look like/taste like.
I'm a chicken finger connoisseur, so maybe I'll get lucky and they'll have GIANT chicken fingers. Or as Baby Yoda (the meme, not the character) calls them, "Chickie Nuggies."
2. According to Disneyland's website, the entrees will run about $14.99, excluding character meals and other special fare, so it doesn't seem like the prices will be too bad either.
Of course, if you're me, you still need to get a souvenir cup for $15, so that doubles the cost, but again, I'm all about it. They quite literally make this stuff for people like us.
WEB Suppliers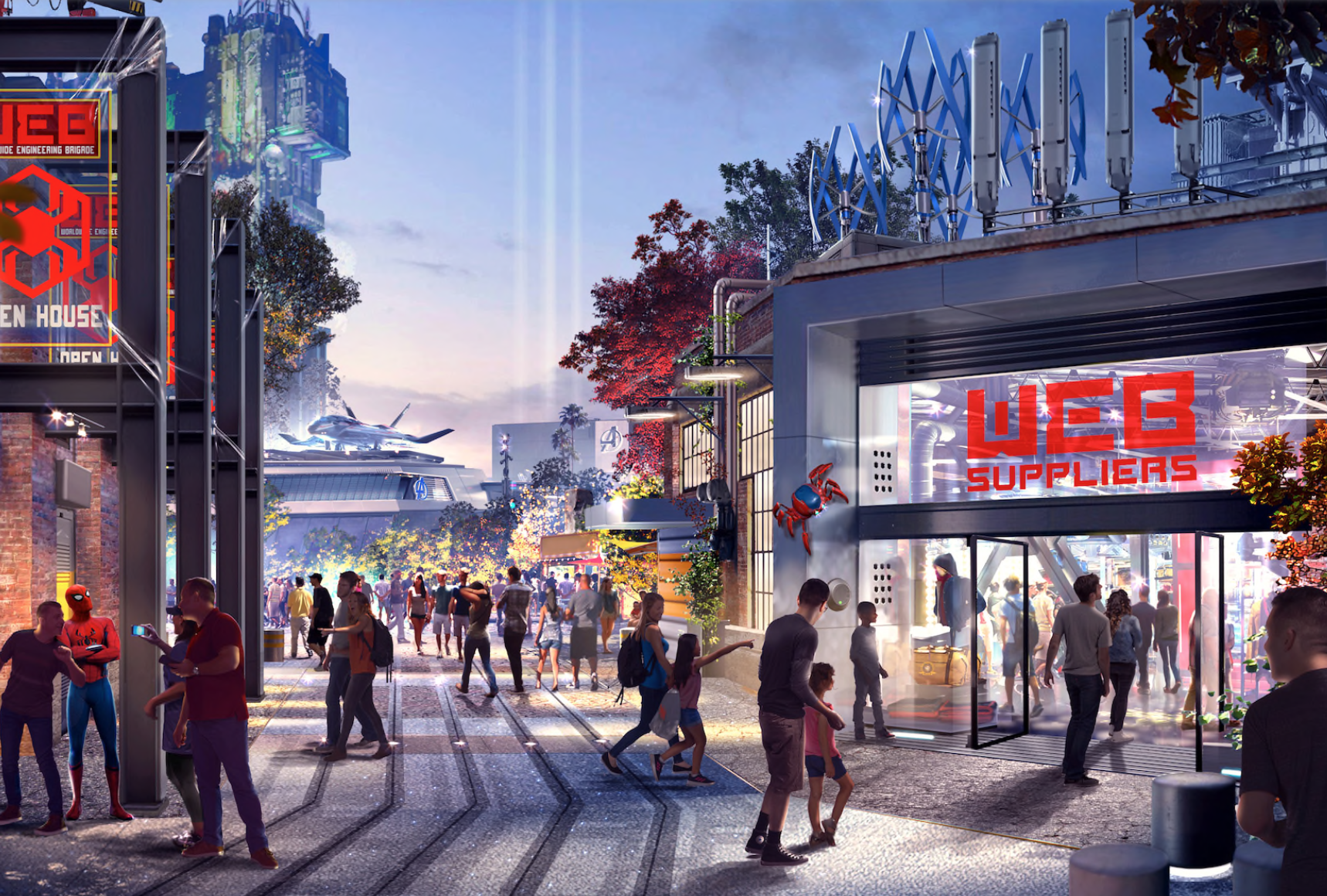 For the merchandising, we've got several options.
In addition to the Mission Breakout store that's already at the base of the GOTG ride, we'll get a shop called WEB Suppliers.
The Disneyland site says the following:
"Suit Up Like Earth's Mightiest Heroes
Prepare for action-packed adventures around Avengers Campus! At this one-stop hero shop, new recruits will find everything necessary to accept important missions at a moment's notice—like cutting-edge inventions and other up-to-the-minute swag developed by the Worldwide Engineering Brigade's brightest minds.
WEB members are particularly proud to offer access to some of their key prototypes, like the indispensable Spider-Bot. These friendly robotic sidekicks feature combat and defensive modes that keep you in command when mayhem strikes—plus, Avengers-inspired tactical upgrades are available to transform your Spider-Bot's overall appearance and enhance battle capabilities for a blast of custom fun.
Other mighty must-haves—including at-home kits to create your own spider webs, spider light goggles and a special, WEB-enhanced backpack to carry and display your Spider-Bot—let you unlock the power to continue your own heroic story anytime, anywhere!"
Lots of goodies, in other words. And a TON of Spider-Man toys and accessories. Tom Holland as a window mannequin mayhaps? Only time will tell…
NOTE: Take a look at the artist renderings for the Spider-Man ride above and you can see some of what appear to be Spider-Bots in action.
Marvel Land at Disneyland Wrap Up
Wow. There's a lot for us to look forward to! And I, for one, cannot wait to suit up and step in to the world of Disney and Marvel's Avengers.
Just to be on the safe side, here's a quick recap:
1. Opening July 18th, 2020, at Disneyland's California Adventure.
2. Officially called Avengers Campus. Unofficially called Marvel Land.
3. Rides include WEB Slingers and the already established GOTG's Mission Breakout.
4. Attractions include The Sanctum of Doctor Strange and the Avengers Headquarters.
5. Food will be available at The Pym Test Kitchen, and merch will be for sale at both the new WEB Suppliers and the existing GOTG Mission Breakout store.
*GASP*
What a crazy amount of awesome!
Personally, I'm looking forward to the Spidey ride because I feel like all the newer stuff is building on this cool trackless technology. It's the same technique that they've used for ROTR and the new Mickey and Minnie's Runaway Railway Ride at Walt Disney World. The artist renderings sort of give that impression anyway.
However they do it, I'm sure it's going to be awesome and incredible in every way. And I cannot wait to get inside the Avengers HQ. Holy crap. So freaking cool.
Are you thinking about making a Disneyland trip for the opening of Marvel Land? Check out the Disney blockout dates and annual pass tiers before you go!
Share this post on your Facebook, Twitter, or Pinterest page with the easy share icons below.
Neal Tucker is one of the world's most engaging Disney influencers, with thousands of views and responses across his blog, podcast, and social media profiles every month.
Get started with more D Is For Disney content here