If you love Disney, you're going to love listening as Jodi Benson reads The Little Mermaid. Disney has teamed up to create another Disney Magic moment. When everyone is trying to promote the stay-home campaign, Disney stars chip in to help, too.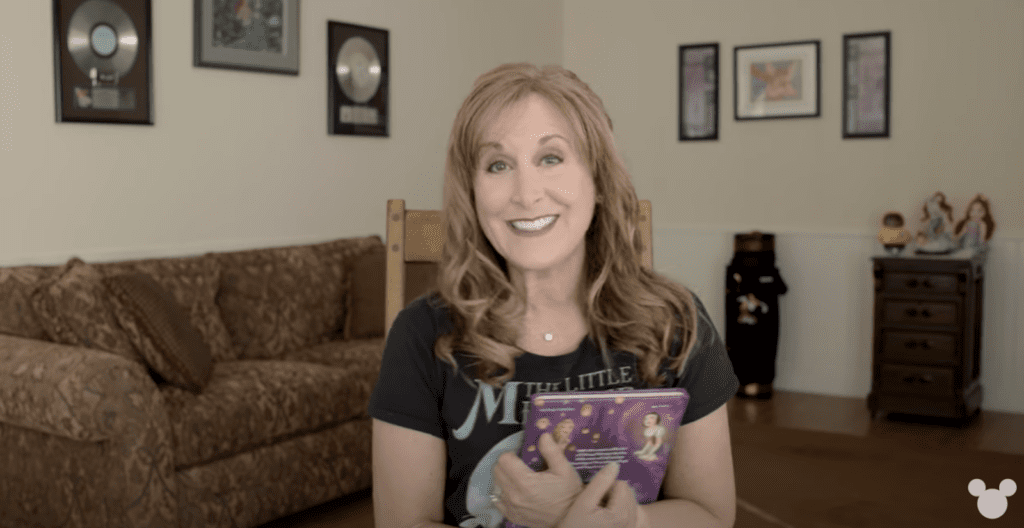 Continuing these efforts, Jody Benson, a well-known Disney Icon, will be reading The Little Mermaid that is a part of "My First Disney Princess" Bedtime Storybook. D23 (the official Disney fan club) revealed a video of Jodi Benson reading with her well-known, beloved, and beautiful voice.
We all love Disney bedtime stories, and this time we can listen to one of our most favorite read by Jodi Benson herself.
Jodi Benson: A Living Disney Legend
You might not know her by face, but you would definitely recognize her mesmerizing voice once you hear Jodi reading The Little Mermaid story.
Remember that Disney princess Ariel from The Little Mermaid? Jodi Benson voiced that character. Also, she is the voice behind Barbie in Toy Story 2 and Toy Story 3. Ever since that first underwater adventure, Jodi's voice keeps bringing the story of that finned fictional character to life.
What could be better than listening to a real Disney Princess reading a Disney Princess bedtime story? Your family will love it! And it will really be a good experience for parents with young children at home. I don't even have kids yet, but I love this so much! #KidAtHeart 🙂
A Magical Disney Bedtime Story: Jodi Benson Reads The Little Mermaid
Within a few seconds of watching the video, you will quickly recognize what story Jodi is reading. The Little Mermaid needs no introduction to Disney fans, and it is always popular among young people.
But we will be listening to it differently as the Disney Princess herself reads the story. Due to her extremely friendly nature, you will feel like you're listening to an old friend. It goes without saying that Jodi Benson herself (and her voice!) is one of the main reasons for the movie's popularity.
She can be seen with Ariel and Barbie dolls alongside her reading the story, which is very exciting for small children. Expressing her thoughts about this venture, she said that it was a fascinating experience to engage with The Little Mermaid fans again, especially in such a unique way at this time.
Jodi Benson reads The Little Mermaid full of passion and heart. Her storytelling skills make it even more interesting and engaging alongside the reading she gives with each illustration.
Other Disney Bedtime Stories
So many Disney icons are active in this difficult time together and are joining hands to make your home experience better. Paige O'Hara (Belle from Beauty and the Beast) and Ming-Na Wen (Mulan) are two other popular Disney princesses who are reading books for children on different social media platforms. And Auli'i Cravalho reads from her story, too: Moana.
Watch Princess Belle read here.
Watch Princess Mulan read here.
Watch Princess Moana read here.
These efforts will surely help children develop reading habits and spend their free time in a good, fun, and educational way. You can access hundreds of storytelling videos available on Facebook and YouTube and start enjoying them with your family, whether it's Disney or another great story or franchise, like Harry Potter (LINK HERE).
Jodi Benson Reads The Little Mermaid at Home
The difficult times are going to end sooner or later, but we have Disney bedtime stories to make some happy memories out of it.
Enjoy a magical bedtime story from the comfort of your own home. Read the original mermaid herself, Jodi Benson, read "The Little Mermaid". You just need to scroll down below and click the video to watch her work her magic!
I really hope that you enjoy The Little Mermaid in Jodi Benson's familiar, comforting voice. If you want to get a copy of the book she reads for your own bookshelf at home, you can get one right here.
If you're a fan of The Little Mermaid, you should see this subscription box devoted just to her.
Share this post on your Facebook, Twitter, or Pinterest page with the easy share icons below.
Neal Tucker is one of the world's most engaging Disney influencers, with thousands of views and responses across his blog, podcast, and social media profiles every month.
Get started with more D Is For Disney content here