Relax and unwind with tranquil scenes from your favorite Disney Animation and Pixar movies; Disney's 'Zenimation' on Disney Plus has 10 episodes full of beautiful scenery, classic characters and places, and the sights and sounds of iconic Disney movies and TV shows.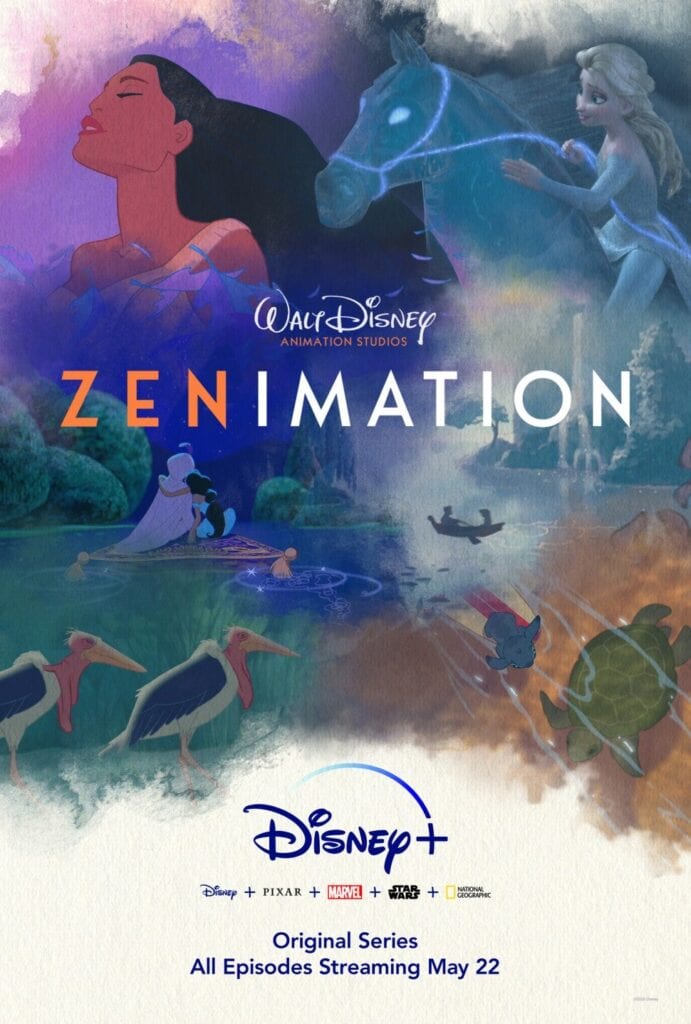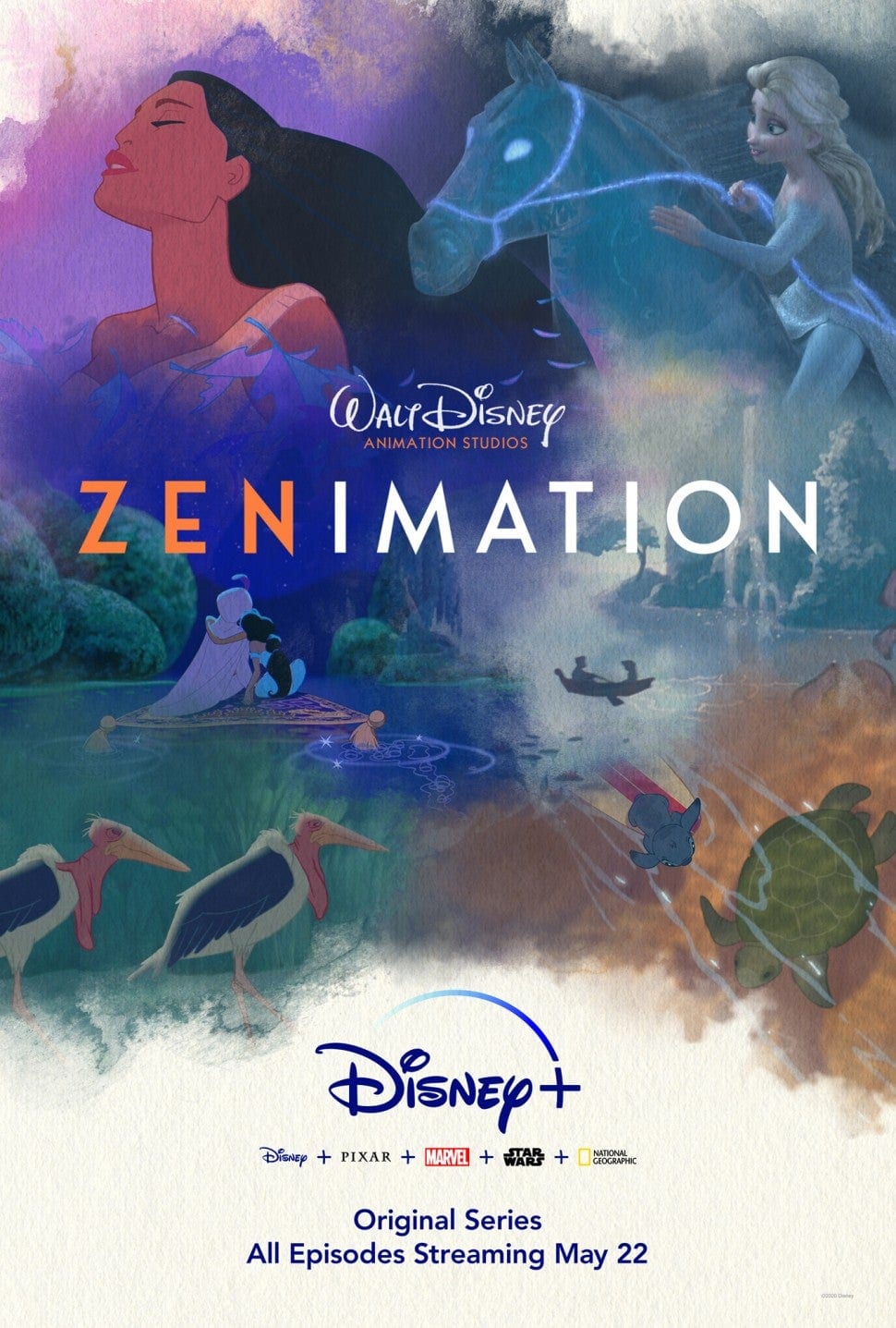 What Is Zenimation?
Sometimes, you just need to chill out, relax, unwind, and take a deep breath.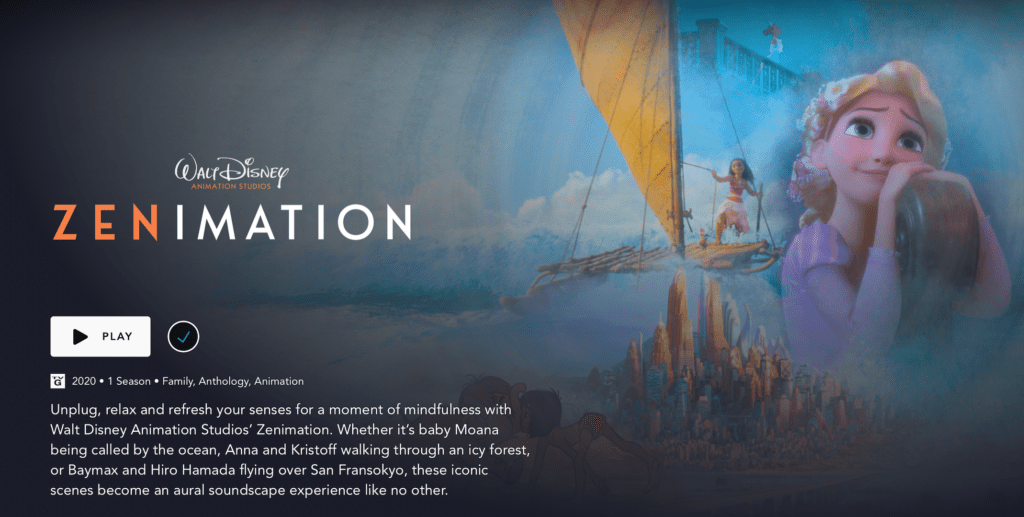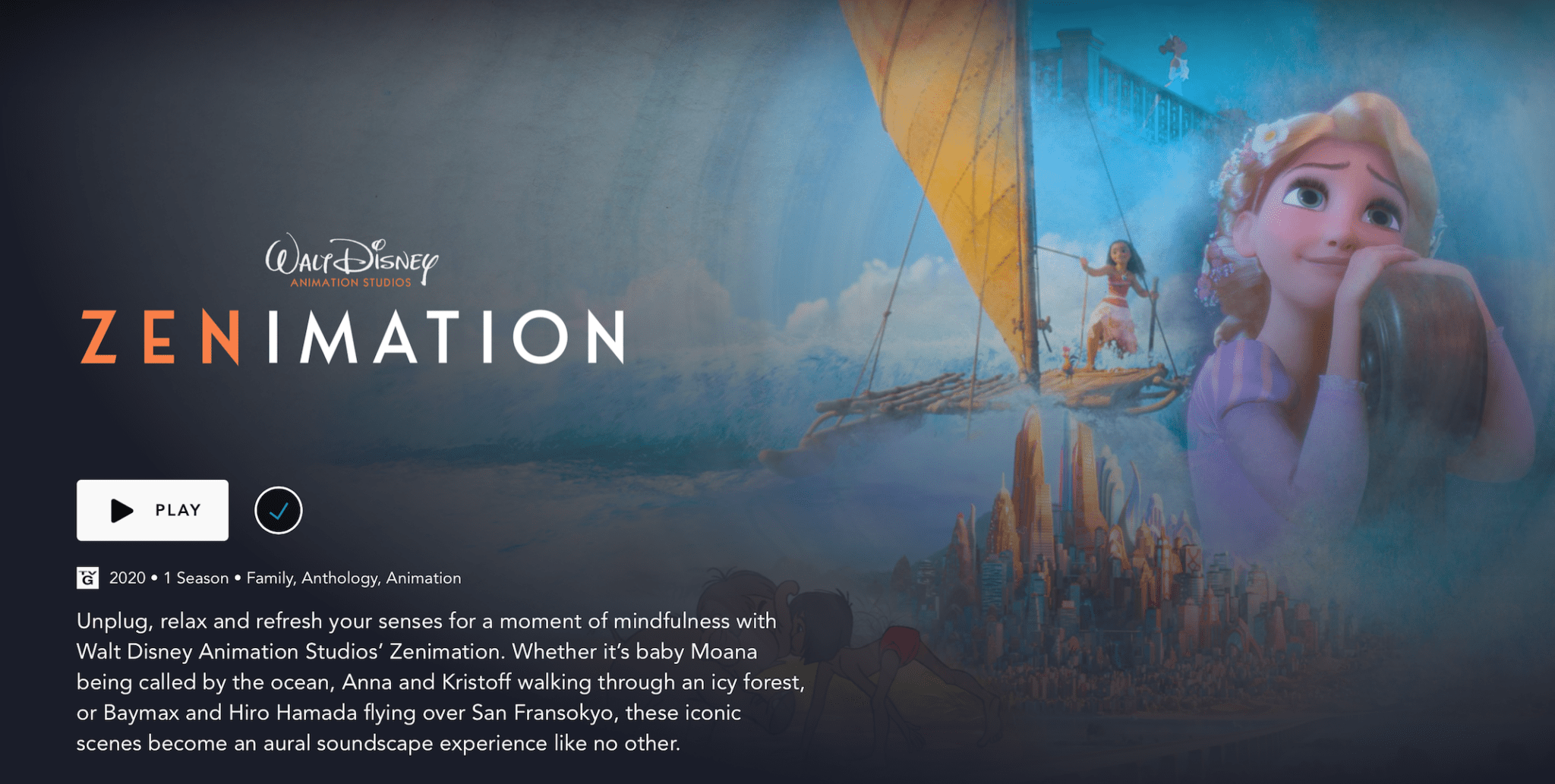 If you're a huge Disney fan (like me), then you might want to relax with the imagery and sound effects from your favorite Disney films and Pixar movies.
Thankfully, Disney has now provided a way to do that – without just putting on a movie and hitting the mute button!
So, what is Zenimation? According to the description on Disney+, Zenimation is the following:
Unplug, relax and refresh your senses for a moment of mindfulness with Walt Disney Animation Studios' Zenimation. Whether it's baby Moana being called by the ocean, Anna and Kristoff walking through an icy forest, or Baymax and Hiro Hamada flying over San Fransokyo, these iconic scenes become an aural soundscape experience like no other.

Disney Plus
On May 22nd, Disney launched the Zenimation series on Disney Plus.
All 10 episodes are now streaming and can be found easily on the Disney+ app on your phone or tablet, as well as on the TV version.
If you need help getting Disney Plus to work on your TV, check out my resources right here: How to Get Disney+ on My TV and How to Fix Error Code Message 83.
What Episodes and Scenes Are Available in Season 1?
There are 10 episodes available, full of countless Disney animation scenes, as well as Pixar scenes.




Each one is filled with sights and sounds to relax your mind, especially in the midst of a crazy day, or at the end of a long work week, or maybe in the morning while you're getting ready.
Zenimation Episodes [FULL LIST]
Water

Length: 6 minutes
Description: "Explore the sea with Moana, Ariel, and Elsa."

Cityscapes

Length: 6 minutes
Description: "Visit New Orleans, Mt. Olympus, San Fransokyo, and Atlantis."

Discovery

Length: 6 minutes
Description: "Discover the world around you with Elsa, Tarzan, and Rapunzel."

Flight

Length: 7 minutes
Description: "Fly with Aladdin and Jasmine, Baymax and Hiro, and Cody and Marahuté."

Explore

Length: 7 minutes
Description: "Explore new places with Judy Hoops, baby Moana and Aurora."

Night

Length: 5 minutes
Description: "Gaze at the night sky with Tiana, Rapunzel, and Jim Hawkins."

Nature

Length: 8 minutes
Description: "Take in the beauty of nature with Simba, Pocahontas, and Tarzan."

Serenity

Length: 5 minutes
Description: "Have a moment of calm with Belle, Mulan, and Gramma Tala."

Water Realms

Length: 7 minutes
Description: "Surf with Lilo, cross the Dark Sea with Elsa, and restore the heart of Te Fiti with Moana."

Levity

Length: 7 minutes
Description: "Have a laugh with Flash the Sloth, Stitch, and Baymax."
One Quick Note: The images and descriptions give you an overview of what to expect.
In other words, they are not the only characters and places present in the episodes. For instance, the description of Cityscapes does not mention Agrabah, but you can see in the preview image that it will be included along with the others. Additional scenes, castles, and landscapes will also be presented with these.
Zenimation on Disney Plus [TRAILER]
Watch the trailer below to get a good sense of exactly what you can expect from this great new series on Disney+.
Disney Plus "Zenimation" Review
If you want to know my opinion, here it is…
Zenimation is utterly awesome, uniquely Disney, and really refreshing and calming.
Granted, this is coming from someone that literally will put on Disney movies on low volume in the background during my day, because I'm just that obsessed with all things Disney.
But I'm clearly not alone either…
Plus, since I work from home, I love having Disney and Pixar movies on throughout the week. There's nothing like writing about Disney with Disney characters to keep you company.
Disney's Zenimation is another great way to do exactly that, but now I can keep the volume on! 😉
What do you think of Zenimation on Disney Plus? Let me know in the comments or on social media @disfordisney_.
Check here to see if you qualify to get Disney+ for free.
Share this post on your Facebook, Twitter, or Pinterest page with the easy share icons below.
Neal Tucker is one of the world's most engaging Disney influencers, with thousands of views and responses across his blog, podcast, and social media profiles every month.
Get started with more D Is For Disney content here