Disney sent out an email to ticket-holders announcing that Star Wars Celebration 2020 in Anaheim, California, has been officially cancelled for the first time in its history.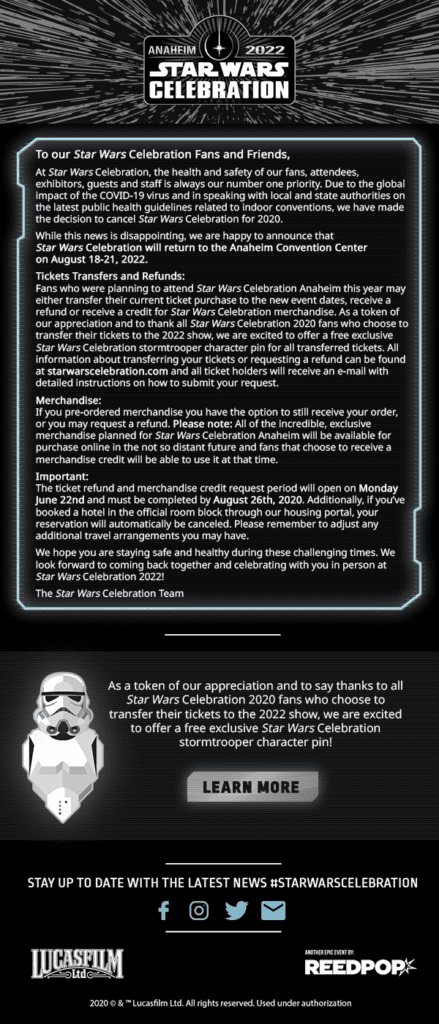 The Bad News
It's safe to say that Disney would not have done this unless it was absolutely necessary.
As a ticket-holder myself, I had a pretty solid hunch that this email would come…
So many, like myself, eagerly waited online and purchased tickets to the 2020 Star Wars Celebration and made travel arrangements, etc., to make it all happen.
With the global situation still not fully in control, though, it would have been nearly impossible to offer a safe and healthy environment for the thousands of fans in attendance.
As with the closure and reopening of Walt Disney World, Disneyland, and others, Disney is making sure to do all the right things to ensure Cast Member and guest safety and health.
The Good News
From the email message above, you can see that Disney and Lucasfilm have taken great care to make sure everyone feels valued and taken care of, despite the disappointing news.
Having never experienced Star Wars Celebration in person, I was super excited about the event.
Naturally, I'm super sad about the cancellation, but I also totally understand and sympathize with the event coordinators.
And this is where the good news comes in…
Disney and Lucasfilm are offering some consolation for all the Star Wars Celebration 2020 ticket-holders. Read the full message here.
2022 Announcement – "While this news is disappointing, we are happy to announce that Star Wars Celebration will return to the Anaheim Convention Center on August 18-21, 2022."
Ticket Transfer Options – "Fans who were planning to attend Star Wars Celebration Anaheim this year may either transfer their current ticket purchase to the new event dates, receive a refund or receive a credit for Star Wars Celebration merchandise."
FREE Exclusive Stormtrooper Pins – "As a token of our appreciation and to thank all Star Wars Celebration 2020 fans who choose to transfer their tickets to the 2022 show, we are excited to offer a free exclusive Star Wars Celebration stormtrooper character pin for all transferred tickets. This exclusive stormtrooper pin is the first of over 50 unique Star WarsCelebration pins that will be revealed soon. Fans will receive one (1) stormtrooper pin for each 2020 ticket within their order that is transferred to the new 2022 event dates. If you opt to transfer your tickets to 2022 in lieu of requesting a refund, the pin will be automatically shipped to you before the end of the year, and no further action is required."
Merch Still Available – "All of the incredible, exclusive merchandise planned for Star Wars Celebration Anaheim will be available for purchase online in the not so distant future and fans that choose to receive a merchandise credit will be able to use it at that time."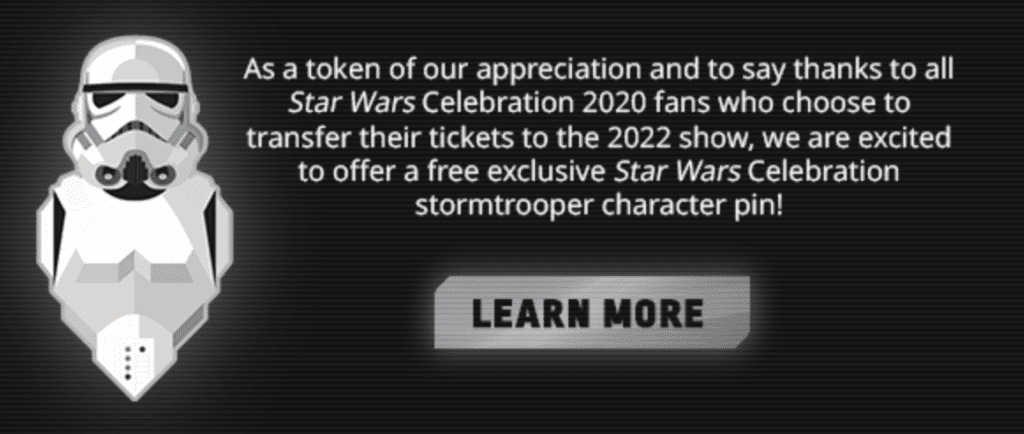 The message also says that all current ticket-holders will receive an email from Disney with their options and instructions for transferral of tickets.
If you had a ticket to Star Wars Celebration 2020, you should receive a message from Disney in the near future, if you haven't already.
Important: If you do NOT request a refund, your tickets will be automatically transferred to Star Wars Celebration 2022 in Anaheim. View the full FAQ here.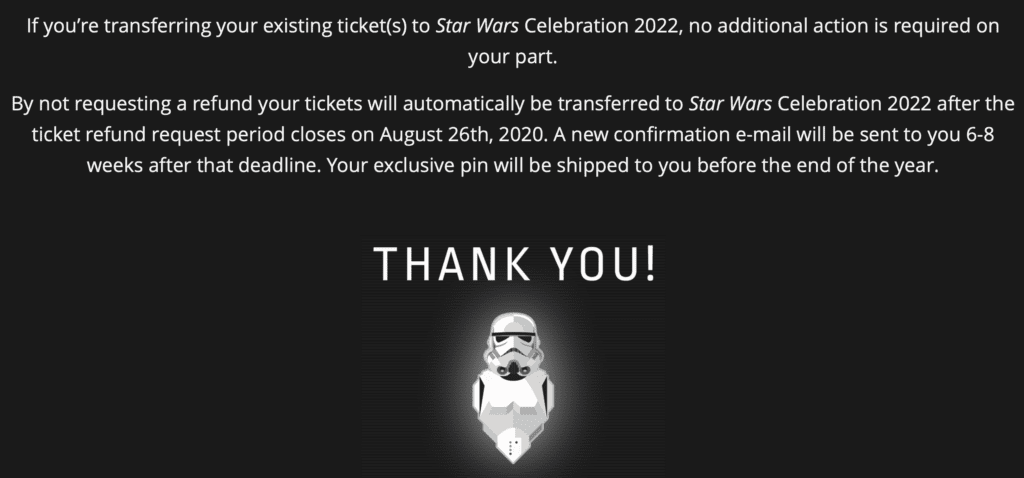 If you want to transfer your tickets or learn more about the cancellation of Star Wars Celebration 2020 cancellation, all of that information can be found at starwarscelebration.com.
In the meantime, give yourself a little pick-me-up with this mega list of Baby Yoda toys, clothes, and collectibles.
Share this post on your Facebook, Twitter, or Pinterest page with the easy share icons below.
Neal Tucker is one of the world's most engaging Disney influencers, with thousands of views and responses across his blog, podcast, and social media profiles every month.
Get started with more D Is For Disney content here