Free Comic Book Day has announced that the event (postponed from May) will now take place all Summer long. Instead of one day for free comics, all of us comic book lovers get a whole summer to celebrate, for this historic, first-ever event: Free Comic Book Summer 2020.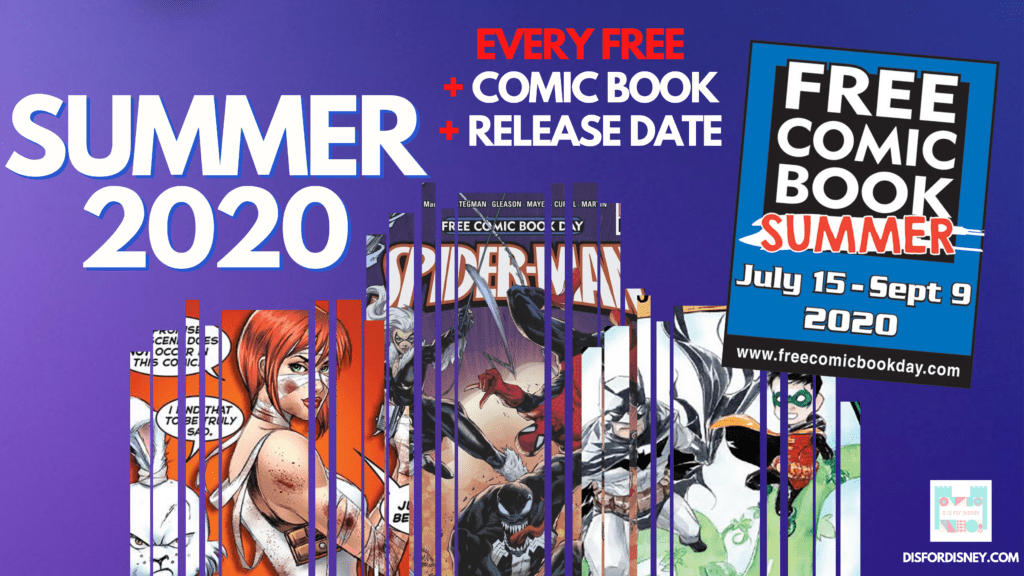 Here's what we'll cover:
All the new guidelines for getting free comics
Official event dates
Upcoming free Marvel comic book releases
Upcoming free Disney comic books releases
The ENTIRE Free Comic Book Day 2020 List
How to find your local FCBD/FCBS sponsor store
And more…!
Note: Due to the naming convention, Free Comic Book Day 2020 and Free Comic Book Summer 2020 may be used interchangeably here.
Listen to the audio version of this article here:
What Is Free Comic Book Day?
Before we get into the details of Free Comic Book Day/Summer…
I'd like to do a quick overview for people who aren't familiar with the Free Comic Book Day event.
You can also watch the video below to see the official answer to the question, "What is Free Comic Book Day?"
Each year, comic book stores all across the globe sponsor this annual comics event.
Most years, it's the 1st Saturday in May. Of course, this year that's not the case, but we're still going to have a blast.
Major comic book publishers participate, including Marvel, IDW, DC, and more. Each one releases special edition comics that are literally priceless. In other words, they cannot be purchased.
These comics are given away for free at local comic book shops, as a way to spread the love and joy of reading comics.
Every generation discovers comics for themselves, and Free Comic Book Day exists as a wonderful way to create a fun atmosphere, shop locally, make new friends, and, of course, to get some free comics while we're at it!
The past few years when I've gone, there have been official Free Comic Book Day T-shirts available for sale as well, and naturally I've always gotten one.
Three reasons:
I'm nostalgic and love good event merch.
They're totally rad.
It supports my local comic book store. (Legacy Comics and Cards, Los Angeles)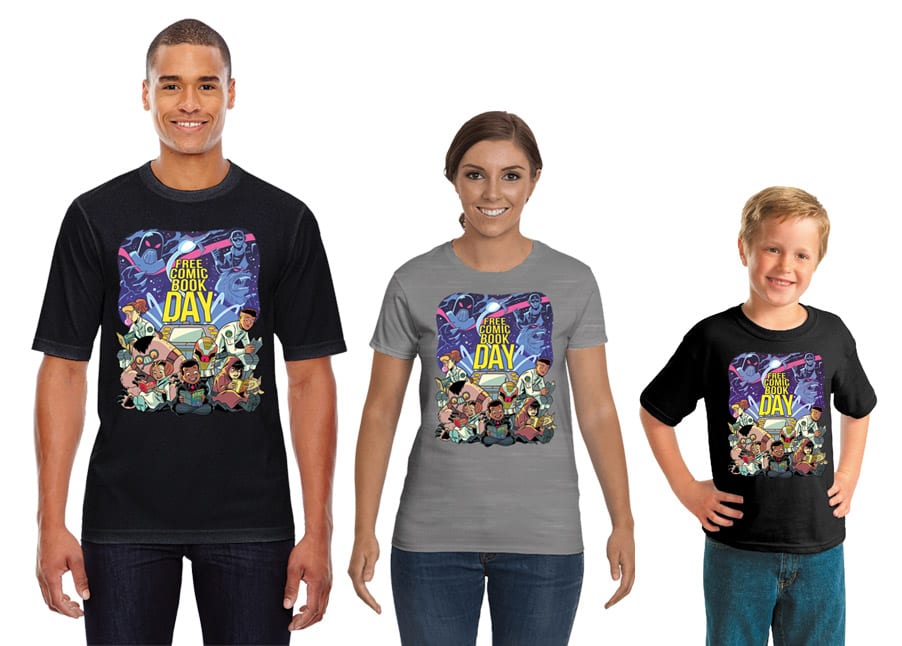 And those are also reasons I love Free Comic Book Day as a whole. It's a really fun experience where you get free stuff, meet fellow nerds, and support your local small business.
All that being said, the comics do come at some cost. The stores themselves have to front the payment for the comics. So, it's up to us, the comic book store patrons, to show our gratitude by throwing a few more items in the cart! 🙂
Alright, now let's get into Free Comic Book Summer 2020.
Free Comic Book Day/Summer 2020
When Is Free Comic Book Summer?
The Free Comic Book Summer event is happening over the course of several months in Summer and early Fall.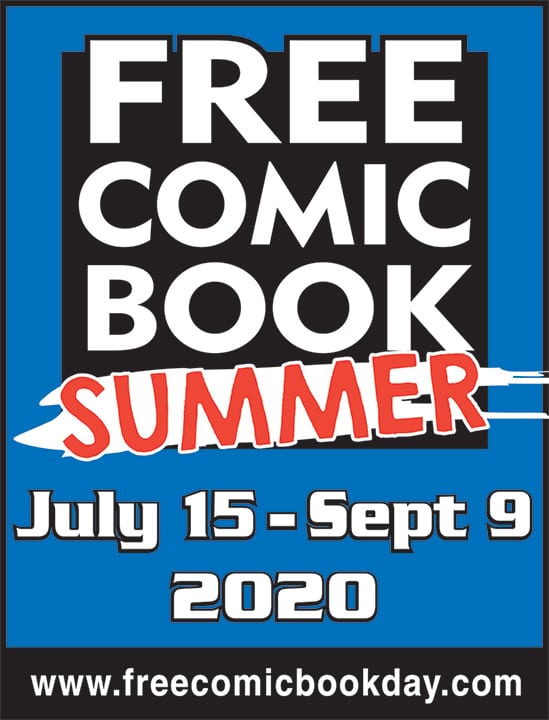 They're doing it this way in order to allow for social distancing.
The official event dates are the following:
July 15 to September 9, 2020
Where Is Free Comic Book Summer?
Many local comic book shops around the world sponsor the event.
Here is a link to find your closest shop.
The official store locator link above works in the US and in many other countries across the globe.
How Will FCBD Work This Year?
In order to maintain proper social distancing, the free comics will not be released all at once, which is why it's being called Free Comic Book Summer instead of the usual FCBD.
Each participating store will receive a few titles every week.
They can then give them out however they want, according to their own needs and those of their comics community.
Here's how the official website describes the event:
Scheduled to take place between July 15 and September 9, comic shops will receive five to six Free Comic Book Day (FCBD) titles in their weekly shipments during each week of the promotional window.

Release of these titles may vary from shop to shop, as retailers are encouraged to release the books as they see fit for their unique circumstances.

Retailers may release one free title a day, may make all of that week's free titles available at once, or any other plan that works for them.

Free Comic Book Summer is designed to be flexible and customizable so retailers and fans can get the most out the event.

FreeComicBookDay.com (Emphasis added)
Sounds pretty great to me!
Here's the main points to remember:
Comic book shops get 5-6 FCBD titles each week
Shops can release the comics however they want
Some stores may give out 1 per day
Other shops may release them all at once
Still others may do something in between
That's the whole event in a nutshell.
What Free Comics Are Coming Out This Year?
Now, for the question you've all been waiting for!
What FCBD comics will come out this year during the Free Comic Book Summer (FCBS) event?
View the entire list below, including some awesome Marvel and Disney Comics.
There's Donald Duck, Spider-Man, and a whole lot more!
Free Comics List Summary
Free Comic Book Day writes:
Free Comic Book Summer will feature 45 of the previously announced titles from publishers like Marvel Comics, Image Comics, BOOM! Studios, Dark Horse Comics, IDW Publishing, Dynamite Entertainment, DC, and more!

The 45 titles are designed to appeal to a broad range of tastes and run the gamut from superhero stories, to TV and movie tie-ins, to sci-fi adventures, all-ages tales, and beyond.

There will also be two educational support titles from the Comic Book Legal Defense Fund and Gemstone Publishing.

FreeComicBookDay.com
They go on to note that this includes 10 Gold Sponsor comic books and 35 Silver Sponsor comic books.
View the whole list of Gold and Silversponsors here.
Free Comic Book Day 2020 List with Release Dates
July 15
July 22
July 29
Note: Since it came out in February, I actually already bought a copy of the full-length Batman Tales: Once Upon a Crime comic book. So I can tell you that it's really fun and unique.
It's also one of the most interesting crossovers/interpretations of some mainstay DC heroes I've ever read or seen, as it incorporates some classic fairy tales like Pinocchio.
I know that DC isn't owned by Disney (yet), but how cool would that be? I'd love to see what they'd do with Batman and Catwoman, Harley Quinn and the Joker, and the whole gang.
You can get your own copy of the Batman and Robin fairy tales comic book here.
August 5
August 12
August 19
August 26
September 2
September 9
So many great comics! And they're all being offered for FREE throughout the rest of the year.
Make sure that you check with your local comic book store to make sure you know when they're handing out free comics.
The last thing you want is to show up thinking it's one way, when it actually turns out to be another!
Start browsing Marvel comics right now!
Read This Next
Discover the wild Donald Duck superhero alter-ego that almost nobody knows about…
Share this post on your Facebook, Twitter, or Pinterest page with the easy share icons below.
Neal Tucker is one of the world's most engaging Disney influencers, with thousands of views and responses across his blog, podcast, and social media profiles every month.
Get started with more D Is For Disney content here