The Disney Park Pass Reservation System is coming. Find out how to link your ticket, create a party, select dates and parks, and how to confirm your plans before your next big Disney vacation or trip. Follow these 4 steps to successfully plan your day at Walt Disney World Resort in Orlando, Florida.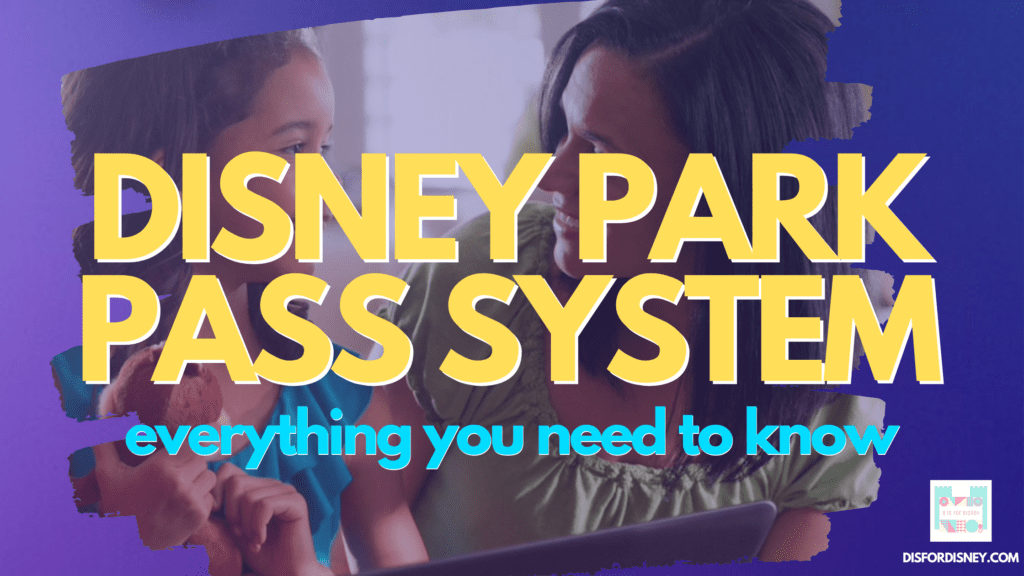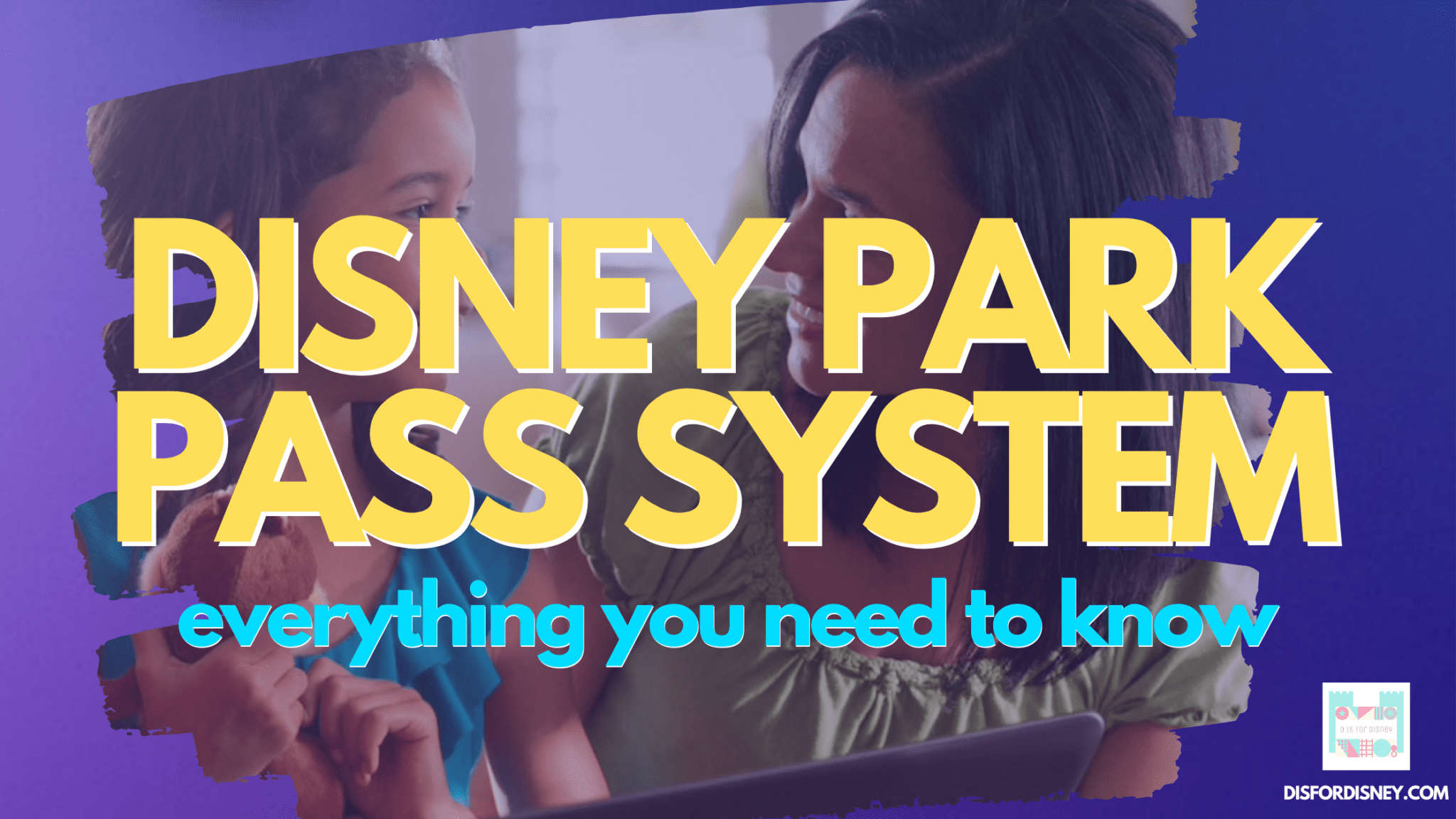 What Is Disney Park Pass System?
The Disney Park Pass System is a website to book your reservation to visit Disney World for a specific day and a specific theme park.
In previous articles, I wrote at length on what we know so far about the new Disney virtual reservation system.
This included a number of screenshots that recently surfaced revealing the beta website for the system itself.
Now, we have new information released from The Walt Disney Company with specific info on what to expect, how to use the system, and much more.
Important Dates
It's very important to note that different AP's and ticket-holders have their own reservation dates.
Depending on your Annual Pass or Ticket, you will need to know the following dates for booking a reservation using the Disney Parks Pass System:
June 22, 2020 – Disney Resort and other select hotel Guests with valid theme park admission can make reservations.
June 26, 2020 – Annual Passholders without a Resort stay can make reservations.
June 28, 2020 – Existing ticket holders can make reservations.
Disney Parks Pass Reservation System (FAQ)
Before we get into the four steps, here's some super important FAQ info about the Disney Park Pass System:
How many parks can I visit per day? Currently, only 1 park can be visited by a guest on any given visit date. If you choose Epcot, that's the only park you can visit that day.
Do I need to reserve for each day individually? Yes, each date of your visit needs its own separate reservation. For guests with a multi-day ticket, every single day needs a reservation.
Can I wait after I buy my ticket to reserve dates and parks? Disney recommends that you reserve your dates and parks immediately upon purchasing your tickets. Due to limited availability and high demand, it's highly recommended that you reserve your parks and dates as quickly as possible.
How To Use the Disney Park Pass System
There are 4 main steps to using the Disney Park Pass System, as outlined on the Disney World site.
All the important and relevant text is included below.
I've put this helpful infographic together to make it a little easer to see everything at a glance.
Feel free to share this on social media, Pinterest, etc.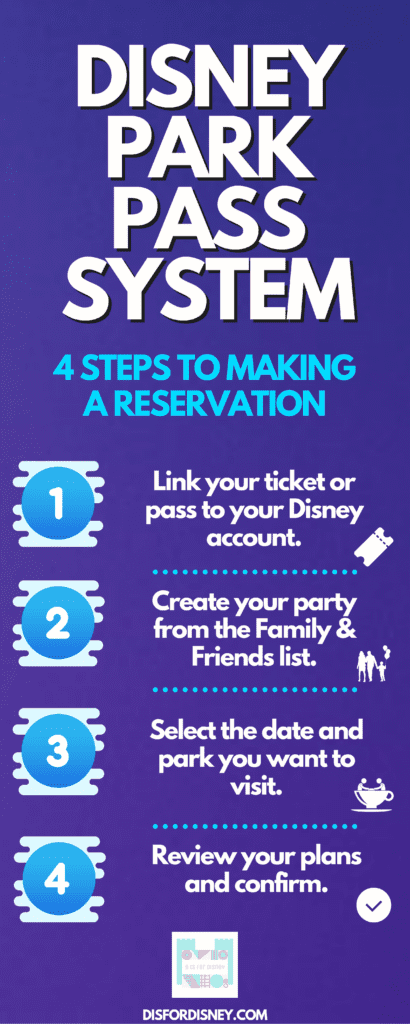 Note: The text within quotation marks below comes directly from the Walt Disney World website. The original links are mostly still included. This way, you can click to go straight to the WDW pages as necessary. This information is Disney official and current as of late June 2020.
Step #1: Link your ticket or pass to your Disney account.
"To get started, you'll need valid park admission that's linked to your Disney account.
Once your admission is linked to your account, you can begin to make a park reservation."
After you have completed this step, you can move on to Step 2.
Step #2: Create your party from the Family & Friends list.
"When you begin to make a reservation, you'll be prompted to create your party from your Family & Friends list.
Simply select the family and friends you'd like to include, then select "Continue".
Don't see someone in your travel party? Select "Add a Guest" to include them.
Note: You may need to make more than one Disney Park Pass reservation for your party depending on your admission type. Please make sure your party consists of Annual Passholders or theme park ticket holders.
Staying in a Disney Resort or other select hotel with a package that includes tickets? Everyone in your party must also have a hotel reservation. If this varies, you will need to make separate Disney Park Pass reservations."
After you have completed this step, move on to Step 3.
Step #3: Select the date and park you want to visit.
"Choose the date and the theme park that you'd like to visit from the available reservations. Please note that dates and theme park selections are limited and subject to availability.
After creating your party in the Disney Park Pass system, you'll be prompted to:
Select a Date: View a calendar and choose one of the available dates for your visit.
Select a Theme Park: Park hours will be displayed for your convenience.
Select a Time: This is the time that you can visit the park.
After selecting your date, park and time, you can confirm your reservation."
Once you have completed this step, move on to Step 4.
Step #4: Review your plans and confirm.
"Carefully review and confirm your selected park and date.
If you need to make any changes, select "Back" to revise your selections.
Before confirming, you'll need to agree to the Terms & Conditions, including the COVID-19 liability waiver. Then, select "Confirm" to complete your park reservation.
Once confirmed, your reservation will appear in My Plans.
Want to make another park reservation? Select "Make Another Reservation" to continue planning. As a reminder, if you have a multi-day ticket, you will be required to make a park reservation for each date of your visit.
Your new reservation(s) will appear in My Plans—both online and in the My Disney Experience app.
If you need to cancel a reservation, view your daily itinerary in My Plans, then select "Reservation Details".
You're All Set!
Get ready to experience the magic of a Walt Disney World theme park."
After you have completed this step, you're all done! You're set and ready to visit Disney World!
A Few More Important Details
Disney notes the following critical info to make sure that you have the right expectations about using the system, as well as planning your next trip or vacation.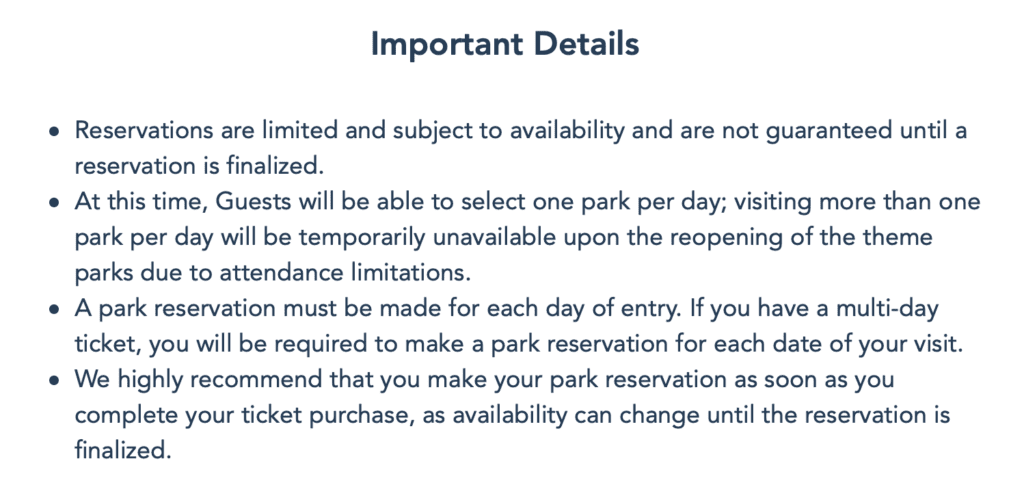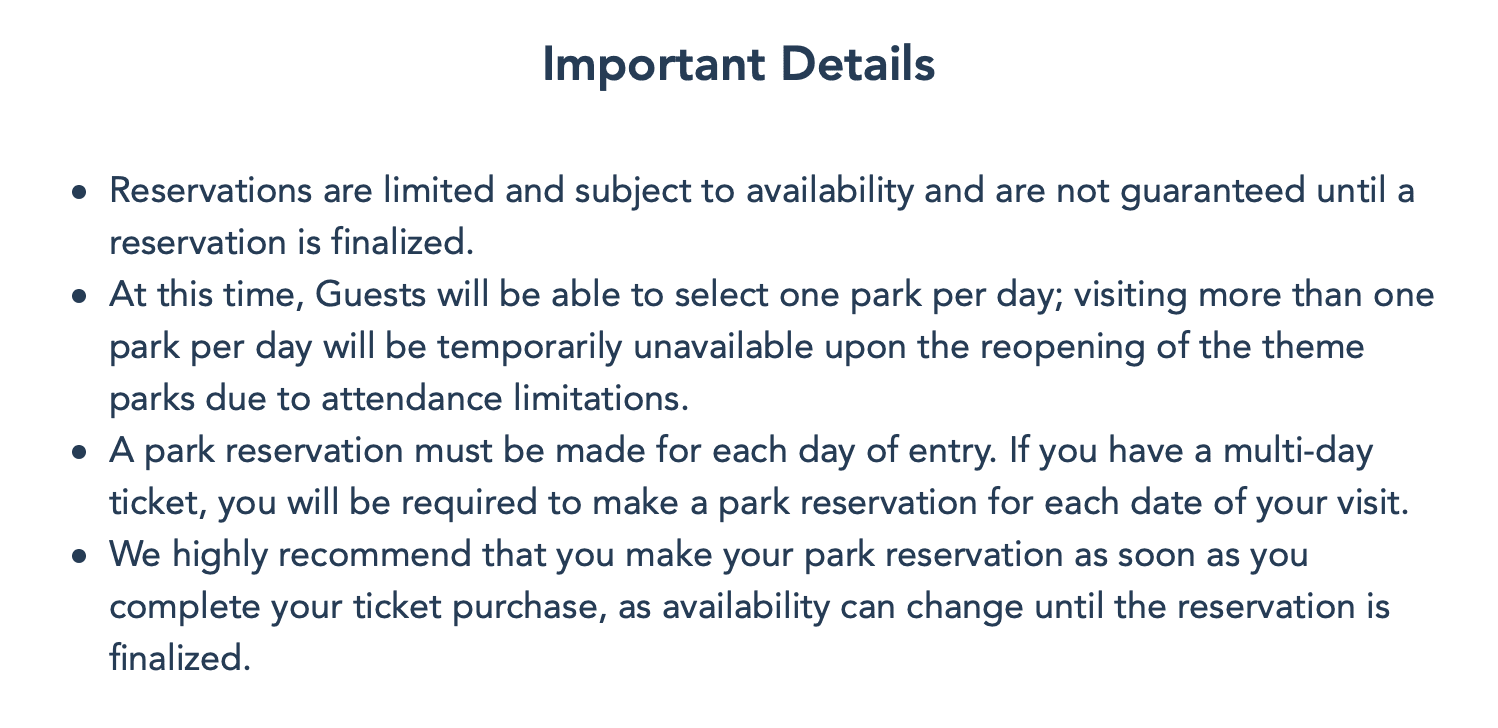 DPPS Wrap Up
That's pretty much everything we know about the new Disney Park Pass System at this time.
When Disney releases any more new info, you can find it right here on D Is For Disney.
What do you think about this new virtual reservation system? Excited? Worried? Frustrated? Eager?
Let me know your thoughts and feelings about all this in the comments and on Twitter @disfordisney_.
What to Read Next
Here's how the NBA might affect your Disney World trip…
My Disney Experience: A Guide to FastPass+, MagicBands, and More
Share this post on your Facebook, Twitter, or Pinterest page with the easy share icons below.
Neal Tucker is one of the world's most engaging Disney influencers, with thousands of views and responses across his blog, podcast, and social media profiles every month.
Get started with more D Is For Disney content here