UPDATE

: Please view our Disney Park Pass System guide for the most updated information on for booking virtual reservations at Walt Disney World.
Disney has introduced the Disney virtual reservation system (to receive a standby pass) which enables guests to create a queuing schedule.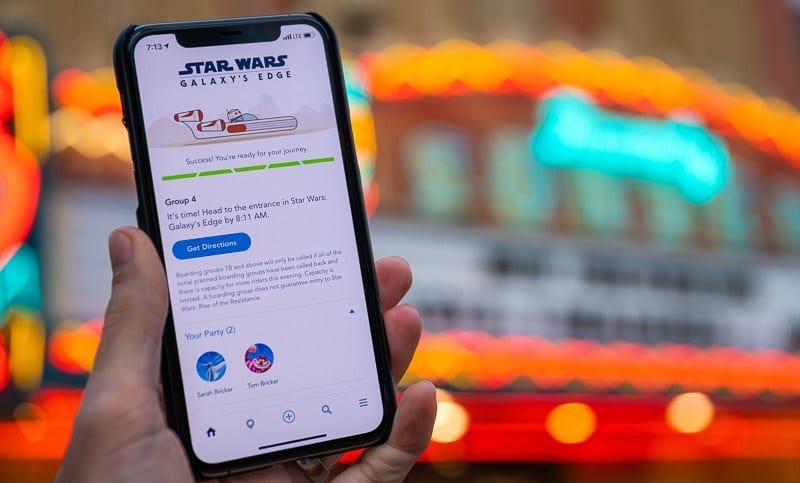 UPDATE: In Hong Kong, Disneyland has released an official guide for Disney's new virtual reservation system. This page is updated to reflect that, with step-by-step photos and video. This page also has a full guide to the Shanghai Disneyland reservation app. Disney has not released an American theme parks version, but these two give us an excellent idea of what to expect. Scroll down for all the exciting info we know so far…
UPDATE 2: Walt Disney World Resort in Orlando, Florida, has written that blockout dates will still apply for Annual Passholders using the new virtual reservation system. Get our full guide to Disney Blockout Dates.
UPDATE 3: Disneyland has further UNOFFICIAL info about making a reservation. Please see that section below titled, New Disneyland Virtual Reservation System.
While we know more about the reservation system at Shanghai Disneyland, we have much more to learn about the version visitors will use at Walt Disney World and Disneyland.
Check back for more on those parks as soon as they are officially announced by Disney.
Why Disney Added a New Virtual Reservation System
Disney is starting to roll out virtual queue systems at its parks around the world, beginning with Shanghai Disneyland and Hong Kong Disneyland.
The system was specifically designed to encourage proper physical distancing among the visitors.
After all, Disney has been very clear about wanting everyone to follow and abide by the guidelines recommended by health experts and government officials to prevent the spread of illness.
The use of the new system, of course, also gives us some insight into the preparations for Disney World Resort's reopening on July 11th and 15th, for the respective parks.
Disneyland is still closed until further notice, while Shanghai Disneyland began its phased reopening on May 11.
Read more about Hong Kong Disneyland reopening on June 18th.
Two Big Notes
The new Hong Kong Disneyland virtual reservation system is for reserving your trip to the Park on a given day.
The new Shanghai Disneyland virtual reservation app also includes booking your window to ride the Winnie the Pooh attraction inside the Park on the day of your trip.
The Disneyland website shows us an example of what to expect for ticket holders and annual passholders (AP's).
New Disneyland Virtual Reservation System
On Instagram, GinaMarieDisneyAP has posted some incredibly helpful screenshots on her account, via DLNewsToday, from the WDWMagic Forums.
Shout out to all these great people for the awesome info!
These screenshots below show some of what we can expect to see on the new Disneyland virtual reservation system.
This is still just a beta version of the website, but it's most likely what we'll get from Disneyland and Walt Disney World in the near future.
We might even get it on the Disneyland and WDW Apps for iPhone and Android as well. Time will tell!
View her post below as well, and be sure to follow her on IG!
A few things to note from the sample beta website:
As it's only a beta, this is just an example of what we can expect to see when it goes live.
Guests must make a reservation for each park with a specified date and time. Notice that the reservation in the example has a day reserved for Disneyland and a separate day reserved for California Adventure.
If you're an Annual Passholder (AP), you must show up to your reservations. If you "No Show" 3 times within a 90-day period, you won't be allowed to make new park reservations for a full 30 days.
It appears that tickets and annual passes are considered separate things in the new virtual reservation system.
HUGE THANK YOU to Gina Marie for sharing this info! Check out her LinkTree here.
The Virtual Reservation System in Hong Kong Disneyland
We now have even more updated information regarding the new Disney virtual reservation system and app that will be used.
This is based on the Hong Kong Disneyland website, which was updated recently to give us a more complete picture of that process.
Ticket and Virtual Reservation Overview
View the complete step by step process with the Hong Kong Disneyland checklist below.
Here are the steps listed for reserving your visit:
Purchase admission ticket in advance.
Reserve the date of visit online.
Check your temperature (you will be checked again at the gate).
Wear a mask properly (unless dining).
Keep a social distance (floor markers, empty tables, lower capacity rides).
Visit the Hong Kong Disneyland website for updates.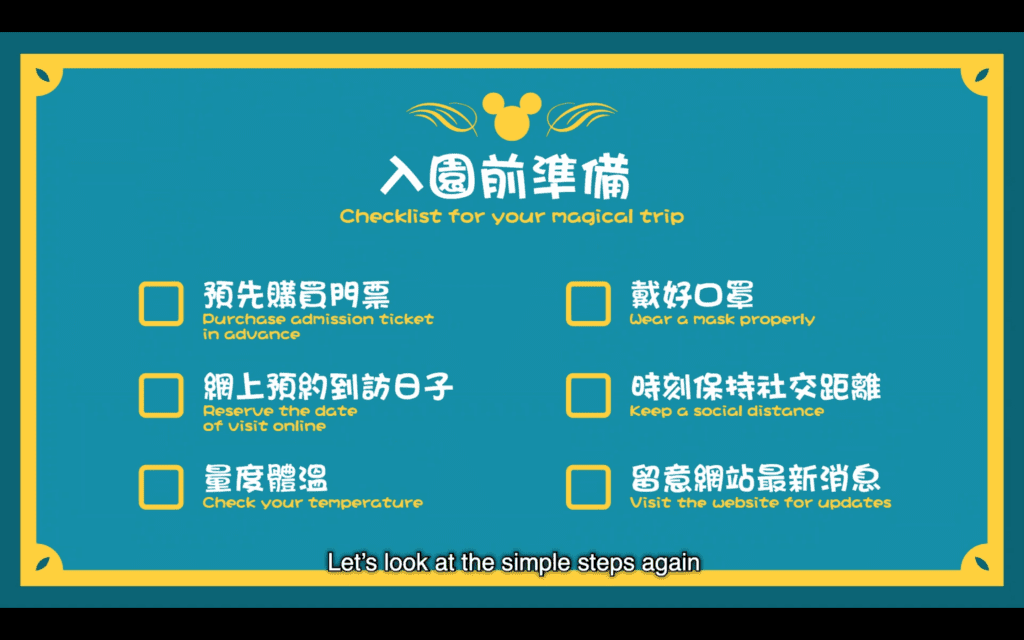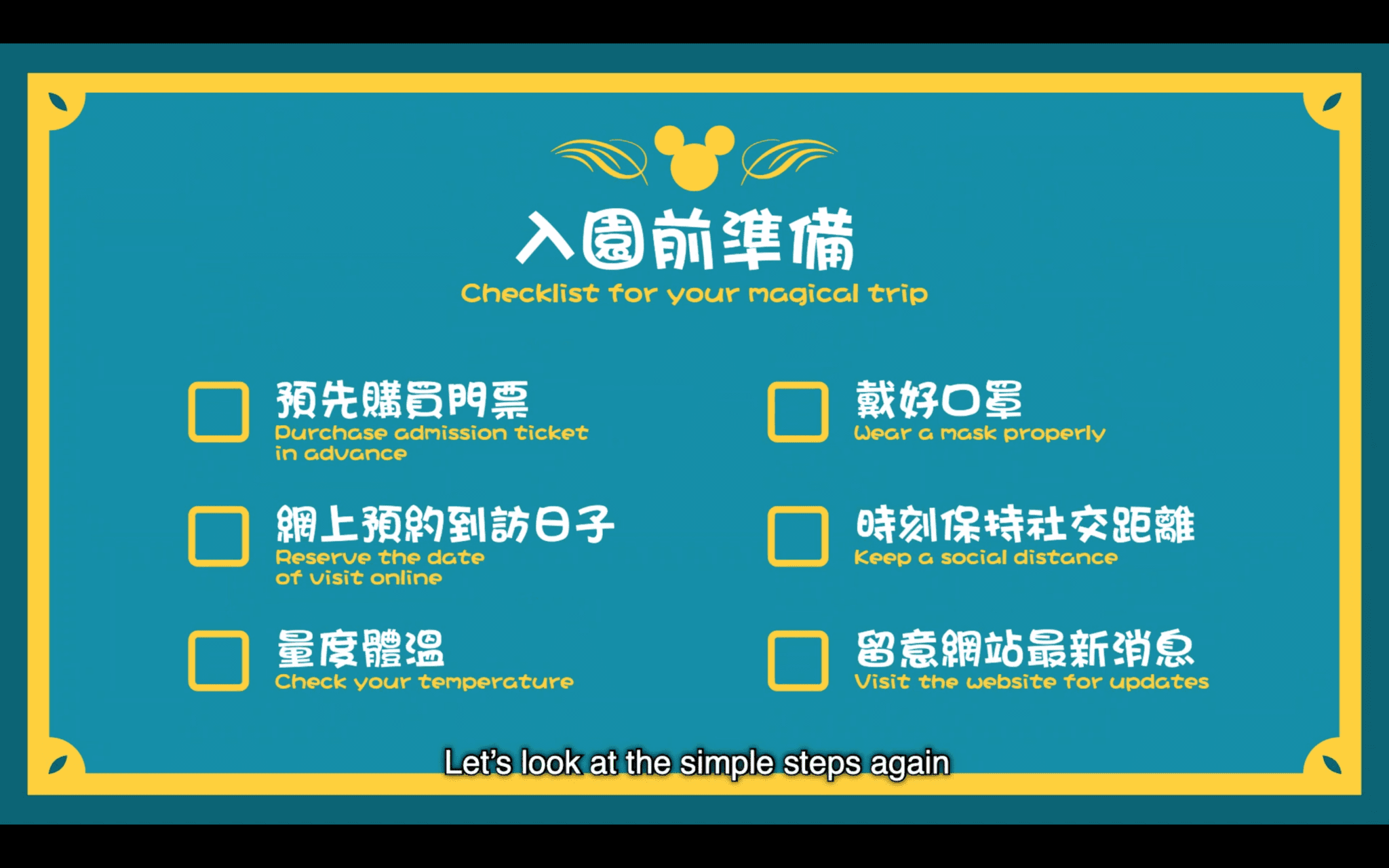 Virtual Reservation Process: Step by Step
Now that the general steps have been outlined, let's take a look at what the ticket and reservation process actually entails.
Each of the screenshots below is taken directly from the Hong Kong Disneyland website.
1. Park Visit Reservation


Magic Access members have the opportunity to reserve their park visit starting on June 15.
Anyone without Magic Access can access the reservation system the next day, June 16.
2. After Reserving Your Park Visit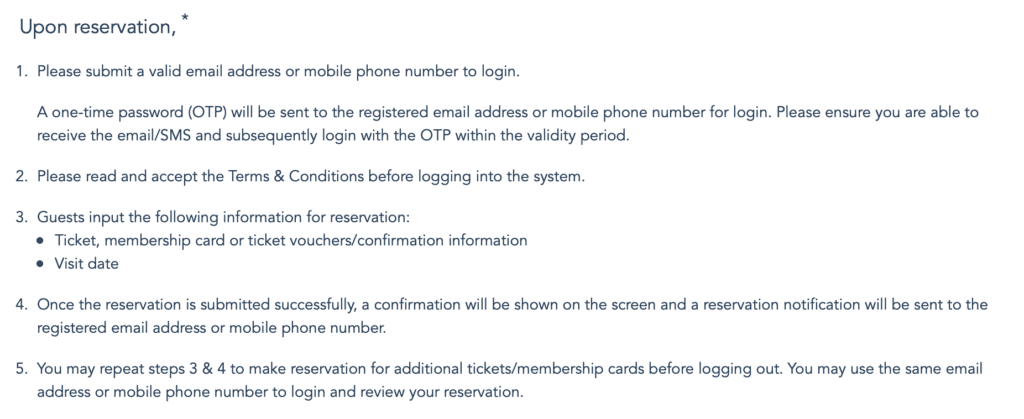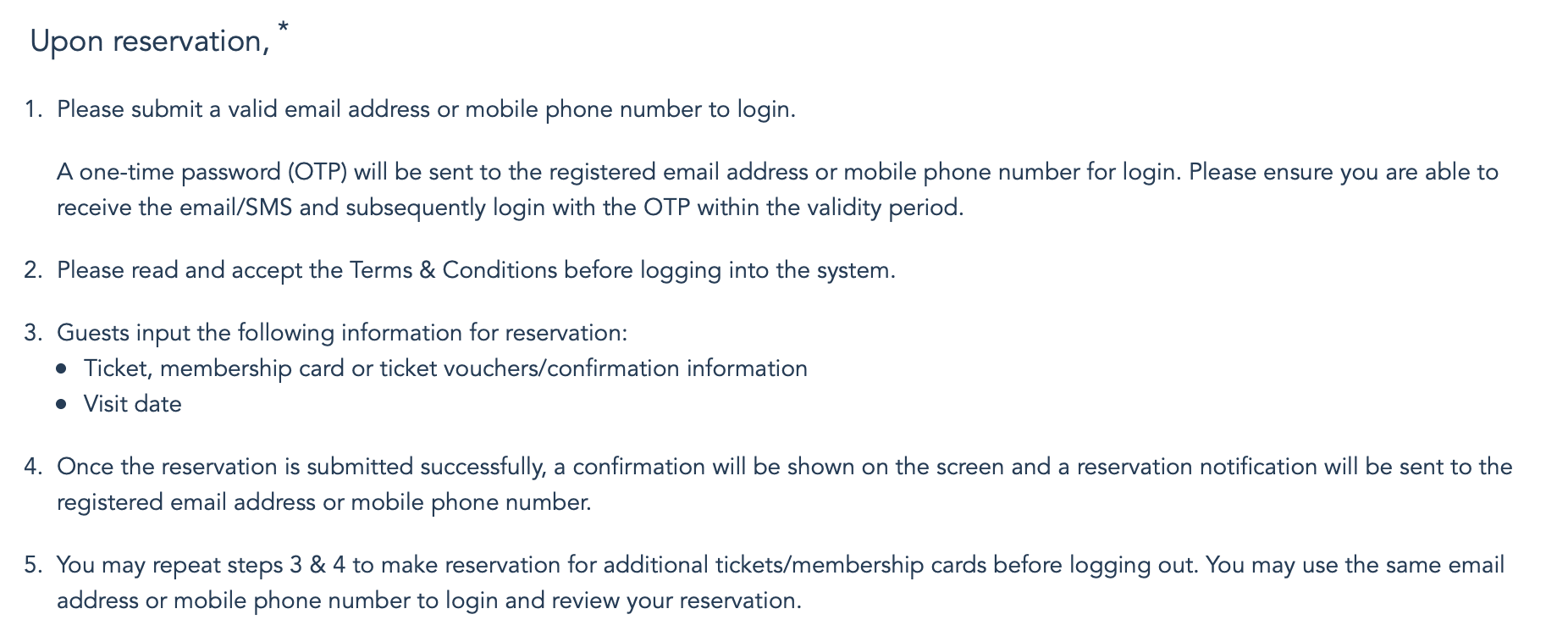 You need to be 18 years or older to make a reservation.
You'll need a valid email/phone number to get started and for logging in to the system.
Accept the T&C.
Put in your ticket, membership card, or ticket information, along with the visit date.
You're all set. The reservation will be confirmed in an email or text message.
3. When You Get to the Theme Park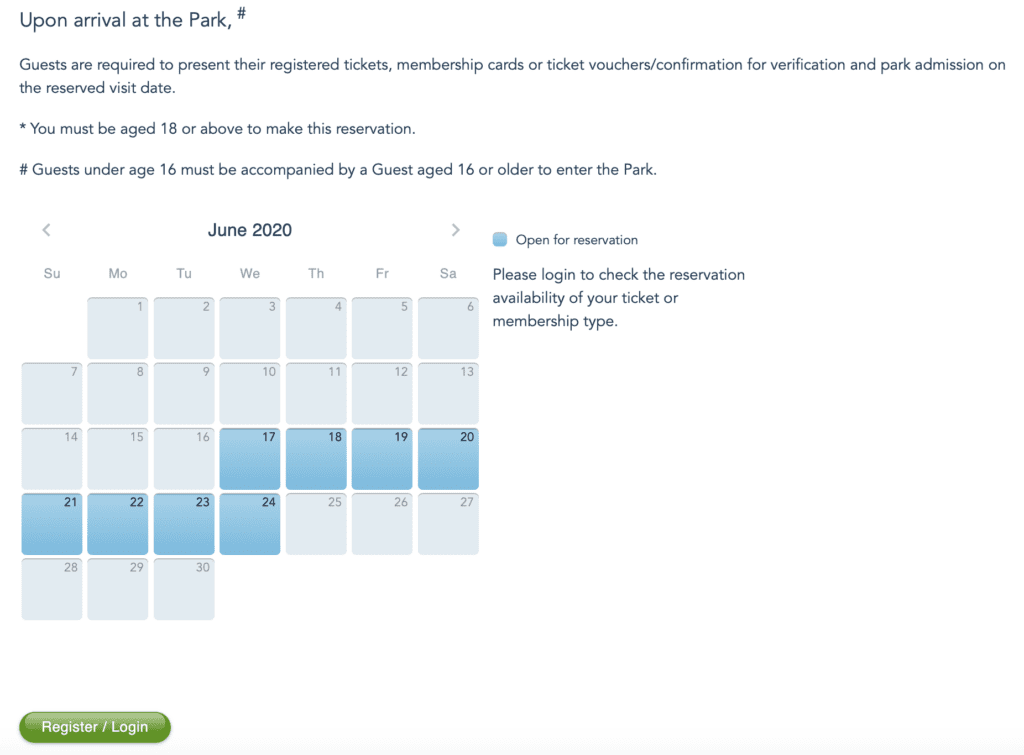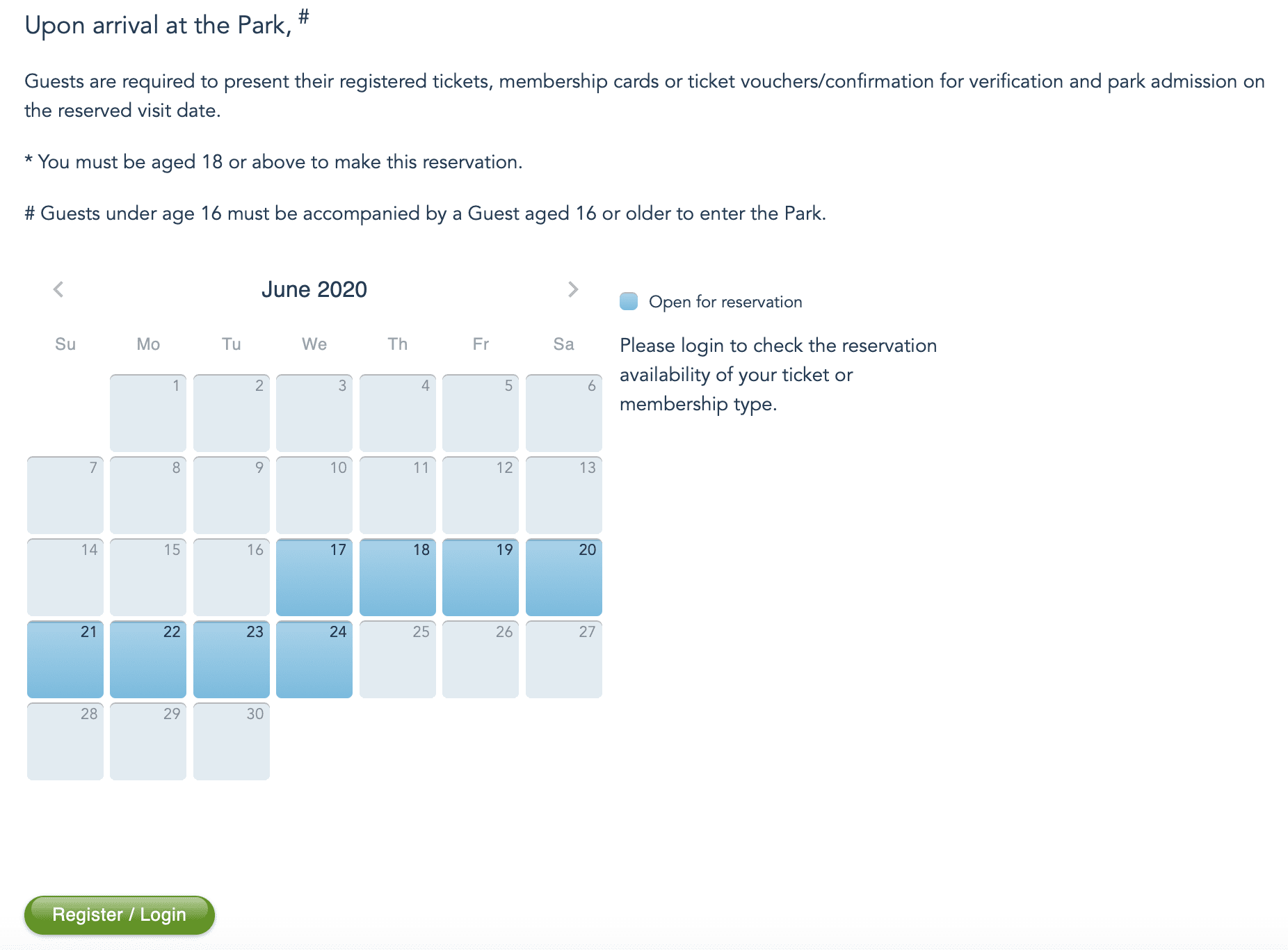 When you get to Hong Kong Disneyland, you will need your registered ticket, membership card, or ticket confirmation to verify your entry for that specific date.
Anyone under the age of 16 must be accompanied by someone 16 or order in order to be admitted to the theme park.
With all of this new information from HKD (along with the Shanghai app steps below), we have a pretty good picture of what to expect at Disneyland and Walt Disney World when those 2 resorts reopen in July.
The Virtual Reservation System in Shanghai Disneyland
During a trial period, Shanghai Disneyland launched the new Disney Standby Pass online reservation tool.
Currently, only one Shanghai Disneyland attraction is using this new system: The Many Adventures of Winnie the Pooh, a dark ride in Fantasyland.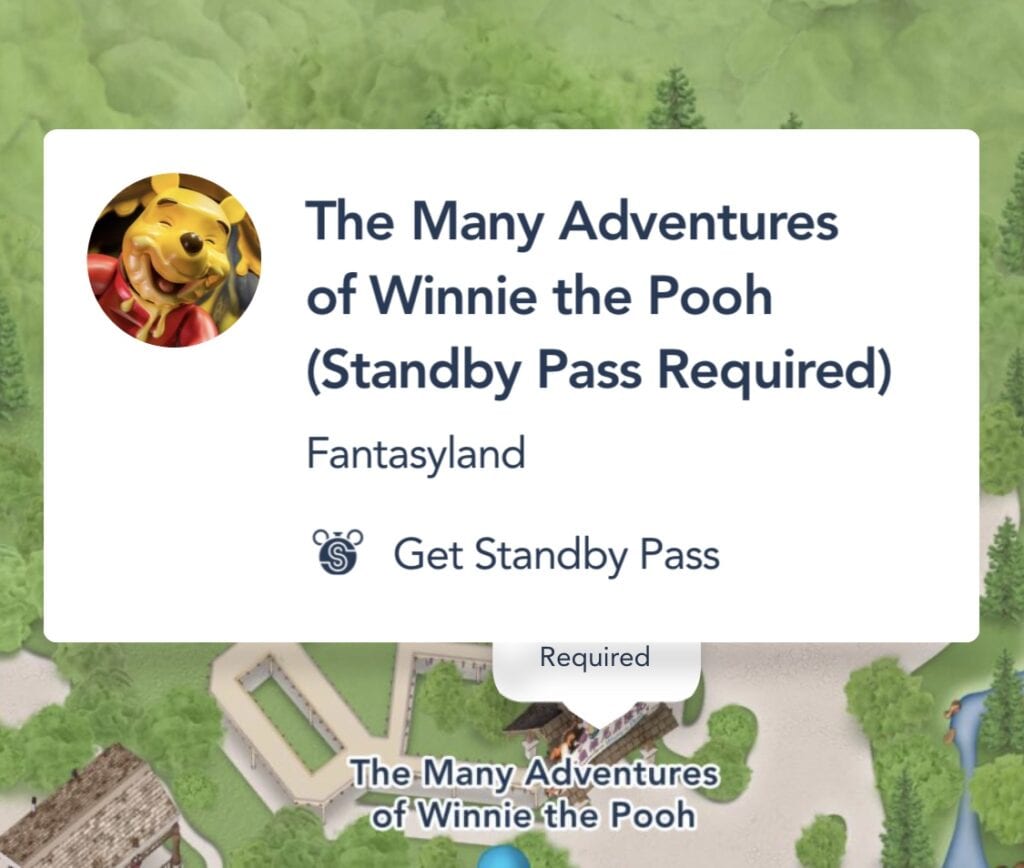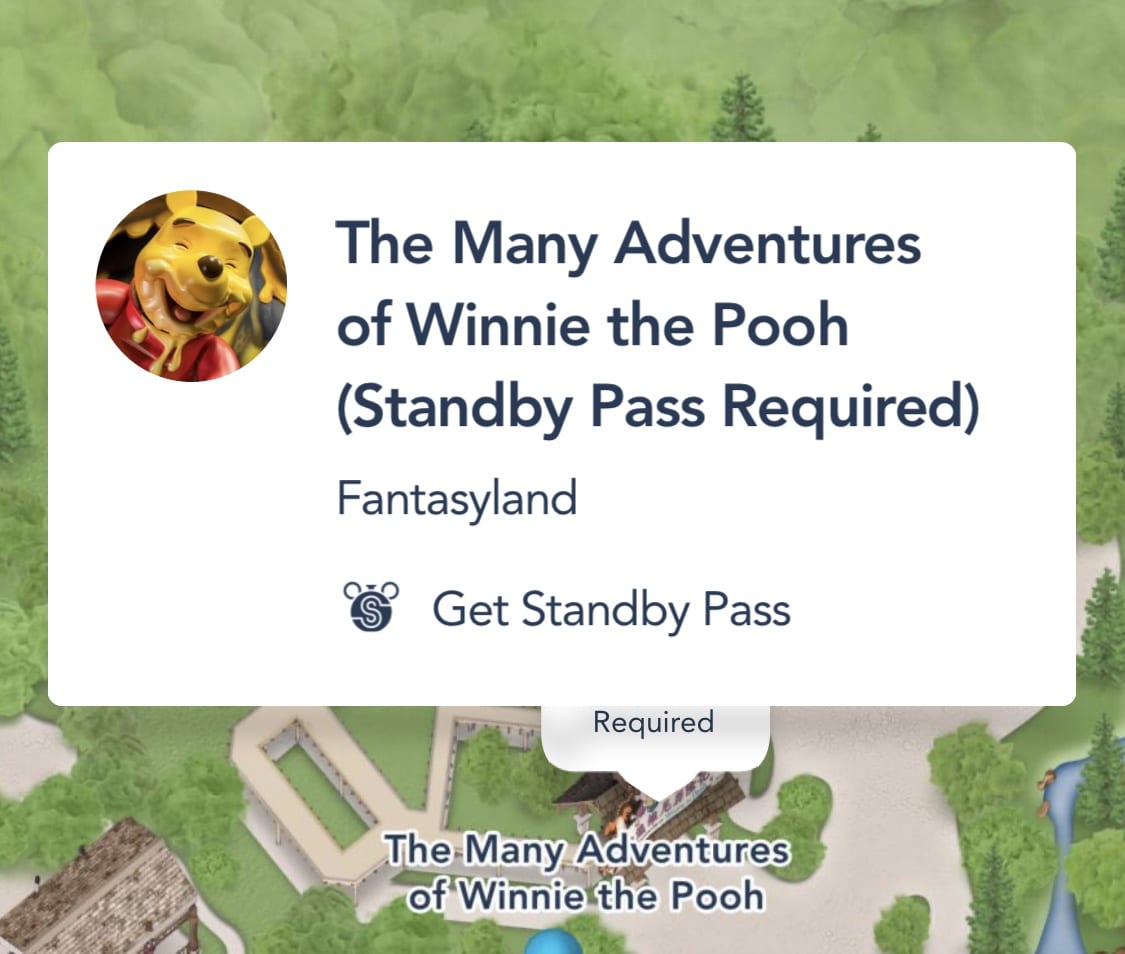 Our understanding is that attractions that will soon use the new queue system will only be open and available to some guests. These park visitors are the ones holding an active Disney Standby Pass or those who use Disney Premier Access.
NOTE: Disney Premier Access is Shanghai Disneyland's version of the paid FastPass.
How Will the New Disney Standby Pass Work?
In this section, we'll present 7 steps on how to get a pass based on what we know of the new queue reservation system currently being used for the Winnie the Pooh ride at Shanghai Disneyland.
NOTE: It seems likely that the Disney World and Disneyland reservation systems will operate in a similar fashion, but this explanation is currently only for Shanghai Disneyland Resort.
Check back here for an update on the American parks when they are officially announced by Disney.
Step 1: Download the official app of the theme park to access the Disney Virtual Reservation System.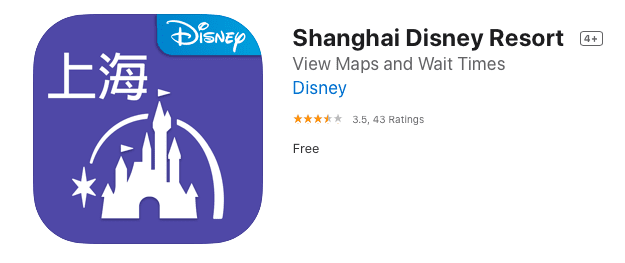 It's best to do this before you arrive at the park to make sure you're prepped for your day.
Make sure you have your account linked with the Disney app.
Step 2: Enter the Park, Sign in, Scan Code.
Enter the theme park and make sure you scan the QR code found on your park ticket.
Step 3: Create a party in the official app.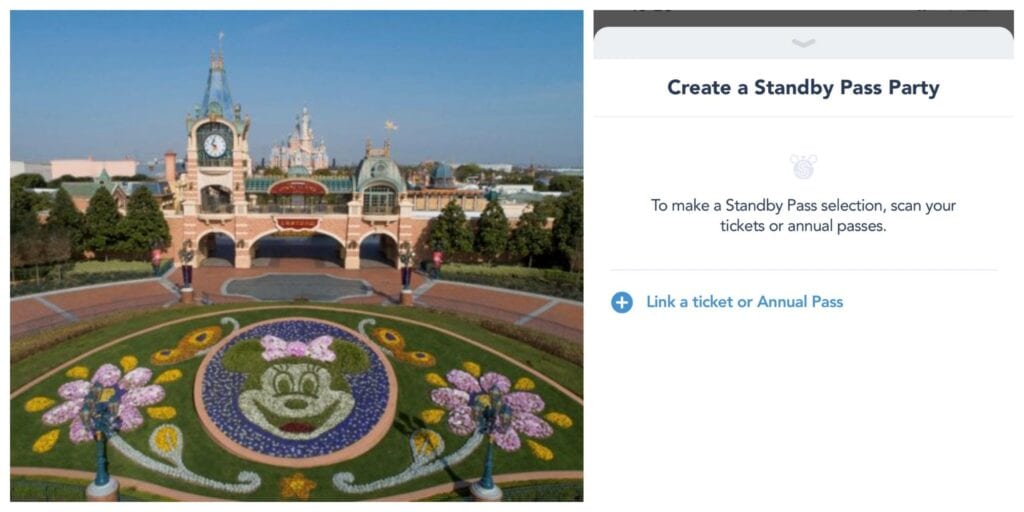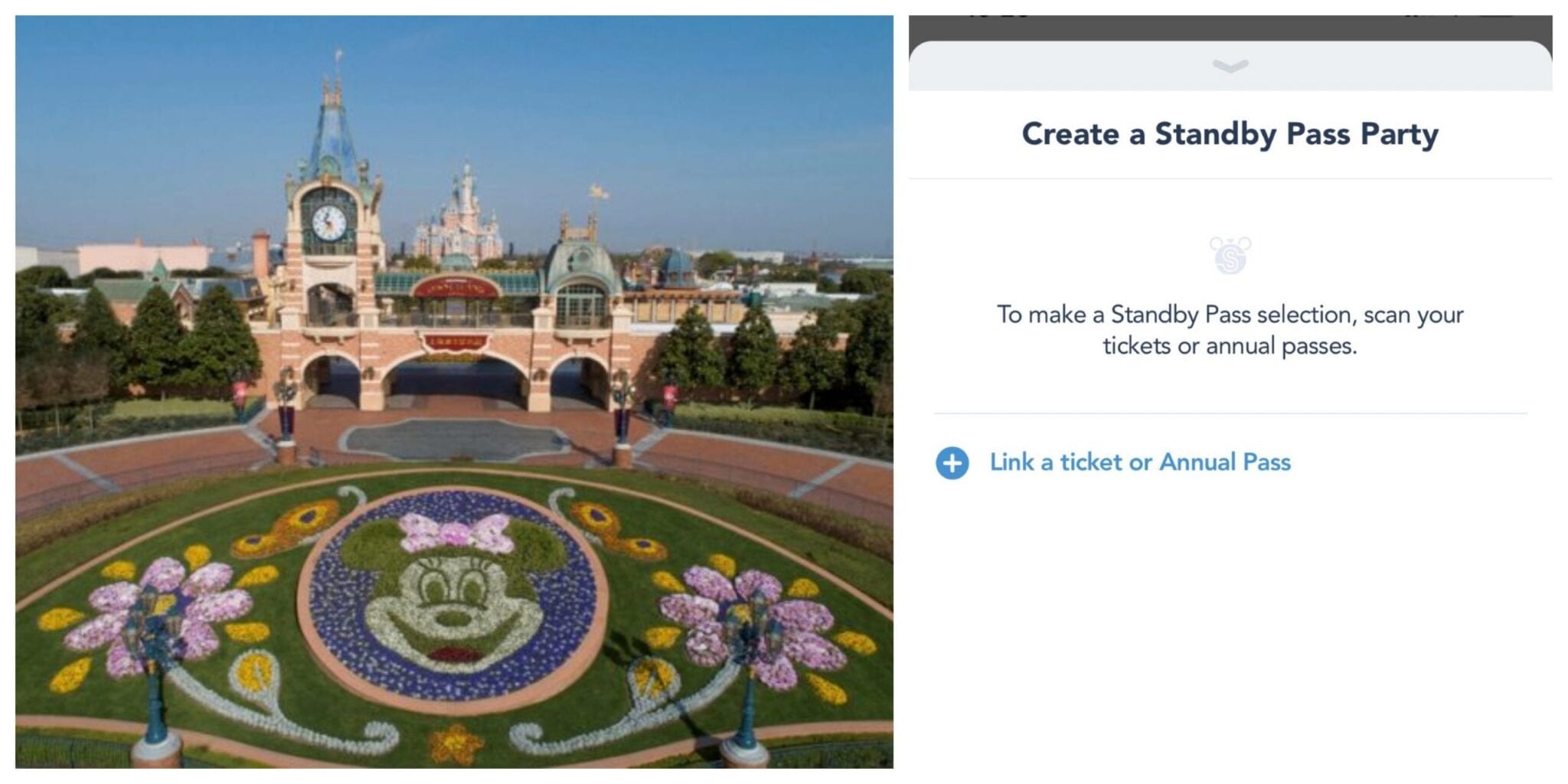 Don't forget to link your group member's park tickets so you can enjoy the attractions together.
To do this, you must use the same Disney Standby Pass return time.
All members of the party must already be inside the theme park.
Step 4: Choose a specific attraction in the Disney Virtual Reservation System that you wish to get a Standby Pass for, then Confirm.
Here is where you will select "Get Standby Pass."
Step 5: Redeem your Disney Standby Pass.
To redeem, proceed to the Disney Standby Pass return entrance at your chosen attraction at the designated return time.
Step 6: Show your QR code.
Let the Disney Cast Members scan your QR code to verify the pass.
You can either show the QR code on your park ticket or the one in the "My Plan" section of the app.
Step 7: Wait for your turn and enjoy the ride!
After this, you will be granted access to an attraction during a specified time, during which you can enter the queue.
Learn more about this in the second part of the video below.
Main Points to Remember
Reservations through the virtual system will be limited each day. My advice is be at the parks as early as possible to reserve your spots, just like with MaxPass.
The theme parks release Disney Standby Passes daily through its app on an hourly basis.
They also distribute the passes around two hours before the park closes for the day.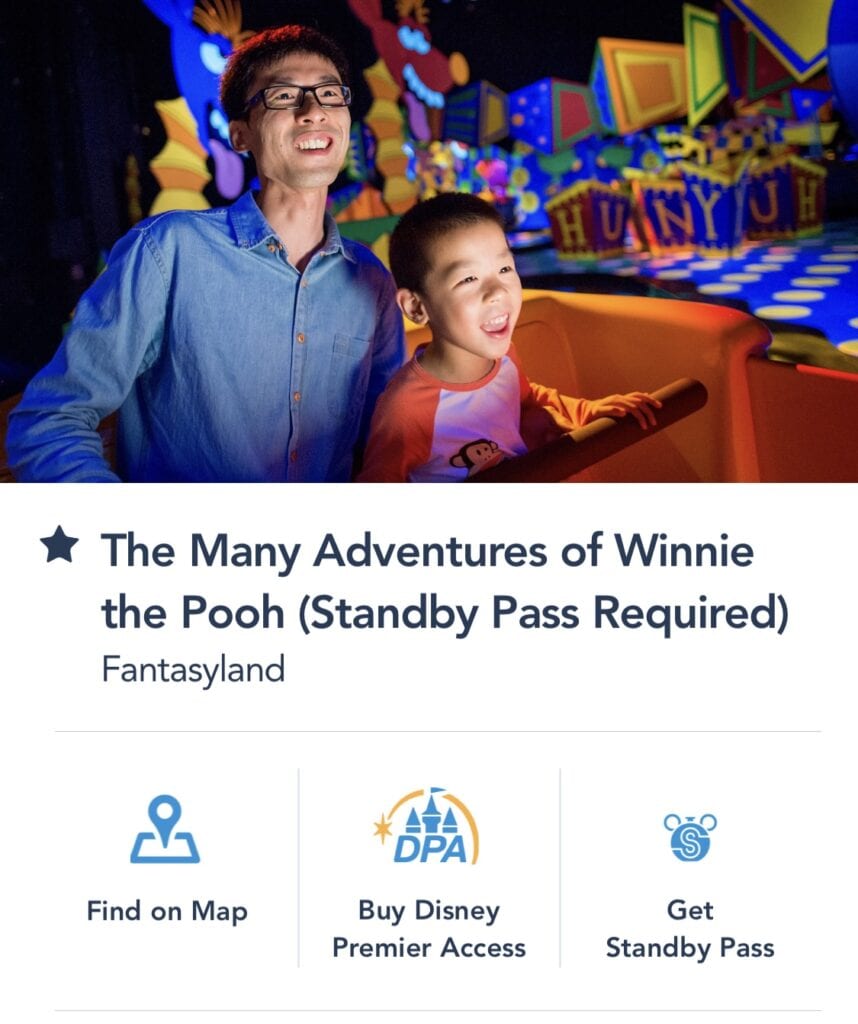 Also, remember that as a virtual queue user, you only have a one-hour window to get in line.
The virtual pass is only valid for the specified return window on the date issued.
Related Articles
Complete guide to MaxPass at Disneyland in California
What really happened when Shanghai Disneyland reopened?
CEO Bob Chapek explains why it's safe to return to Walt Disney World now
Share this post on your Facebook, Twitter, or Pinterest page with the easy share icons below.
Neal Tucker is one of the world's most engaging Disney influencers, with thousands of views and responses across his blog, podcast, and social media profiles every month.
Get started with more D Is For Disney content here