Create your own DIY Disney fun at home with Disney Paper Parks! The magical teams at Disney's Imagineering architecture and design groups have released some truly beautiful works that you can do at home today. Take a look below at all the magic do-it-yourself fun from Main Street USA, Disneyland, and more from Disney!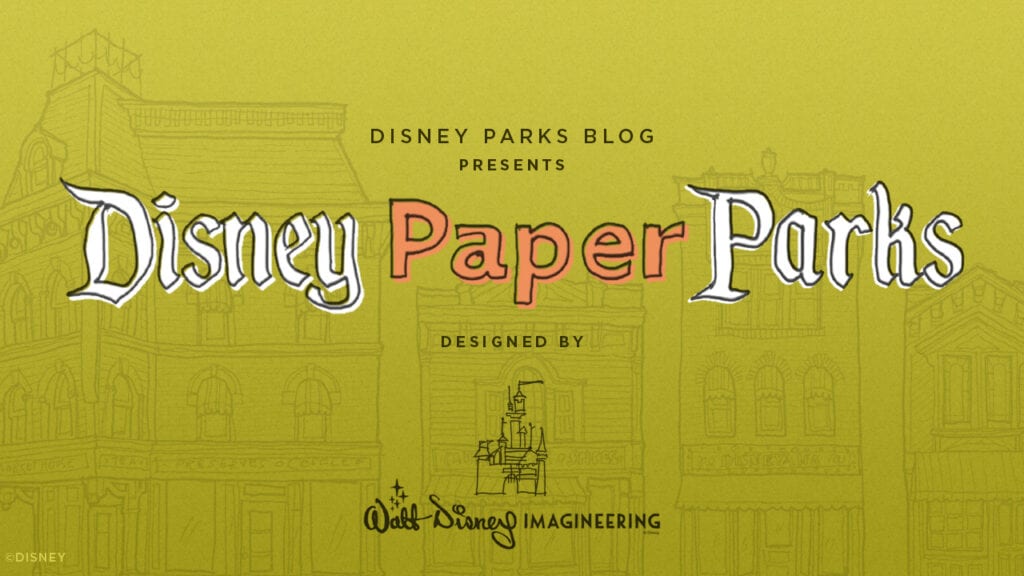 What Is Disney Paper Parks?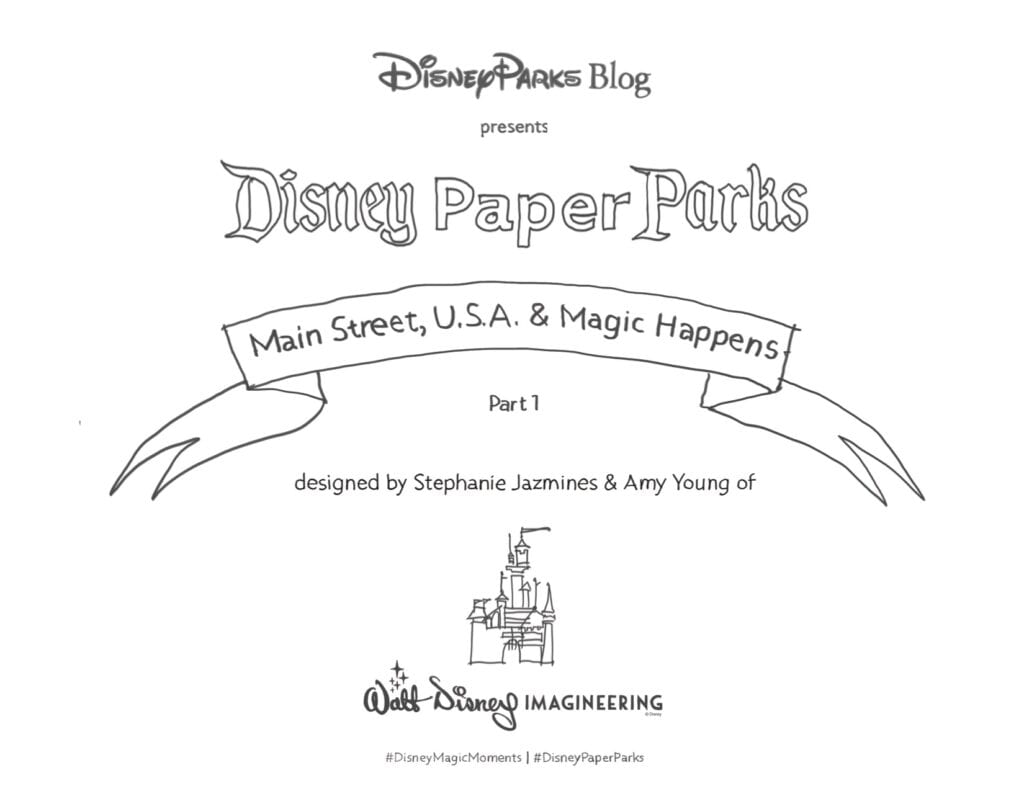 Here's how the Disney Parks Blog describes the new Disney Paper Parks DIY at-home crafting:
We've seen so many great examples of guests creating fun experiences at home inspired by Disney parks. It's been incredibly fun and rewarding to see so many fantastic reactions to favorite theme parks, attractions, characters—you name it!

The Disney Parks Blog asked two of the architects and designers from the Walt Disney Imagineering Design + Planning Studio to contribute their talents to help more guests bring a piece of the Disney parks to life in your own homes.

Disney Parks Blog
These worksheets were made exclusively by the Disney Parks Blog team of magical Imagineers.
The team includes Amy Young and Stephanie Jazmines.
So, that's what the project is all about.
Now, where can you download it and how does it all work at home?
Let's find out together!
FREE Disney Paper Parks at Home: Materials
Here's all the materials that you'll need to make Disney Paper Parks at home, whether by yourself or with your kids, friends, and family!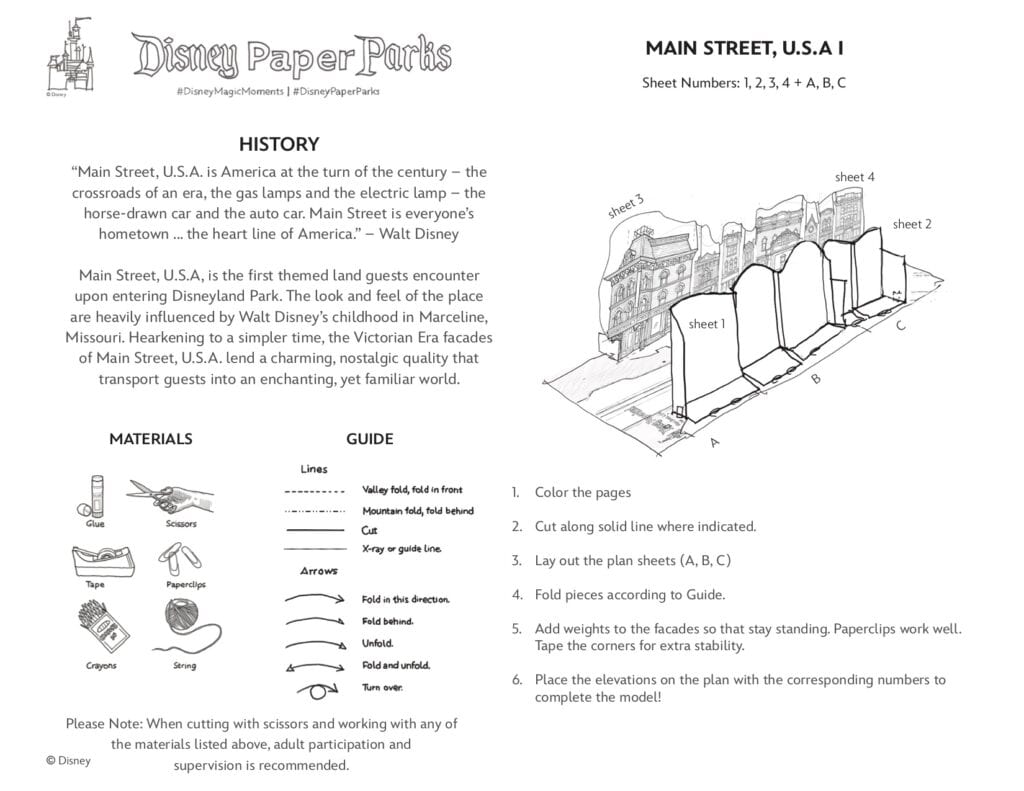 Materials:
Folding skills!
Disney Paper Parks FREE download (click here)
Printer
Scissors
Glue
Additionally, the Disney Parks Blog writes, "We recommend printing the sheets at their actual size, not scaling them to fit the page."
In other words, make sure that your printer is set to print the pages "At actual size" or "100%", instead of "Scale image to fit page". There should be an option when you go to print the images that looks something like this.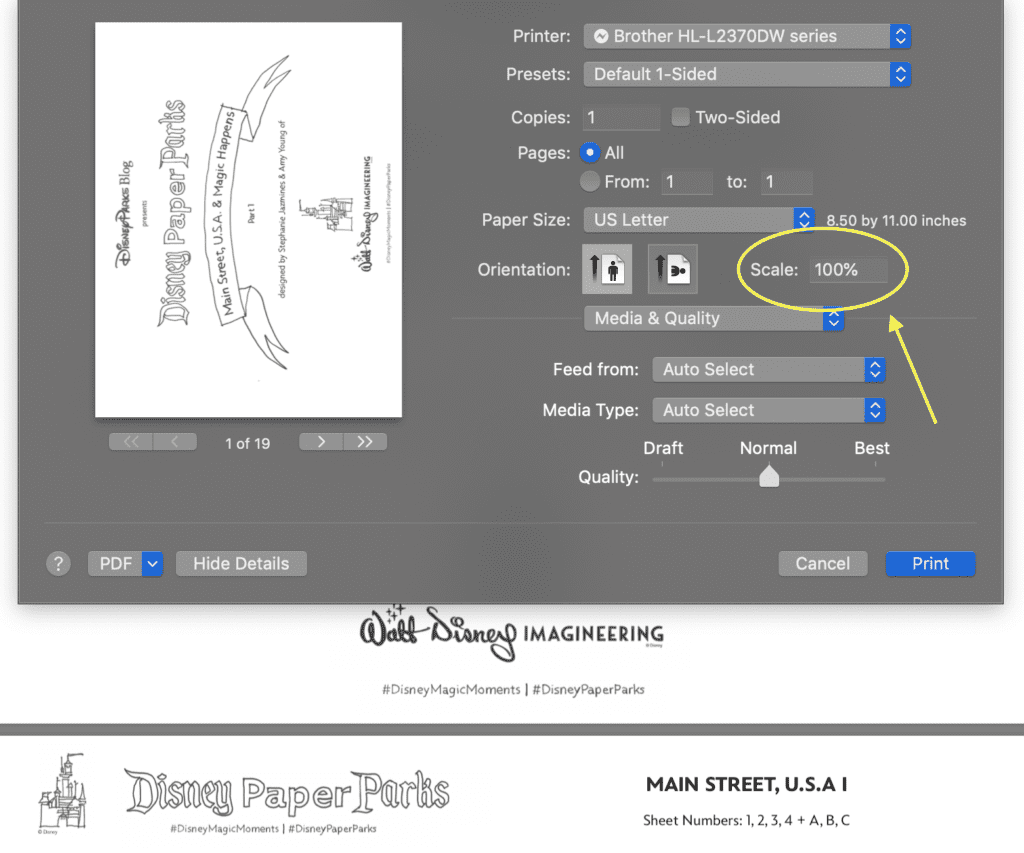 Download the brand new "Disney Paper Parks – printable activity sheets complete with instructions to create 3D versions of Main Street U.S.A. at Disneyland park, floats from the new "Magic Happens" parade and other Disney parks favorites!"
Where Can I Download Disney Paper Parks for Free?
Right here!
Scroll through the entire PDF here, and you can even download the whole thing at the link below the document.
[Source: Disney Parks Blog]
Click here for the full free Disney Paper Parks download!
Final Thoughts on the Disney Paper Park DIY
If that sounds like a ton of fun, I'm right there with you!
I'm super excited to see how this all turns out as people create their own personal Main Street USA designs from Disneyland and other Disney theme parks.
Have you already done it? Let me know in the comments or on Twitter @disfordisney_, so I can share your creations with the Disney universe! 🙂
Finally, Disney says:
We also recommend adult participation or supervision for those with little ones to help make this great activity even more enjoyable. Have fun and stay tuned for more Disney Paper Parks activity sheets!

Disney Parks Blog
AKA, be safe and expect for magic where this came from!
At the very end, Disney Parks have written the following disclaimer at the bottom of their original Disney Paper Parks blog post: "By downloading Disney Paper Parks, you acknowledge and agree that these materials are being provided to you for personal, non-commercial use."
Keep Reading
Get my exclusive FREE Buzz Lightyear coloring book!
Share this post on your Facebook, Twitter, or Pinterest page with the easy share icons below.
Neal Tucker is one of the world's most engaging Disney influencers, with thousands of views and responses across his blog, podcast, and social media profiles every month.
Get started with more D Is For Disney content here