The wait is over for fans of Captain America and the game Fortnite. Captain America is now finally on the game and can be played by Fortnite gamers. Read on for the cool details about this newest Fortnite character.
UPDATE

: Scroll to the bottom to read my review of playing as Cap.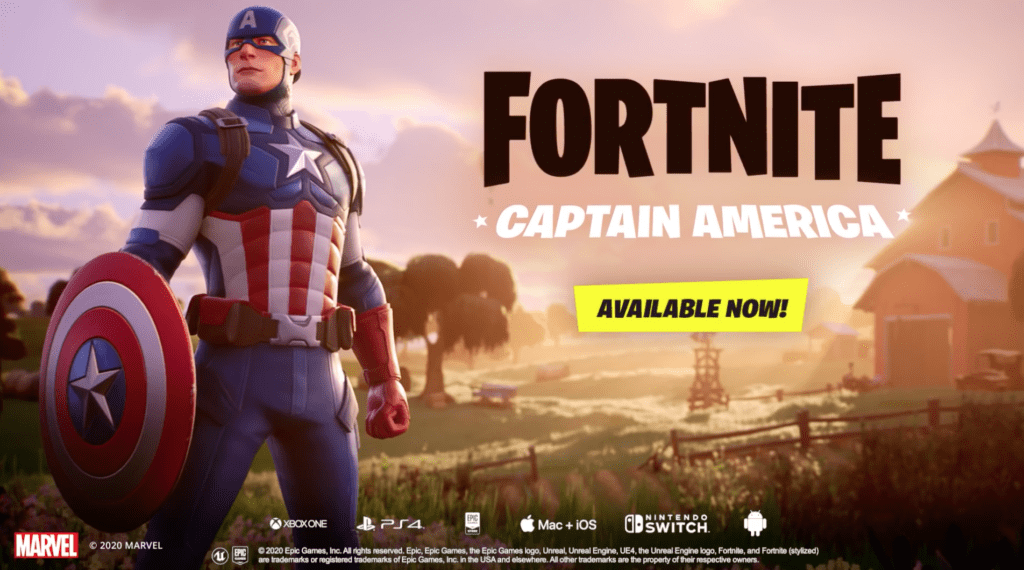 When Is Captain America Coming to Fortnite?
Captain America is available right now to play on the Fortnite game.
Everyone's favorite red, white, and blue Marvel hero arrives just in time, too!
Now, fans and gamers in the United States can celebrate July 4th, Independence Day, as the masked America superhero online with Epic Games, on their favorite gaming platform or game system.
PC Gamer writes that for now the "skin only comes with one style: The version of Cap wearing his full helmet and half-mask. That means if you're a fan of Steve Rogers with his helmet off, flashing those luscious sandy blonde locks, you're out of luck, unless Epic adds a new style in the future."
What Platforms Will Captain American Be on Fortnite?
You can play as Captain America in Fortnite on the following game systems and gaming platforms:
Epic Games
XBOX ONE
PS4
Mac Computers
iOS
Nintendo Switch
Android
How Much Does Captain America Cost in Fortnite?
You might have a couple of questions right now…
"How do I get Captain America on Fortnite?"
"How much does it cost in V-bucks?"
"How do I get the famous shield?"
Well, we've got answers to all of these questions, right here!
You can get Captain America in Fortnite through the store on the game itself for 2,000 V-bucks, which is about $20.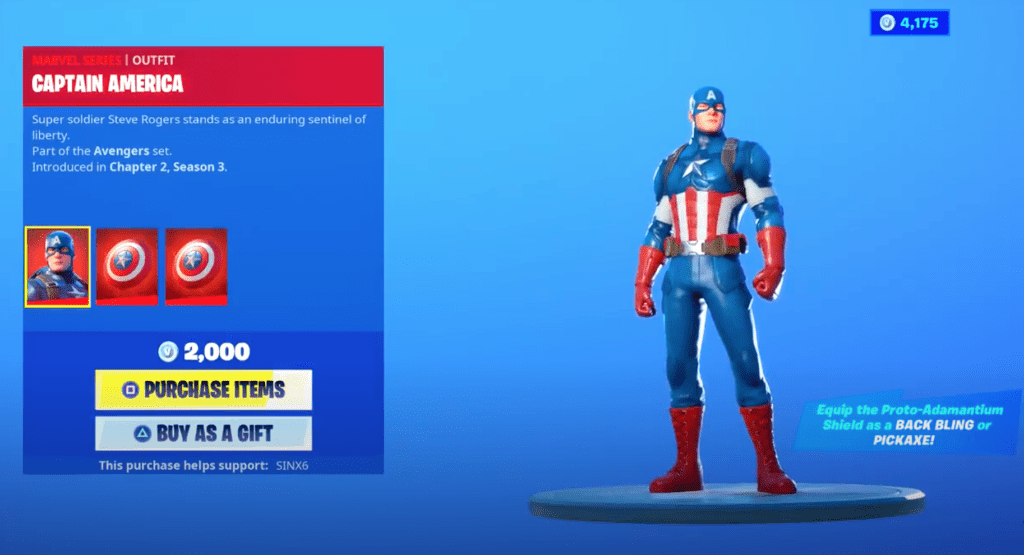 You can also get the Proto-Adamantium Shield with your in-game purchase.
In fact, the Verge wrote, "If you buy the skin, you'll also get Captain America's iconic shield, which isn't just cosmetic — you'll be able to wear it on your back and use it as a pickaxe in-game. Captain America's shield has actually already appeared in the game before — you could wield it last year as a special item in a limited time Avengers-themed mode, but you weren't able to buy it to wear whenever you wanted."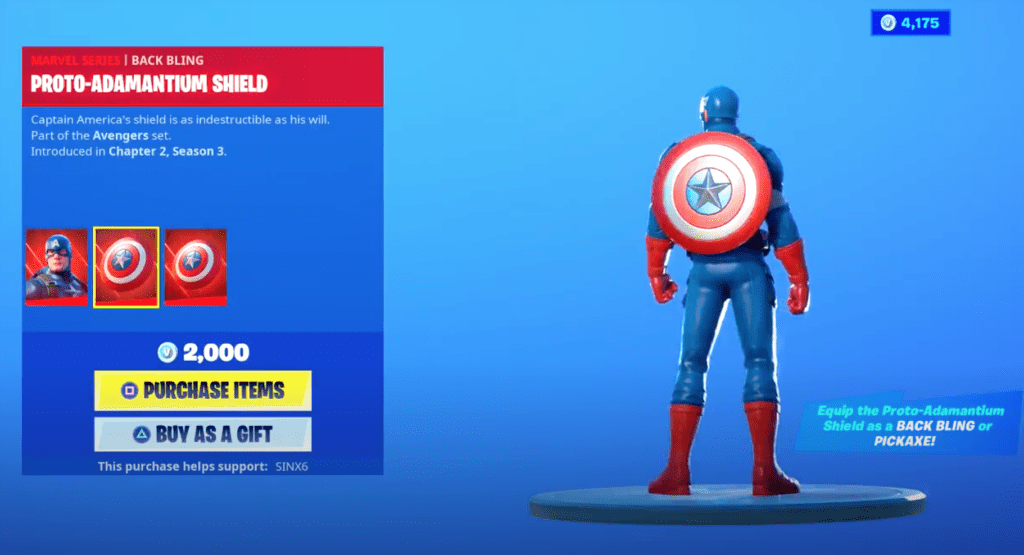 Here's a close-up of the Proto-Adamantium Shield to use as a back bling or a pickaxe!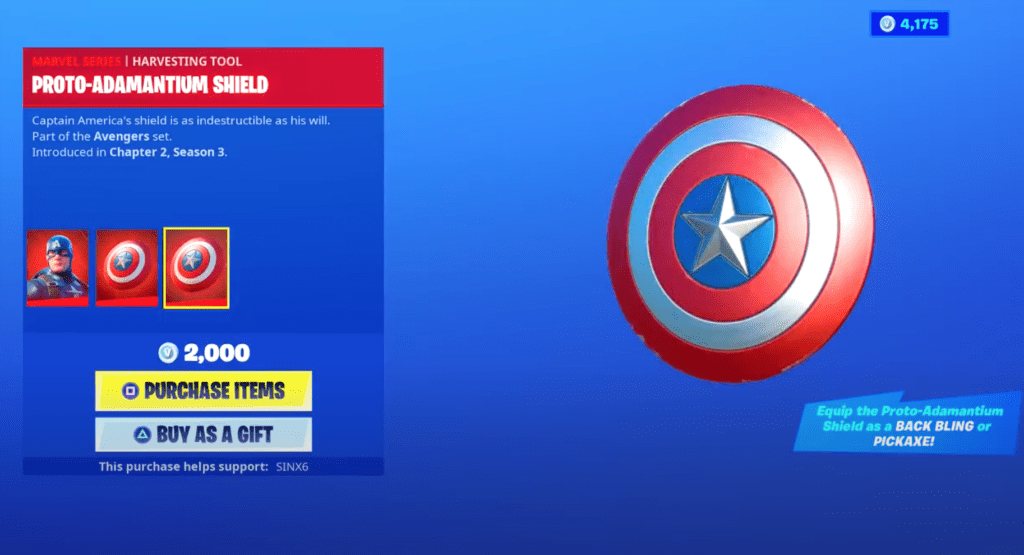 Last, but certainly not least, don't forget to do fun (or weird!) stuff with your newest Marvel character… The fireworks emote costs 300 V-bucks. 😉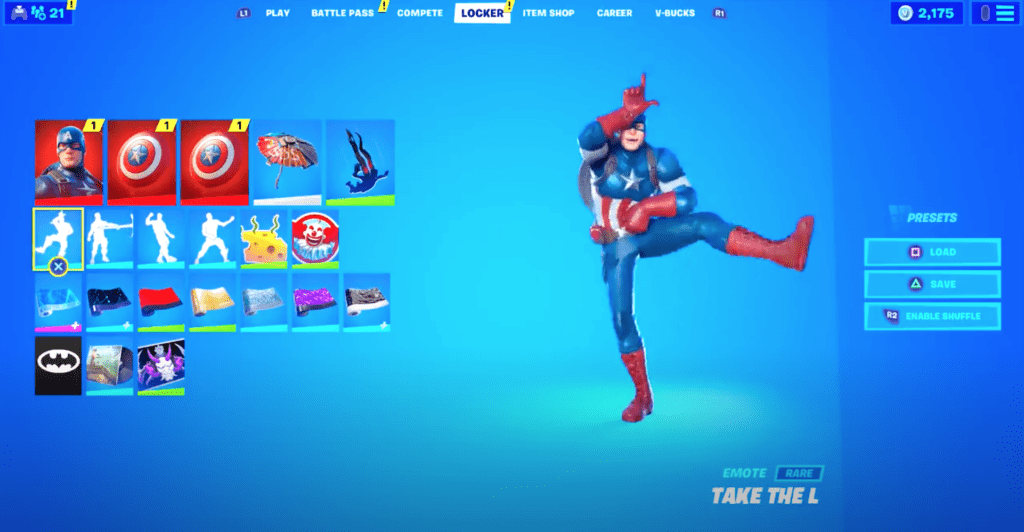 Is There a Trailer or Promo Video?
Yes, there is!
Watch the video below from Epic Games introducing Marvel's walking, talking American flag on one of the most popular video games!
My Review of Playing as Cap in Fortnite
Soon after this news came out, I whipped out my handheld Nintendo Switch and fired up Fortnite.
Here's my takeaways playing as Captain America:
The Look – He looks AWESOME. Random people (that I don't actually know) that join my squad have straight up told me how cool that he looks. That doesn't get old!
Nice Compliments – Along the same lines, it just feels rad playing as one the classic Marvel Avengers in the world of Fornite. As with all skins in this game, there's no "competitive advantage". BUT, that's only if you don't count the psychological level up you feel to get to play as an Avenger that ultimately wielded Mjölnir…
Cap's Shield – The shield can be used as both your backpack and as your pick-axe. Because of this, it has the effect of making your own Fortnite character look and feel even more like Cap than it already does.
Final Thoughts – For 20 bucks, it's very much worth it, in my opinion. If you're a Marvel fan, an Avengers fan, or (obviously) a Cap fan, I recommend pulling the trigger on this purchase. Fortnite pun very much intended… 😉
Keep Reading
How to Use www.Fortnite.com/DisneyPlus Step by Step Photo & Video!
Share this post on your Facebook, Twitter, or Pinterest page with the easy share icons below.
Neal Tucker is one of the world's most engaging Disney influencers, with thousands of views and responses across his blog, podcast, and social media profiles every month.
Get started with more D Is For Disney content here