From one of the newest Disney collections comes the Disney Ink and Paint Color Changing Mug. This stylish new mug changes colors depending on the coffee, tea, or other drink inside. You just have to see it to believe it. Take a look, and then take a sip…in style!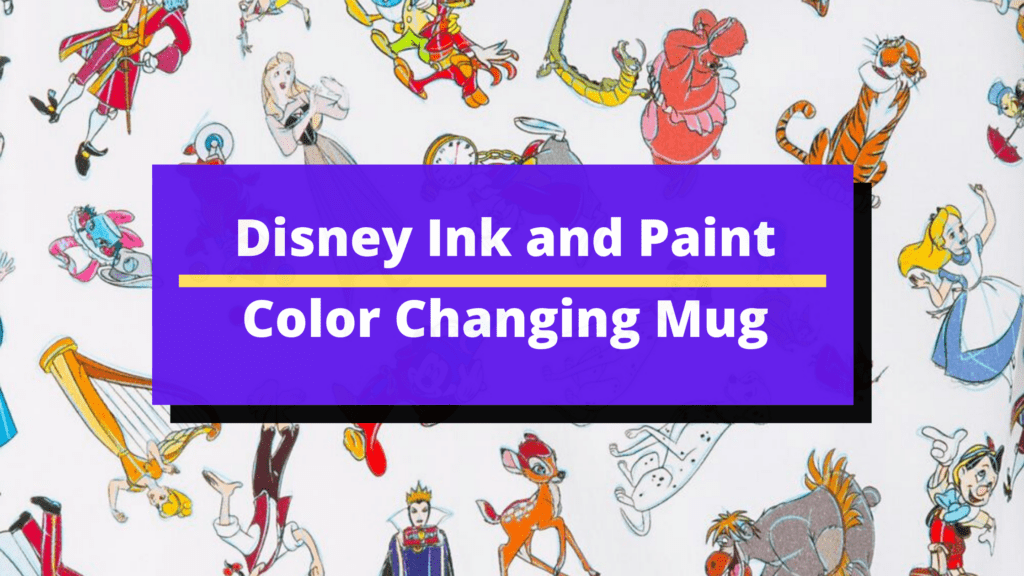 Note: Images in this article courtesy of ShopDisney unless otherwise specified.
New Disney Ink and Paint Collection
The new Ink & Paint collection from Shop Disney is absolutely beautiful.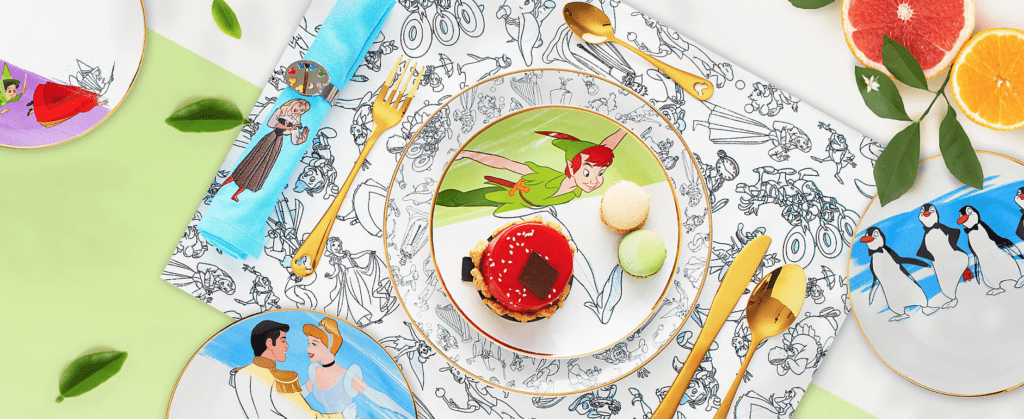 If you haven't had a chance to see it yet, the idea is actually very simple, but they've done it perfectly. Basically, Disney has taken some of the old school animation archives from the 1930's to the 1960's and turned them into patterns fit for the modern age.
The name comes from the ink and paint required to draw and color Walt Disney's early animated shows and movies.
First, they draw the characters and the environments with ink.
Second, they color in everything with paint.
That's how we get to the name of this wonderful new group of products for sale from the House of Mouse… Disney's Ink and Paint collection.
The Disney Ink and Paint Color Changing Mug
One of the newest releases from this cool collection is the New Disney Ink and Paint Color Changing Mug.
Here's how Shop Disney describes it:
Celebrate the fine art of Disney Animation with a daily sip of inspiration from this ceramic mug. A host of Walt Disney character silhouettes show their true colors when you fill with a hot beverage. See how many characters you can name through the morning fog!

ShopDisney
Without a hot beverage in the cup, the characters are a solid color.
When you pour in a warm beverage like hot tea, hot coffee, or hot water, the characters fill in with their full color just like in the animated movies!
View the progression as it changes color below, from left to right.
How fun is that!
Personally, I absolutely love it. The whole Ink and Paint collection is fantastic, but this just takes it to a whole new level.
Features of the New Disney Ink & Paint Color Changing Mug
For starters, the mug has some real live magic going on…
The ceramic cup reveals the colorful details of your favorite Disney characters when you fill it hot liquids.
In other words, it's literally perfect for your morning brew.
Whether you're a coffee drinker, a tea lover, a fan of both, or something else entirely!
Characters on the Disney Ink & Paint Color Changing Mugs
Snow White
Evil Queen
Pinocchio
Jiminy Cricket
Sorcerer Mickey Mouse
Hyacinth Hippo
Ben Ali Gator
Dumbo
Bambi
Donald Duck
José Carioca
Panchito
Pedro
Johnny Fedora and Alice Bluebonnet
Br'er Rabbit
Br'er Fox
Bongo
Singing Harp
Johnny Appleseed
Mr. Toad
Cinderella
Prince Charming
Alice
White Rabbit
Peter Pan
Captain Hook
Tinker Bell
Amos Mouse
Lady and the Tramp
Briar Rose
Flora
Fauna
Merryweather
Pongo
Perdita
Merlin
Penguin Waiters
Baloo
Shere Khan
Instructions for Your Disney Ink and Paint Color-Changing Mug
There are instructions offered near the bottom of the Shop Disney page for the Disney Ink and Paint color changing mug.
Disney provides this info along with some tips and specifications, in order to help you get the most out of your stylish new ceramic cup.
Make sure you take note of the following:
Wash thoroughly before first use
Not microwave or dishwasher safe
Hand wash only
Ceramic
4 1/2" H x 3 3/4" Diameter (6" W at handle)
Holds approx. 16 oz.
Imported
What do you think of this beautiful new mug?
Let me know in the comments or on social media at Twitter or Instagram @disforndisey_.
Have a magical day!
Keep Reading
14 Simply Stunning Disney Floral Designs You Have to See to Believe
Share this post on your Facebook, Twitter, or Pinterest page with the easy share icons below.
Neal Tucker is one of the world's most engaging Disney influencers, with thousands of views and responses across his blog, podcast, and social media profiles every month.
Get started with more D Is For Disney content here