Get in on the galactic action with this amazingly retro Hoth Ice Planet Star Wars adventure board game. It's a fun vintage game from Hasbro Pulse, where you get to play as the Jedi Luke Skywalker. Fly as the Snowspeeder Luke against the Empire and their AT-AT's. The legendary Battle of Hoth from The Empire Strikes Back is yours to command and win! Check out all the cool photos and videos below.
Hasbro Hoth Ice Planet Star Wars Retro Board Game
Go back in time to another galaxy with an amazingly retro version of the Hoth Ice Planet Adventure Star Wars board game.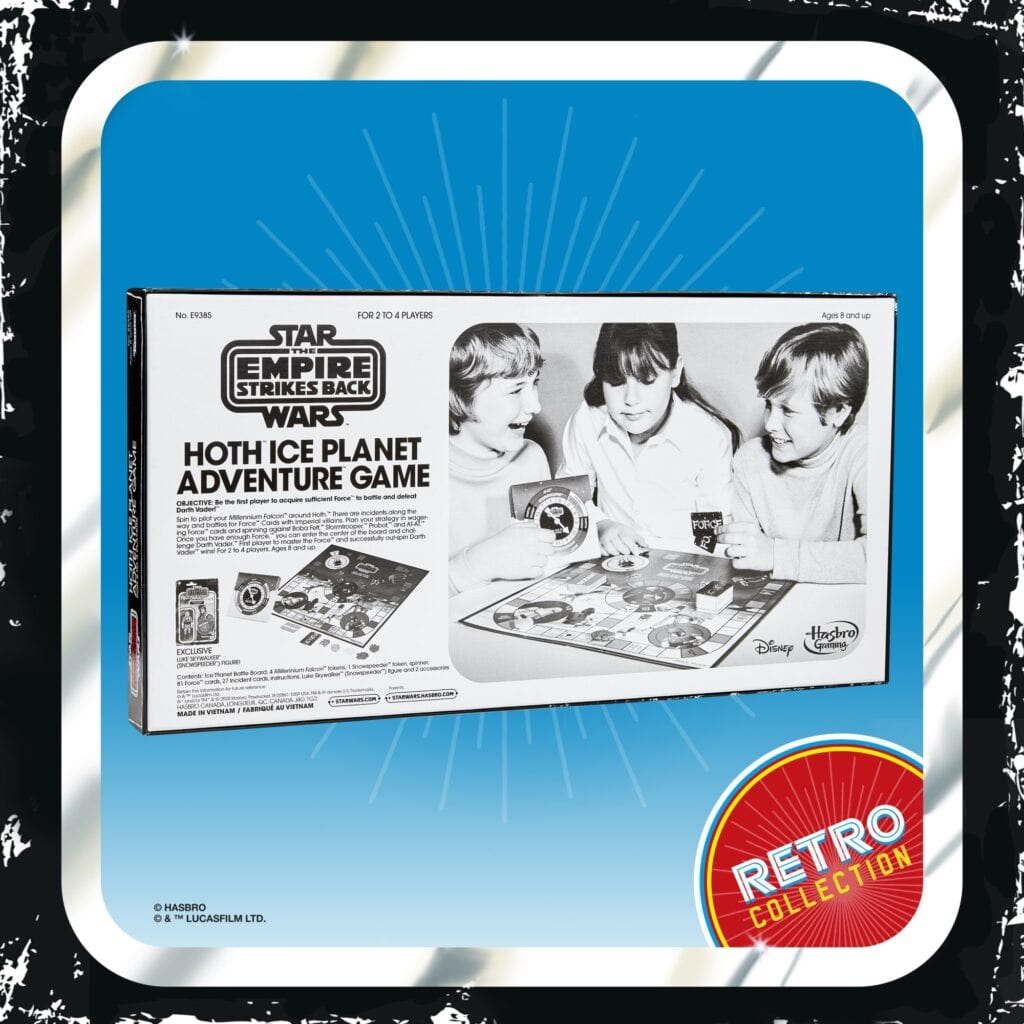 Hasbro writes, "This board game is based on the original board game from Kenner released in 1980 and features artwork inspired by events from the second Star Wars movie, The Empire Strikes Back."
One awesome feature? This version comes with an exclusive Snowspeeder Luke Skywalker action figure.
Hasbro goes on to say, "Fans can re-live moments from The Star Wars universe as they imagine traveling around the dangerous Ice Planet Hoth and become a Jedi Knight. Using wits and the Force, players are challenged to battle the four fearsome Enemies they find along the way throughout their adventures on Ice Planet Hoth."
Will you be able to defeat the most evil villain that the Empire will throw against you? Use the Force to combat and ultimately defeat the infamous Darth Vader to win for the Rebellion!
What's in the Box
This Star Wars retro board game includes the following items in the box, for you to play on the Hoth Ice Planet:
Ice Planet Battle Board
4 Millennium Falcon tokens
1 Snowspeeder token
Spinner
81 Force cards
27 Incident cards
Instructions
Luke Skywalker (Snowspeeder) figure
2 Accessories
Game Play
Here's how Hasbro Pulse describes the actual gameplay for this Ice Planet Hoth Star Wars adventure board game:
Win battles against 4 Imperial enemies: Stormtrooper, Probot, AT-AT, and Boba Fett. Earn enough Force to defeat the final foe, Darth Vader to win the game

Move around the gameboard using one of the 4 Millennium Falcon tokens, or use the Snowspeeder token
The game is suitable for ages 8 and up.
This board game works great for 2-4 players.
Get your very own copy of this awesome retro Star Wars board game adventure today!
Keep Reading
10 All New LEGO Star Wars Sets Celebrate 'The Skywalker Saga'
Share this post on your Facebook, Twitter, or Pinterest page with the easy share icons below.
Neal Tucker is one of the world's most engaging Disney influencers, with thousands of views and responses across his blog, podcast, and social media profiles every month.
Get started with more D Is For Disney content here