If you signed up for Disney Plus through Verizon, you might want to also know how to cancel it at some point as well. Thankfully, it's super easy and can be done very quickly, too! Just make sure you have your Verizon login credentials, because you will need that to make it happen. Once you have that, scroll on down for the step-by-step instructions for how to cancel Disney+ through Verizon.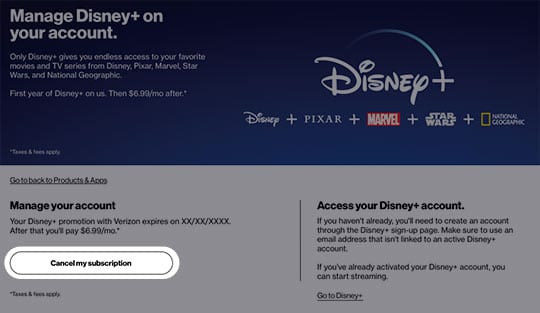 How to Cancel Disney+ Through Verizon
People have been asking, "How do I cancel my Disney+ subscription through Verizon?"
Today, I'm going to walk you through the step by step instructions for exactly how to do that…
Alright, once you have your Verizon username and password, we can get started!
Follow along below for the steps for how to cancel Disney Plus with Verizon…
Step #1 — Sign in to My Verizon
Open up your web browser (Firefox, Chrome, Safari, etc.), and sign in to My Verizon.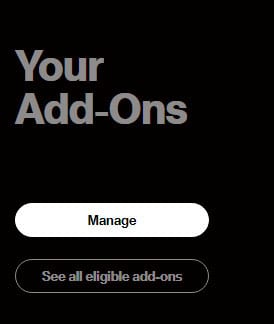 The website for My Verizon is here: http://www.verizonwireless.com/b2c/myverizonlp/.
Step #2 — Go to Add-ons and Apps Overview
Once you're on the My Verizon Home screen…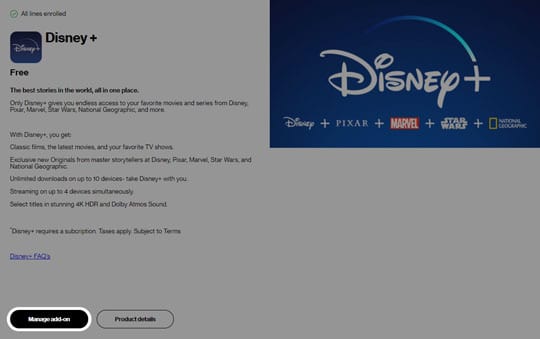 Navigate to the Add-ons and Apps overview by clicking through the items below in this order:
Step #3 — Click the Manage button
Next, simply click on the Manage button.
Step #4 — Click Manage add-on
Within the the Disney+ section of the page… You can then click on Manage add-on.
Step #5 — Cancel
Finally, you can click Cancel my subscription.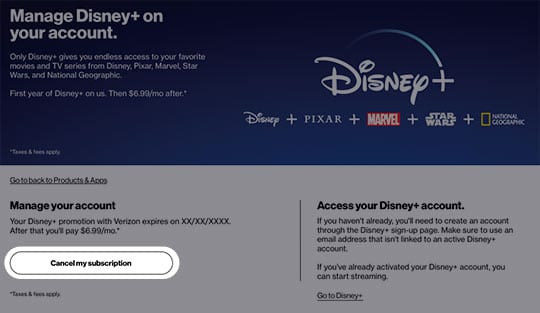 Then click Continue.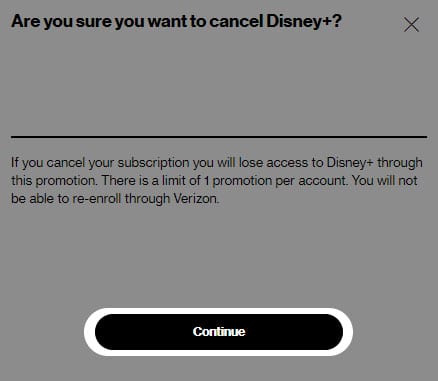 And that's it! You're all set and all done!
How to Cancel Disney+ Through Verizon: Important!
Lastly, there are a few super important things to keep in mind when cancelling your Disney+ subscription through Verizon:
Naturally, you will lose your Disney+ promotional access.
The cancellation itself can take up to 24 hours to process.
You will not be able to re-enroll for the promotion again with Verizon, because they only allow 1 promotion per account.
If you need some more assistance with this, just check out the phone numbers for customer service from Disney Plus and Verizon both below:
How to Cancel Disney+ Through Verizon: Wrap Up
I hope this helped you figure out how to cancel Disney+ through Verizon.
It can be super tricky when dealing with subscriptions online, especially with promotional features such as this one.
The good news is that Verizon actually makes it very easy to cancel your Disney Plus promotional subscription through them.
If you're having trouble with the process, you can always call for help.
Let me know about your experience right here below in the comments or on social media!
Have a magical day!
Keep Reading
Here's How to Use DisneyPlus.com/Begin with your Disney+ Account
How to Get Free Disney Plus with Promotional Offer from Verizon
Share this post on your Facebook, Twitter, or Pinterest page with the easy share icons below.
Neal Tucker is one of the world's most engaging Disney influencers, with thousands of views and responses across his blog, podcast, and social media profiles every month.
Get started with more D Is For Disney content here