Changes are coming to both Disney Magical Express bus service and the Extra Magic Hours offered to Disney World hotel guests. The biggest change? Walt Disney World has decided to discontinue the Disney Magical Express bus service in 2022. WDW will also stop offering Extra Magic Hours for guests staying in Walt Disney World Resort hotels in 2021. Instead, people lodging at the WDW resort hotels will start to get a 30 minute advance entry into all 4 theme parks on every day of their visit. Scroll down for more crucial details!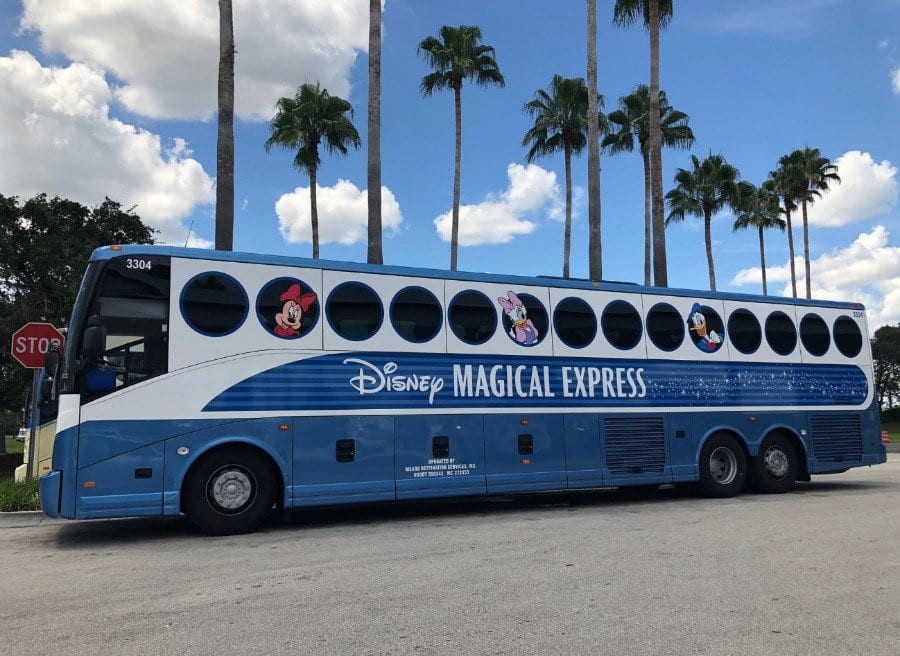 Disney Magical Express Bus Service Ending
What is Disney's Magical Express?
Disney World's Magical Express is a complimentary bus service that takes park guests all the way from the Orlando International Airport to the Walt Disney World resort hotels.
What's happening to the Disney Magical Express Bus Service?
As of January 1st, 2022, the Disney Magical Express bus service will no longer be an option for hotel guests at Walt Disney World in Orlando, Florida.
Will the bus service still run for the rest of 2021?
Yes! The good news is that the Magic Express bus ride will continue to run for all existing and new hotel reservations for the rest of 2021.
How do I reserve a Magical Express bus ride?
To reserve your bus ride, call Disney at 407-939-1936 (US and Canada only).
Extra Magic Hours for Hotel Guests Ending

What is Extra Magic Hours?
Extra Magic Hours was extra time given specially to Walt Disney World hotel visitors to spend inside WDW theme parks.
This extra time allowed for access during the early morning or end of the day to specified parks on certain days.
However, Extra Magic Hours hasn't even been on offer since July of 2020, when all the Disney Parks around the world closed due to the global health crisis.
What is happening to the "Extra Magic Hours" for Walt Disney World hotel guests?
With all of that in mind, Extra Magic Hours are now officially being discontinued in 2021. Extra Magic Hours will be retired and replaced with something else.
What is replacing Extra Magic Hours?
In place of Extra Magic Hours, Walt Disney World will now allow hotel visitors to get early entry into any of the WDW theme parks a full thirty (30) minutes before they open to the rest of the public.
This new early entry will actually be available and usable every day of a hotel guest's visit. Before, guests were only allowed to use early access on a specified schedule with certain parks and certain days.
When will the new 30 minute early access be granted?
The Extra Magic Hours replacement offer will start sometime in 2021.
Disney has not officially announced a start date for the new service.
Check back often for new and exciting details for Walt Disney World Resort hotel and park guests.
Have a magical day!
Keep Reading
Can You Guess How Many Disney Parks There Are? Find Out!
Share this post on your Facebook, Twitter, or Pinterest page with the easy share icons below.
Neal Tucker is one of the world's most engaging Disney influencers, with thousands of views and responses across his blog, podcast, and social media profiles every month.
Get started with more D Is For Disney content here