The Walt Disney World theme parks has a whole host of incredible parks and water parks. But each park has its own set of height requirements, minimums, and restrictions for all of its rides. So, to make sure you and your entire family and kids have the best time possible, plan ahead! Follow along below to view ALL the minimum height requirements for EVERY SINGLE RIDE. This complete guide will give you a step-by-step, park-by-park breakdown of each roller coaster and theme park attraction. Ready to head to the Magic Kingdom at the Happiest Place on Earth? Then let's go!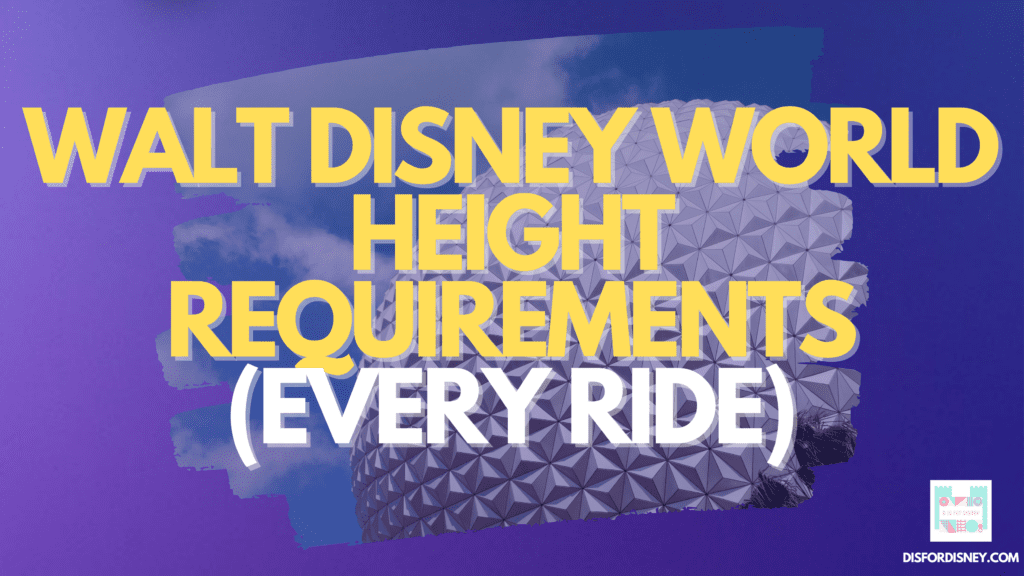 What Are Disney World Height Requirements?
To put it simply…
If someone does not meet that height restriction, they will not be allowed to ride.
Yes, this does apply to the popular rides and thrilling rides and everything else.
From Twilight Zone Tower of Terror to Slinky Dog Dash…
No matter what particular ride you're interested in, you need to check the height minimums before getting in line.
Here are a few of the most commonly asked questions for the Walt Disney World roller coaster height requirements and attraction restrictions:
Why are Disney World height restrictions in place? This is primarily for safety reasons. In order to keep everyone safe on the rides, there are certain minimum heights for each one.
Do all rides have a height requirement? No! Not all rides have a minimum height requirement. AKA, some rides allow anyone to participate without being required to meet a certain height restriction. All those rides are also listed below.
How strict is Disney on height restrictions? Very. If an individual does not meet the necessary minimum height, then they will not be allowed to ride. Again, this is a safety precaution to protect park guests from getting injured.
Are some rides available for guests of all heights? Yes! Absolutely. There are tons of rides (all listed below!) that anyone can ride, regardless of height.
Do any rides have a height MAXIMUM? Yes, there are actually 3 rides where only riders that are SHORTER than a certain height can ride. They are ALL at the Disney World water parks and are listed below.
If your question is not mentioned above, just shoot me an email here and I'll do my best to answer any question you have!
Disney World Rider Swap / Rider Switch
Here's a quick guide to the rider switch service at Walt Disney World. It's sometimes also called Rider Swap or Child Swap. But the official name is Rider Switch.
Rider Switch is available at many of the attractions in all 4 of the Walt Disney World Resort theme parks. This is mainly done by simply checking in with a Disney Cast Member.
How do you use Rider Swap at Walt Disney World? Follow along below for the direction from the official WDW website.
Please note: The instructions below are quoted straight from Disney World's site as of 2021.
1. First check with a Cast member to see if Rider Switch is offered at the attraction in question.

2. Once at the attraction, approach the greeting Cast Member with your entire party. At least one adult member of your party and the Guests who are not riding will be issued a Ride Switch entitlement by the Cast Member and asked to wait in a designated area (usually outside of the attraction). This group is "Party 2."

3. The other party members ("Party 1") ride the attraction.

4. After riding the attraction, Party 1 locates Party 2. Then, Party 1 takes over supervision of the non-riding children or Guests.

5. Party 2 enters and boards the attraction without having to wait in the regular queue a second time. The Rider Switch entitlement must be validated by a Cast Member at this time.

If the person in Party 2 waited alone with the child, he or she may bring up to 2 other Guests back to ride the attraction with him or her. Please note that only 3 Guests are allowed per Rider Switch Pass.

WDW
Disney World Height Requirements for Every Ride
See below for the full list and complete guide to every ride at Walt Disney World.
The heights are noted both in inches (") and centimeters (cm). Example: Guests must be 35″ (89 cm) or taller.
Please note: The following information is pulled directly from the Walt Disney World official website, as of 2021. If you need to review further information, please see their site here.
Magic Kingdom Height Requirements
Epcot Height Requirements
Disney's Hollywood Studios Height Requirements
Disney's Animal Kingdom Height Requirements
Disney's Typhoon Lagoon Water Park Height Requirements
Disney's Blizzard Beach Water Park Height Requirements
View a list of attractions that are available to Guests of any height.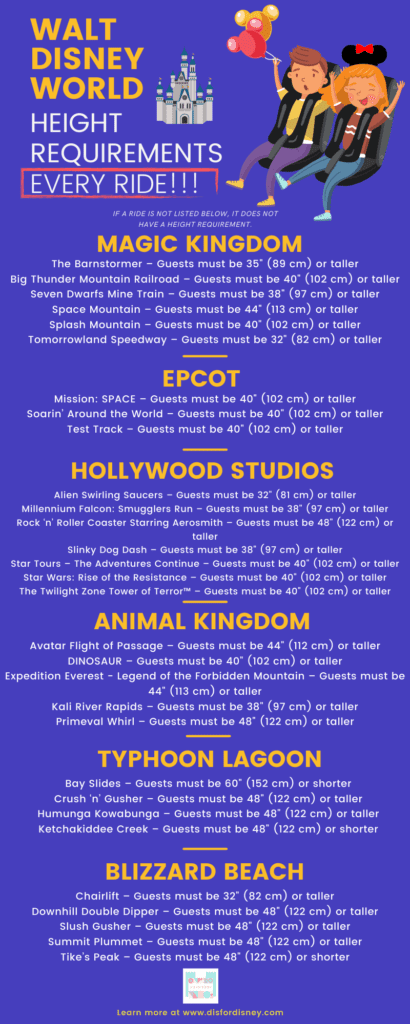 Keep Reading
Disneyland Ride Sizes | Height/Weight Requirements | Rider Swap
Share this post on your Facebook, Twitter, or Pinterest page with the easy share icons below.
Neal Tucker is one of the world's most engaging Disney influencers, with thousands of views and responses across his blog, podcast, and social media profiles every month.
Get started with more D Is For Disney content here