The fandoms of Dune and Star Wars have significant overlap. Both are part of the science fiction and fantasy realms. Each of the stories combines elements from the myths of old. And, equally important, the movies/books have a lot in common with regard to the world-building and overall emotional tenor. So, with all of that in mind, you might wonder if Dune and Star Wars are connected. In other words, "Is Dune related to Star Wars?" Or, another related question, "Did Dune inspire Star Wars?" We have the answers to both of these questions right here.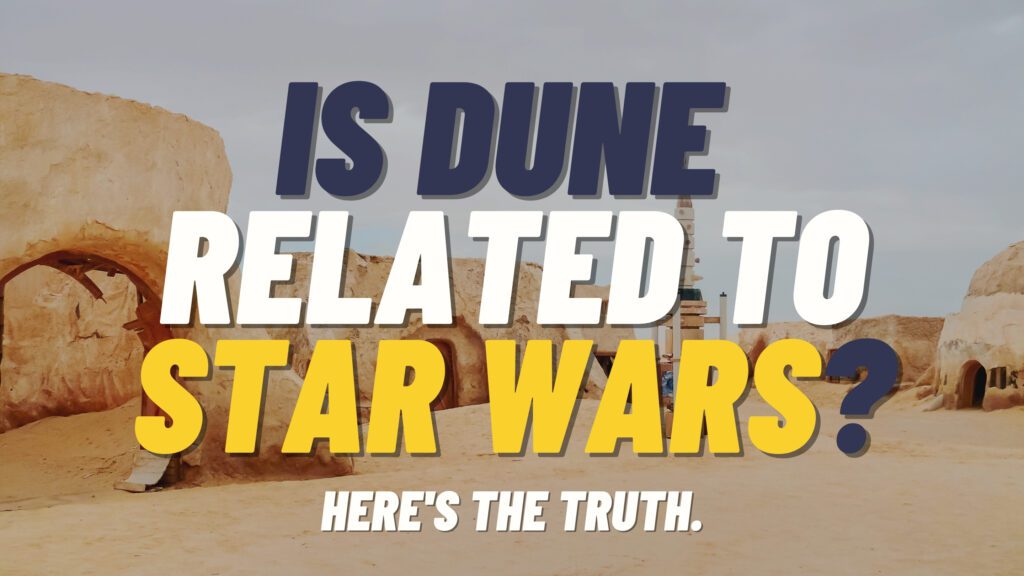 Is Dune Related to Star Wars?
The first question that's coming up a lot as the new Dune movie comes out has to do with the world and story itself.
Fans of the Star Wars saga (and books) have started to wonder and ask…
Whether the two films are actually connected, related, or inspired by one another.
In other words, what's the real connection and relationship between the Star Wars movies and the Dune movies.
Some people have questioned the nature of the inspiration between the stories as well.
This has more to do with Frank Herbert and George Lucas, the creators.
People want to know how they were inspired to write and create their worlds and stories and films than anything else.
(For the answer to this topic, skip down to the next section.)
For those wondering about the relationship between the fictional worlds, we've got you covered.
So, let's get the big question answered right now…
Is Dune related to Star Wars? No, Dune is NOT connected to Star Wars. While there are many similarities between the two, there is no actual overlap of characters or plot or setting. They are completely separate movies, books, and stories.
What Famous Scientist Inspired Yoda's Face and Eyes?
Did Dune Inspire Star Wars?
Now, with that out of the way…
We can turn to a different, but very much related question.
This is the idea that many people are wondering about right now, regarding the nature of the inspiration for the stories themselves.
AKA, what inspired Frank Herbert to write his books, and what inspired George Lucas to write his movies.
These are super important questions for a number of reasons.
For one, if the "galaxy far, far away," is inspired in part by the world of sandworms, there could be important thematic resonance from one to the other.
This could then inform our understanding and enjoyment of the movies themselves.
As you might expect, the academic worlds of film studies and comparative literature could learn a lot from this connection.
So, let's take a look at the question Dune and Star Wars fans are asking right now…
So…
Did Dune inspire Star Wars? Yes, George Lucas was inspired by Dune when he created Star Wars. Lucas was also inspired by many other things as well. He gleaned a lot from studying Joseph Campbell's "hero's journey," as well as the character and world of Flash Gordon.
And that's pretty much all there is to it!
Yes, George Lucas was inspired by Frank Herbert's Dune, but Star Wars is a completely separate universe and story.
Have a galactic day!
Even More About Star Wars Origins!
Did You Know This Famous Scientist Inspired Yoda's Face and Eyes?
Share this post on your Facebook, Twitter, or Pinterest page with the easy share icons below.
Neal Tucker is one of the world's most engaging Disney influencers, with thousands of views and responses across his blog, podcast, and social media profiles every month.
Get started with more D Is For Disney content here