If you're a Star Wars fan, you might have wondered about the designer of the Star Wars character Yoda, and whose eyes and wrinkles his face is based on. He's an iconic character in a legendary franchise, so it make sense to think about his origins and creation and design.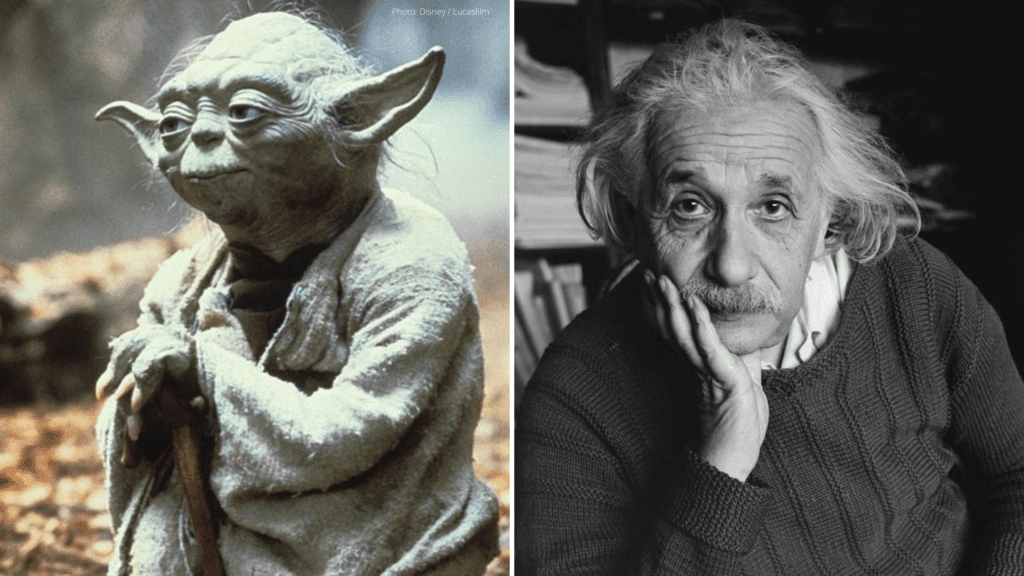 Here's the answer…
The makeup supervisor for the original Star Wars trilogy movies was a man named Stuart Freeborn.
You may not know his name, but you definitely know one or two of his biggest works: the physical creation of Chewbacca and Yoda.
So…
Whose face and eyes is Yoda based on? Stuart Freeborn has said that he based Yoda's facial features and design off of the great scientist Albert Einstein.
One source writes, "Freeborn was heavily influenced by a picture of Einstein which was hung on a wall in the office where Yoda's physical appearance was being creatively molded. Consequently, he felt inspired to fashion the Jedi master's facial features, specifically his eyes and wrinkles, after Einstein."
What do you think? Does Yoda look like Einstein to you? Personally, I can definitely see some similarities there! 😉
Have a magical day!
Keep Reading
22 Totally Perfect Baby Yoda Cake Toppers for a Fun Star Wars Birthday
Share this post on your Facebook, Twitter, or Pinterest page with the easy share icons below.
Neal Tucker is one of the world's most engaging Disney influencers, with thousands of views and responses across his blog, podcast, and social media profiles every month.
Get started with more D Is For Disney content here