If you're a Marvel Cinematic Universe (or MCU) fan, then you probably want to know when the Marvel TV show Daredevil will be coming to Disney Plus. Once the time comes, you can plop down on your comfy couch and crunch some buttery popcorn to stream away to your heart's content. So, if you're wondering, "When is Daredevil going to be on Disney Plus?" or "When will Daredevil be on Disney+?" Then you're in the right place! Here's the answer to all your Daredevil Disney Plus questions.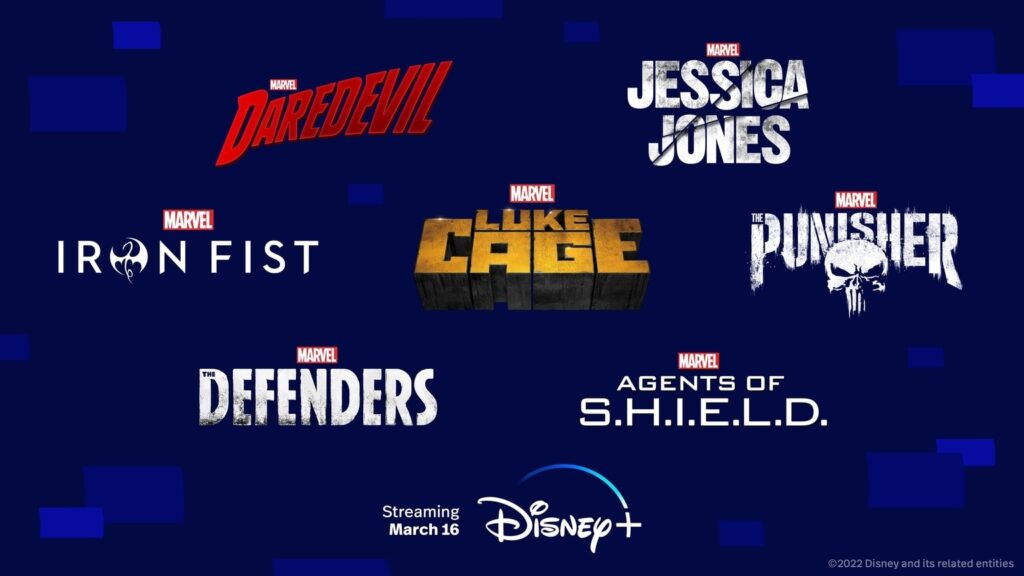 When Is Daredevil Coming to Disney Plus?
The time has FINALLY come for all the Daredevil fans to rejoice…
The hit popular TV series Daredevil will at long last be coming to the streaming platform from The Walt Disney Company.
No, we're not talking about Hulu right now!
Or ABC.
Or Netflix (not a Disney company, but we have to mention it!).
Daredevil, which did originally air on Netflix (in the pre-Disney Plus days that we do not speak of!)…
…is finally going to be available to watch on Disney+ in the very near future.
Daredevil Disney+ Release Date
How near-future are we talking?
Well… Let's get right to it!
When will Daredevil be on Disney Plus? Marvel's popular Daredevil TV show will be coming to Disney+ in the United States on March 16, 2022, available to stream with a Disney Plus subscription.
But that's not all…
According to The Verge, we have even more to look forward to:
Today, Disney announced that in mid-March, Daredevil, Jessica Jones, Luke Cage, Iron Fist, The Defenders, The Punisher, and ABC's Agents of SHIELD will begin streaming on Disney Plus alongside all of Marvel's other superhero programming, a sign that may point to those characters' futures in the MCU. In a press release shared this morning, Disney's president of streaming, Michael Paull, framed the impending IP homecoming as a further unification of Marvel's brand and as a sort of evolution for Disney Plus as a platform.

The Verge
That's right!
Marvel fans across the USA will now be able to watch the following TV shows on Disney+, beginning on March 16th, 2022:
Daredevil
Jessica Jones
Luke Cage
Iron Fist
The Defenders
The Punisher
Agents of S.H.I.E.L.D.
To put it in more perspective for a moment — this means that even more of Marvel Cinematic Universe (MCU) is coming together on Disney+ for subscribers to enjoy.
From the beginning of the story to its current state of affairs, Marvel lovers (like me and you!) will now get the chance to see it all (or nearly all of it) from start to finish.
In other words…
If you've been asking, "When is Agents of SHIELD coming to Disney Plus?" Now, you have your answer: March 16, 2022. That release date also applies to Jessica Jones, Luke Cage, Iron Fist, The Defenders, and even The Punisher.
If you're interested in reading the official release, here's how Disney put it:
On March 16, Disney+ will add more Marvel live-action series titles to its expansive content offering in the U.S., Canada, U.K., Ireland, Australia, and New Zealand with the addition of "Daredevil," "Jessica Jones," "Luke Cage," "Iron Fist," "The Defenders," and "The Punisher," plus "Marvel's Agents of S.H.I.E.L.D." in the U.S., giving fans access to more from the Marvel collection, all in one place. With the addition of these titles, Disney+ will concurrently release an update to its Parental Controls in the U.S. that will prompt all subscribers to update their settings.

Disney Plus
Pretty awesome, right?
One question people may have now is this:
What does this mean for the Marvel Universe as a whole?
And how do all these characters fit into the MCU storyline/timeline?
For a possible answer, check out the video below.
WARNING: It does contain Marvel movie and show spoilers.
Which show (or shows!) are you most excited for?
Let me know here or on social media!
Have a marvelous day!
Read This Next
Share this post on your Facebook, Twitter, or Pinterest page with the easy share icons below.
Neal Tucker is one of the world's most engaging Disney influencers, with thousands of views and responses across his blog, podcast, and social media profiles every month.
Get started with more D Is For Disney content here