Is Spiderman on Disney Plus? This is a question that fans of the Marvel Avengers movies and upcoming TV shows have asked quite a lot. Another question is this, "Will Spider-Man: No Way Home be on Disney Plus?" Here's the answer to whether Spiderman is on Disney Plus.
[FULLY UPDATED FOR SPIDER-MAN: NO WAY HOME]
Note: If you're looking for how to watch all 23 Marvel movies in chronological story order, check out our guide here. It includes all of the Spider-Man movies. Plus, there's 2 FREE downloadable graphics to keep track of your progress.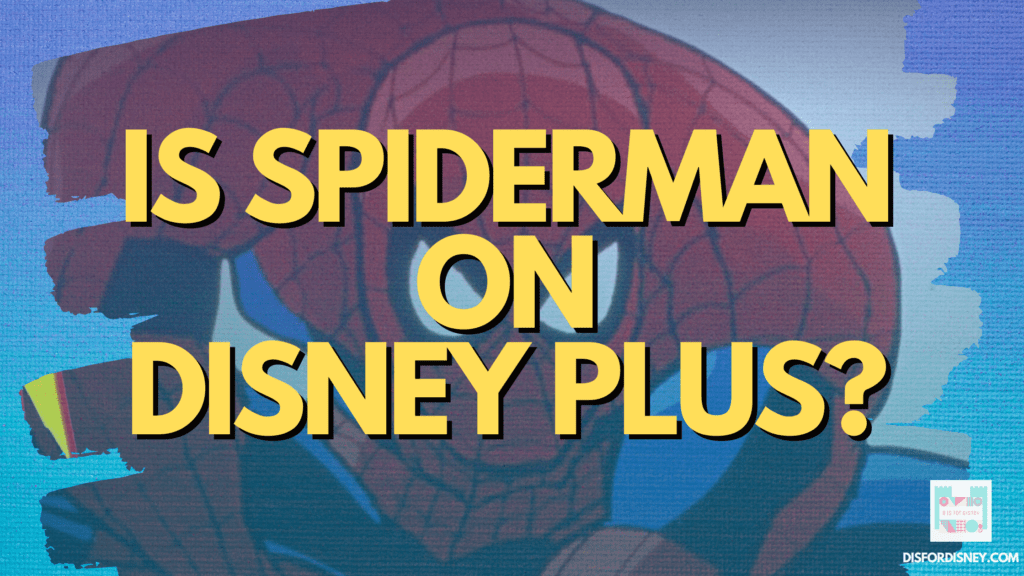 Is Spiderman on Disney Plus?
With the launch of Disney+, so many of the amazing and beloved Marvel movies have been released on the streaming platform.

Fans can now see Ironman, Captain Marvel, Captain America, the Guardians of the Galaxy, the Avengers, and so many more of our favorites right from home in the Disney Plus app.
Along with these great stories, people want to know, "Is Spiderman on Disney Plus?"
By this, most people are referring to the movies, and not any of the Spider-Man TV show series that might be available.
Even so, I'm going to make sure to answer both questions: Spiderman films and Spiderman TV shows.
So, let's start with the movies…
Is Spiderman on Disney Plus? No, currently none of the Spider-Man movies are on Disney Plus. In fact, if you look closely, you'll see that Spider-Man isn't even shown on the Avengers movies' poster art in the Marvel section of Disney+.

Okay, but what about all the Spider-Man TV shows…
Are Spiderman TV shows on Disney Plus? Yes! If you are looking for Spider-Man on Disney Plus, you will find several of his classic TV shows available to stream right now. Seven, to be exact! Including Marvel's Ultimate Spider-Man and Spider-Man Unlimited.

When Will Spiderman Be on Disney Plus?
Now, let's turn our attention back to the movies…
If all of the other Marvel's Avengers films are on Disney+ and the Spider-Man TV shows are there too, you might naturally wonder why there's no Spider-Man movies on Disney's streaming platform yet.
It's a fantastic question, and it's one that TONS of people are asking. Just do a quick Twitter search to see what I mean!
Why is Spiderman NOT on Disney Plus? Because Disney does not own the rights to the Spider-Man movies for streaming right now. This is the only reason that Disney Plus does not at present have the Spider-Man movies on the streaming platform at the moment.
Who owns the rights to Spiderman? The Spider-Man rights are currently owned by Sony. See more on Sony here.
When will Spiderman: No Way Home be on Disney Plus? The newest Spider-Man movie, Spider-Man: No Way Home, will be on Disney Plus after its initial run with movie theaters and after it has streamed on Netflix.
This is a major bummer. Believe me, I know. Personally, I love Spider-Man. Peter Parker, Miles Morales, Gwen, Ham, and all the rest. The comics and the movies, both!
Unfortunately, that's just the nature of Hollywood, and sometimes the rights don't always swing to the company we want.
The good news is that we can still watch the Spider-Man animated series on Disney+! Just thwip and swing on over to Disney Plus, and search for Marvel or Spider-Man to see the full list.
Of course, you can also get your own copy of Spider-Man: Homecoming and Spider-Man: Far from Home to watch whenever you want!
I hope this helps to answer some of your questions, especially, "Is Spiderman on Disney Plus?"
Follow on Twitter and Instagram @disfordisney_.
Keep Reading
3 Rad Spider-Man Far from Home Posters with International Art
Share this post on your Facebook, Twitter, or Pinterest page with the easy share icons below.
Neal Tucker is one of the world's most engaging Disney influencers, with thousands of views and responses across his blog, podcast, and social media profiles every month.
Get started with more D Is For Disney content here