The spirit of aloha has always been alive and well in Walt Disney World's Polynesian Village Resort. And when it comes to dining options, you really can't beat Disney's Spirit of Aloha Dinner Show.
The show features an all-you-can-eat banquet, Polynesian music, hula dancers, fire twirlers, and of course, all your very best Disney friends!

Here's everything you need to know to make the most of your experience.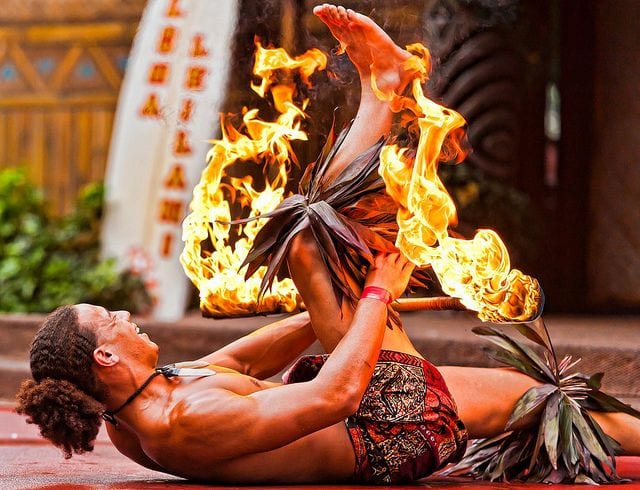 When Is the Spirit of Aloha Dinner Show?
The Spirit of Aloha Dinner show is offered nightly from Tuesday to Saturday at 5:15pm and 8:15pm.
HOT TIP: Check in early so you can explore The Polynesian Village Resort grounds!
Do I Need a Reservation?
Guests can reserve their spot up to 180 days in advance, with the payment made in full at the time of reservation.
How Much Does the Spirit of Aloha Dinner Cost?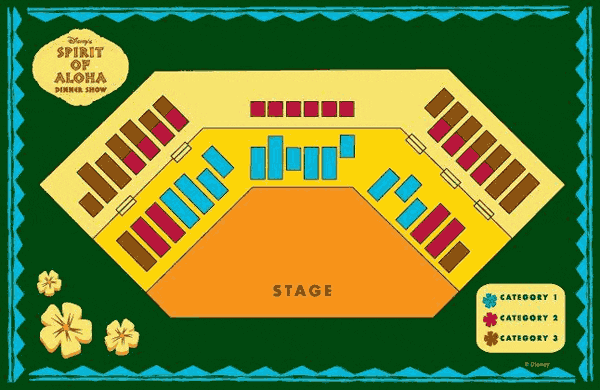 The pricing is based on which seating tier you reserve, with dinner show package ranges from $66 to $78 for adults, and $39 to $46 for children. If you're using the Disney Dining Plan, the cost is two table-service credits per person.
HOT TIP: If you use the Disney Dining Plan, you are only able to book tables in Tiers 2 and 3.

Where Is the Spirit of Aloha Dinner Show?
The Luau Cove is a short walk from the resort entrance. Make sure you take your time to enjoy the gorgeous Polynesian Village Resort grounds on your way there!

Is the Food Worth the Trip and the Money?
Nothing else matters if the food is bad, right? Well, you're in luck, because people rave about the Spirit of Aloha meals. And you certainly won't leave hungry.
There is something for everyone, even picky younger eaters and vegetarians. The Spirit of Aloha Dinner menu is a fixed menu, but there are additional options for kids.
Adults and tiki-philes, fear not, because they also have specialty cocktails! Just make sure you make your dietary restriction requests in advance and you will be wonderfully accommodated with alternate (and delicious!) items.

How Long Is the Spirit of Aloha Dinner Show?
That's the thing. The Spirit of Aloha Dinner Show is about 2 whole hours, which can understandably be a deal breaker if you have small children or if your time is limited at Walt Disney World and you'd rather not spend it sitting at a dining experience.
Overall: How Many Stars Does Disney's Spirit of Aloha Dinner Show Get?
As a Disney (and tiki) fanatic, I believe that the Polynesian Village Resort definitely makes it worth a trip. So, we're giving it 4.5 out of 5 stars.
The fire dancing might be a bit much for some of the youngest viewers, so it won't suit everyone, which is why it doesn't get the full 5/5 stars.
Even if you're not staying at the resort, what better way to kick off your Disney trip (or wind down, as it were) with a sit-down, interactive, and entertaining live show with all-you-can-eat food and hula dancers?
Come hungry, leave enchanted – or at least, full!
Have you been to the Spirit of Aloha Dinner show? Let us know how you liked it in the comments and any pro tips you have for future guests!
Plan your next (or first!) Disney trip today with a free Authorized Disney Vacation Planner.
Have a magical day!
Share this post on your Facebook, Twitter, or Pinterest page with the easy share icons below.
Neal Tucker is one of the world's most engaging Disney influencers, with thousands of views and responses across his blog, podcast, and social media profiles every month.
Get started with more D Is For Disney content here