Growing up, there's nothing quite like a Disney birthday party. Getting ready for the party can sometimes be just as exciting. Similar to giving Valentines to everyone in your first-grade class, sending out printable Disney princess birthday invitations makes the whole experience more fun for everyone.
Finding great Disney princess birthday invitations can be a chore, though. You have to search the whole internet, it seems like, just to locate the one that your child likes.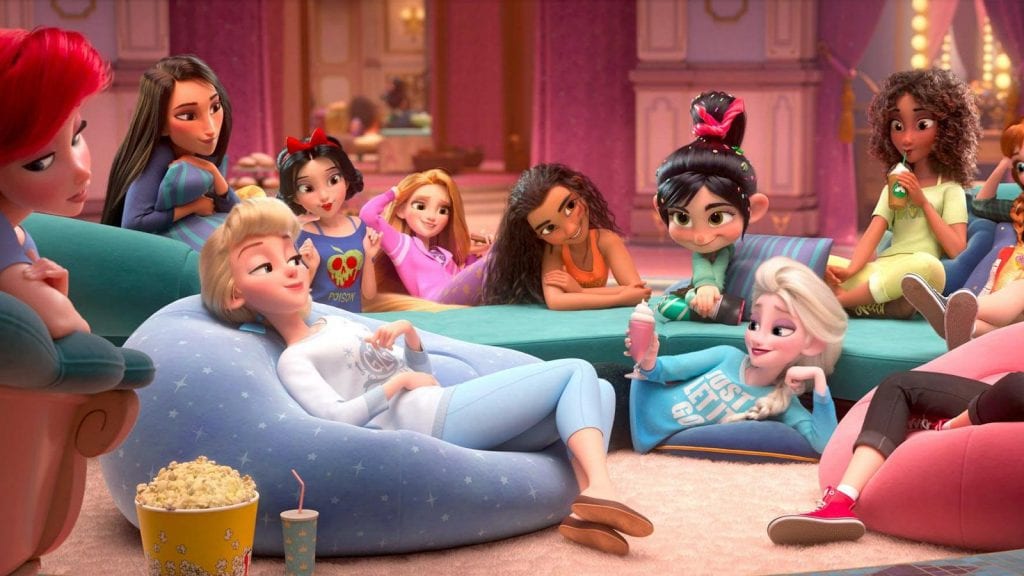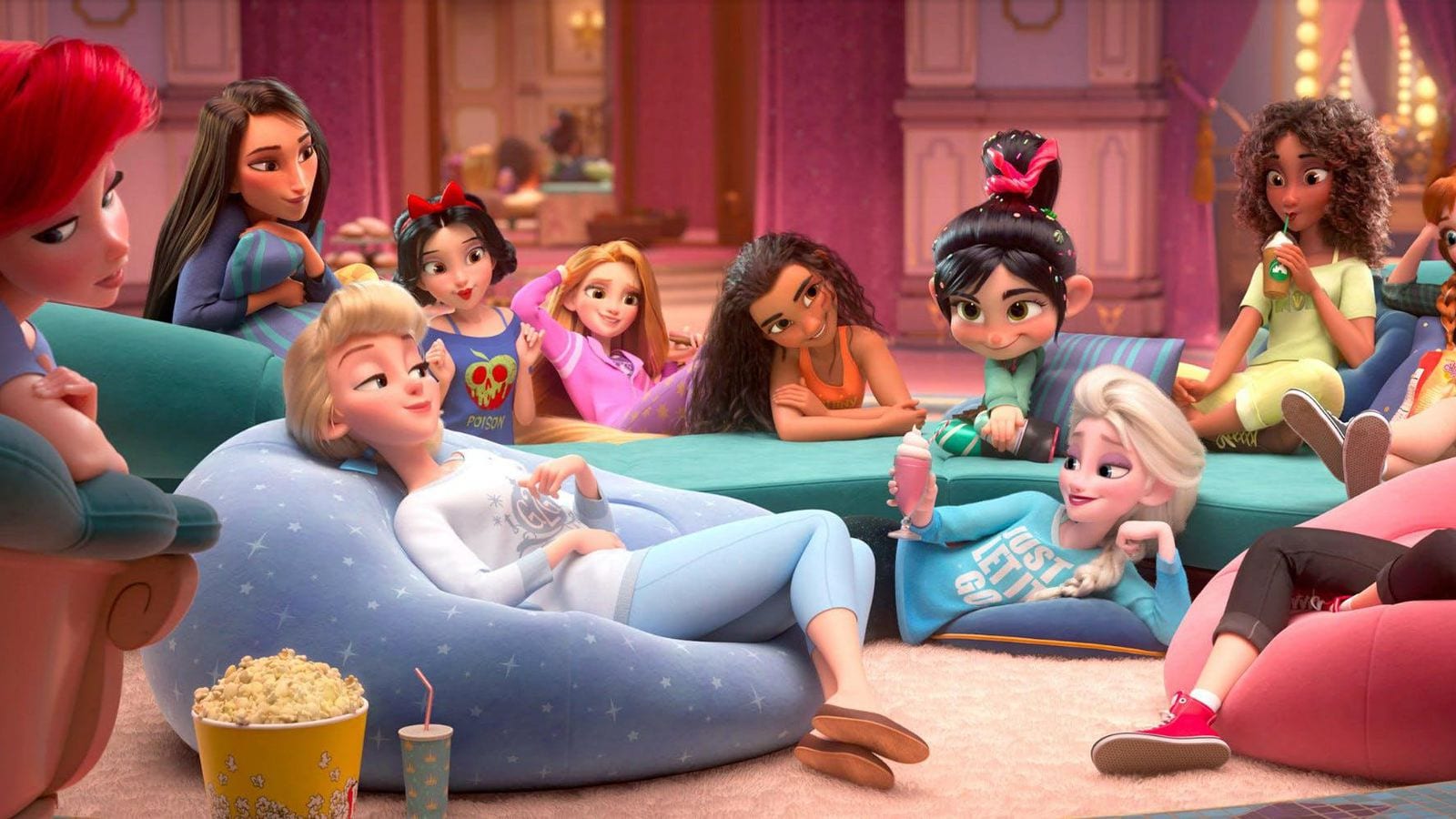 You have to figure out if your child wants all the Disney princesses on the invitation or just one: Snow White, Princess Cinderella, Princess Aurora, Princess Ariel, Belle, Jasmine, Pocahontas, Mulan, Princess Tiana, Rapunzel, Merida, Anna or Elsa, Moana, or Vanellope von Schweetz. And what about Princess Leia! There are just so many great choices, but you still have to do all that looking around…
Well, not anymore! I've done the searching for you. Take a look at more than 31+ free printable Disney princess birthday invitations below. There is something for everyone. They don't have to be used just for birthdays either. Use these totally free Disney princess printable invitations for a birthday or any other occasion and change up the wording however you like.
(As an alternative, you could download free clip art and make birthday invitations on your phone or computer for a DIY day with your daughter or son. Baby Yoda, anybody?)
However you decide to do it, I hope it's a world of color and fun. Enjoy!
FREE Disney Princess Printable Birthday Invitations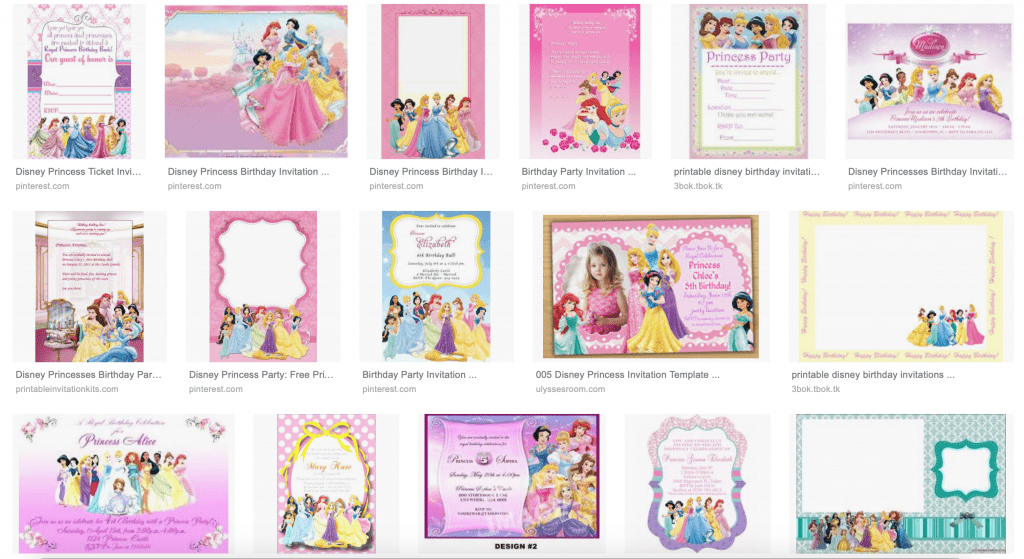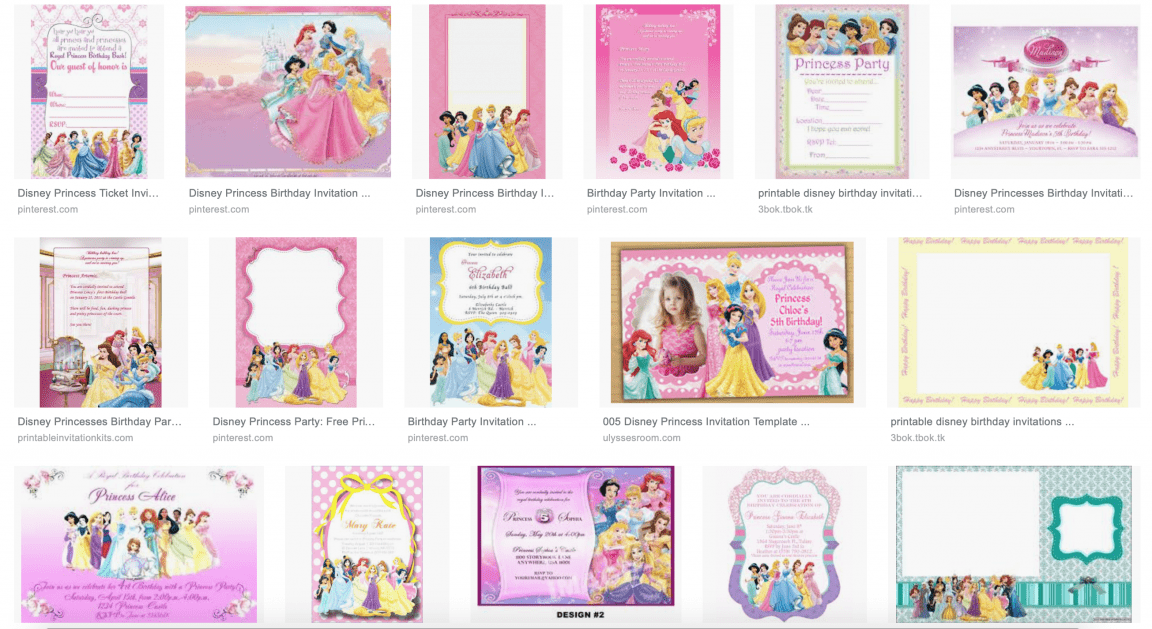 I know it seems almost too obvious to mention, but Google Images is a fantastic place to find printable Disney princess invitations for your child's birthday for free with minimal effort. Just download, change up the wording, print out, and invite!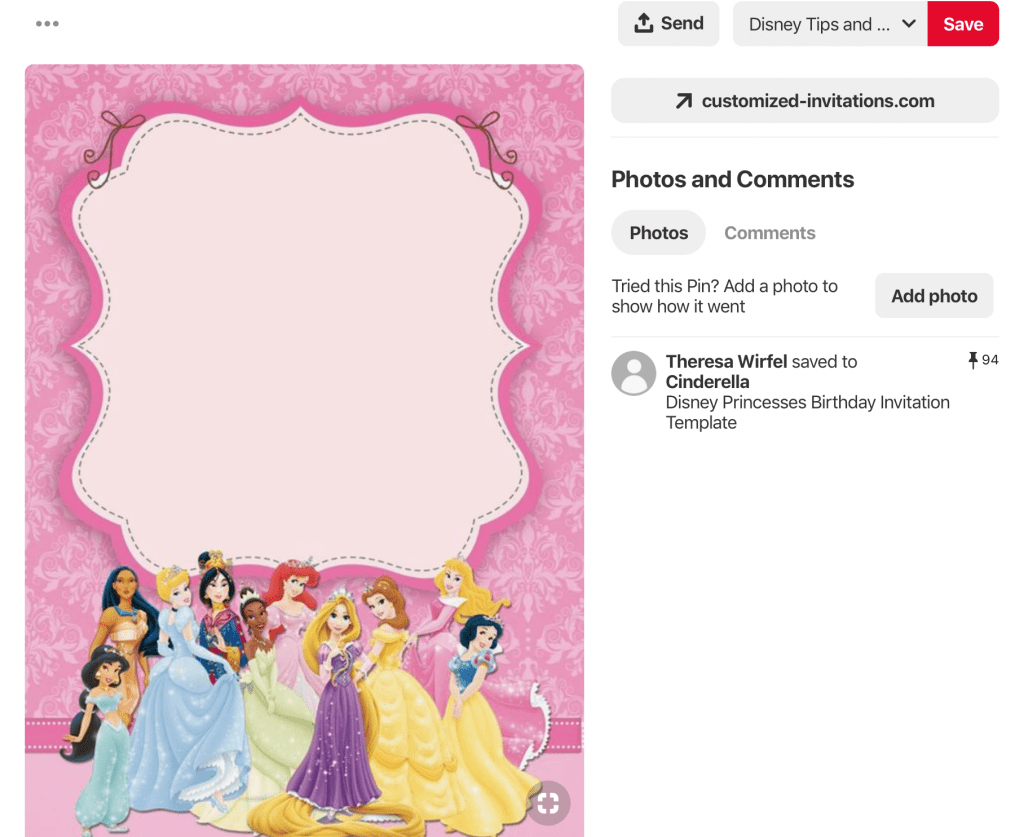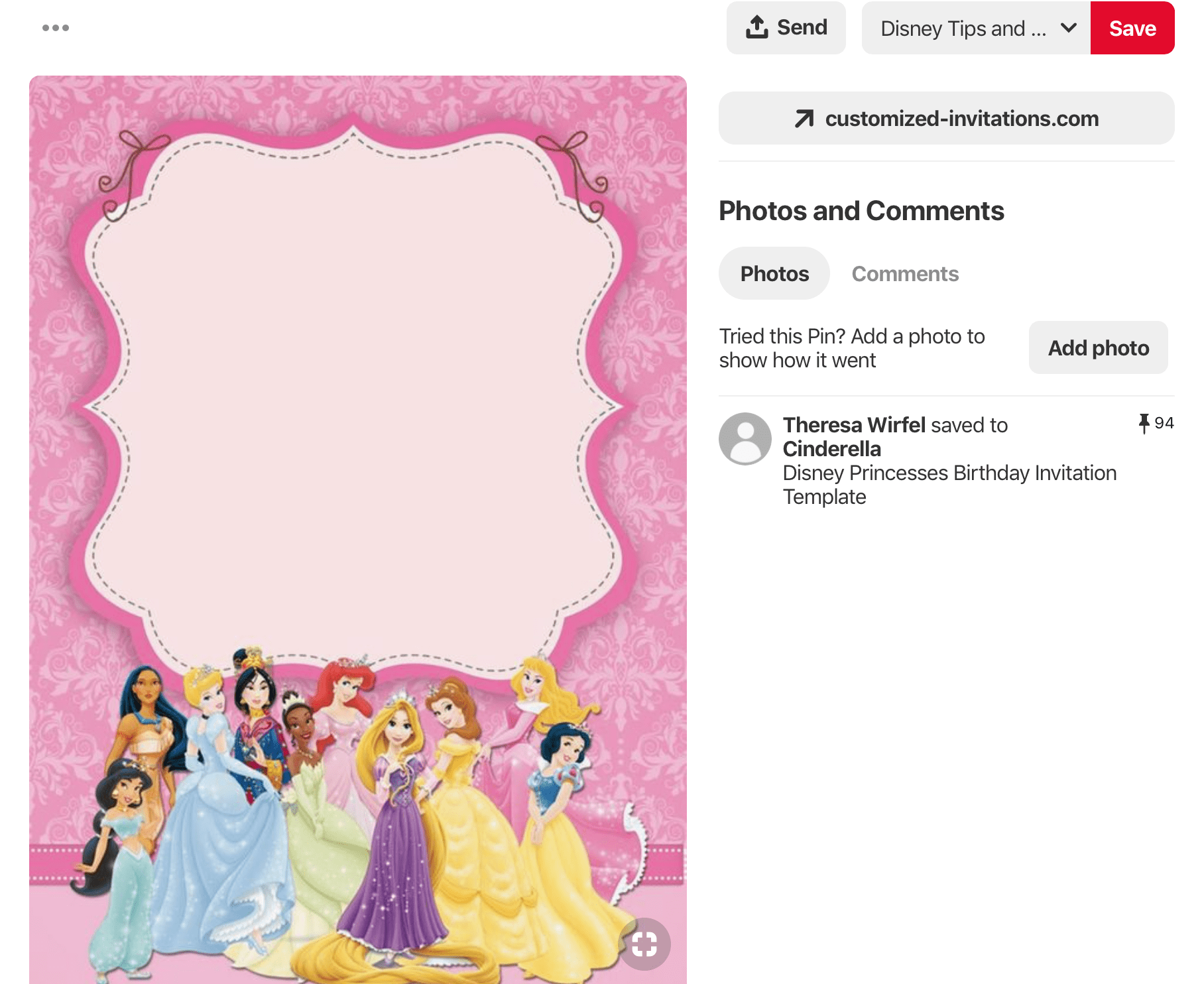 Another option that might be so obvious you don't even think of it! Pinterest isn't just about finding the perfect colors for a wedding or 37 ways to organize your pantry.
They have virtually everything. Pinterest is turning into another kind of visual Google search.
And they most certainly have Disney birthday invitations with princesses all over them that you can print for free, customize the wording for your child's party, and send out those invitations.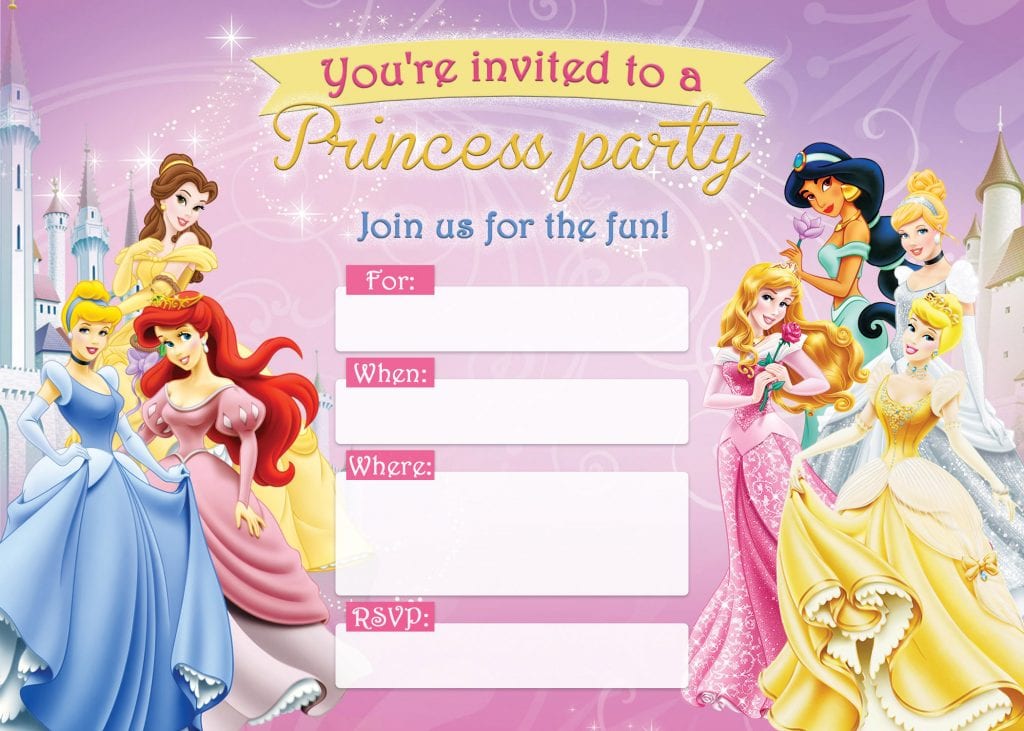 Hale Grafx has free invitation printables, vectors, graphics, and art for you to enjoy and download to use with your child for classic princess birthday parties.
They also have a PDF version that you can download right here for multiple printouts on the same page to save you time and paper.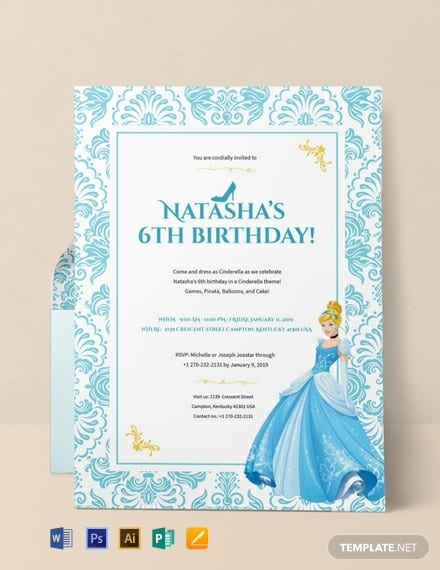 This is a site that specializes in templates of all kinds, but they also have 11+ Disney princesses and birthday invitations printables for free download.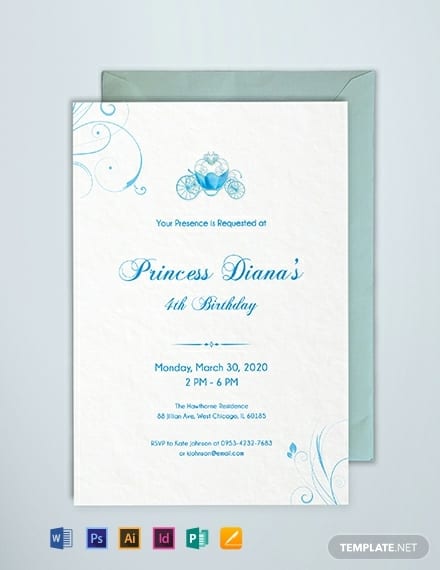 Check out all the different options they have available and send out those invites.
FREE Disney Princess E-Invitations
If you're more of the email or Facebook or other kind of e-invitation type, I've got your covered there, too.
Punchbowl's invitations are so good that Disney Family itself actually links to them. A lot of these invites are absolutely free to use and as customizable as you want.
They also have some Plus Invitations that you can pay for if you choose. ALL of the images in the gallery above come from the FREE options.
Party City Digital Disney Invitations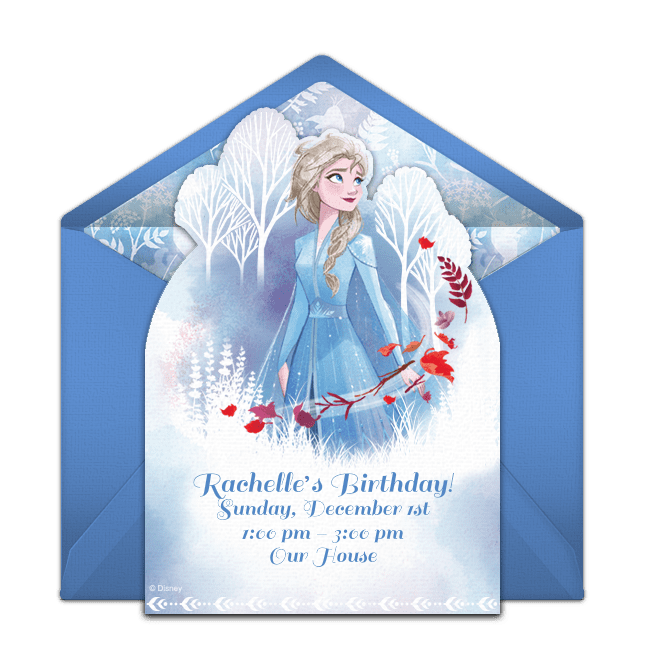 A lot of people probably don't know that Party City doesn't just do physical products. They also have digital downloads as well!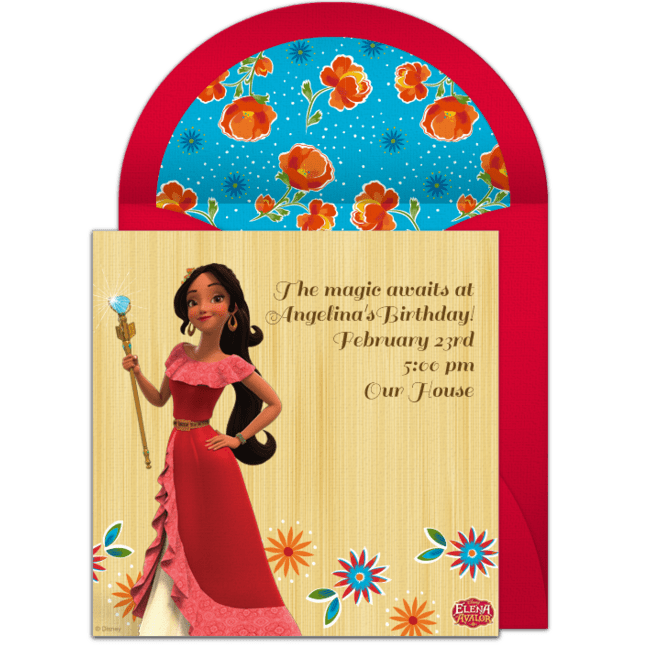 Disney Family has its own line of Party City Disney Princess Electronic Birthday Invitations. Pretty sweet, if you ask me!
Some of them are awesome freebies, and they have another set called the Gold line that you can buy, if you don't find the ones you want in the free section.
Disney Princess Invitations for Purchase
One of my favorite places to look for all things Disney is The Official Shop Disney website. They have pretty much anything you could possibly want when it comes to Disney, and that includes where to buy Disney Princess Birthday Invitations.
Two things that are really nice about the birthday invitations on ShopDisney…
1. You can order in any number of invitations that you want!
In other words, that means no more buying 100 invites when you only needed 10 or 25.
And starting at just $1.85 per card, you can get the right quantity without spending a fortune.
2. You can customize the invitations right on the website!
This means that you don't have fill anything out by hand except the envelopes.
The cards will all be done for you and arrive ready to go!
So, with that in mind, go ahead and check out these awesome Disney Princess invitations and see if anything catches your eye!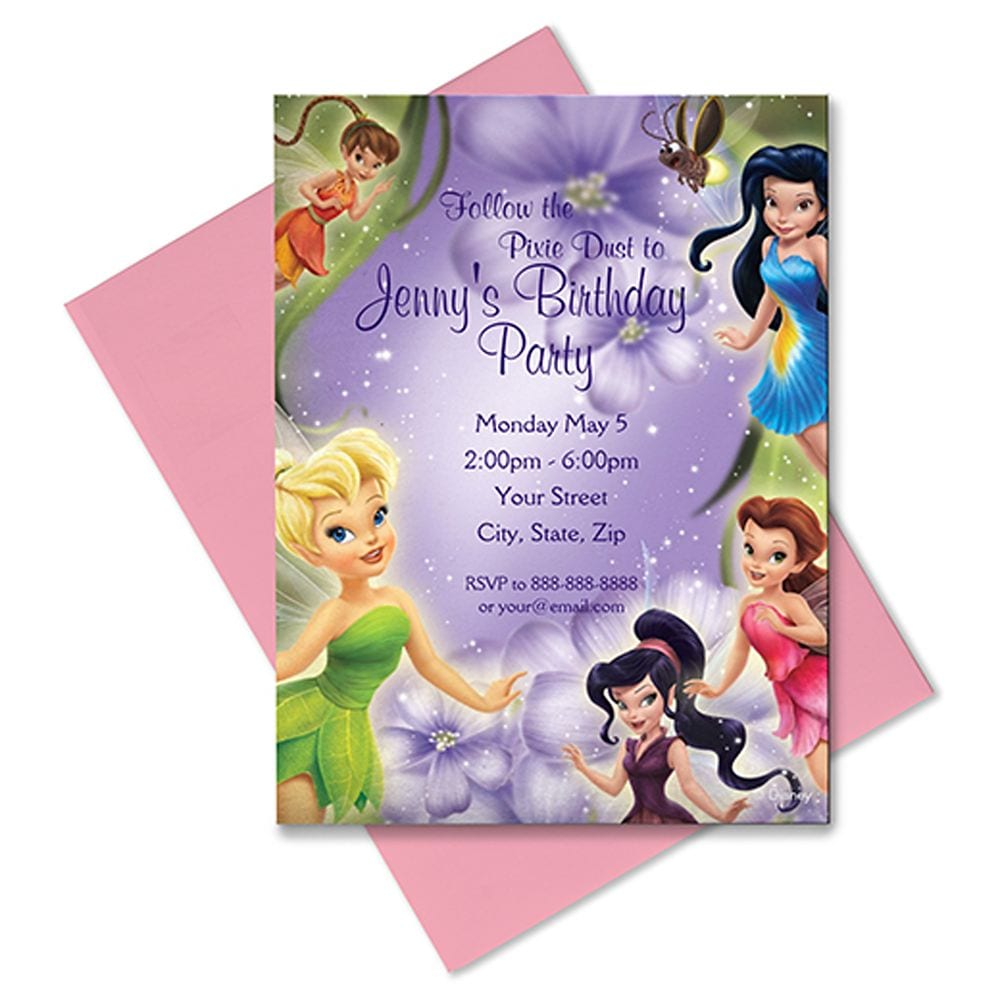 So many awesome Disney Princesses to choose from! And there are even more on the ShopDisney website: Merida from Brave, Aurora from Sleeping Beauty, Elsa from Frozen and Frozen 2, and even Minnie Mouse herself, the original Disney girl!
Check out all they have to offer, and let me know which one you choose! 🙂
If you don't see what you're looking for in the free printables or ShopDisney above, you almost definitely can find it on Amazon.
Amazon has pretty much everything, and with Disney Princess Birthday Invitations, it's no different. They have a lot to choose from: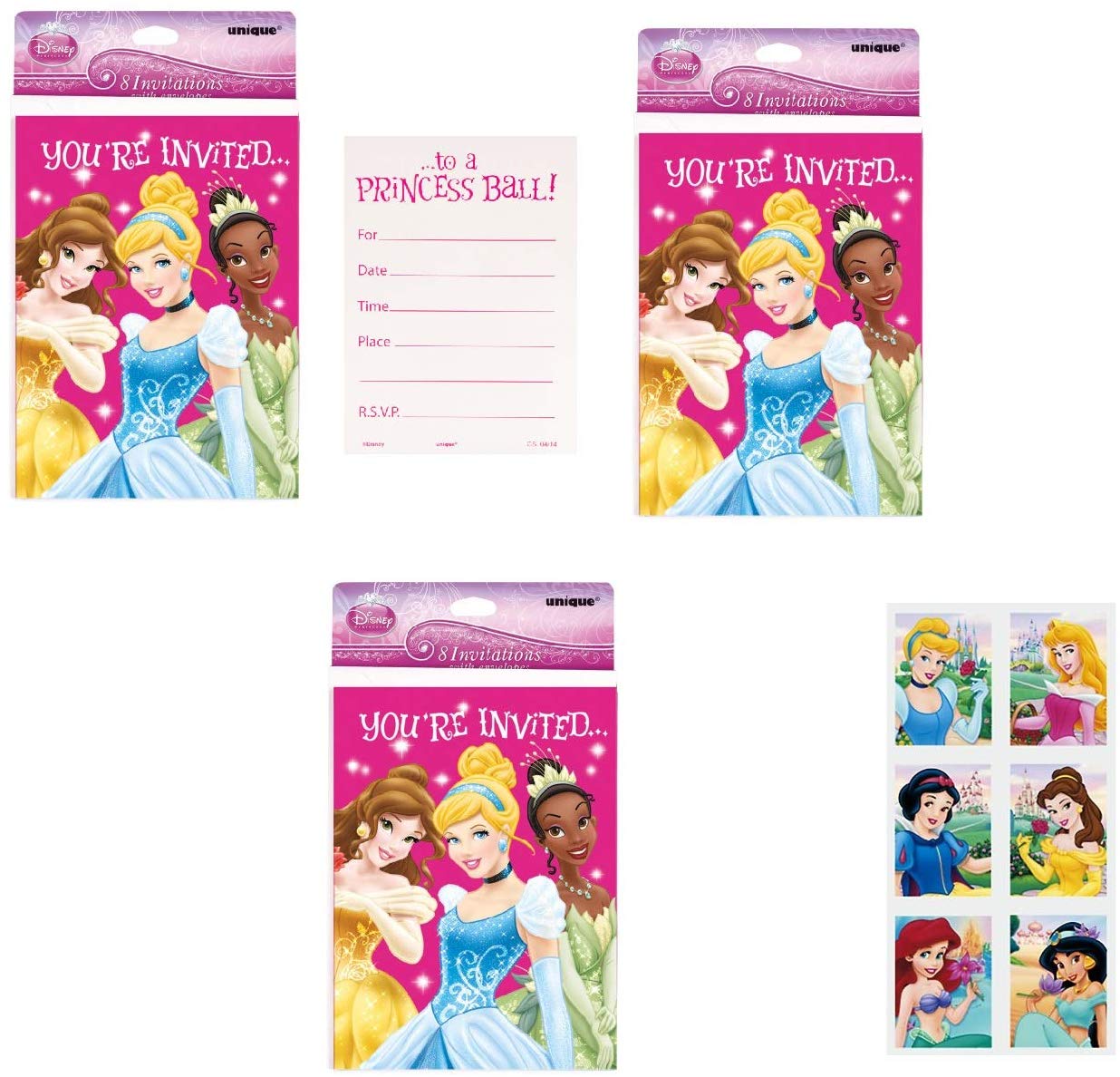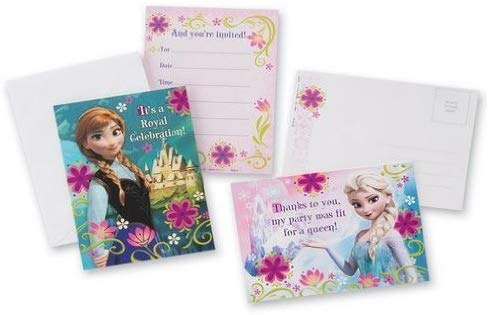 And many more…
Lastly, there's Etsy. They have become a powerhouse in terms of digital items as well as physical ones.
Whether you decide to go with e-invites or actual printable invitations, you will probably find it on Etsy.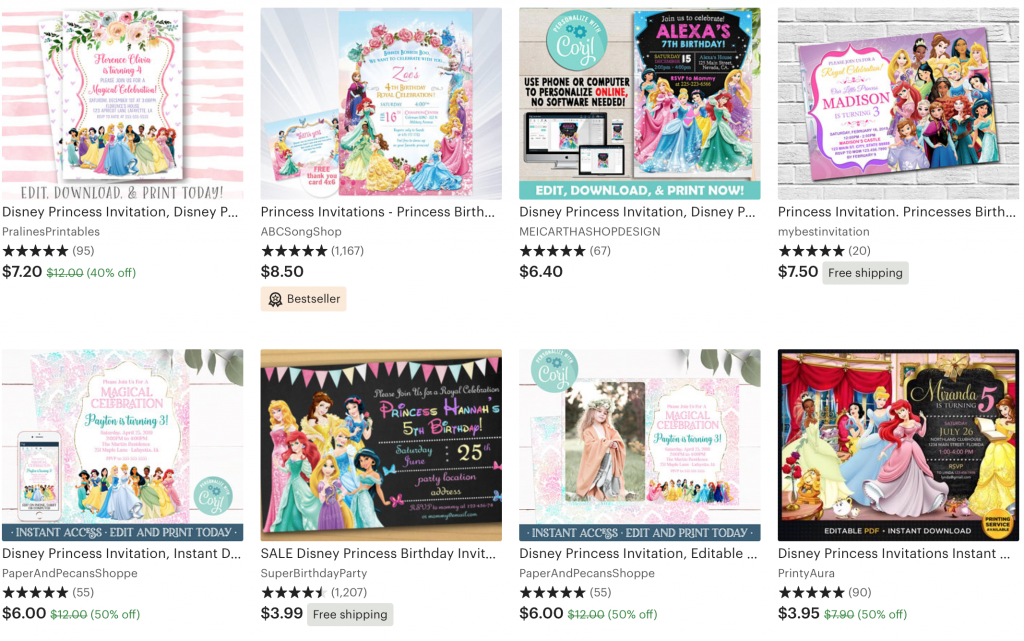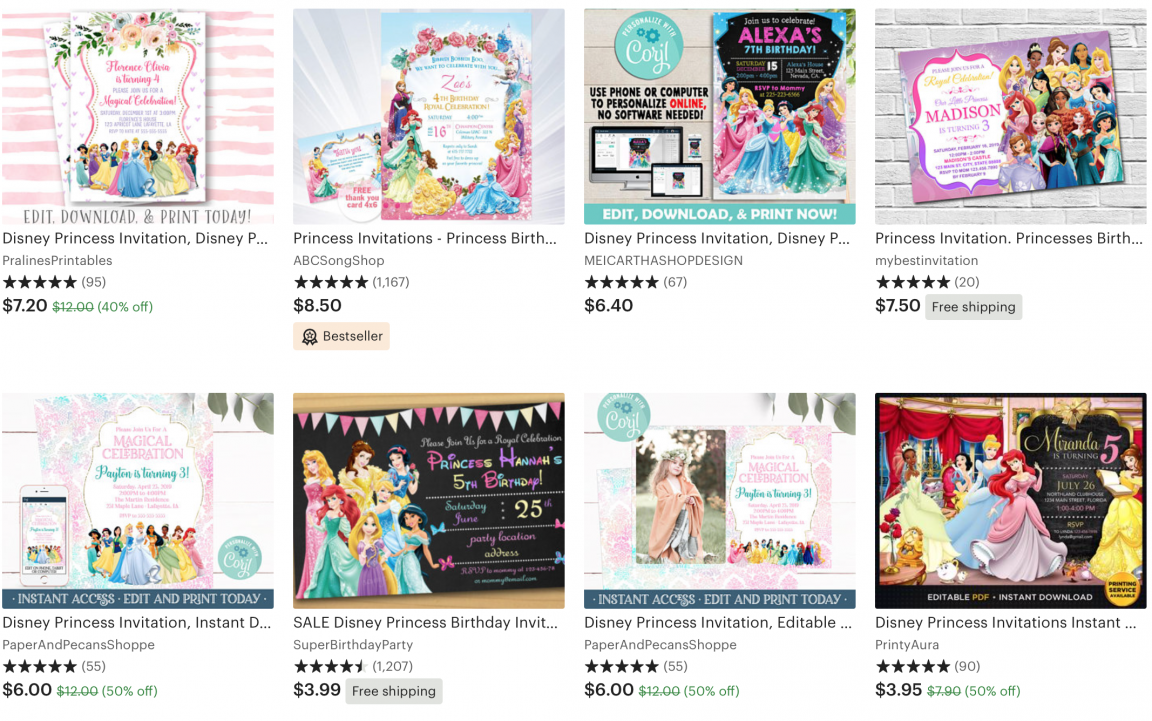 The costs aren't too expensive for most of them, as you can see in the gallery, so you won't have to spend too much either.
I hope you found this article helpful. If you did, please consider sharing it with your friends and following us. Don't forget to sign up for our newsletter to join the thousands of people that already subscribe and follow D Is for Disney.
Have a magical day!
Keep Reading
Can you name all 12 official Disney Princesses?
Share this post on your Facebook, Twitter, or Pinterest page with the easy share icons below.
Neal Tucker is one of the world's most engaging Disney influencers, with thousands of views and responses across his blog, podcast, and social media profiles every month.
Get started with more D Is For Disney content here