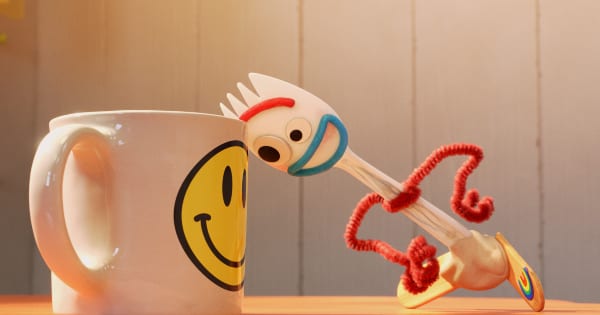 If you've seen the latest Toy Story movie, you may have wondered why Forky didn't get the name Sporky (or Sporkey) in Toy Story 4. Since the lovable character voiced by Tony Hale gets made from a spork (not a fork), that name would make sense.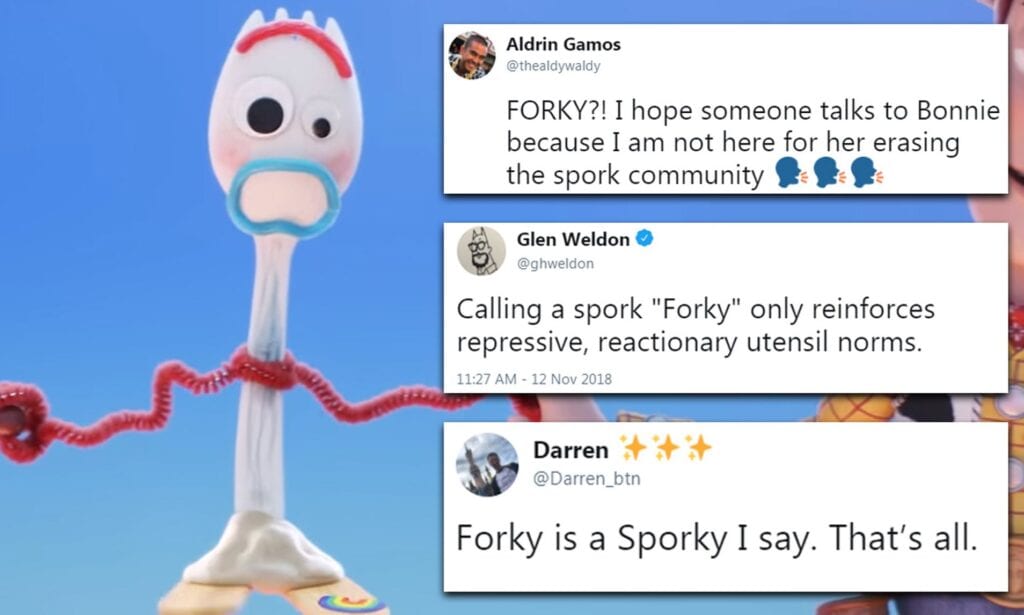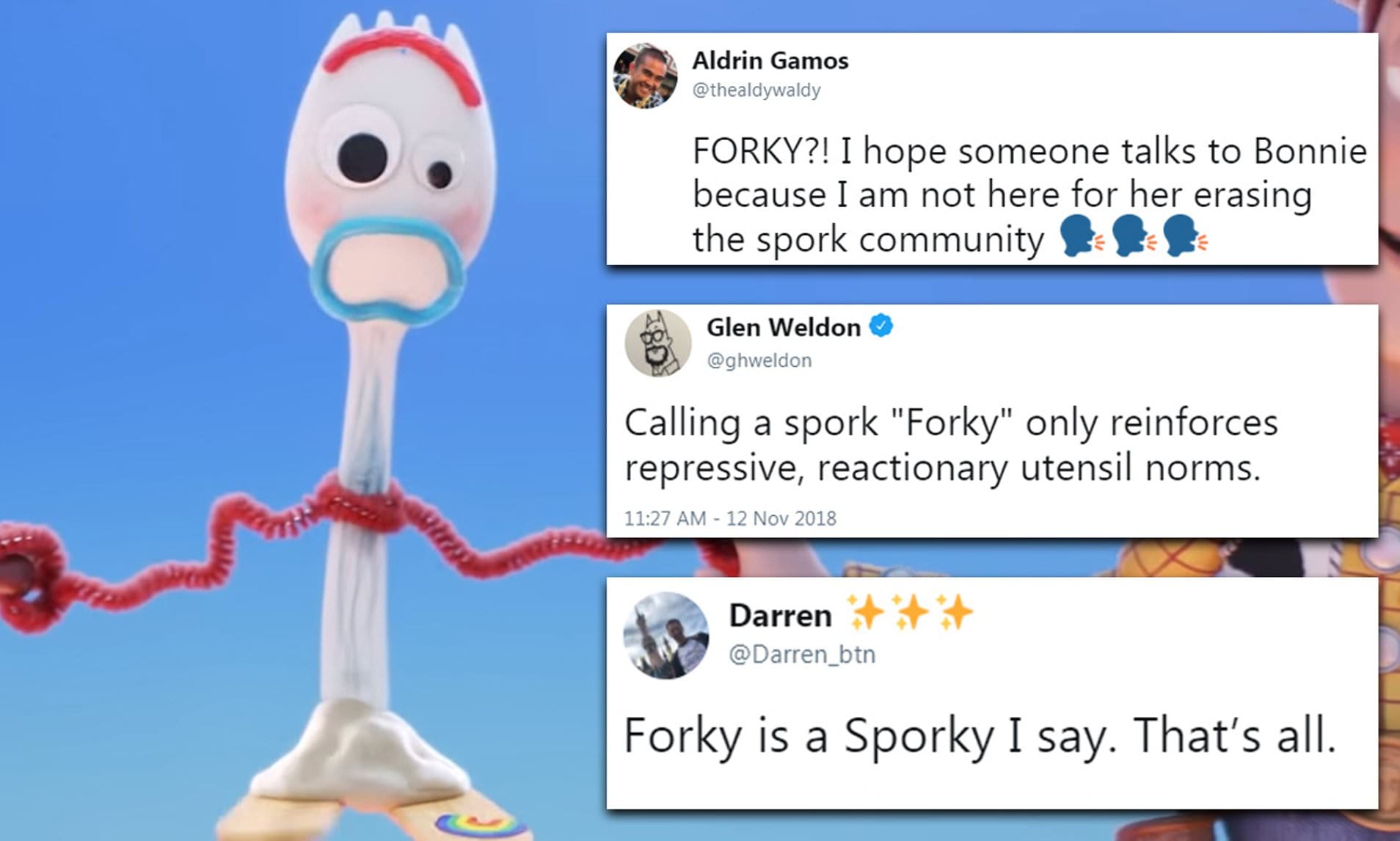 As it turns out, his name wasn't always Forky. In fact, there's a whole story to why and how he got the name he did and not Sporky. Toy Story 4 is a great movie. But one of its main characters might've gotten a uniquely different name.
After reading the history of it all, I found 3 hilarious reasons why Forky didn't actually get the name of Sporky in Toy Story 4. And I think you're going to love all 3 of them just as much as I did.
Reason #1 Why Forky Isn't Named Sporky in Toy Story 4
In the movie Toy Story 4, Sheriff Woody arguably becomes the closest friend to Forky. This is especially true early on. Buzz Lightyear and Bo Peep also befriend the new guy, but Woody gets to be his righthand man. For better or worse…
Woody VO actor Tom Hanks and Buzz Lightyear actor Tim Allen both turned in great performances throughout the franchise. We grew to love their iconic sound and incredible heart and wit from Toy Story 1, 2, and 3.
What Did Tony Hale Have to Say About It?
But it's Pixar newcomer Tony Hale that actually gets the questioning in interviews. Specifically, whether Sporky or Forky makes the most sense. In other words: which name is better?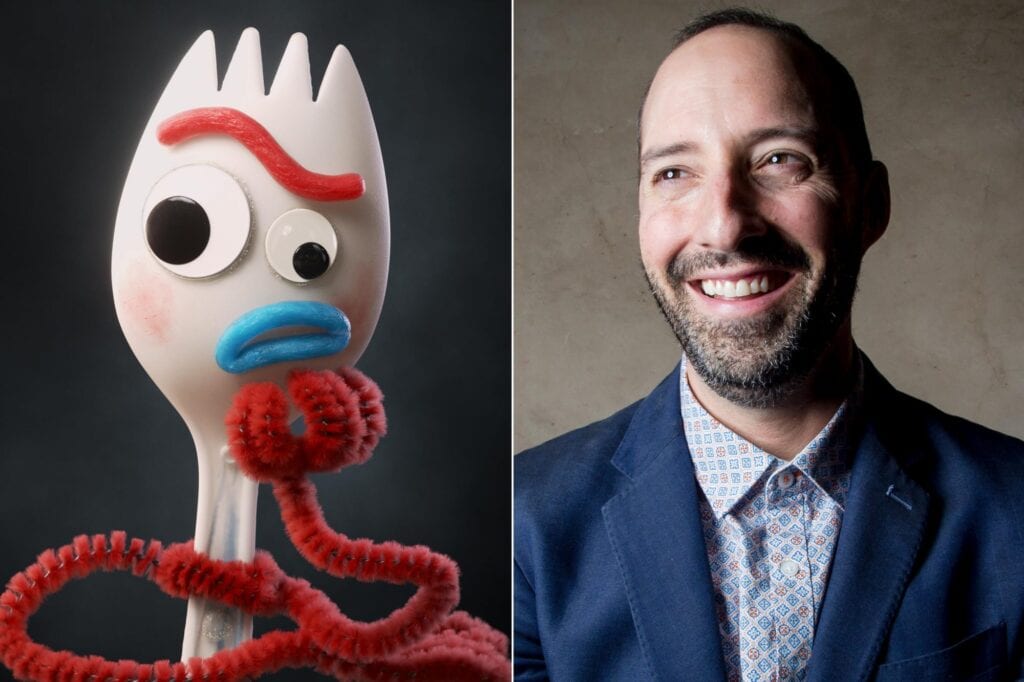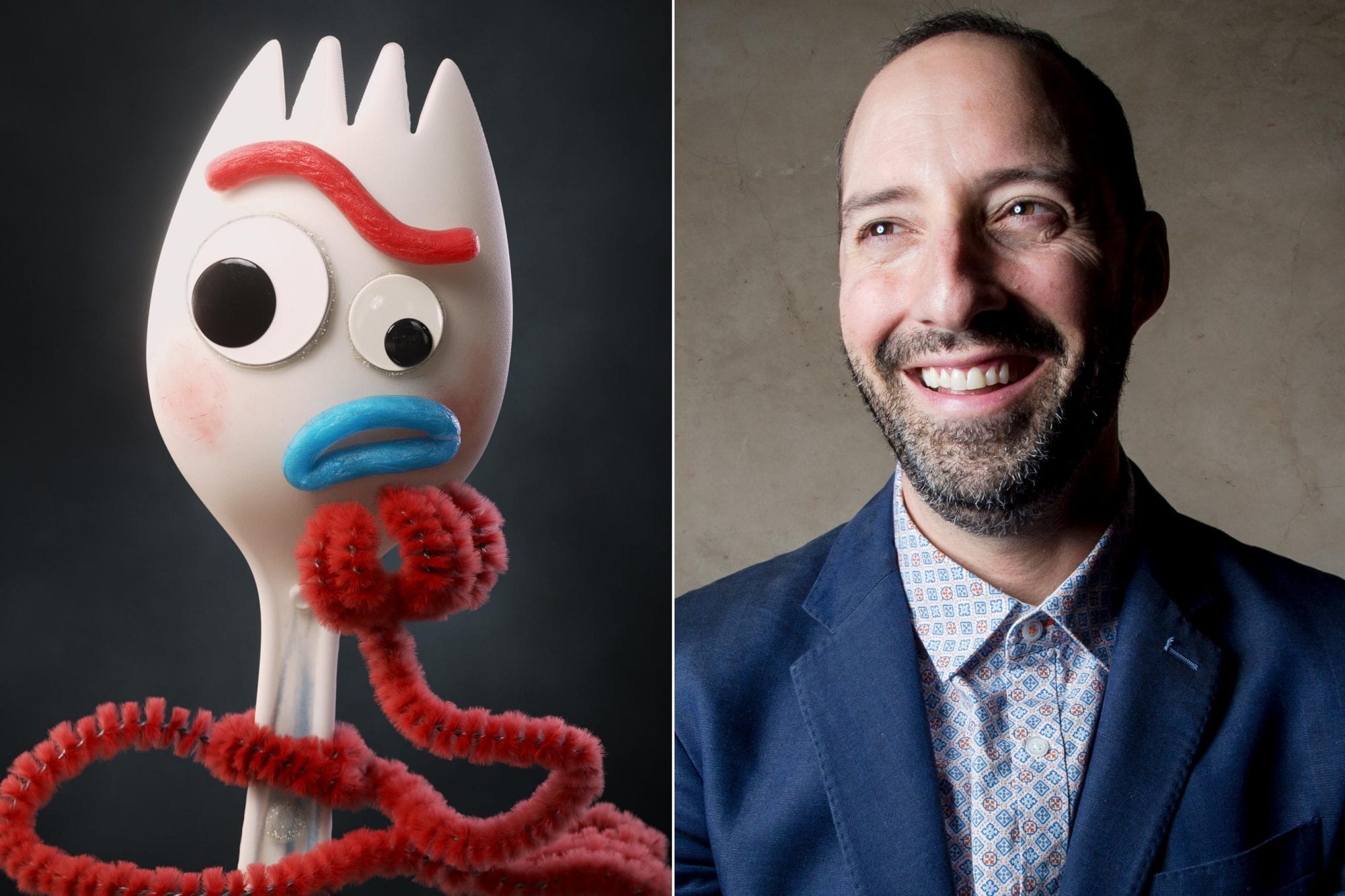 That sounds like a spork to me!
But this is where Toy Story's funny naming problem really gets going. As it turns out, the director of the movies, Josh Cooley, has a bit more to say on the matter.
In an interview he said that he actually asked his five-year-old son about it one day. And his son said the character should be named…wait for it…Fork Face.
That's right: Fork Face. Sounds like a great wrestler name to me…
Of course, Fork Face isn't a name that Disney or Pixar could live with. Considering the fact that a) they're a family-friendly company and b) that "fork face" sounds a lot like, well, something else… They just couldn't use that name. Which is a real shame, because it's absolutely hilarious.
So, that's hilarious reason #1 why Forky isn't named Sporky in Toy Story 4. Because his original name was Fork Face, which is obviously more about forks than sporks.
Reason #2 Why Forky Isn't Named Sporky in Toy Story 4
Director Josh Cooley didn't just get advice from his young son about the character. He also considered that the character of Bonnie is 4-years-old in the film. This is almost the exact same age as his son, who thought that the character of Forky was a fork, not a spork.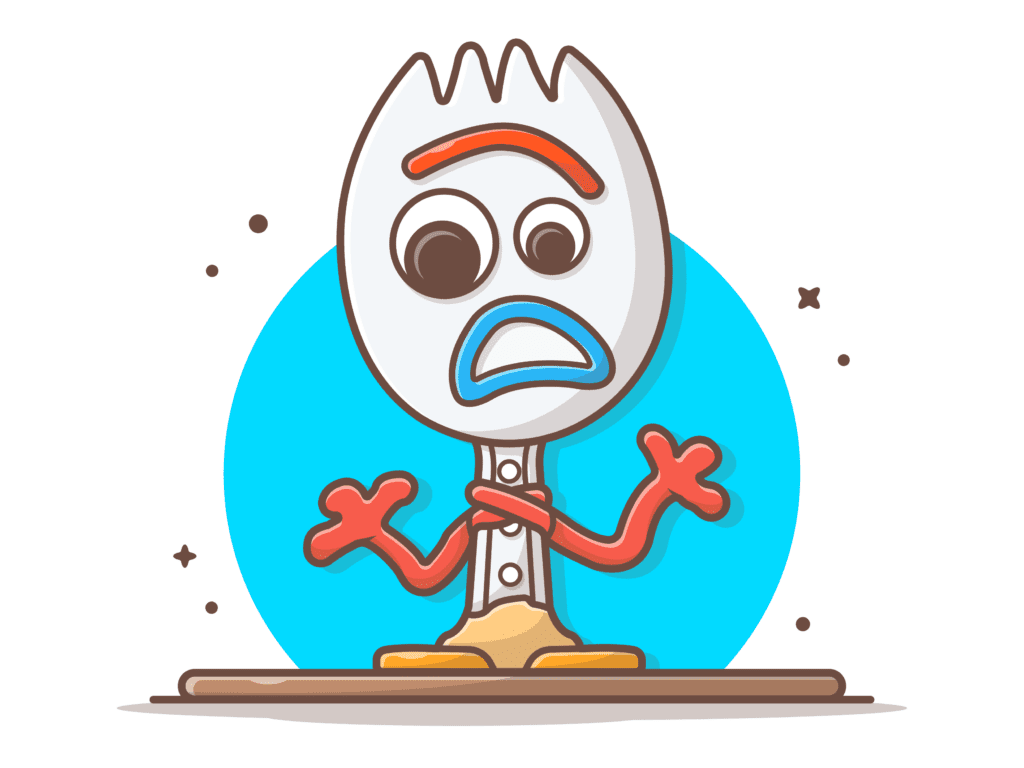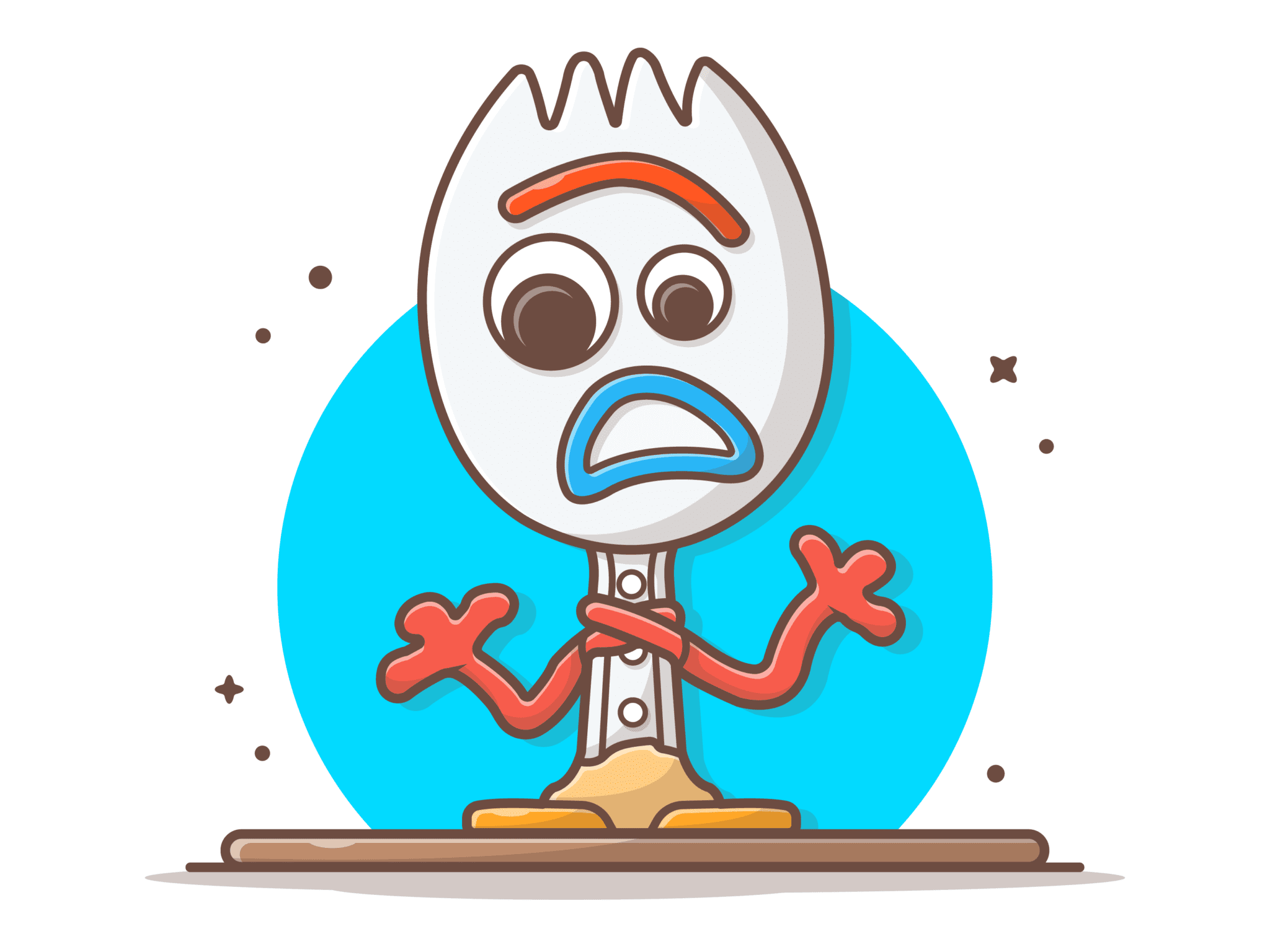 Due to this, Cooley and the gang decided that Bonnie also probably wouldn't have known what a spork was. And she almost certainly would not know what it's called.
With that, the would-be character of Sporky in Toy Story 4 was born and given a name: Forky. And that is the second hilarious reason why Forky isn't named Sporky in Toy Story 4.
Reason #3 Why Forky Isn't Named Sporky in Toy Story 4
The last Toy Story movie installment (so far, anyway) has a great storyline and characters. And the excellent voiceover actors only made it that much better. In interviews on and off the red carpet, they dished about the names Forky and Sporky for the film. Tony Hale, in particular, has talked a bit about Forky's role in the film.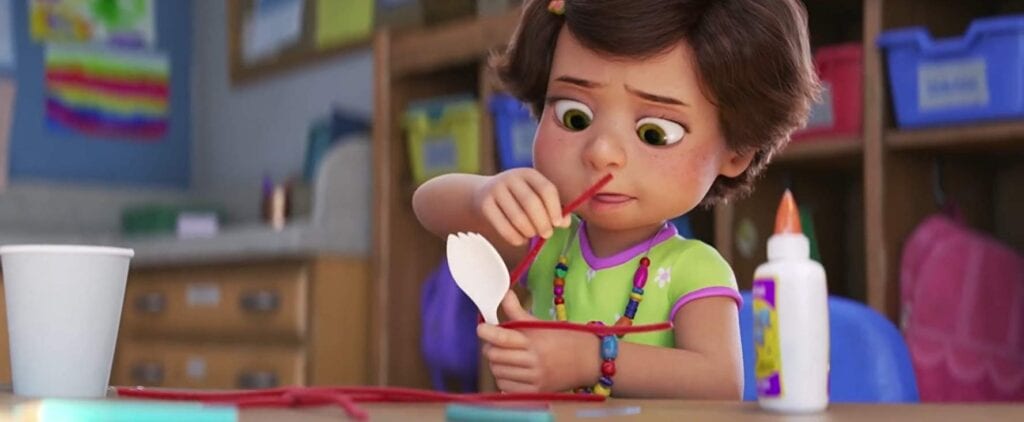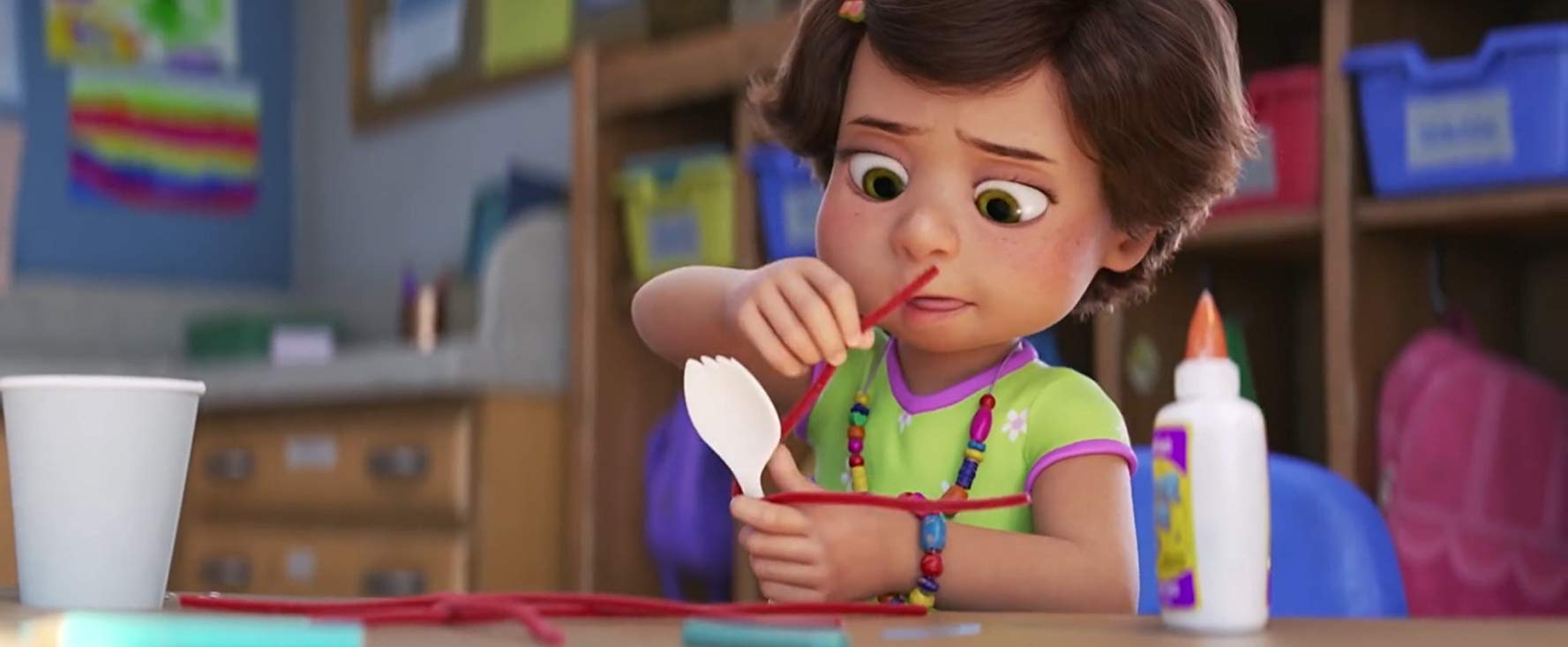 And that's the third hilarious reason why Forky isn't called Sporky in Toy Story 4. Basically, because he's going through an existential crisis. Now, you might say that I'm being a little cruel or unkind to say that an existential crisis is funny, but let me remind you that we're talking about the existential crisis of a spork.
It's funny now, isn't it? 😉
Where Can I Watch More of Forky's Fun?
The fun continues in Forky's amazing Disney Plus series Forky Asks a Question. In the show on Disney+, Tony Hale gives voice Forky's musings. He asks questions about life, love, reading, computers, and pretty much anything else you can imagine. And hilarity always ensues.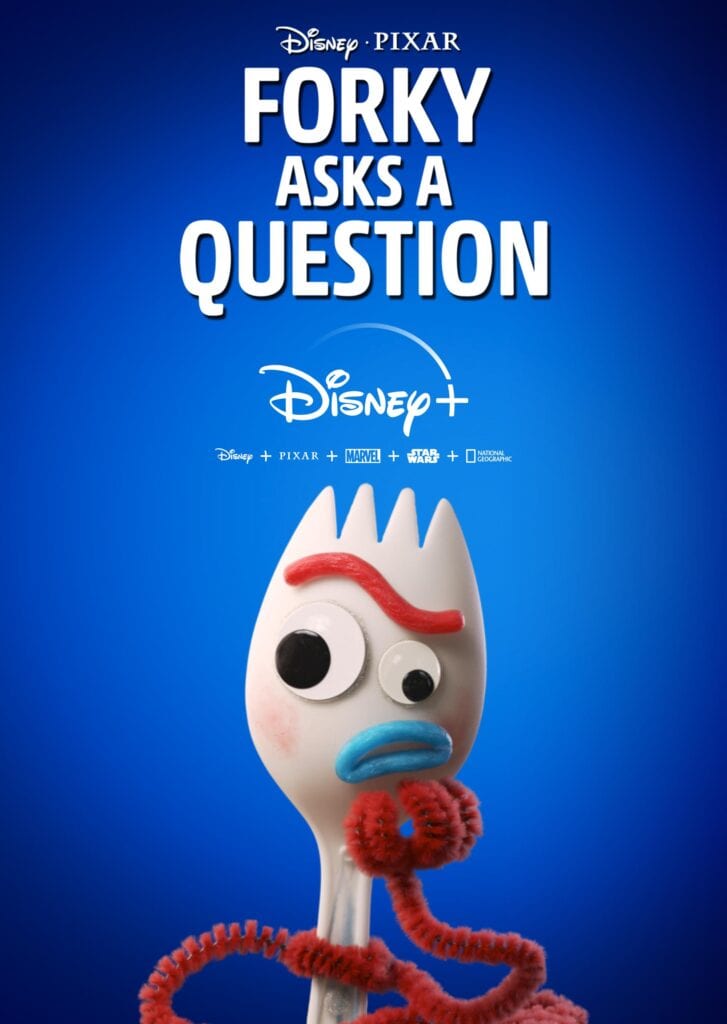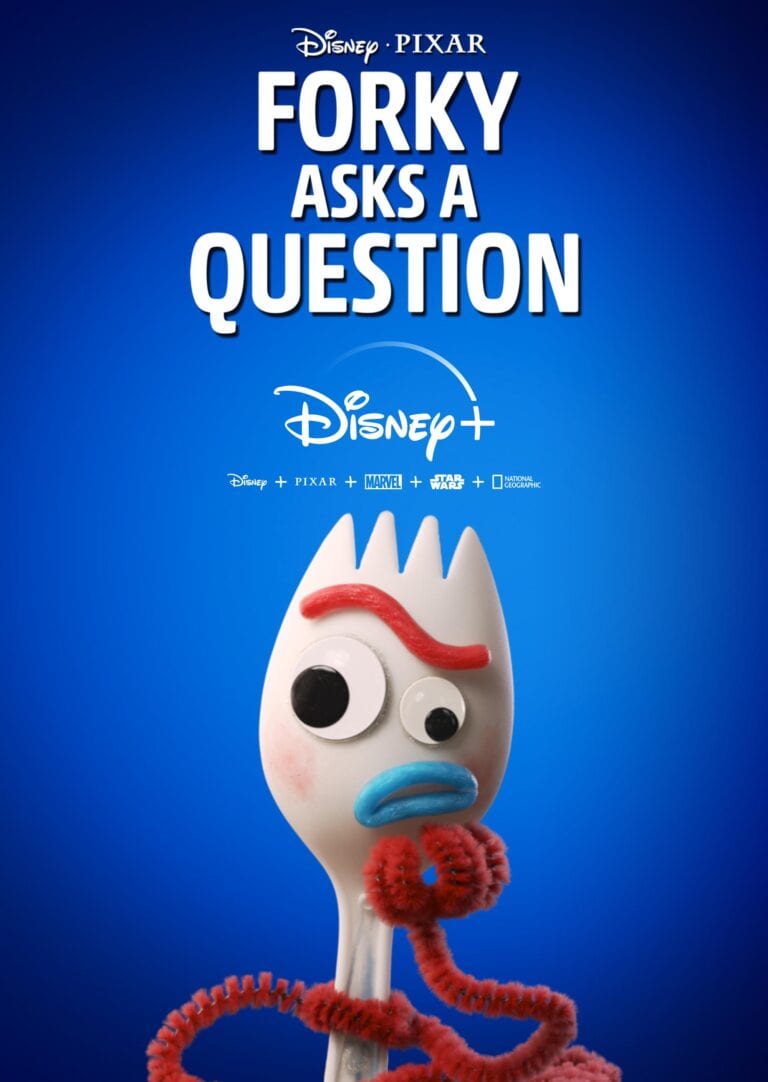 At the end of the day, everybody wants to know why Forky from Toy Story 4 didn't get the name Sporky, since he's made from a spork. The cast and director say that it's actually because of these 3 hilarious reasons. I personally think they made the right call.
What do you think? Should they have called him Forky or Sporky? What about spelling it differently, such as Forkey or Sporkey? Let me know in the comments or on Twitter @disfordisney_.
And just for kicks and giggles, check out this Twitter user's Forky fun!
Did you enjoy learning about Forky (not Sporky) from Toy Story 4 and how he got his name? Watch the movie with this new knowledge! It's available on Disney Plus and via the Disney Movie Club.
If you're a fan of the Toy Story characters, click here to get a free, exclusive Buzz Lightyear coloring book from D Is For Disney. No strings or glue attached! 🙂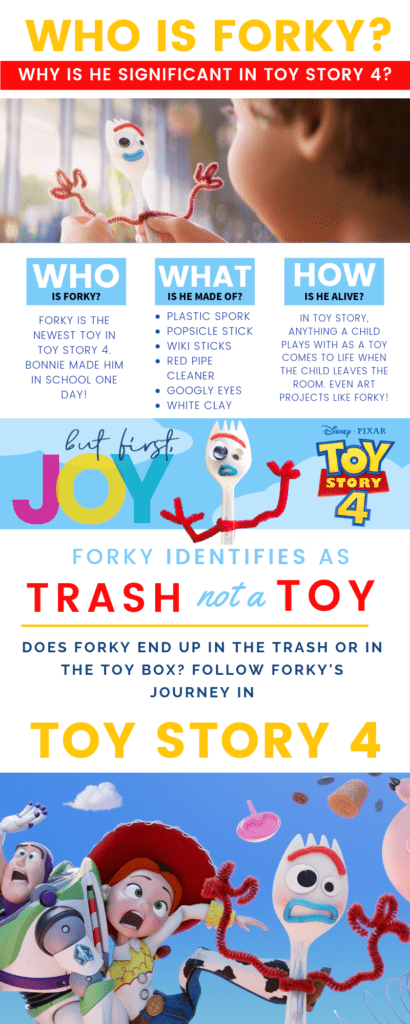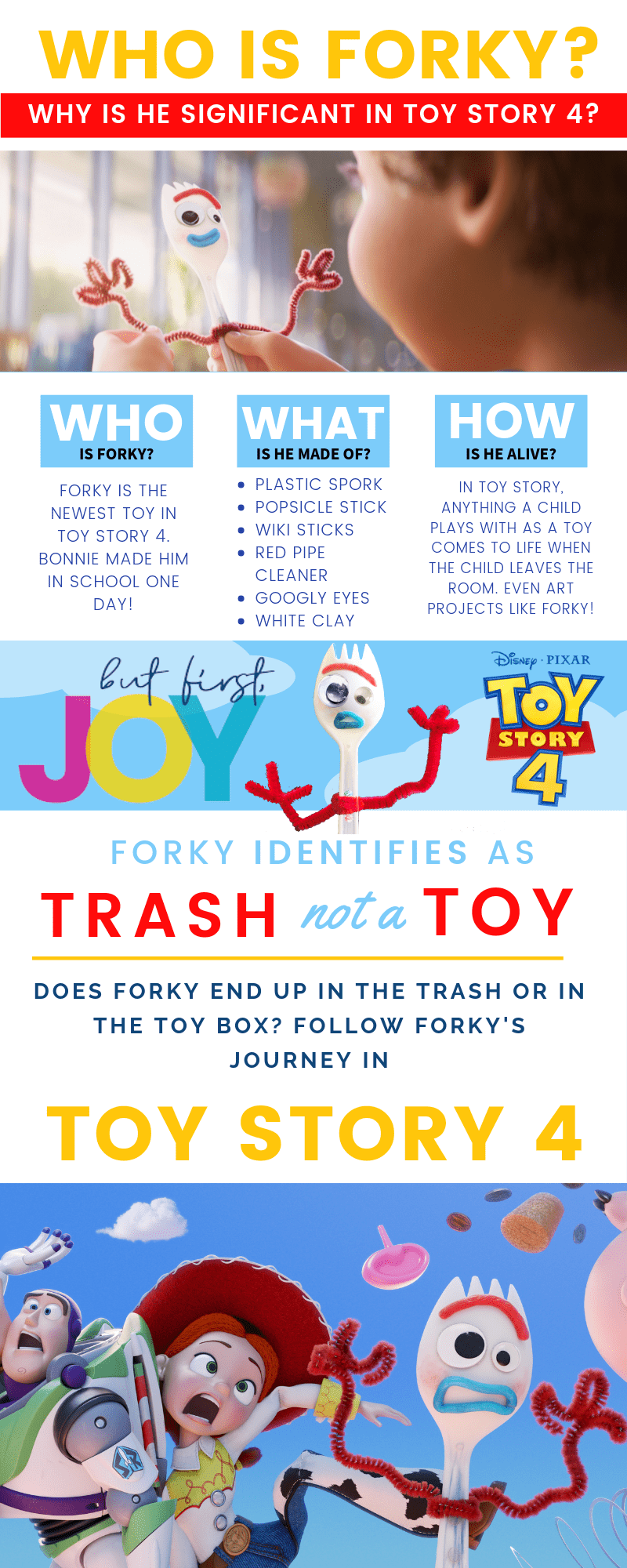 Check out this awesome and fun Toy Story 4 infographic made by the website But First Joy. It shows you Forky's characteristics, how he's alive, and what he's made of.
This way, you can know exactly how to make your own Forky from Toy Story 4 using arts and crafts materials at home (YouTube video link). Or just get one from Disney (shop link)! The choice is up to you. 🙂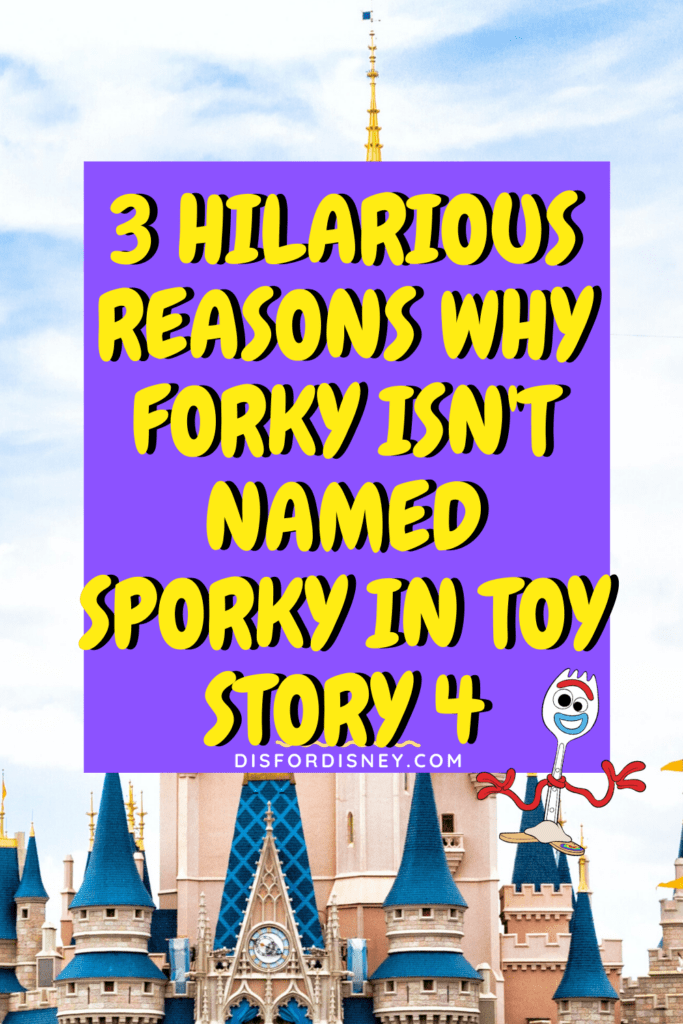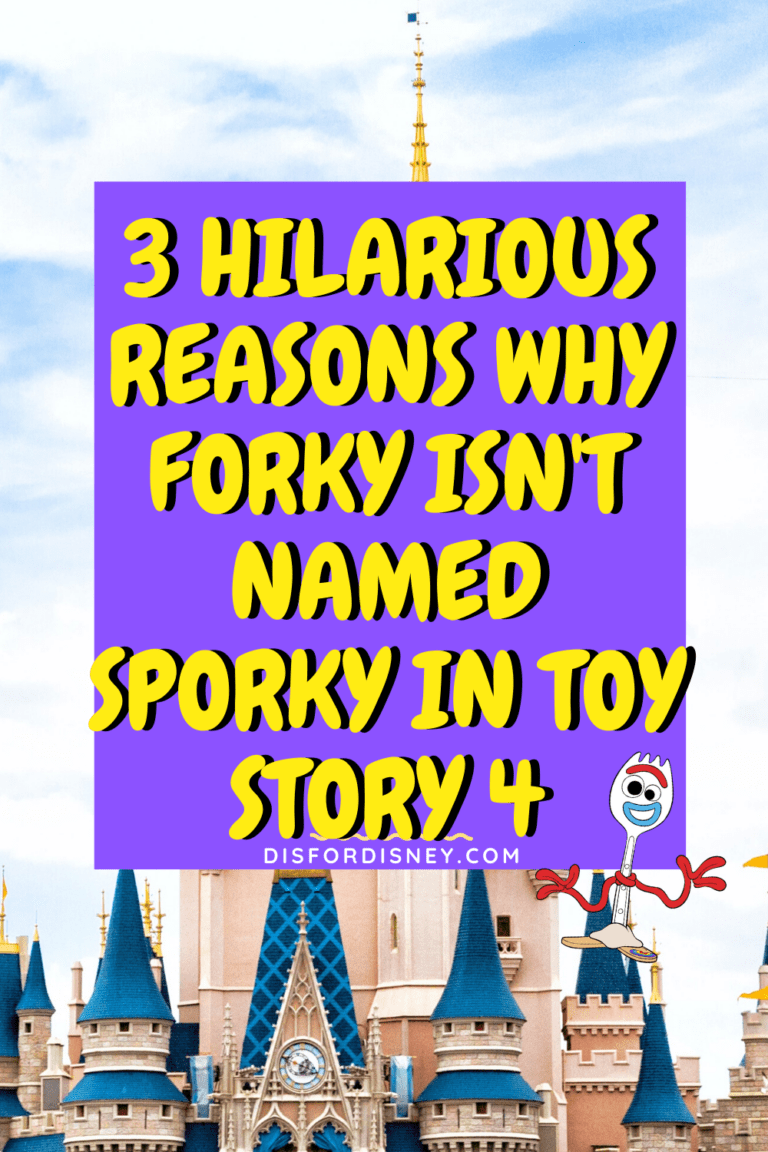 Share this post on your Facebook, Twitter, or Pinterest page with the easy share icons below.
Neal Tucker is one of the world's most engaging Disney influencers, with thousands of views and responses across his blog, podcast, and social media profiles every month.
Get started with more D Is For Disney content here