If you're a follower of this blog, you know that I love Funko Pops and Baby Yoda. Well, these two loves just got a whole lot of love from Funko and Disney. They have now released a 10″ chrome Mandalorian with Baby Yoda (The Child) for pre-order. Expected release date is currently September 30, 2020.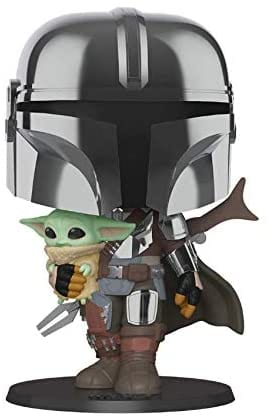 There are a lot of great Funko Pops and toys from The Mandalorian series on Disney+.
Even so, this one sort of takes the cake for me. I don't always go for the chrome or gold plated figurines, but this one is just astonishing.
First of all, we don't even have a regular sized version of this toy! Funko and Star Wars decided to release the larger size before any other versions, which is at least a little bit unusual.
I won't begin to speculate on exactly why they've done this, but I think it's pretty cool.
That said, I would love to see the smaller version for sale from Funko at some point in the future.
The 10-inch Funko Pops are pretty much all phenomenal. But, they do take up a lot more space than the regular ones.
And as I've mentioned before on this site, my wife jokes that we'll be running out of space soon in our home for all my Disney and Star Wars collectibles.
Here's what I say: #WORTHIT. 😉
Pre-order on Amazon to receive your 10-inch Chrome Mandalorian with The Child on September 30, 2020, the current expected release date.
Related Articles
Brand new Haunted Mansion Stretching Portrait Funko Pops!
Check out this MEGA LIST of Baby Yoda (The Child) merch
Share this post on your Facebook, Twitter, or Pinterest page with the easy share icons below.
Neal Tucker is one of the world's most engaging Disney influencers, with thousands of views and responses across his blog, podcast, and social media profiles every month.
Get started with more D Is For Disney content here