With the success of The Mandalorian (as well as Disney Gallery) on Disney Plus, Dave Filoni has become a fan favorite. Who is Dave Filoni? What films and shows has he worked on? And what might he bring to Star Wars in the future?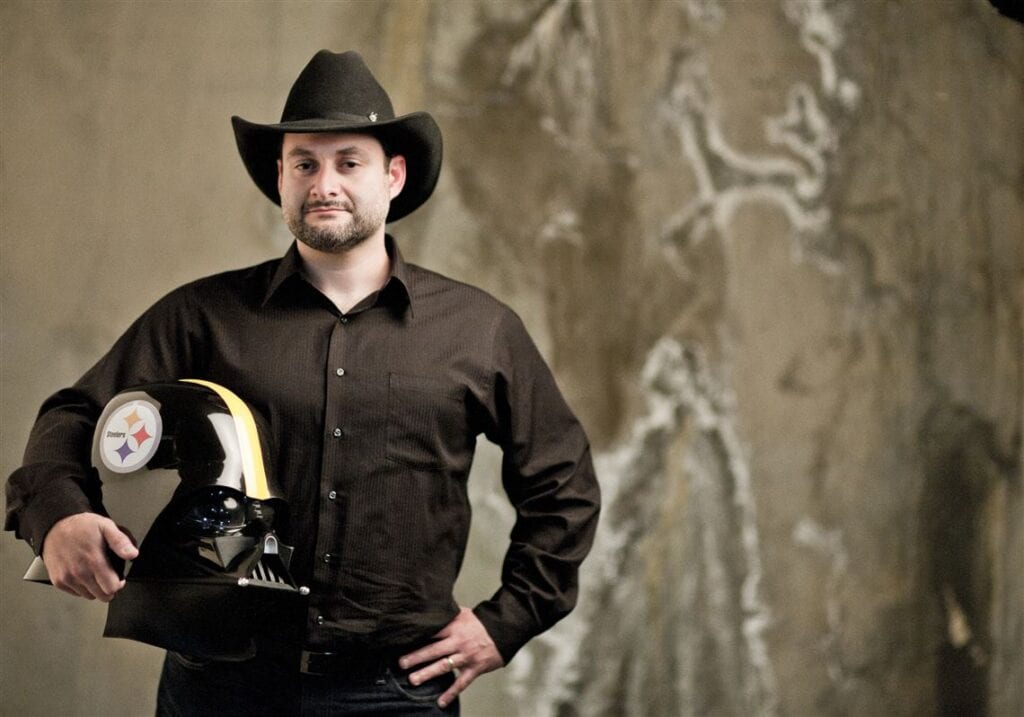 Who Is Dave Filoni?
Dave Filoni is a filmmaker from Pittsburgh, Pennsylvania.
He's the son of an opera and classical music loving father and the grandson and nephew of airplane lovers and pilots.
Like so many, he grew up loving the Star Wars movies in the original trilogy: A New Hope, The Empire Strikes Back, and Return of the Jedi.
Filoni has mentioned that his family played a big influence on his own creation of Star Wars television shows.
He's quoted on StarWars.com as saying:
"The idea for Star Wars Resistance came out of my interest in World War II aircraft and fighter pilots. My grandfather was a pilot and my uncle flew and restored planes, so that's been a big influence on me. There's a long history of high-speed racing in Star Wars, and I think we've captured that sense of excitement in an anime-inspired style, which is something the entire team has been wanting to do for a long time."

Dave Filoni, StarWars.com
If you've seen any of Star Wars Resistance, you know exactly what he's talking about.
See what Resistance has to offer, as well as where it fits in the whole galaxy in this complete guide to the Star Wars Timeline.
What TV Shows Has He Worked On?
He most recently worked on the latest Star Wars TV show, The Mandalorian, but he has a long history in both animation and with the greater Star Wars franchise as a whole.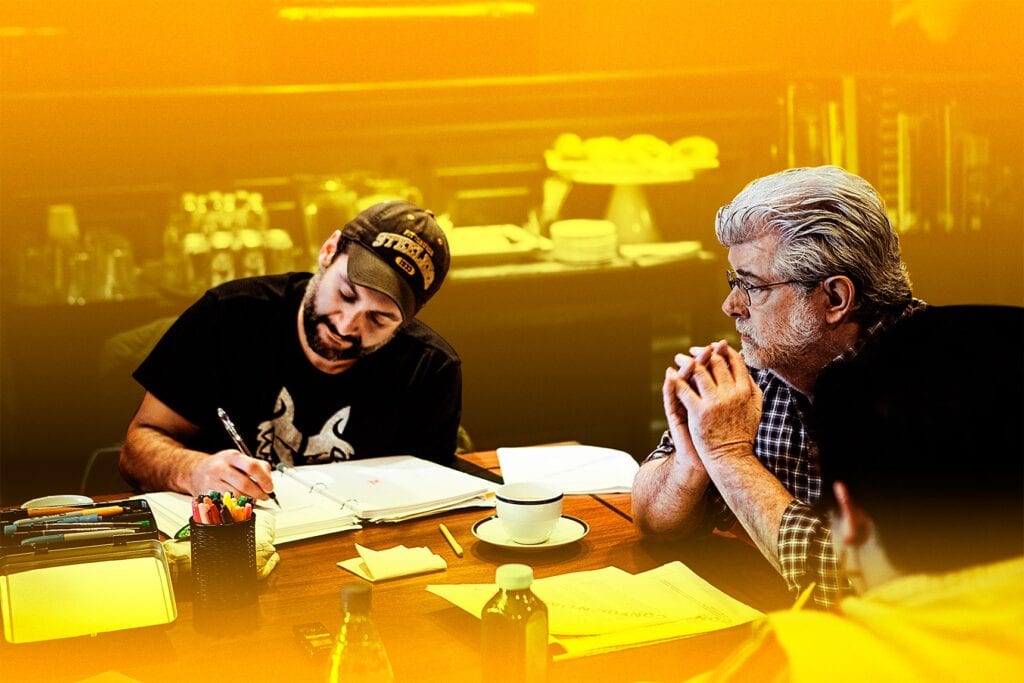 Dave has also worked on the following major TV series:
Avatar: The Last Airbender (Nickelodeon)
Star Wars: The Clone Wars
Star Wars Rebels
Star Wars Forces of Destiny
Star Wars Resistance
To put it simply: the man knows his Star Wars.
On Twitter, he posts sparingly, but when he does, it's usually awesome, and nearly always related to Star Wars.
In fact, on the Disney Gallery behind the scenes show about the making of The Mandalorian, his fellow cast and crew members make this abundantly clear.
Check out my reviews of the behind-the-scenes series to get more background on Dave Filoni and the rest of the filmmaking crew.
This includes Bryce Dallas Howard, Jon Favreau, and of course, Kathleen Kennedy, the person that keeps everything running strong.
What Is Dave Filoni Doing Next?
According to LRM, rumor has it that Dave Filoni will (*ahem*) pilot some new Star Wars shows in the future.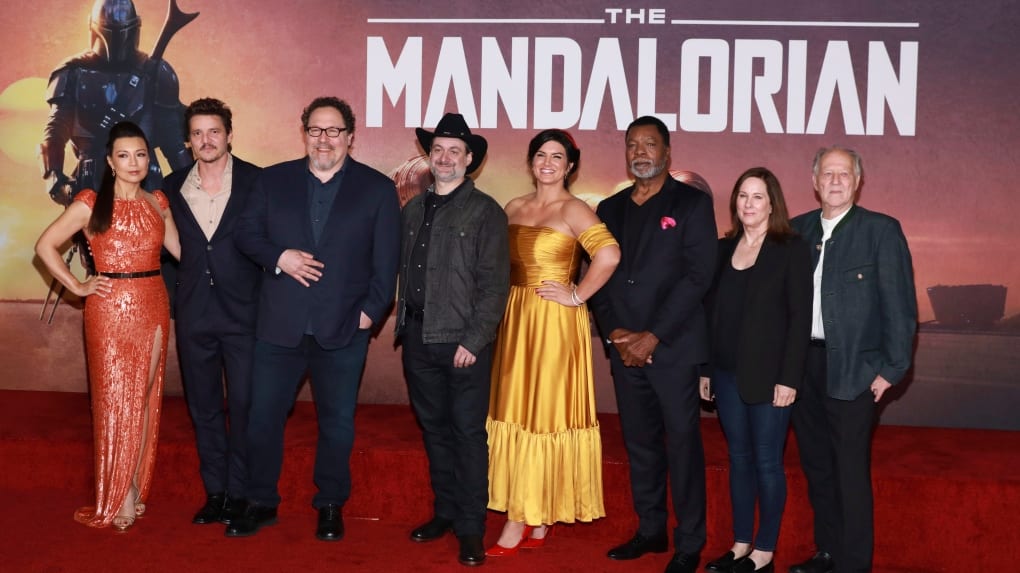 They write that Disney Plus and Lucasfilm want to make tons of incredible Star Wars TV show series in the near future.
While it's not surprising in general, this is actually quite surprising given what Bob Iger has said before. Namely, that releasing a new Star Wars movie every year was too much, too fast.
That doesn't seem to apply to TV shows, however, because they've got a lot coming down the pipeline, and Dave Filoni appears to be the Jedi Master we've been looking for.
LRM writes:
The plan is to create a universe where all the shows will be connected with a central storyline. One big inspiration was the popular Game of Thrones series. I know it's a weird comparison, but let me explain. Instead of making one epic Game of Thrones show, it'd be like if each family had their own show with a central storyline that spills over into the others.

The shows will be overseen by none other than Dave Filoni who has successfully adapted Star Wars to the small screen starting with The Clone Wars, Rebels, and The Mandalorian. We all knew they were grooming Filoni for big things, and this suite of shows is exactly what it was.

LRM Online
Big things, indeed! It seems like Kathleen Kennedy and the other powers that be over at Lucasfilm want Dave to be the person leading the pack.
Personally, I think that's fantastic. If you've seen any of Disney Gallery: The Mandalorian on Disney+, you know that Filoni is just the nicest and nerdiest guy around.
He exudes love for Star Wars as much as anyone I've ever seen or met.
Granted, I have not met him in person yet. But, judging from the roundtable discussions, I imagine he's just an absolute delight to be around.
At this point, I think it's very safe to say: the Force is most definitely strong with Filoni.
Read These Next…
Review of Disney Gallery: The Mandalorian behind the scenes show on Disney+
Jon Favreau confirms the expected release date of The Mandalorian Season 2
Share this post on your Facebook, Twitter, or Pinterest page with the easy share icons below.
Neal Tucker is one of the world's most engaging Disney influencers, with thousands of views and responses across his blog, podcast, and social media profiles every month.
Get started with more D Is For Disney content here