Exciting news! ShopDisney has a new way for you to get access to your favorite merchandise. It's called Disney Merch Pass, and all you need to do to use is to follow along with the easy steps outlined below. So, go ahead! Scroll on down and start discovering and using the all-new MerchPass from Shop Disney right away!


Note: All image credits on this page are from ShopDisney.com, unless otherwise noted.
What Is MerchPass Disney?
Before we get into how to go about using the ShopDisney MerchPass…
It's important to understand what it is exactly, and how Disney actually uses the new MerchPass system for merchandise on ShopDisney.com!
So…
Another thing to know about it…
People are often using different phrases or wording to refer to this new ShopDisney feature.
Those are the Disney MerchPass basics.
Now, let's get into how to use this awesome new ShopDisney feature!
How to Use Disney MerchPass
At this point, we know what this awesome new platform is exactly, and we know the official ShopDisney name for it: MerchPass.


It's now the time to understand specifically how to use MerchPass on ShopDisney. People often ask:
How to use MerchPass?
How do I get a Disney Merch Pass?
What merchandise items use MerchPass?
What time does ShopDisney release new items for MerchPass?
How do I know if I won a MerchPass random drawing?
We're going to answer all of these questions right here.
How do I use Disney MerchPass? How do I get a Disney Merch Pass?
These two questions are basically the same question asked in a slightly different way. Because of that, I'm going to answer them both together in one fell swoop!
To use (and get) a Disney MerchPass, you just need to follow these 3 easy steps:
Choose your items.
Check your email.
Complete your purchase.


According to ShopDisney.com, that's all you have to do.
Now, you're probably thinking at this point: "Great, but where do I choose my items, and how do I give them my email address?!"
You are not alone! These are the exact same questions that I had when I was first learning about Disney's MerchPass.
How to Sign Up for a Disney Merch Pass
Here's the big answer…
What does that mean exactly?
Here's how you find the products that use Disney MerchPass:
Once you do that, you'll be able to find the merchandise that you're looking for, click on it, and away you go!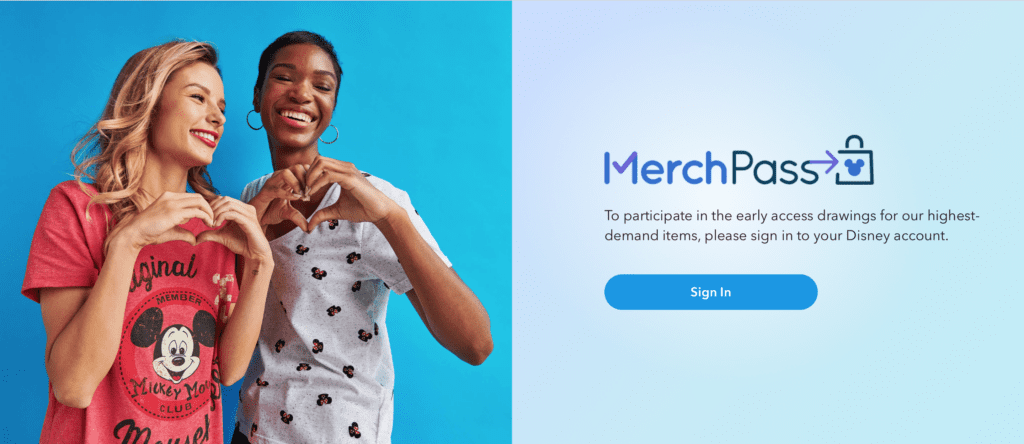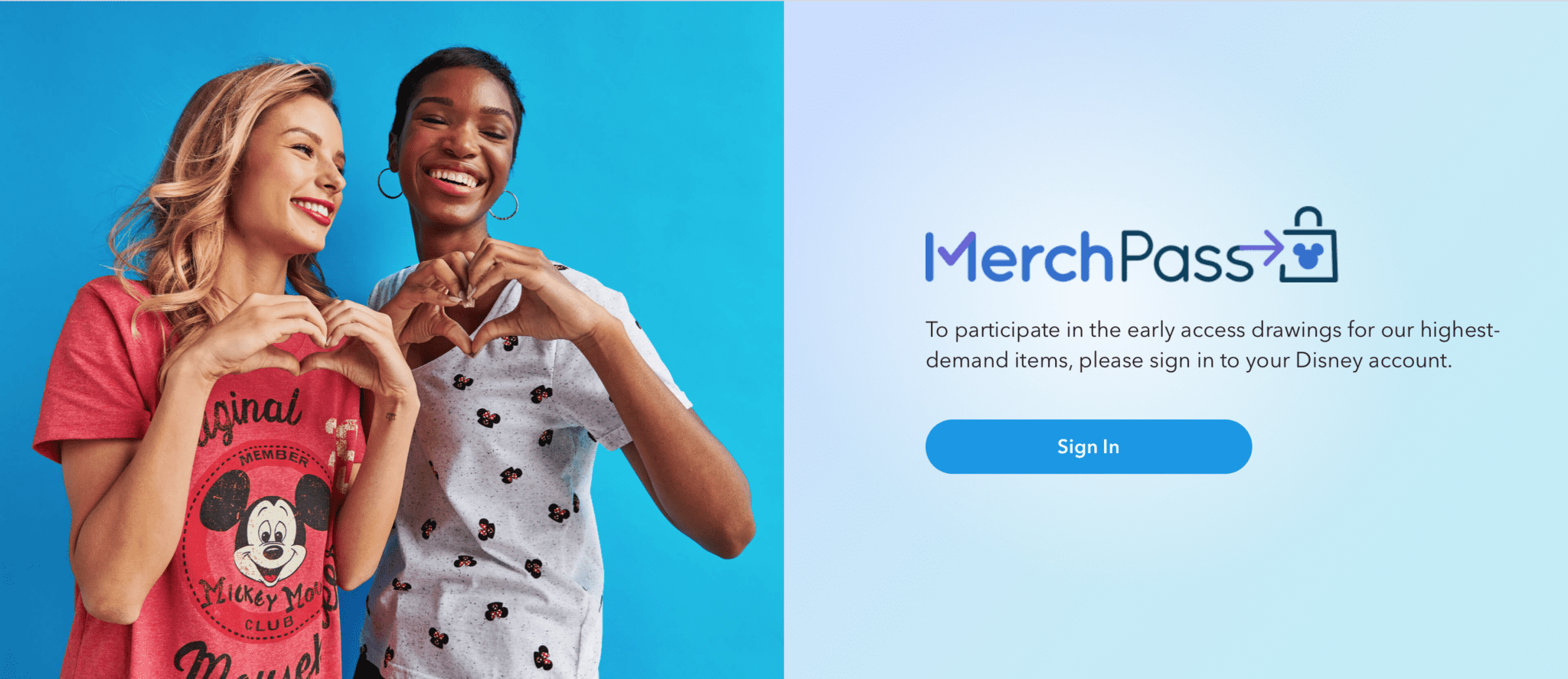 For example, the Minnie Mouse: Main Attraction collection is the MerchPass event item when I wrote this article:


Click on the event item banner at the bottom of your ShopDisney screen, then select the item (or items) that you want.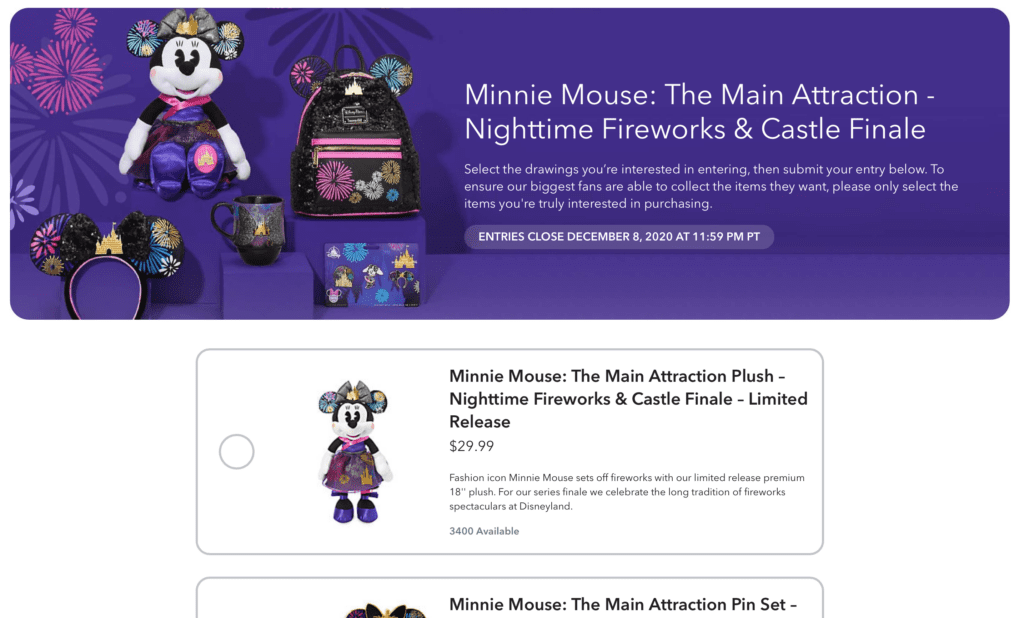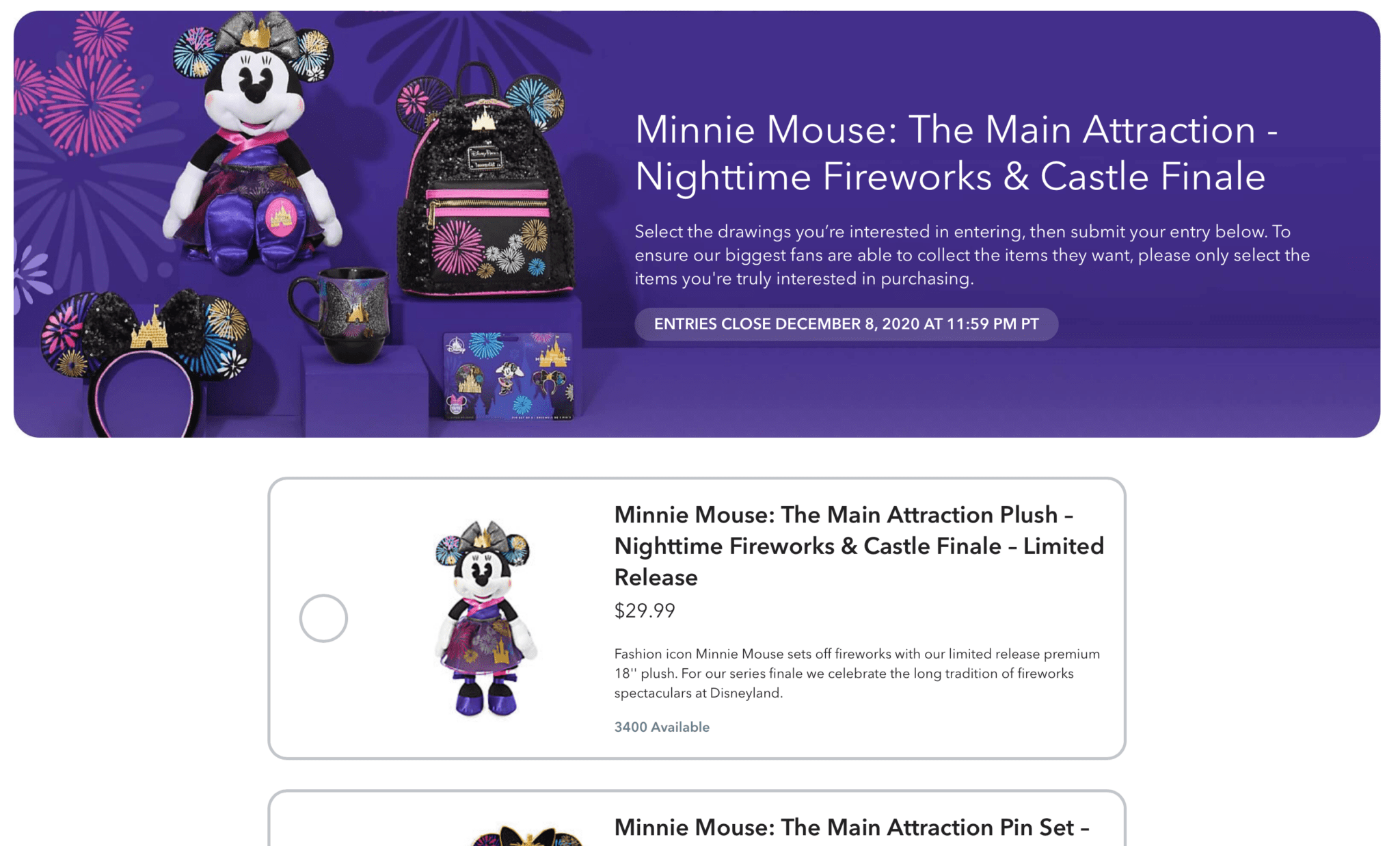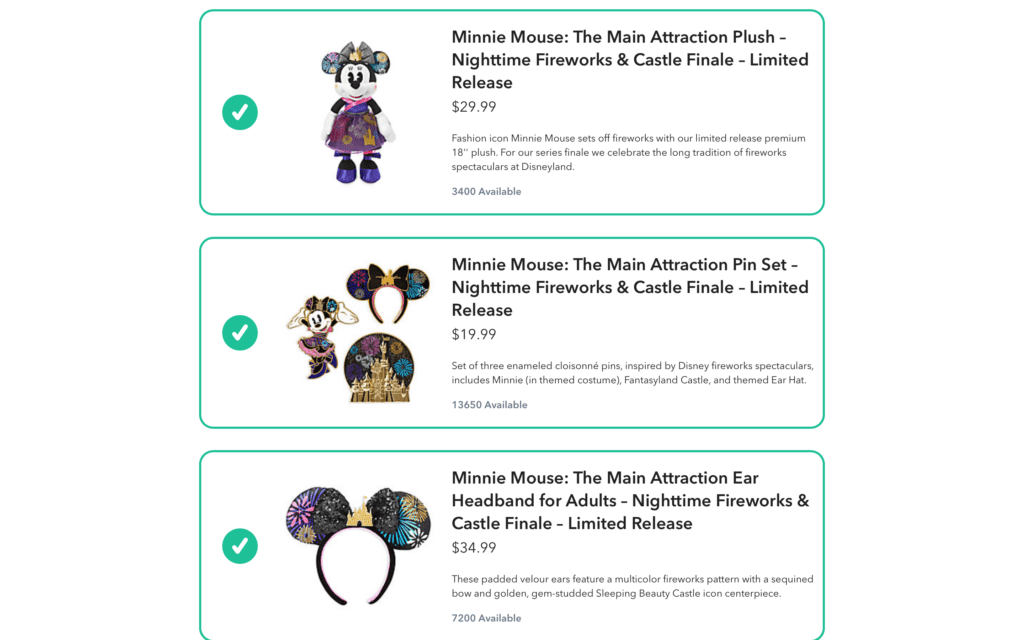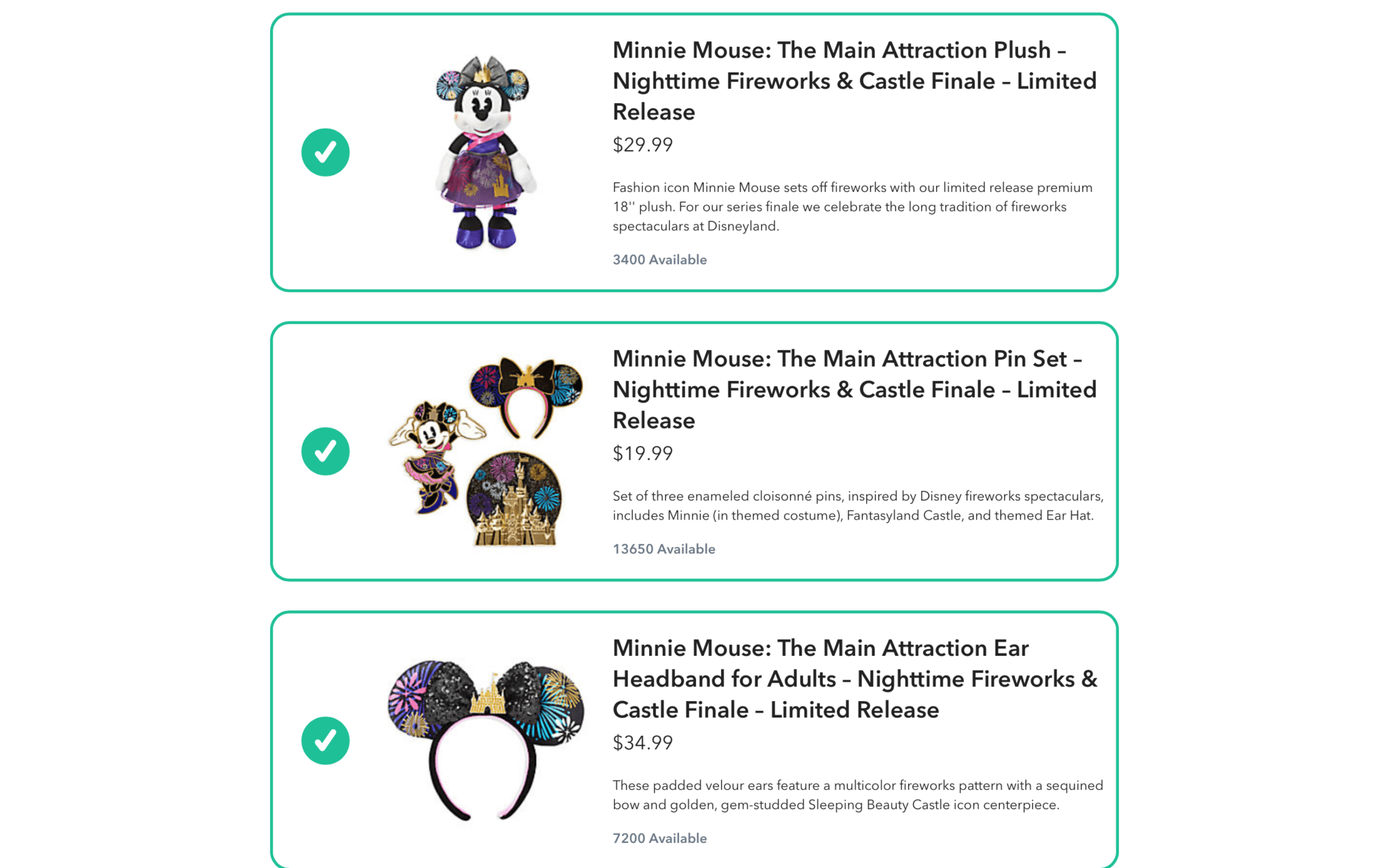 Confirm that you want to be entered into the Disney MerchPass drawing, and you're all set!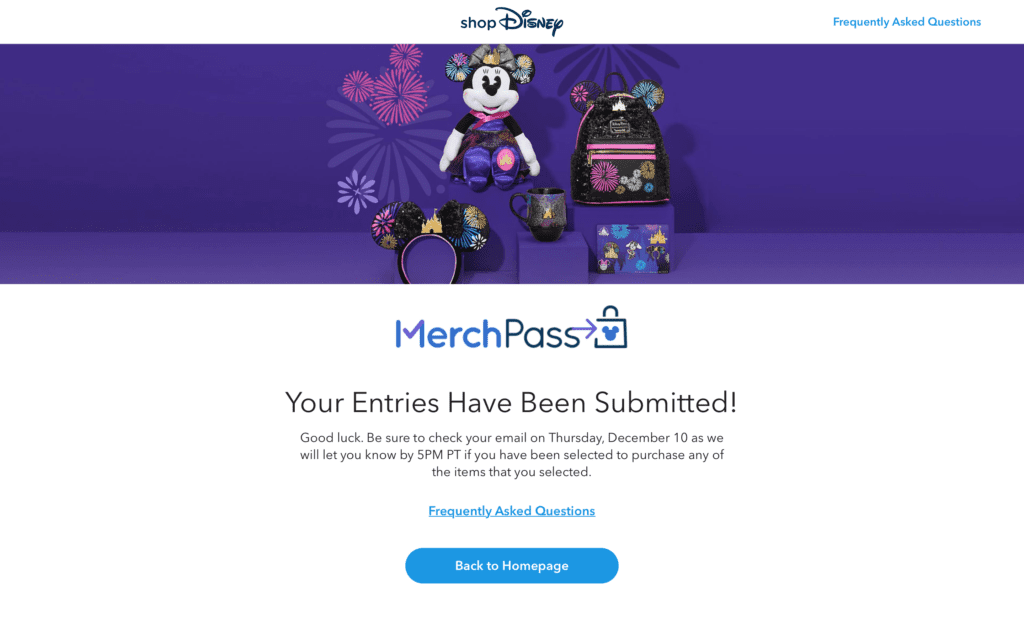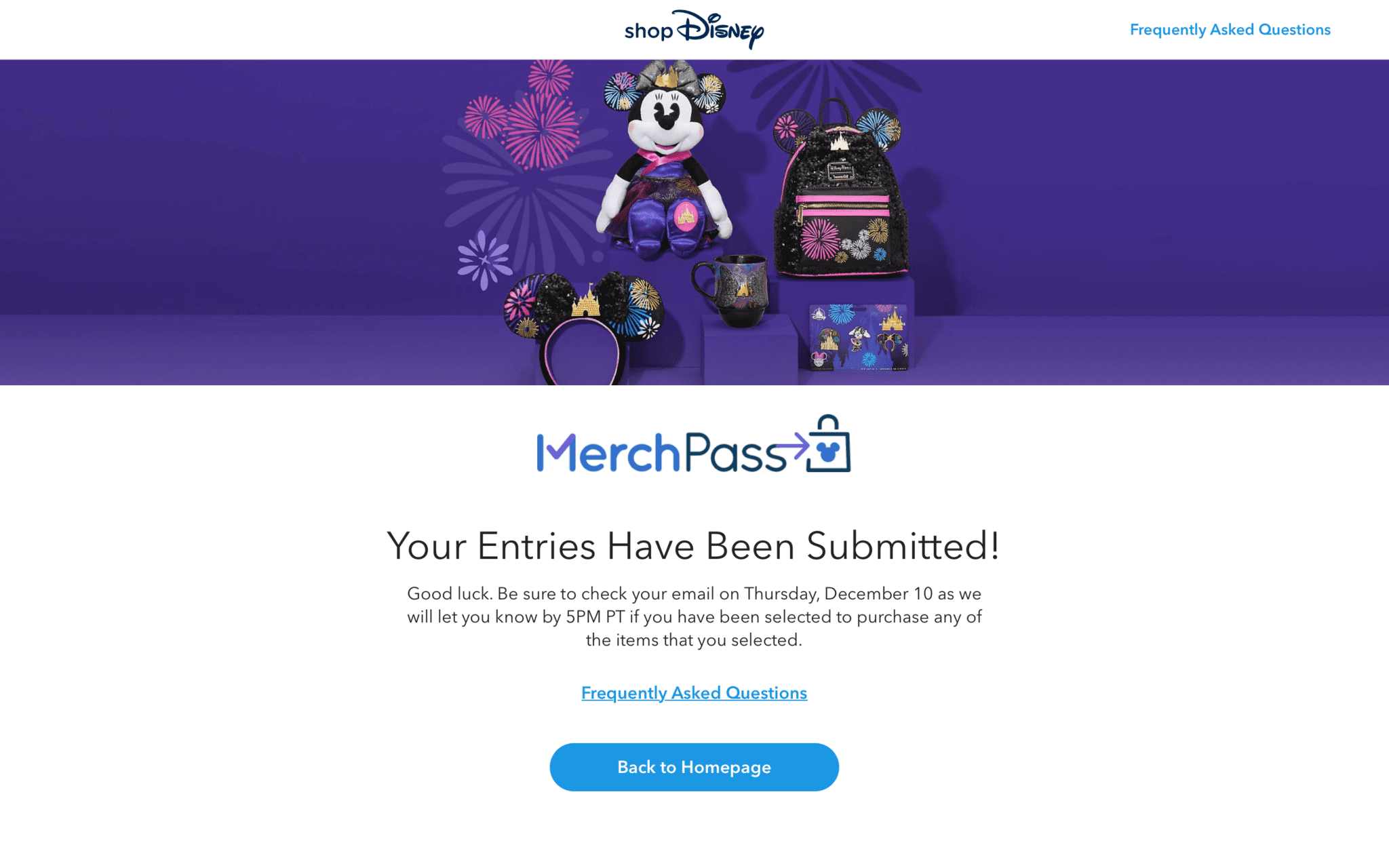 How Do I Know If I Won a Random Drawing?
You will know if you won by receiving an email from ShopDisney.com stating that you were randomly selected as a drawing winning.
When will I know if I won a MerchPass drawing? The date of the email delivery will be written on the confirmation screen, like the one in the screenshot above.
IMPORTANT: Once you receive your MerchPass email from Disney…
You will only have a limited time window to shop and purchase the items you were selected for.
Make sure you're ready to go when the time comes! 😀
What If I'm Not Selected for the MerchPass?
If you are not randomly chosen for MerchPass, you will receive an email like the one below letting you know. As you can see, there is some silver lining, though. Products also go on general sale too, so you might be able to get one after all!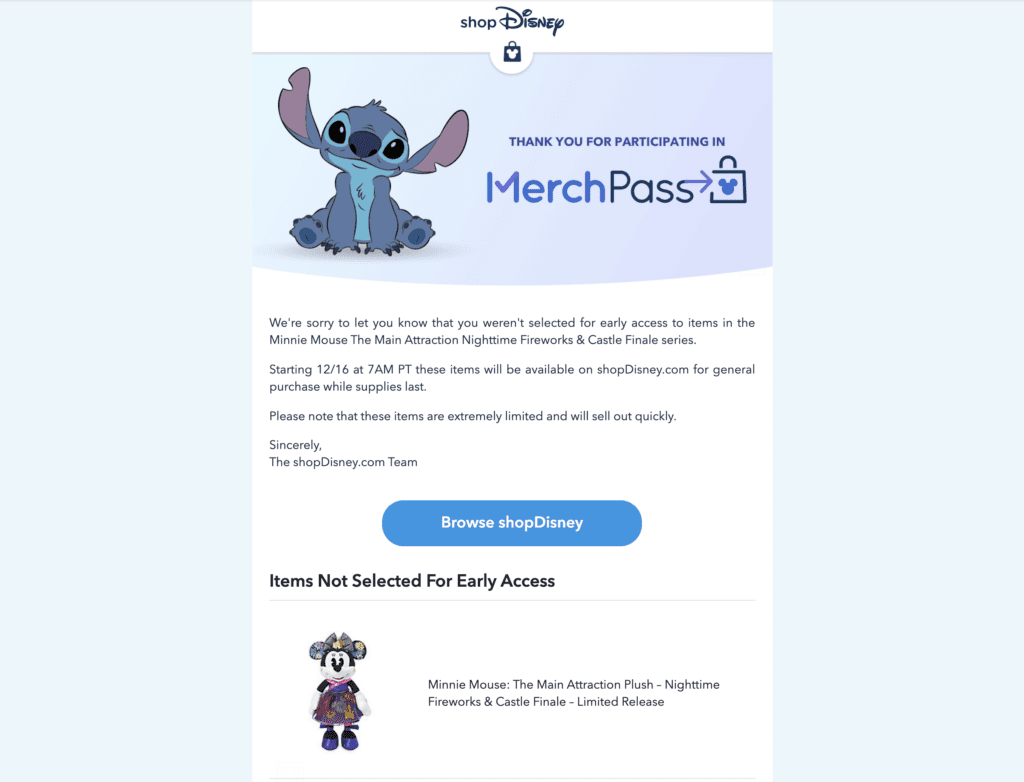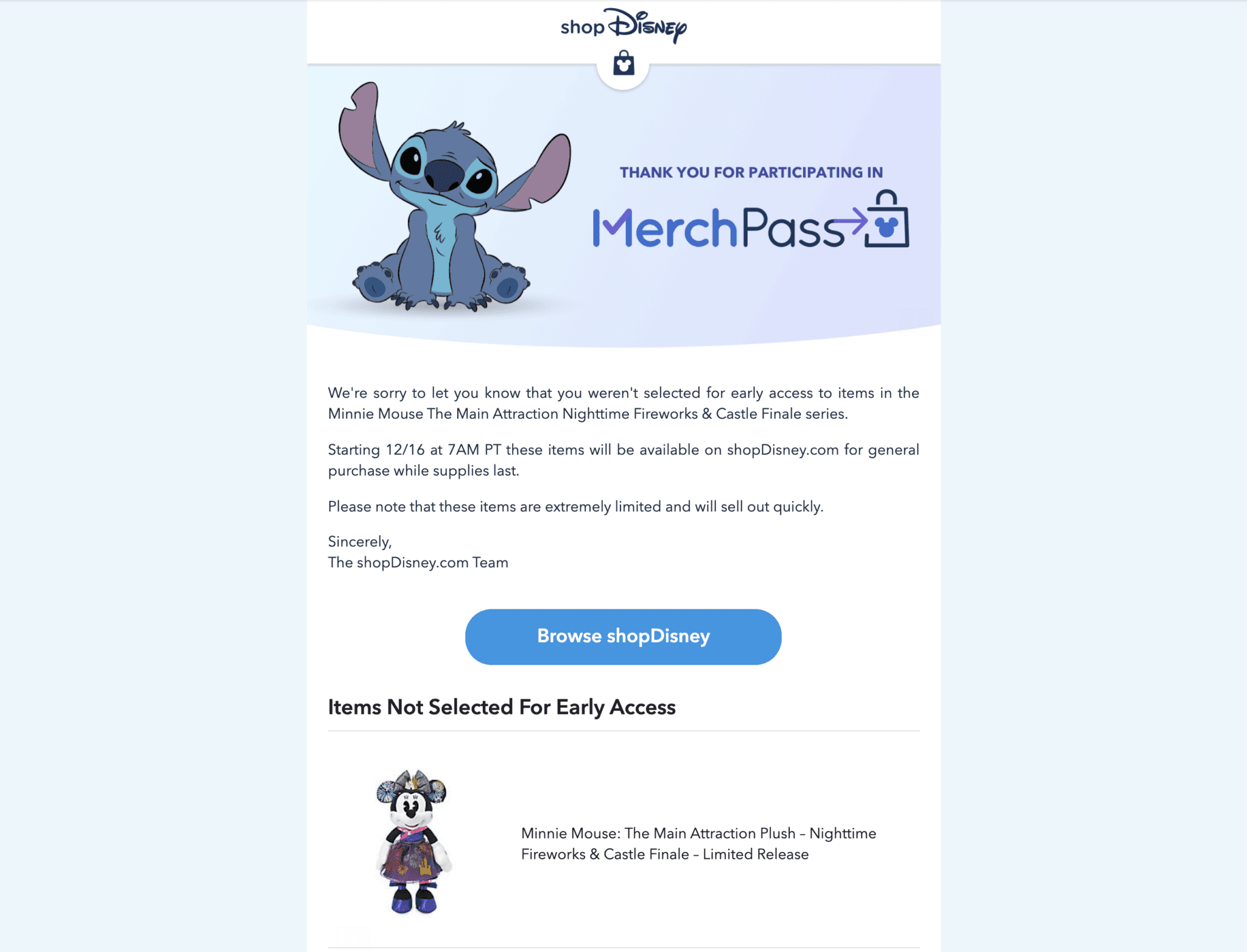 When Does Disney Release New Items for MerchPass?
One way to always know about new merchandise….
Sign up for ShopDisney email updates so that you never miss a new MerchPass entry!


You can sign up on practically any ShopDisney.com page wherever you see the Sign up button.

The other way to check on new merchandise is to just go to ShopDisney.com/MerchPass, and see what they have to offer!
Mando Mondays: Mandalorian Merch, Release Schedule
What Else Do I Need to Know About Disney's MerchPass?
We have covered a lot here.
But there's always some final tidbits that are good to know.
Or, even to simply repeat again, just to be safe! 😉
Specifically, ShopDisney advises that you know these 5 important Things to Know:


These are all important of course, but maybe the most important one (to me), is the very last one on the far-right.
I mentioned it before, but it definitely bears repeating, because it is just so important to the whole MP process:
If you're a Selected Guest, you will only have a limited-time window to purchase your item(s).
In other words, as Scar says, "Be Prepared!"
MerchPass Disney Wrap Up
Wow! That's a lot of stuff to cover at one time!
I sincerely hope that this helps you figure out your own Disney MerchPass journey and get all the amazing goodies that your heart desires!
With all the great merchandise and toys and apparel and more available, there's always something fun to get on ShopDisney.com.
Do you have a tip or trick that you use with Disney's Merch Pass? Let me know in the comments section below!
And be sure to follow me on Twitter @disfordisney_ for more fun and helpful articles just like this one.
Have a magical day!
Keep Reading
Minnie Mouse: The Main Attraction (Full Collection!)
Share this post on your Facebook, Twitter, or Pinterest page with the easy share icons below.
Neal Tucker is one of the world's most engaging Disney influencers, with thousands of views and responses across his blog, podcast, and social media profiles every month.
Get started with more D Is For Disney content here