Trying to figure out how to change language on Disney Plus? Here is the answer. All you need to do is follow these 3 simple steps, and you will be watching The Mandalorian or Frozen or Star Wars in your language in no time. Just follow these three easy steps below, and you'll be all set!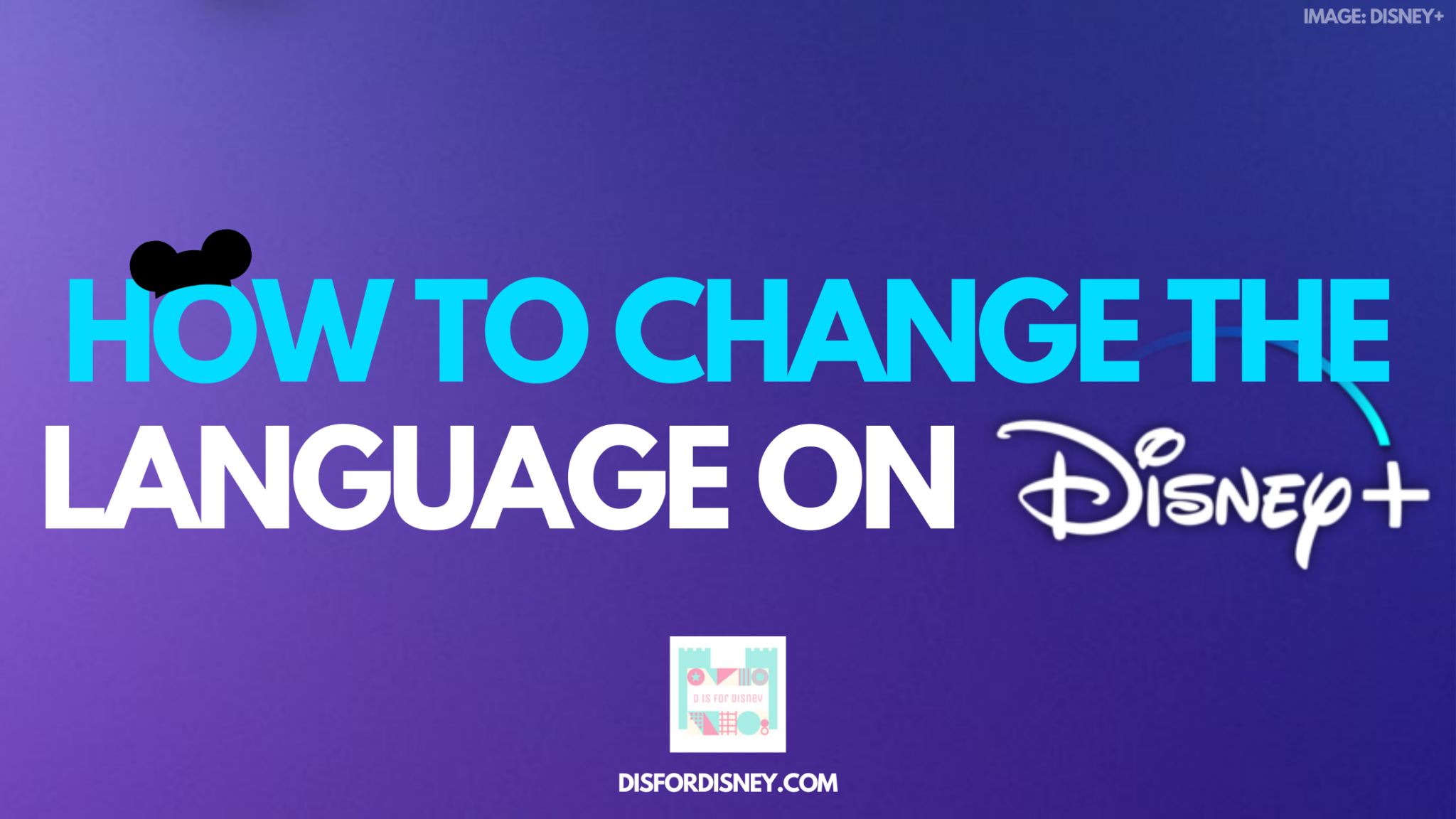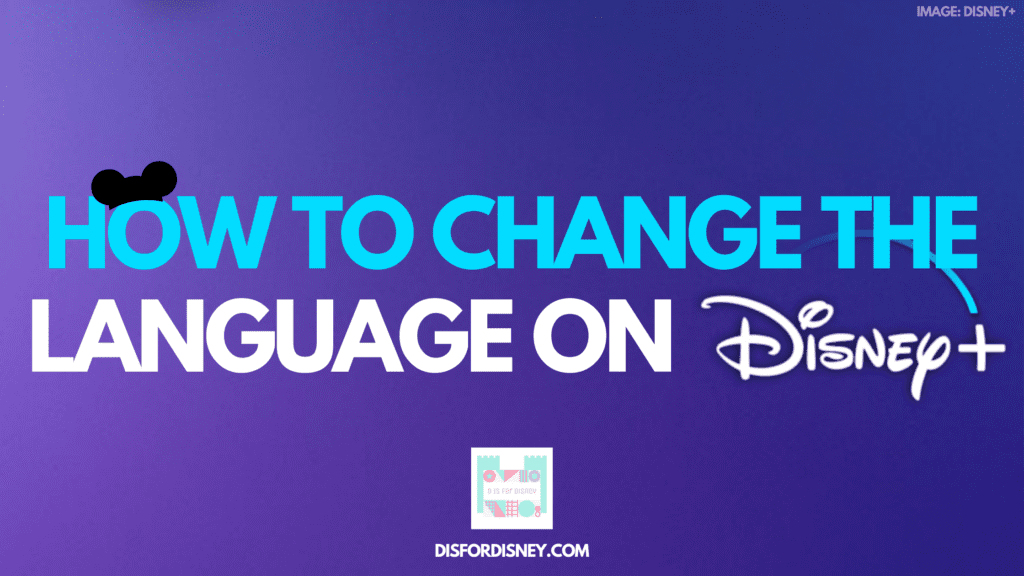 Why Change the Language on My Disney Plus Account?
There are a lot of reasons why you might want or need to change your Disney Plus language.
It could be that you are watching Baby Yoda or The Muppets on Disney+, but the movie or shows keeping coming up in the wrong language.
Or, perhaps you're trying to learn a new language, and you're watching your favorite Disney movies and TV shows to help.
Maybe the language even changed up on you automatically, without you doing anything, and you want to change it back.
And when that happens…
It can be very frustrating if you don't know where to look!
So, that's what I'm here for. To help you get this all sorted out in no time flat. You'll be back to watching Olaf before you can say, "Samantha?!"
3 Steps for How to Change Language on Disney Plus
So, here are the 3 easy steps for the following:
How to change the language on Disney Plus
How to change the language on Disney Plus on TV
How to change the language on Disney Plus Roku
Wherever and however (and whenever!) you watch your Disney+, I've got you covered right here.
Step #1 — Open up Disney+.
First things first: open up Disney Plus!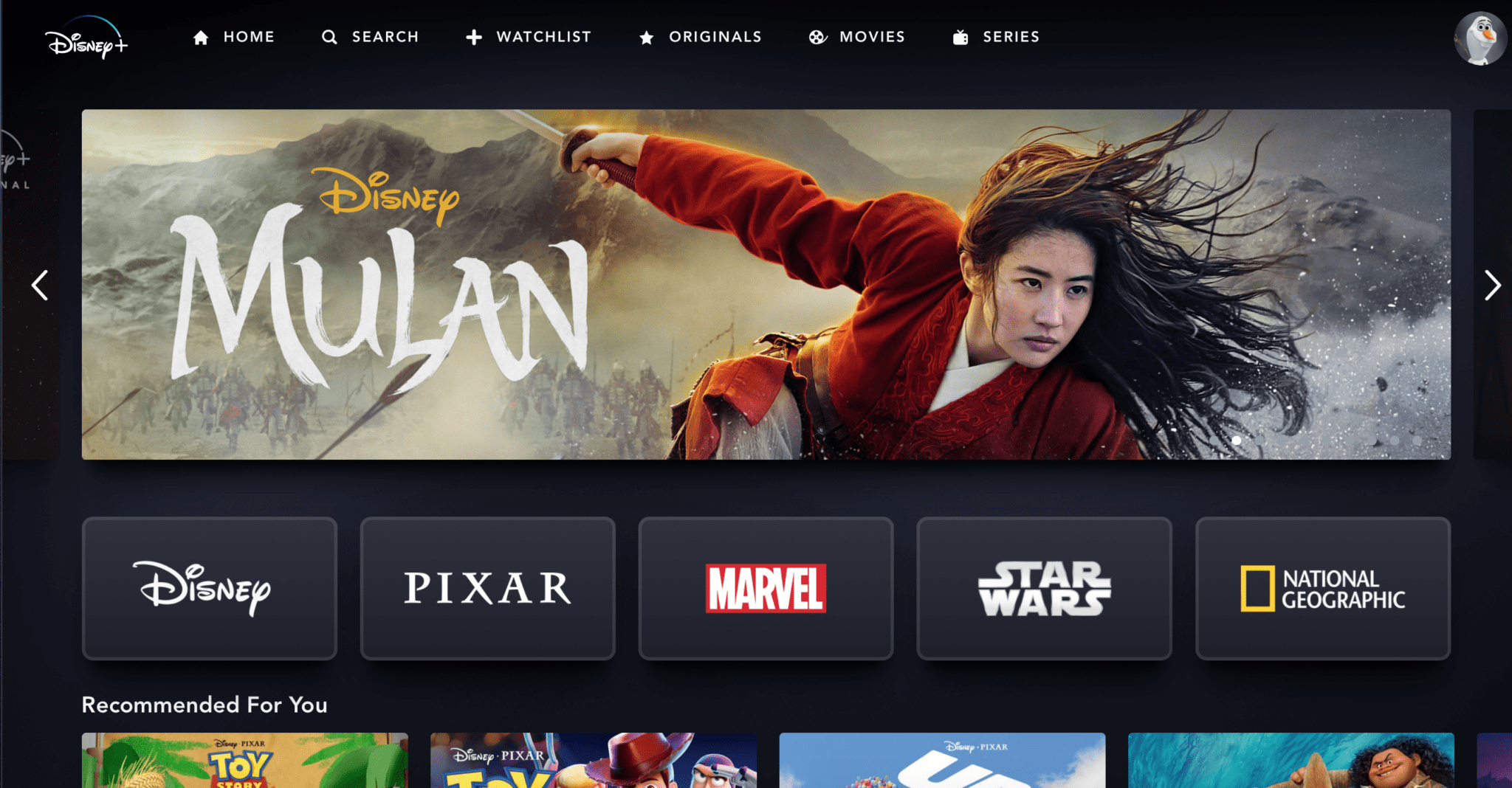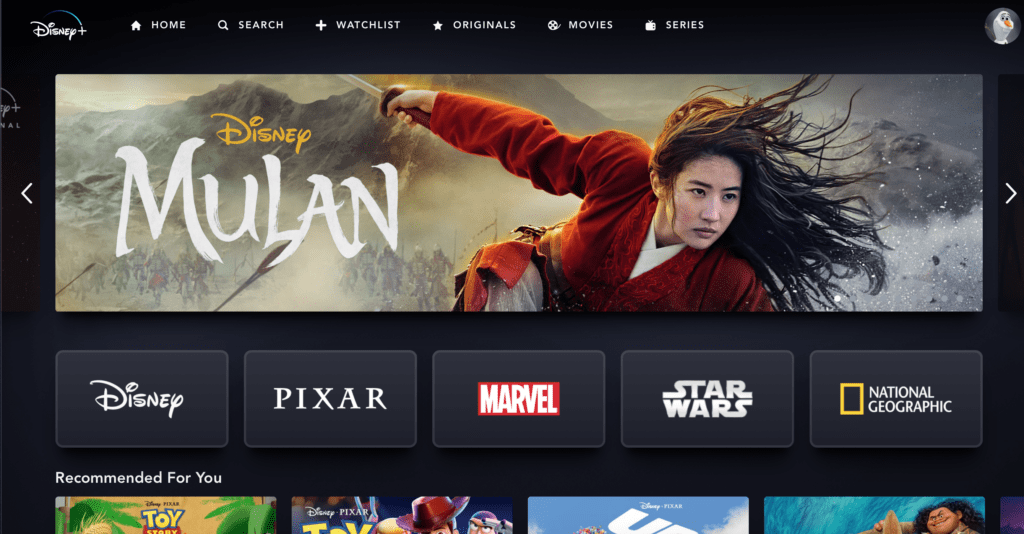 You can open up Disney+ on any of your devices:
iPhone/Android
Tablet
Computer (Mac or PC)
Apple TV
Roku
Smart TV
Samsung TV
And any other type of screen you use.
Step #2 — Choose your movie or show.
The next thing you want to do is select a film or TV show or documentary that you want to watch.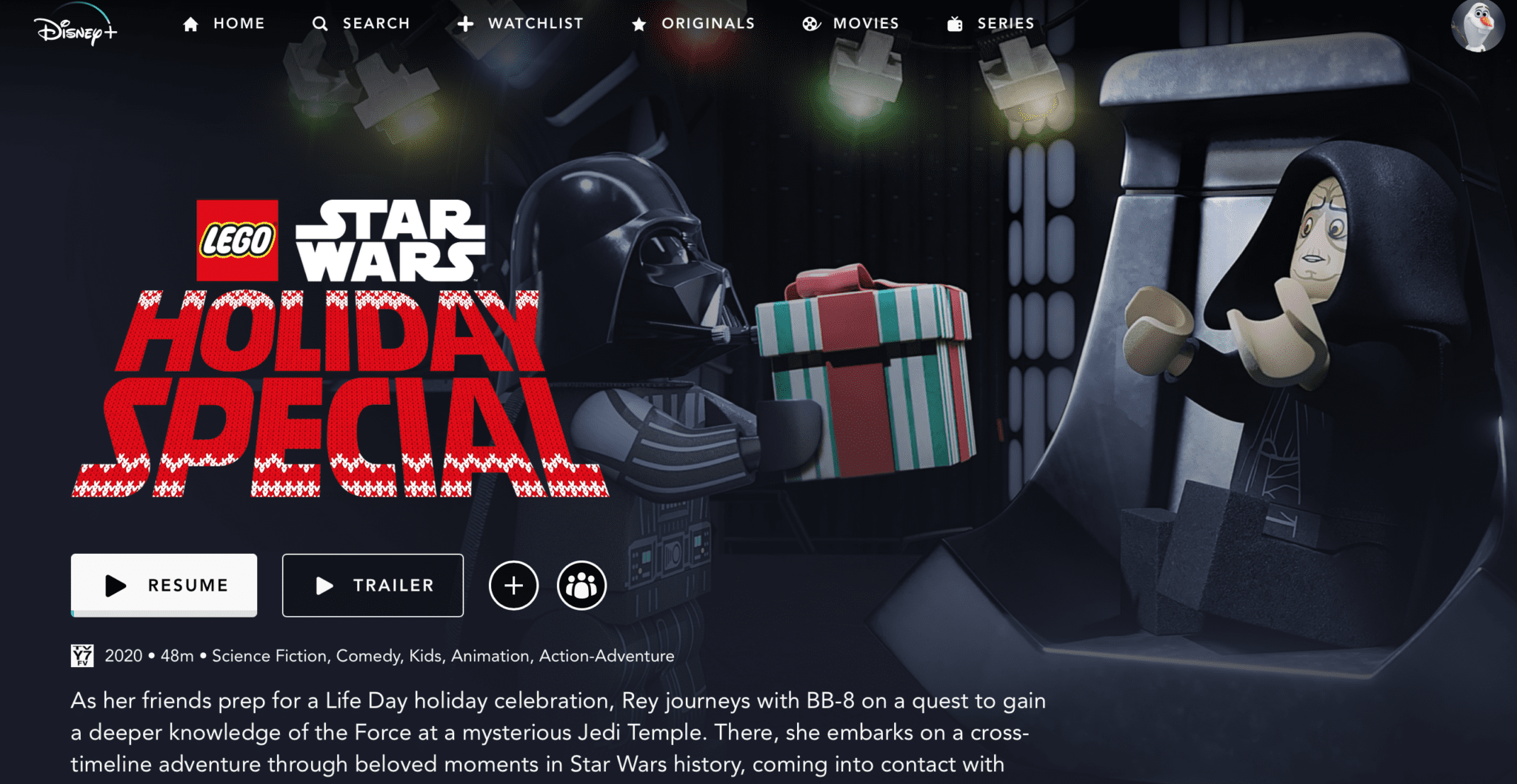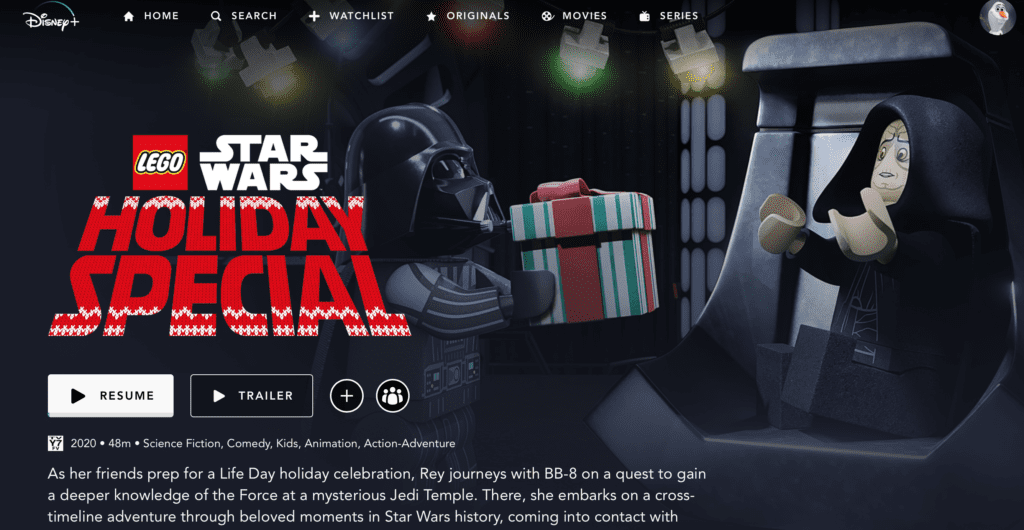 It could be anything, from Star Wars to The Lion King, or the Beyoncé visual album and Taylor Swift mini-concert. I wrote this article during the holiday months, so I chose the Star Wars Holiday Special.
Whatever you want to watch, go ahead and select it right now.
Step #3 — Pause, click settings, change language.
Finally, all you need to do is pause the movie or show that you're watching.
Click or tap on the settings icon.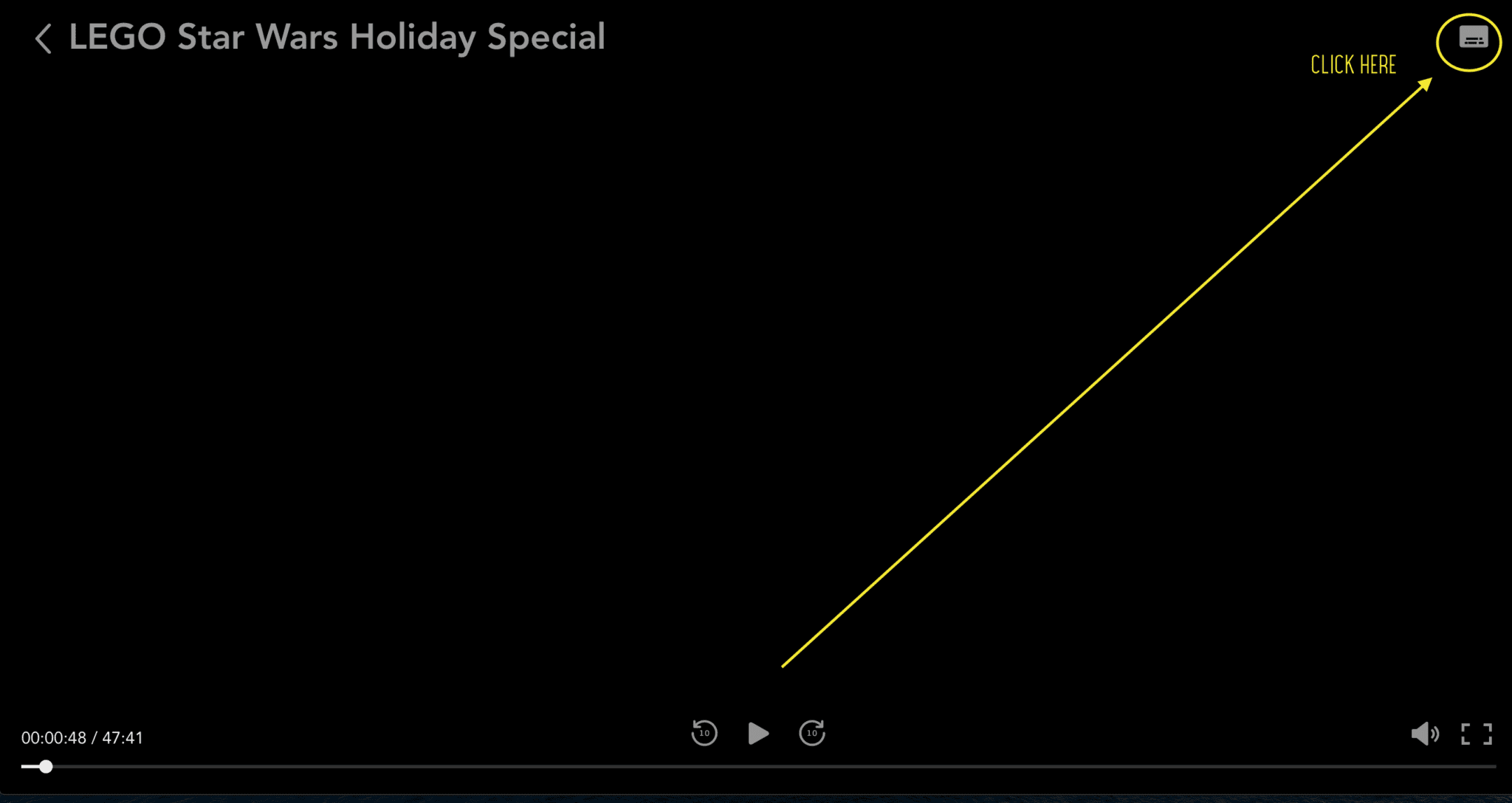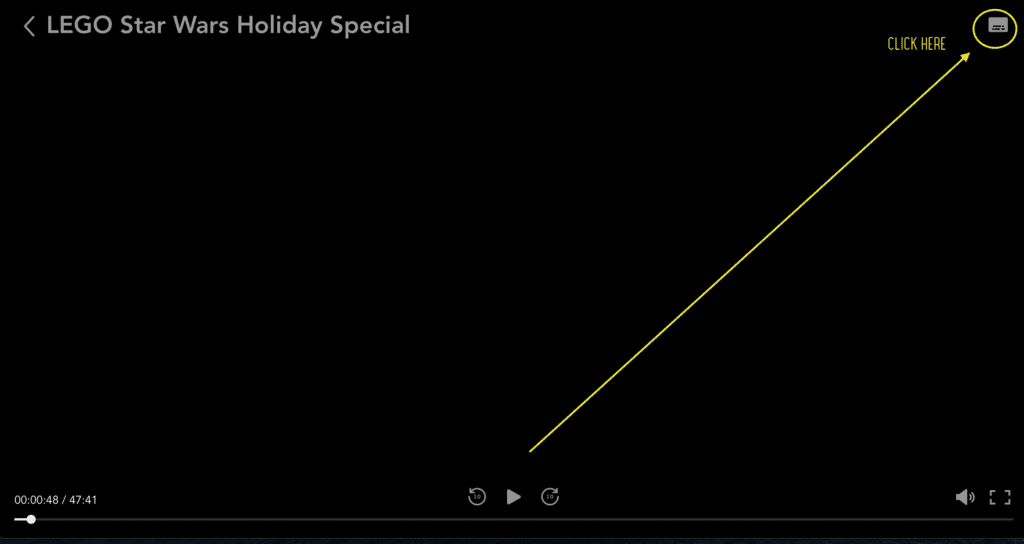 And change the language to whatever you want it to be.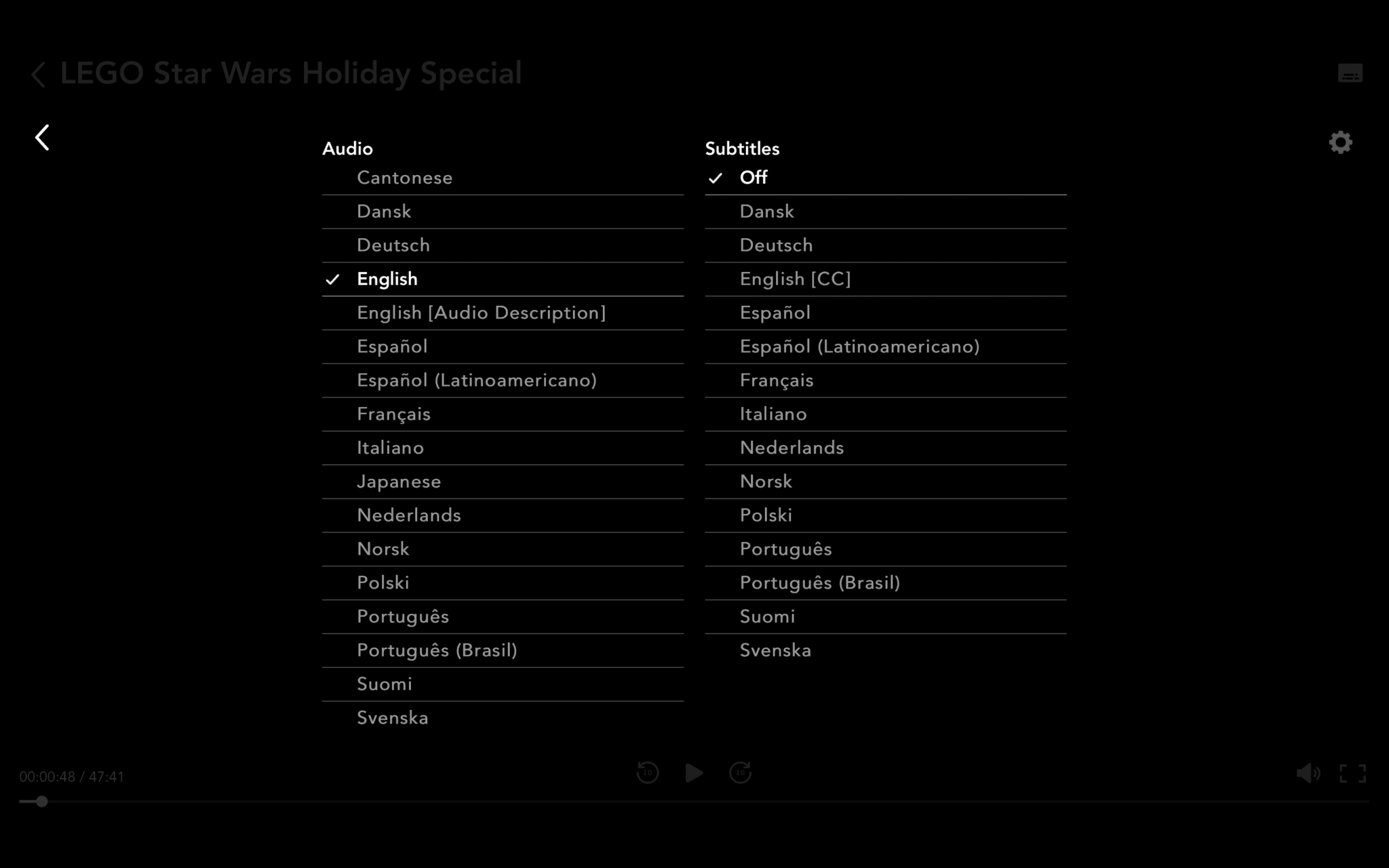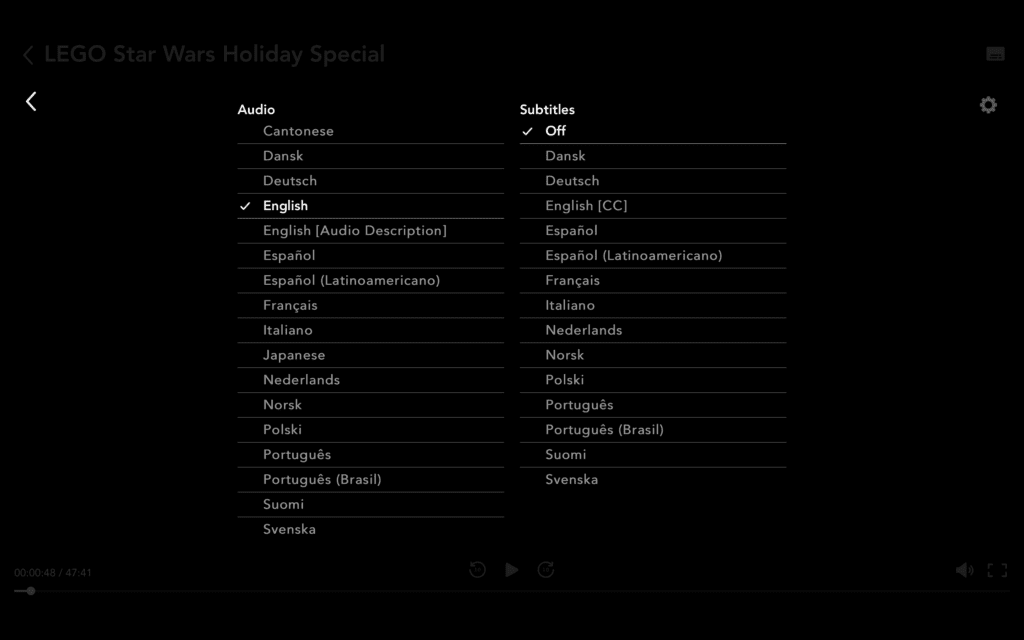 Disney Plus Language Questions
I've also seen a lot of people asking other Disney+ language questions…
So, I wanted to get as many of those answered here as I could, too.
How do I change language on Mandalorian?
One question that pops up from time to time…
Is that people want to know how to change the language on a specific show or movie.
One of the biggest TV shows out right now (maybe of all time!) is, of course, The Mandalorian.
To change the language on Mandalorian, just follow the 3 steps listed above: open Disney Plus, press play on The Mandalorian, press pause and click the settings button to change to your desired language preference.
How to change the language on Disney Plus on Roku or Fire TV?
In order to change your Disney+ language for your Roku or Fire TV…
You can actually just follow the exact same steps as listed above.
With ONE tiny change: instead of "tapping or clicking", you would just use your Roku or Fire TV remote.
How to change the language on my Disney Plus profile?
Some very similar steps are needed for changing your primary account language for your Disney+ profile.
It's in the Disney Plus Settings section under "Edit Profile".
Here's a 1 minute video to walk you through all the steps.
How to change subtitle language on Disney Plus?
Thankfully, Disney has made this one very easy for us to do.
As you may have seen above…
You can actually just follow the same 3 steps to change your subtitle language, too!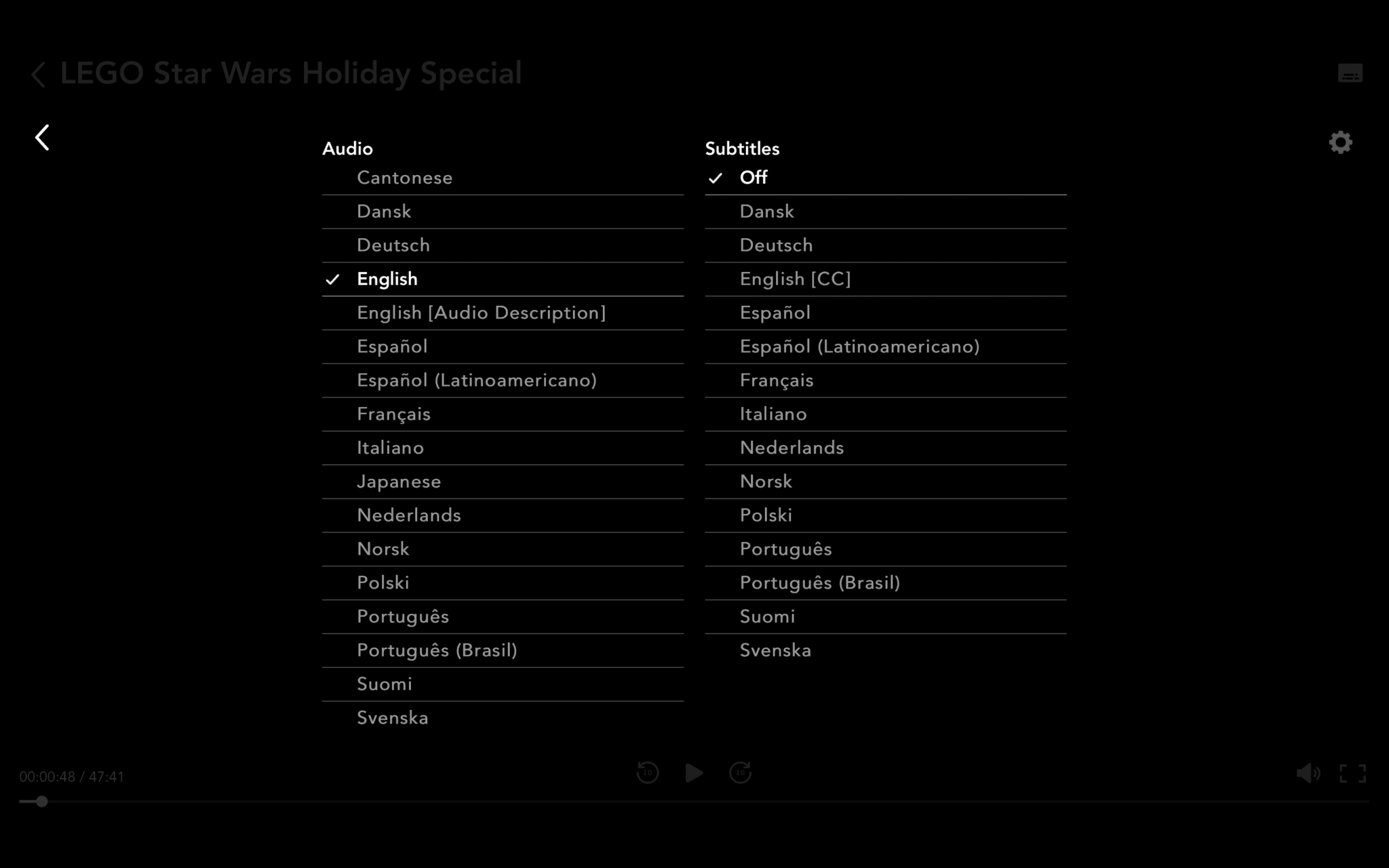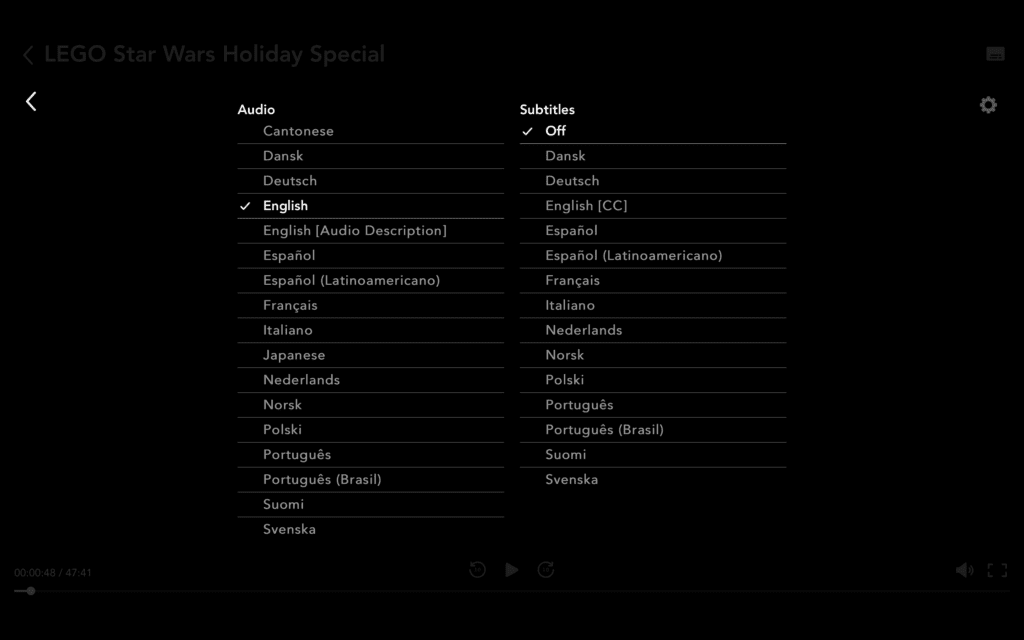 Is Coco in Spanish on Disney Plus?
One final question to answer is about specific movies, such as Coco, that already have a lot of Spanish in the movie.
People want to know if they can watch Coco in Spanish on Disney Plus, and the answer is…
YES!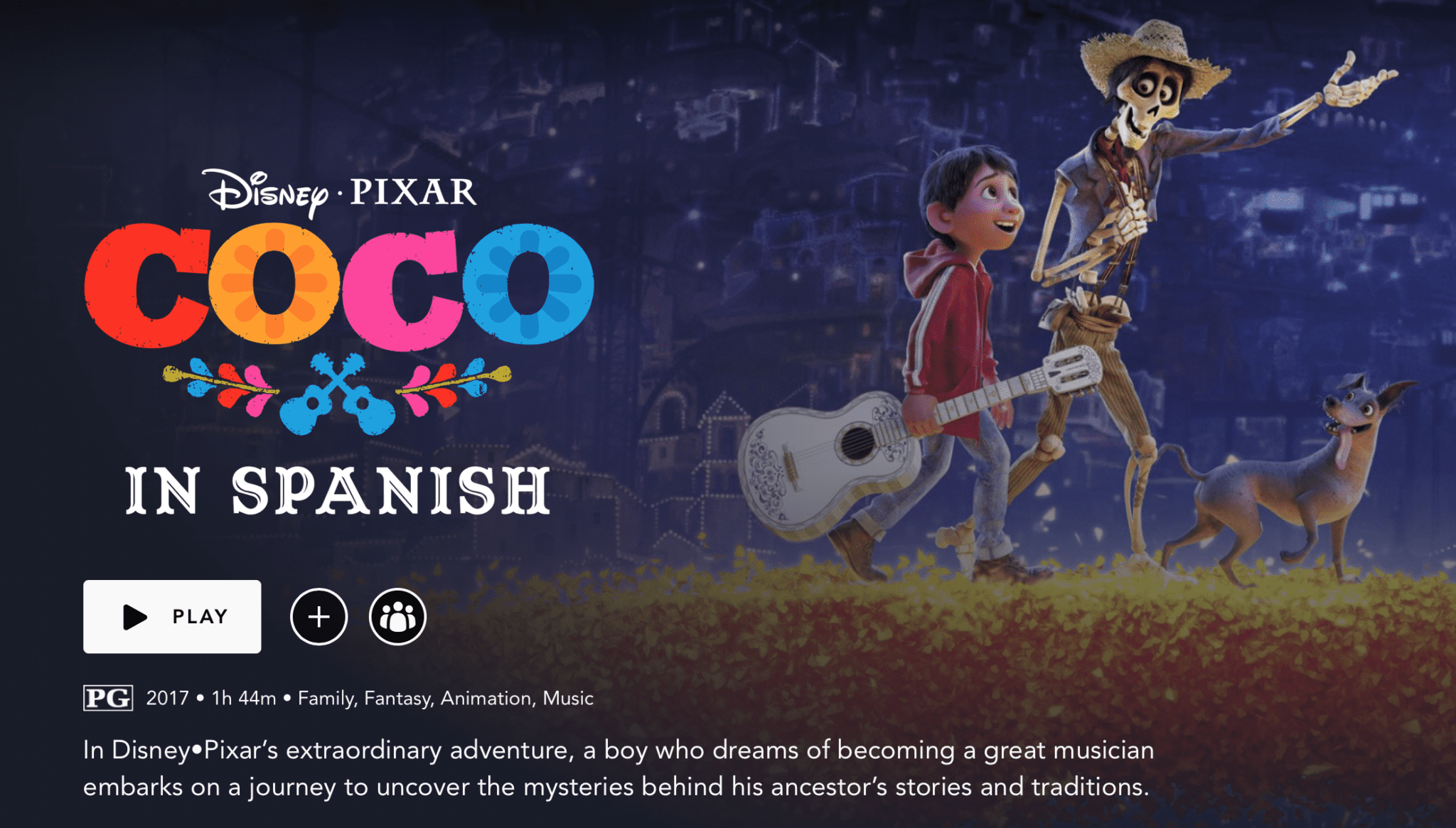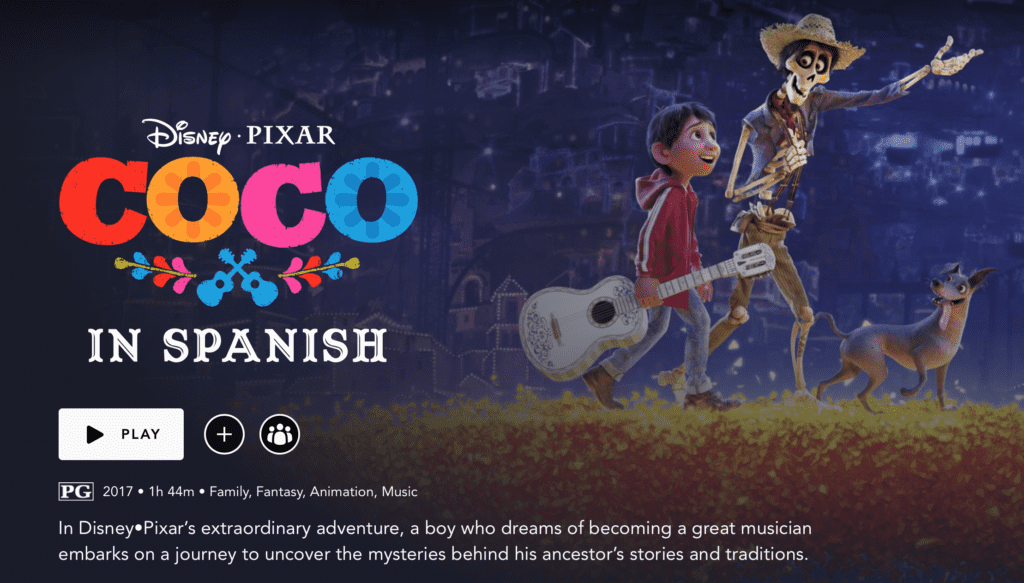 There is a Spanish version of Coco on Disney+!
Which means that you don't even have to change your language on the app to watch the move in Spanish.
Disney Plus Language Wrap Up
And there you have it, folks!
That's all you will ever really need to know about how to change language on Disney Plus.
We covered a whole whole lot! Here's some of what we went over in this Disney Plus support article:
How to change the language on Disney Plus
How to change Disney+ language on Roku
How to change Disney+ language on Fire TV
How to show subtitles and change language for Disney Plus
How to watch Mandalorian in a specific language
How to see Coco in Spanish on Disney+
And more…!
If you have any other questions about how to fix your settings, please let me know in the comments section below.
You can also always call Disney Plus support or chat with them for more assistance. Find out how and where to do that right here: How to Contact Disney Plus Customer Service Number.
Follow me on Twitter and Instagram @disfordisney_ for more great and helpful Disney articles.
Have a magical day!
Keep Reading
How to Get Disney Plus Free Trial: Sign Up Here (Full List!)
Share this post on your Facebook, Twitter, or Pinterest page with the easy share icons below.
Neal Tucker is one of the world's most engaging Disney influencers, with thousands of views and responses across his blog, podcast, and social media profiles every month.
Get started with more D Is For Disney content here
Join over 7,000+ subscribers and followers of D Is For Disney with Magic Mail. And always feel free to send Neal a message here.