Break a bit of sweat (or eat honey instead) with Winnie the Pooh's Up, Down, Touch the Ground exercise and workout song! Read on to know more about this cute and memorable tune from one of the world's most favorite and lovable bears.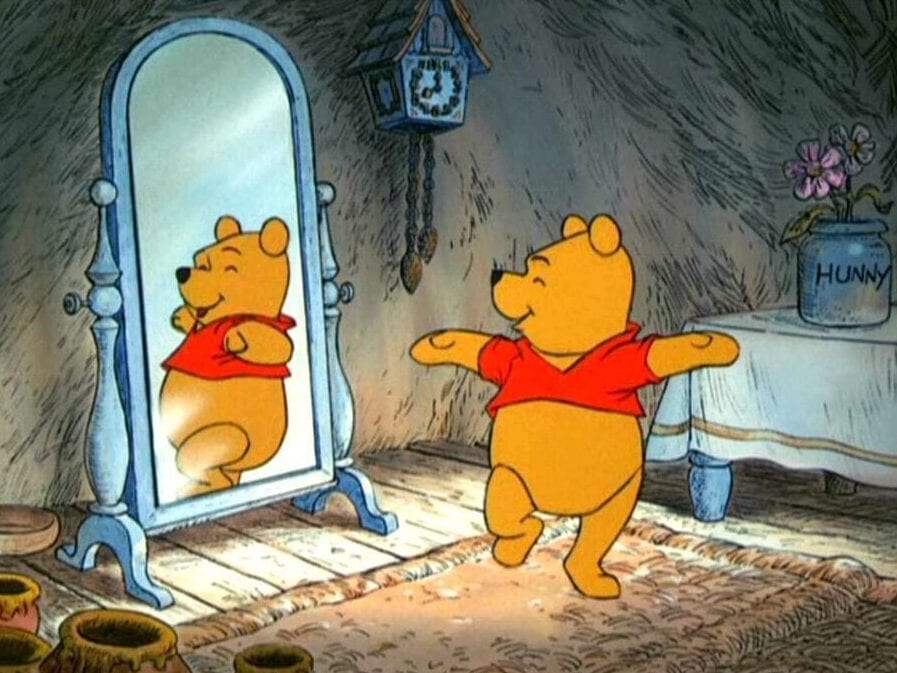 What Winnie the Pooh's Exercise Song Is About
Do you ever feel even more hungry when you think about exercise?
Well, you're not alone.
According to Winnie the Pooh, while he goes up, down, and touches the ground, he thinks of things to chew. Relatable, isn't it?
Up, Down, Touch the Ground is a song that Winnie the Pooh likes to sing while he exercises. 
But singing and dancing this workout song increases his appetite! (I can relate!)
Watch this video, and you'll see what I mean.
"Up, Down, Touch the Ground" Fun Facts & Trivia!
Alright, all joking aside, check out this fun Winnie the Pooh trivia, as it relates to the "Up, Down, Touch the Ground" exercise song.
Written by the Sherman Brothers (Richard and Robert), fans first heard of the song in the short Winnie the Pooh and the Honey Tree. And did you know that one of their most popular works is the song "It's A Small World After All"?
The song is also featured in The Many Adventures of Winnie the Pooh.
An instrumental version of Pooh's exercise song can also be heard during Piglet's introduction in Winnie the Pooh and the Blustery Day.
What's more, it's even in the VHS Disney Sing Along Songs: Heigh-Ho, and in the DVD Growing Up With Winnie the Pooh: Love & Friendship.
The beginning of the song was also briefly sung a cappella by Pooh in Christopher Robin, but he changed the "Up, down, touch the ground" into "Up, down, turn around." For those who haven't watched the film, Christopher Robin is available on Disney Plus. (And highly recommended!)
It's also included in these albums: The Sherman Brothers Songbook and Songs and Story: Winnie the Pooh and the Honey Tree.
It was performed by Sterling Holloway, the original, classic voice of Winnie the Pooh and Cheshire Cat from Alice in Wonderland, and the iconic Jim Cummings in Christopher Robin.
Thurl Ravenscroft provided the background voice in Winnie the Pooh & the Honey Tree. Fun fact: He also voiced Tony the Tiger, Kellogg's Frosted Flakes animated spokesman!
"Up, Down, Touch the Ground" Song Full Lyrics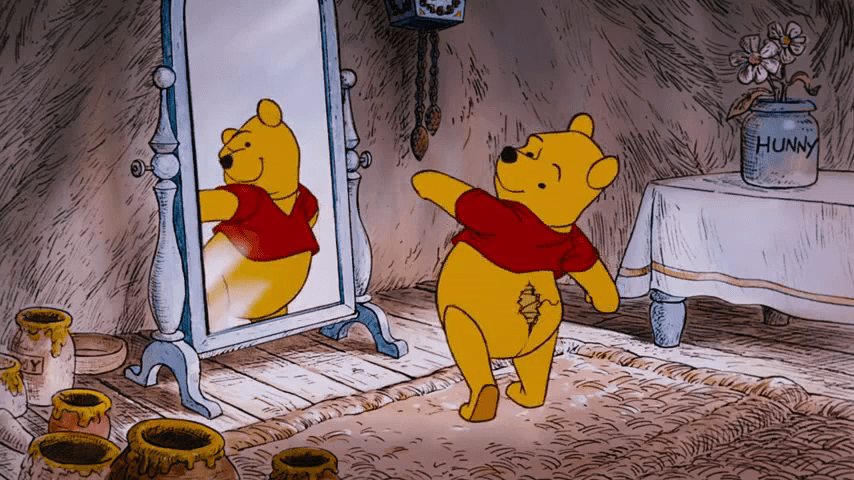 Below are the full words to the Winnie the Pooh exercise song!
Pooh: (Speaks) Up, down, up.
(Sings) When I up, down, touch the ground
It puts me in the mood
Up, down, touch the ground
In the mood (smacks lips) for food
I am stout, round and I have found
Speaking poundage-wise,
I improve my appetite
When I exercise…
(ripping sound)
(Speaks) Oh, stuff and fluff.
(ties back together again)
That's better.
(reflection in the mirror talks back)
Thank you.
Now, where was I?
(grumbling sound from his stomach)
Oh, yes, I'm rumbly in my tumbly.
Time for something sweet.
(Sings) …I am short, fat, and proud of that
And so with all my might
I up, down, up-down
To my appetite's delight
While I up, down, touch the ground
I think of things to chew
(Speaks) Mmm, like honey, milk, and chocolate.
(Sings) With a hefty-happy appetite
I'm a hefty-happy Pooh
Chorus: With a hefty-happy appetite
Thurl Ravenscroft (Background voice): He's a hefty-happy Pooh
Why The Song Is So Adorable…
Disney and Winnie the Pooh fans love this classic song because it shows how adorable he is.
Besides, it's a catchy tune that makes you want to sing in every morning to get you hyped up to do your routine, perfect before breakfast. 
It's relatable too, since most people, especially during these times, are finding it a bit challenging to work out. 
And almost everyone loves honey, milk, chocolate, or anything sweet.
What's more important is that Winnie the Pooh loves his short and plump body, and he's proud of it. Talk about body positivity!
The song is all about self-love. The lyrics imply a deeper meaning, teaching kids (and adults too) to love their bodies even though they're maybe short and a bit round.
Hats off to you for loving yourself, Winnie the Pooh!
Have a honey-filled day!
Keep Reading
Winnie the Pooh: Backson Song, Summary, & Sweet Stuff
Share this post on your Facebook, Twitter, or Pinterest page with the easy share icons below.
Neal Tucker is one of the world's most engaging Disney influencers, with thousands of views and responses across his blog, podcast, and social media profiles every month.
Get started with more D Is For Disney content here
Join over 7,000+ subscribers and followers of D Is For Disney with Magic Mail. And always feel free to send Neal a message here.