Another remake is upon us, and it looks delightful: the Turner and Hooch TV show series is now available to stream and watch on Disney Plus. For fans of the original, you're in luck! Judging by the promotional images, Disney is trying to really channel the Tom Hanks movie with this series. Find out everything you need to know about this brand new version of Turner & Hooch on Disney+ right here.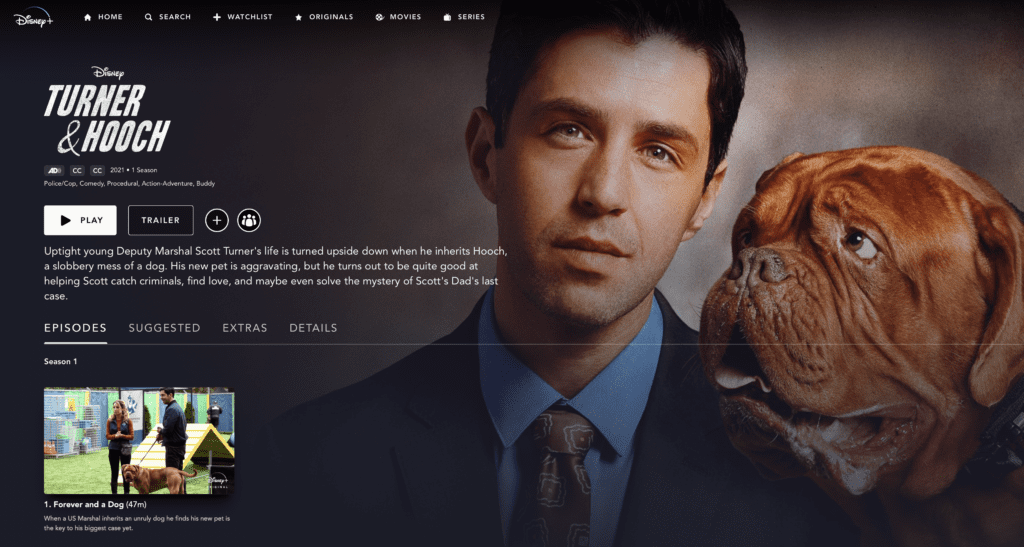 Turner and Hooch on Disney Plus: Plot and Cast
One thing to know right away: this new version of Turner & Hooch is a TV show, but the original was a movie.
In other words, if you're looking for the "original TV show", you won't find it, because the Tom Hanks version from 1989 was a movie, not a series. That being said, you can watch both the new show and the original film on Disney+ with your subscription!
With that out of the way, let's take a look at the plot of the new TV show.
According to the official series description on Disney Plus…
"Uptight young Deputy Marshal Scott Turner's life is turned upside down when he inherits Hooch, a slobbery mess of a dog. His new pet is aggravating, but he turns out to be quite good at helping Scott catch criminals, find love, and maybe solve the mystery of Scott's Dad's last case."

Turner & Hooch on Disney Plus
The main (human) character, Scott Turner, is played by actor Josh Peck. Disney Plus has cast the main (canine) character, Hooch, by a team of five different dogs.
As Rolling Stone writes:
"Five different French mastiffs play the new Hooch, and they are all as disgustingly adorable as required."

Rolling Stone Magazine
Disgustingly adorable is right! They slobber everywhere, but they're also too cute not to just love with your whole heart. I mean… c'mon. Look at that sweet face!
In addition to Josh Peck and the five French mastiffs, the other main recurring characters in all 12 episodes include David Sutton (Reginald VelJohnson of Family Matters and Die Hard fame) and Grady Garland (played by Paul Campbell).
The characters Brooke (Becca Tobin) and Trent Havelock (Matt Hamilton) both appear in at least half of the first season's twelve episodes.
Turner & Hooch Release Schedule on Disney+
There are two main ways that new TV shows are released these days: "bingeable" style, where all episodes come out at once; and "weekly" style, where new episodes come out each week at a pre-determined, specified time.
Turner & Hooch on Disney Plus is coming out in the "weekly" format, one episode at a time.
This means that Episode 1 came out first, then a week later Episode 2 will show up in the Disney+ app, and so on and so forth, until all 12 episodes of Season 1 are available to stream and watch on Disney Plus.
How do you watch Turner and Hooch on Disney Plus? Just open your Disney+ app on your favorite device and click the Turner & Hooch image, then press play! That's all there is to it.
Have a magical day!
Keep Reading
Is Space Jam on Disney Plus? Here's the Answer!
Share this post on your Facebook, Twitter, or Pinterest page with the easy share icons below.
Neal Tucker is one of the world's most engaging Disney influencers, with thousands of views and responses across his blog, podcast, and social media profiles every month.
Get started with more D Is For Disney content here