Since Disney owns ESPN, this is a topic that has a lot of crossover between fans of both. If that's you, then you might wonder how to activate your ESPN account on your particular streaming device. You may be asking, "How do I activate ESPN+ on my TV?" Or, "How do I activate ESPN on my Fire Stick?" In other words, if you want to know how to use ESPN.com/activate, then you're in the right place. Find out everything you need to know for activating your ESPN easily and quickly, without any stress. Plus, you can learn how to use ESPN+ in just 2 easy to follow steps. A Disney Plus (Disney+), Hulu, or Disney Bundle subscription is NOT required. OK, let's get started!

ESPN.com/Activate
If you're trying to activate ESPN+ with your account online and having a bit of trouble, you are definitely not alone.
Plenty of people experience technical difficulties along the way with ESPN.com/activate (just like any other sign-up process!), because it can be a little tricky if you've never done it before!
But…
Never fear! 🤓
Thankfully, there's a quick and easy solution to this particular issue.
Simply follow along with the pictures and instructions right here on DIFD.
---
STEP #1 — Sign in to ESPN on your device.
No matter what type of device you're using, you should be able to follow this step.
Note: You can use any of the following devices…
Apple TV
ROKU
Samsung Smart TV
iPhone, Android
And many more…
Once you sign in, you should see one of 2 options:
1. "Activate Live TV" or 2. "TV Provider"
For most devices, this is located in Settings. (Look for this type of gear icon: ⚙.)
Here's a screenshot of what the iPhone version looks like: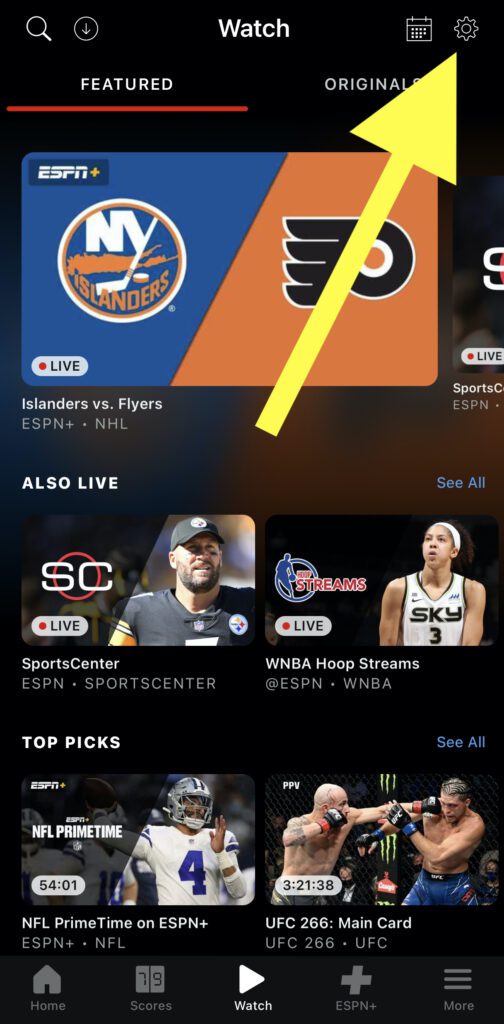 Tap or click on the one that you see, either Activate Live TV or TV Provider.
NOTE: If you see TV Provider, then you can simply sign in with your cable account. For example, if you have Spectrum Cable, then you would select Spectrum, and just sign-in with that login username and password.
---
STEP #2 — Go to ESPN.com/Activate and enter code.
Next, go to this website:
www.espn.com/activate OR es.pn/activate OR espn.go.com/watchespn/activate
(All 3 links go to the same site. If one isn't working for you, simply try a different one.)
Once you're there…
You will be able to get your specific code to use on your specific device. You may need to sign-in on that page as well.
With this in mind, a lot of people ask one big question:
"Where do I enter my ESPN activation code?"
Here's the answer…
First, look for this screen below, which is what it looks like for most users on a computer.

Second, this is also where you'll enter your ESPN or ESPN+ activation code.
And that's it!
Let me know if you need more help on social media @disfordisney_.
Have a magical day!
Bookmark This Page
Share this post on your Facebook, Twitter, or Pinterest page with the easy share icons below.
Neal Tucker is one of the world's most engaging Disney influencers, with thousands of views and responses across his blog, podcast, and social media profiles every month.
Get started with more D Is For Disney content here