Star Wars fans can rejoice once again, as Disney has just announced that a follow-up series to The Mandalorian called The Book of Boba Fett will come out on the Disney+ streaming platform. If you're asking, "When does The Book of Boba Fett come out on Disney Plus?" or "Who is the director of The Book of Boba Fett?", then you're in the right place! Here is everything you need to know about this brand new Star Wars series, including the story and plot, the director and actors, and even see the all-new The Book of Boba Fett poster.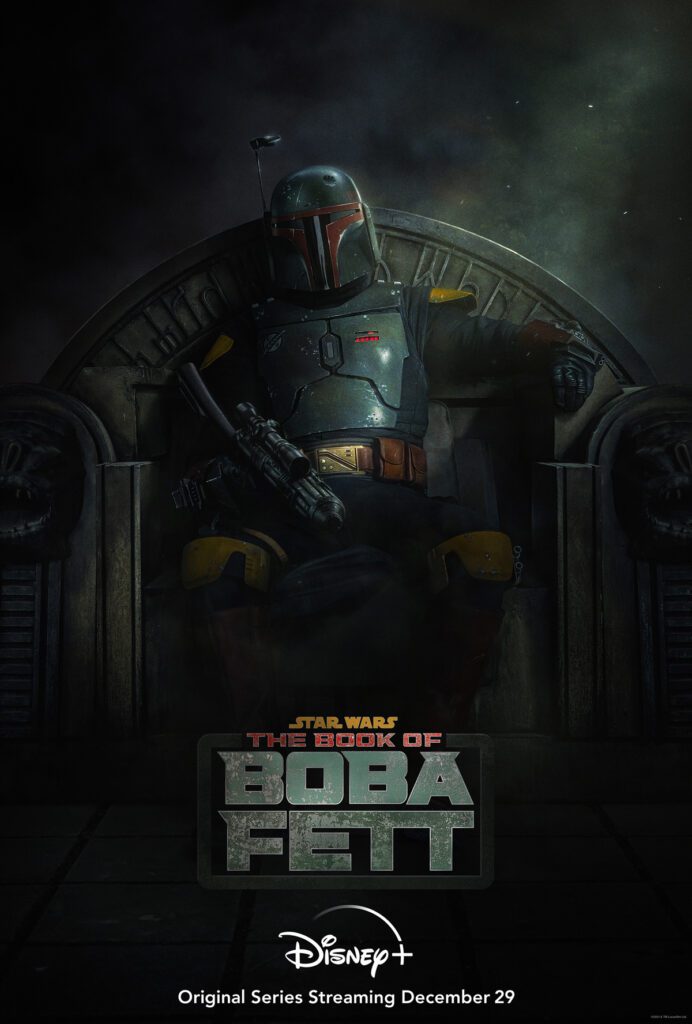 When Is The Book of Boba Fett Coming Out?
There is never a shortage of insanely awesome Disney+ content.
And Disney Plus just announced even more!
Star Wars and Mandalorian fans will get to stream The Book of Boba Fett, an exciting new show from Disney and Lucasfilm.
You may remember that the new TV series was actually teased in a sort of surprise end-credits bit after The Mandalorian Season 2 finale.
If you missed it, you can see it by tapping on the video below. It should start right at the point where the teaser begins…
Well, guess what? Disney Plus announced the the premiere will be coming this Holiday Season in 2021!
Talk about a great Christmas present… I'll take a Star Wars gift any day of the week. 💫
But they went either further.
We know exactly when and where it's coming out!
So…
When is The Book of Boba Fett coming out on Disney Plus? The Book of Boba Fett will premiere exclusively on Disney+ on Wednesday, December 29, 2021.
In other words…
What about the trailer? We can probably expect a teaser or full trailer for this new series on Disney Plus Day 2021, but nobody knows for sure quite yet.
What Is the Plot of The Book of Boba Fett?
Naturally, Star Wars fans also want to know what this new series is actually going to be about.
It will obviously follow Boba Fett, one of the galaxy's most notorious bounty hunters, as seen in the original Star Wars trilogy, as well as in The Mandalorian series, and countless other Lucasfilm stories on page and screen.
Here's how StarWars.com puts it:
A thrilling Star Wars adventure, finds legendary bounty hunter Boba Fett and mercenary Fennec Shand navigating the galaxy's underworld when they return to the sands of Tatooine to stake their claim on the territory once ruled by Jabba the Hutt and his crime syndicate."

Star Wars
Honestly, that sounds awesome…
Boba Fett is such an epic character, and I can't wait to see his story told in more detail in a standalone series on Disney+.
Here's a YouTuber giving their account of what else we might expect from the new show:
The Book of Boba Fett: Director and Actors
Lastly, let's take a look at the stars of the show!
Disney has announced the creative team behind this new series as well. There are a lot of familiar names, and some new ones as well.
Check out the full, official lineup announced from Star Wars right here:
"The Book of Boba Fett stars Temuera Morrison and Ming-Na Wen. Jon Favreau, Dave Filoni, Robert Rodriguez, Kathleen Kennedy, and Colin Wilson are the executive producers. Karen Gilchrist and Carrie Beck serve as co-executive producers, with John Bartnicki producing and John Hampian as co-producer."

Star Wars
Have a galactic adventure of a day!
You Need to See This Next
Share this post on your Facebook, Twitter, or Pinterest page with the easy share icons below.
Neal Tucker is one of the world's most engaging Disney influencers, with thousands of views and responses across his blog, podcast, and social media profiles every month.
Get started with more D Is For Disney content here