When will Disneyland reopen to the public? It's a question we've all been asking ourselves. Whether about Disneyland or Walt Disney World or one of the other theme parks around the country. Well, now one of those questions finally has an answer: Shanghai Disneyland will reopen to the public on May 11, 2020.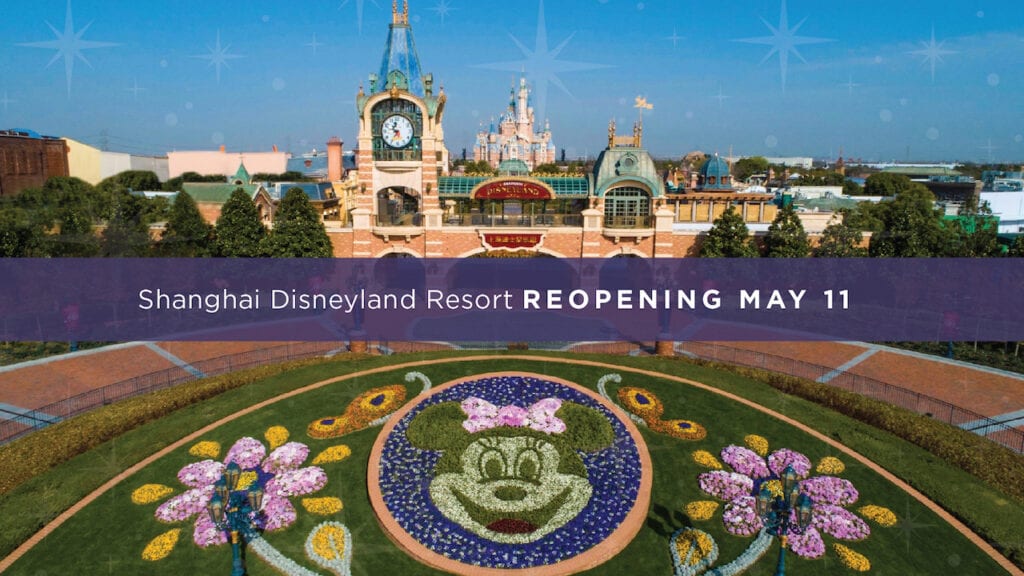 With this news, Disney fans all over the world rejoiced. We finally have an answer and at least a little bit of hope for our own Disney theme parks here in the US.
While the United States still has a ways to go before we can fully reopen the economy, we have a lot to look forward to and a little glimmer of hope on the horizon with this new announcement from The Walt Disney Company.
Why Is Shanghai Disneyland Reopening?
It's a valid question to wonder, "Why is Shanghai Disneyland reopening when our parks aren't?" It all comes down to one thing: the progress that individual countries have made over the global pandemic.
Considering that China experienced the virus first, it makes sense that they might become the first country to overcome it enough to reopen some parts of the country's economy. That includes things like theme park attractions.
Has Disney Made an Official Announcement?
Yes, they have.
Thankfully, we have a pretty good amount of information on the reopening procedure. Their statement also gives us insight on Disney's thinking about the situation as a whole.
Here is what the official Shanghai Disneyland Resort website says about the reopening:
Shanghai Disneyland theme park will officially reopen to the public on May 11, 2020. The initial park reopening will demonstrate a deliberate approach, drawing on the experience from the successful reopening of Disneytown, Wishing Star Park and Shanghai Disneyland Hotel in early March, and implement enhanced health and safety measures.

During this initial reopening phase, the park will institute new measures and procedures, including opening with limited attendance and required advanced ticketing and reservations, accommodating social distancing in queues, restaurants, ride vehicles and other facilities throughout the park, and implementing increased frequency of sanitization and disinfection.

Ticket sales will be available via the resort's official online channels and official travel partners' channels beginning on May 8 at 8:00 a.m., with a limited number of tickets available each day during the initial reopening. Guests are required to purchase dated admission tickets prior to their arrival, and Annual Pass holders must make a reservation for their visit date and time through the resort's official online channels before their visit to the park. During this "Advanced Reservation Period," General Admission tickets for Shanghai Disneyland will not be accepted.

[Source: Shanghai Disneyland Resort]
Shanghai Disneyland Reopens, So What About the Others?
Many people have begun to wonder… Does the reopening of one of Disney's theme parks around the world bode well for the United States, Paris, and others?
I wonder the same thing. And the truth is this: we simply don't know yet. We don't quite have enough information to form a solid opinion on when this will happen.
That being said, however, we did get a message from Disney Parks Chief Medical Officer. Her name is Dr. Pam Hymel.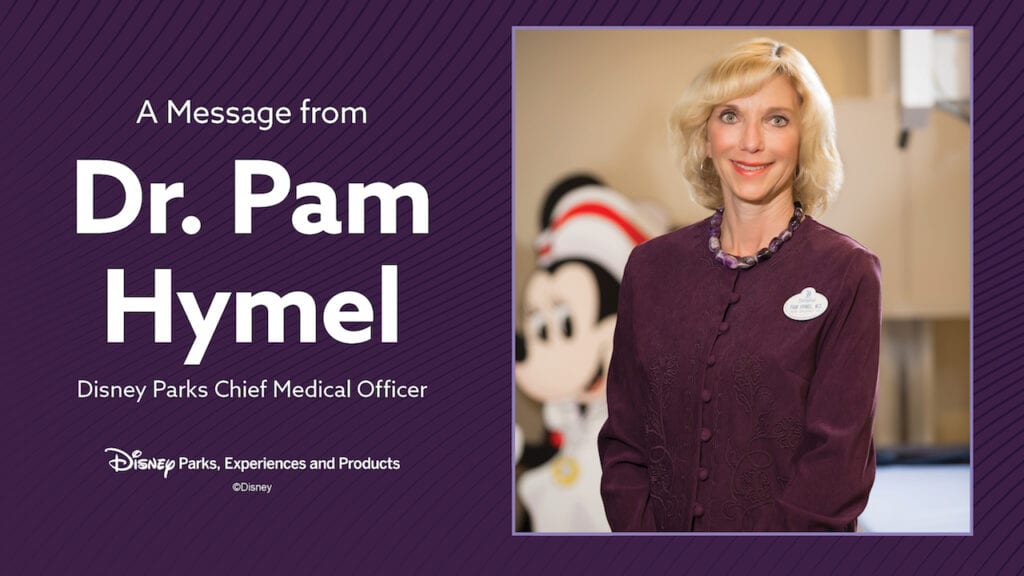 She wrote an open letter to all of us – the Disney fanbase family – about the state of things. Her letter provides some much-needed insight into how the United States Disney theme parks (Disneyland and Walt Disney World) might look when they reopen to the public.
Dr. Hymel includes several key ideas to consider. See her main points below with full quotations from her letter.
Phased Reopening

– "We're looking at all of our locations and how best to begin the reopening process, including a gradual reopening and/or partial reopening of certain locations. For example, the opening of retail and dining locations prior to the opening of our theme parks."

Physical Distancing and Capacity Measures

– "As you can imagine, managing guest density in queues, restaurants, hotels, ride vehicles and other facilities throughout the park and across the resort is a major focus, as we implement physical distancing guidelines based on guidance from health authorities, such as the Centers for Disease Control and Prevention (CDC) and appropriate government agencies. This will likely include implementation of guest capacity measures to comply with state and federal guidelines. We're also exploring ways to use technology to aid us in these efforts, like with our Play Disney Parks App and through virtual queues at Disneyland and Walt Disney World."

Cleanliness and Sanitization

– "We're planning increased cleaning and disinfection, determining where that should take place (for example, in high-traffic areas), and the cleaning products and processes we'll use."

Screening and Prevention Support

– "We'll follow guidance from the government and the medical community regarding enhanced screening procedures and prevention measures, including those related to personal protective equipment (PPE), such as face coverings. Some measures, like adding hand sanitizers and hand washing stations across our resorts, have already been implemented."
Cast Training – "We're further emphasizing our strong culture of health and safety amongst our cast members, and will continue to provide new training and reinforcement as we get closer to reopening."
Disney has brought up each of these points before. But now, we're hearing from their Chief Medical Officer about how these might affect Disneyland (DL) and Walt Disney World (WDW).
If you want to read the whole letter, you can view it on the Disney Parks Blog here.
So, What Now?
If you're like me, you probably started looking up the price of Shanghai flights as soon as you heard the news. The good news for us, of course, is that we may not have to go quite that far to reach our beloved Disney parks in the not-too-distant future.
While we don't know for sure when Disneyland or Walt Disney World will reopen, I think that Shanghai Disney's reopening should give us all a lot of hope. We're not out of the woods yet, but, sure and steady, we're all getting there together.
If you're missing the parks and need some fun stuff to do, check out these free Disney coloring pages or the 8 Disney coloring books for adults that you can't miss.
Share this post on your Facebook, Twitter, or Pinterest page with the easy share icons below.
Neal Tucker is one of the world's most engaging Disney influencers, with thousands of views and responses across his blog, podcast, and social media profiles every month.
Get started with more D Is For Disney content here