Disney lovers are curious about the underground city in Walt Disney World called the Disney Utilidor, and we're here to uncover their secrets!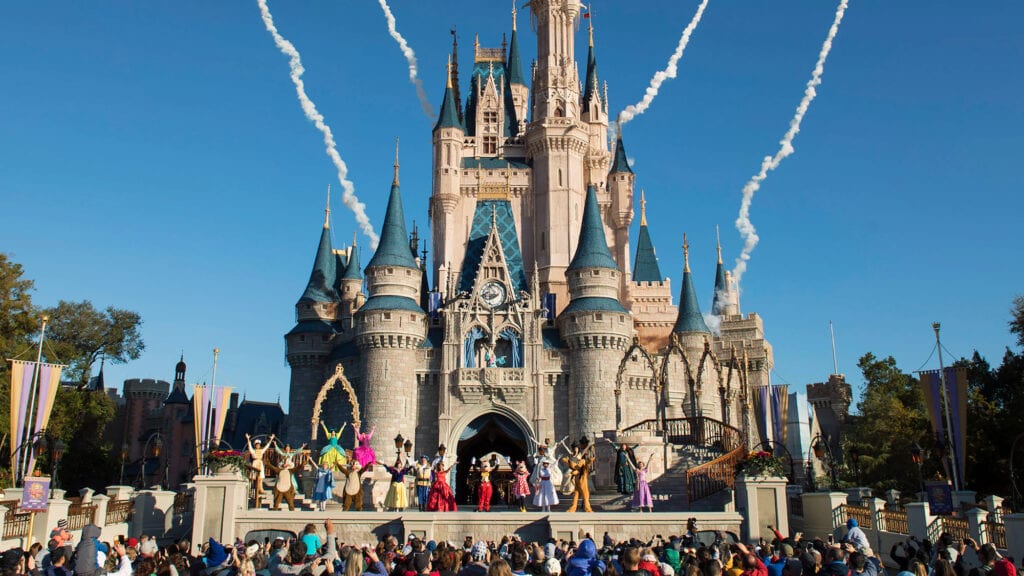 If you're a huge Disney fan, you have probably heard about the not-so-secret underground world right beneath Walt Disney World's Magic Kingdom which is known as the Disney Utilidor.
It's an interesting Disney theme park secret so it's no surprise that people are itching to know more about it.
Is there really an underground Disney? What's happening underneath Disney World? Together let's do a little "digging" to unearth some of the hidden secrets of Disney World's underground utilidor tunnels.
What Is the Disney Utilidor?
The Disney Utilidor is an underground utility system used in Disney theme parks to make operations faster and easier.
Fun fact: Did you know that utilidor stands for utility corridor? Utilidors are literally utility corridors for easier access.
Disney uses this utility system in Walt Disney World in Orlando, Florida and Disneyland in Anaheim, California. However, it is particularly prominent in the Magic Kingdom of Walt Disney World. Disneyland in California only has a small tunnel system in Tomorrowland.
The Disney Utilidor serves as an all-access for Disney theme park employees or "cast members" as they are known. It is part of Disney theme parks' backstage or behind-the-scenes area.
15 Amazing Secrets About Walt Disney World's Utilidor
The Disney Utilidor holds a lot of secrets about the happiest place on earth. We have listed 15 things that you should know as a Disney fan.
Spoiler: Secret No. 3 will shock you the most!
Secret No. 1: The Disney Utilidor connects the different lands of the Magic Kingdom.
Disney's utilidor system is shaped like a circle that links Adventureland, Fantasyland, Liberty Square, Main Street U.S.A, and Tomorrowland.
This tunnel system is huge as it sits on nine acres of land. Its floor plan includes a circle with a path down the middle.
Because it connects different parts of Magic Kingdom, cast members can go from one point to another without being spotted. Thanks to the Disney Utilidor, you can't find a futuristic character in Fantasyland.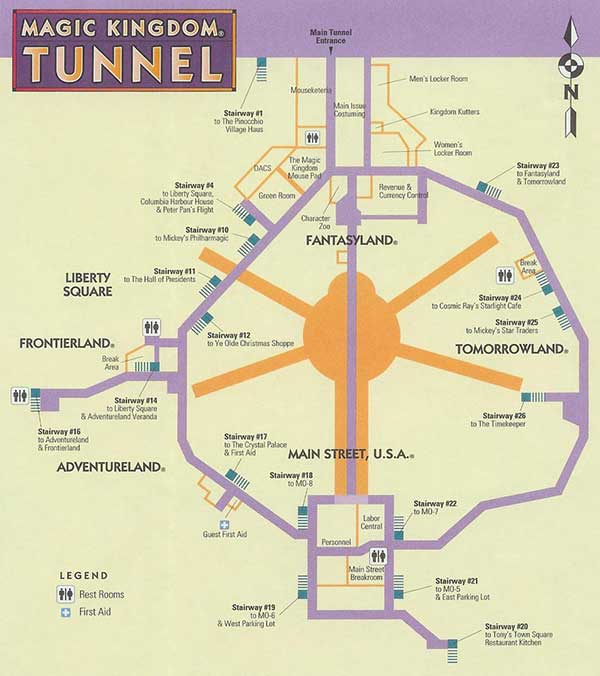 Secret No. 2: It was built because of a cowboy.
It may sound funny but it's the truth that Disney cast members believe in. Urban legend says the tunnel system came to be because of a cowboy. This happened years before Walt Disney World existed.
Disney founder Walt Disney was in Disneyland in Anaheim when he came across a cast member dressed as a cowboy. While you may think this is nothing new, it is where he saw the cowboy that actually mattered.
It was in Tomorrowland. He spotted the cowboy walking from Tomorrowland to Frontierland where he belongs. The sight of a cowboy in a futuristic land bothered Walt Disney.
Fearing that an out-of-place character may ruin the experience for park goers, especially children, he and his team came up with a utility system where cast members can move freely and out of sight. Thus, the Disney Utilidor.
Disneyland was small, though, so implementing such a system was not easy. Instead, they incorporated the Disney Utilidor when they prepared the blueprint for Walt DIsney World in Florida.
Secret No. 3: The utility system is not underground.
Yes, the Disney Utilidor system is found beneath Magic Kingdom, but it technically isn't underground.
Contrary to what most people think, the Disney Utilidor is not a basement. Rather, it is at ground level. How is this so?
Because of Florida's water table, excavating and building the tunnel underground would be a challenging task. The magic makers at Disney came up with an alternative – to build the tunnel system in ground level and then build Magic Kingdom above it.
Theme park goers see streets and attractions at ground level but the reality is, most, if not all, of these attractions are a level higher. In fact, some areas in Fantasyland such as Cinderella's Castle where the Bibbidi Bobbidi Boutique sits on are at the third-storey level.
Disney made sure that road inclination was so smooth you won't even notice that you're going up.
On your next visit to Walt Disney World, try to notice the difference…
Secret No. 4: Doors that lead to the tunnels are hidden in plain sight.
You may have wondered why you haven't seen doors that would lead to these tunnels. Chances are, you may already have come near one.
Disney incorporated the entrance and exit points of the Disney Utilidor into the design and structure of the place. Doors are in guest-accessible areas but may not be easily spotted because these are well-hidden.
Who knows? The wall that may look uninteresting may lead to the fascinating world beneath your feet!
Disney cast members know these in-and-outs like the back of their hand. They typically access the Disney Utilidor through a main tunnel entrance behind Fantasyland. However there are a number of unmarked doors around Magic Kingdom. Some are even located in shops and restaurants.
To be exact, you can find 29 access points from the Disney Utilidor to the outside world in Magic Kingdom.
Secret No. 5: Walls in the Disney Utilidor are color-coded.
When you're in a tunnel with nothing else in sight, finding your way might be troublesome. It may seem like an endless maze of hallways.
To make it easy and simple for cast members to know where they are and which route to take, Disney painted the tunnel walls in different colors.
Based on the area and attraction, Disney made the walls color-coded so cast members can easily know their location. They assigned one color per area. With this, cast members won't get lost, proworse, be late to their assigned tasks.
Secret No. 6: Walt Disney World's brain is in the Disney Utilidor.
What do we mean when we say Walt Disney World's brain? Just like the human body, the theme park has a brain that controls all its movements. This brain or command center is in none other than the Disney Utilidor.
An area as big as Walt Disney World needs a monitoring system to ensure that everything is in place. Disney uses the Digital Animation Control Systems or DACS which they operate and monitor in control rooms in the utility system.
DACS monitors all of the important things in the park such as the sound systems, audio-animatronic figures, parades, fire prevention measures, and even security systems in cash registers.
The monitoring team in the Disney Utilidors sees to it that all operations are running smoothly so we can all have the best Disney experience ever.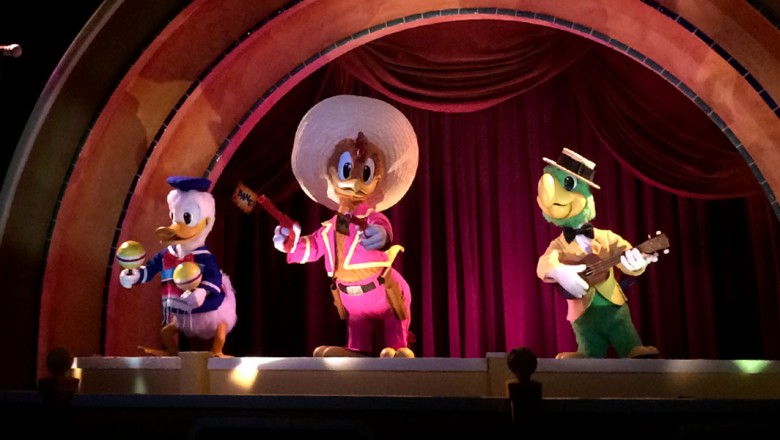 Secret No. 7: Your trash goes through the Utilidor system.
Ever wondered where your trash goes after you dispose of it? There are no garbage trucks in sight and trash bins never overflow. Is this magic? How does Disney get rid of all the waste?
The answer is simple: the Disney Utilidor.
The Magic Kingdom has an automated vacuum collection system called AVAC to make waste disposal processes smooth. After park caretakers collect trash and litters, they dump their collection into the AVAC processors scattered around the park.
The waste travels through pipes that are installed on the ceilings of the Disney Utilidor tunnels. The crew then take it to an area where it is processed before it is brought to a landfill or recycling plant.
Disney adapted this waste disposal system so guests won't see garbage trucks going in and out and trash won't overflow. Also, they recycles their trash so that's a big plus.
Secret No. 8: Disney characters dress up in the tunnels.
The Disney Utilidor is where the transformation of your favorite Disney characters happens.
Aside from being a passageway, the Disney Utilidor also has rooms where entertainment cast members can do their costume changes.
Cast members who portray Disney characters can't be seen wearing their costumes in public outside of the theme park. They also cannot bring their costumes outside of Disney property. This is to keep the integrity of these Disney characters.
So it will be easier for them to dress up, cast members store and pick up their costumes for the day in the Disney Utilidor.
For some who have multiple character costumes to "check out", there are rolling black suitcases in the hallway which they can use. These trolleys make it easier and more efficient for them to transport their outfits around the tunnel.
After their shift, they have to return these costumes in the storage room in the Disney Utilidors.
You won't see Disney characters walking around or hanging out in places where they are not supposed to be in because of this.
Secret No. 9: Cast members hang out in the Disney Utilidor – and they eat there too!
More than just a hallway, control room, and wardrobe, the Disney Utilidor is a city of its own. It houses the administrative offices and rooms that offer cast member services.
Among these services are a check cashing area, separate locker rooms for men and women, and even rehearsal rooms. It's safe to say the Disney Utilidor is the behind-the-scenes area of the Disney theme park.
While waiting for their shift, preparing for their roles, or even taking a break, Disney cast members stay in the Disney Utilidors.
You can also find their cafeteria there where they have food options such as Subway. The cafeteria's name is very cute too – the Mouseketeria.
Secret No. 10: Cast members can get a haircut in the Disney Utilidor.
A hair salon? What can you not find in the Disney Utilidor? Yes, I was equally amazed as you when I discovered that a salon exists right below the theme park.
Called the Kingdom Kutters, this cast member salon helps groom the cast so they look their best.
Good grooming is something Disney expects from their employees so they have policies in line with appearance and hair styles. Having a salon in the theme park will make it easier for cast members to keep their grooming in check.
Secret No. 11: There is a Glow Room in the Disney Utilidor.
Imagine a room filled with light-up bracelets, necklaces, swords, and Mickey ears. It's every Disney kid's dream, right?
Disney stores carts selling these Disney merchandise and accessories in an area in Disney Utilidor.
The Glow Room, as they call it, serves as the storage area for these Disney trinkets.
Secret No. 12: The Disney Utilidor is a Disney pin collector's haven.
Have you come across a Disney pin being sold in online markets like eBay? Well, to some Disney lovers, these pins are a valuable collection.
The Disney Utilidor is where you can find these pins which cast members wear to work.
Oftentimes, these pins get worn out because of time and usage. Cast members have these pins changed and ask for new shiny ones in the Disney Utilidor.
Imagine all the Disney characters pin you can find there. It truly is a collector's haven.
Secret No. 13: Cast members play regular non-Disney music in the Disney Utilidor.
You would think that because the utility system is in Disney grounds, everyone will still listen to Disney bops.
Here's a revelation: They listen to regular non-Disney music in the Disney Utilidor.
Aside from easy access, Disney made the Disney Utilidor so cast members can have their own safe space to enjoy their break.
Since Walt Disney World screams Disney, cast members get to enjoy time away from all things Disney while they are down under. There are no strict rules on playing non-Disney tracks. They can spend their break time blasting their favorite songs and no one will judge.
Secret No 14: The Disney Utilidor is so huge cars can pass through!
Here's a secret that will surely shock you. Walt Disney World's tunnel system is so big, even vehicles can pass through.
There are certain limitations, though. While the Disney Utilidors can accommodate vehicles, they do not allow gasoline-powered ones. The only exceptions are armored trucks that pick up the cash for the day and in some cases, ambulances.
Cast members go through the tunnels on foot but they can also opt to use battery-powered vehicles that look like golf carts.
There are also vehicles and carts that help the crew in transporting goods. Delivery trucks drop supplies by the entrance of the Disney Utilidors. The crew then transport items and store these items in the utility system.
Can you already imagine how big the Disney Utilidor is? I can!
Secret No. 15: You can have a tour of the Disney Utilidor.
The Disney Utilidor is like a top-secret-but-not-so-secret area in Walt Disney World. Guests cannot enter the Utilidor, let alone explore it.
Don't feel discouraged just yet! The good news is that Disney is offering a tour where you can discover the secrets of the Disney Utilidor.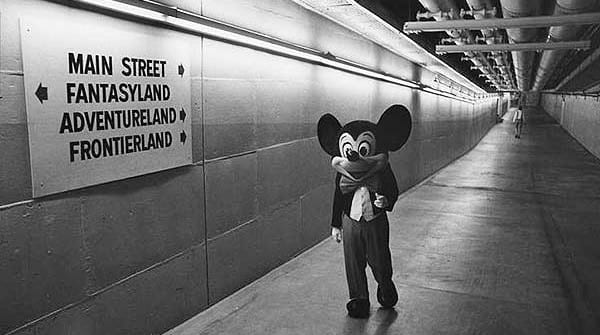 The Keys to the Kingdom tour is a five-hour walking tour that lets guests explore the secret locations in the Magic Kingdom. Tour participants will also have a glimpse of the Disney Utilidor.
Everyone can join the tour but there is an age requirement. You need to be over the age of 16 to be able to participate in this tour. Disney set the age requirement to avoid the magic of Disney being ruined for kids.
Disney Utilidor: Walt Disney World's Not-So-Secret Secret
There is so much mystery that lies beneath the parks of Walt Disney World.
While the crowd is enjoying the attractions the theme park has to offer, unbeknown to them, a community rests, prepares, and operates right below them.
Be sure to keep these secrets in mind the next time you visit Walt Disney World. You might even catch a glimpse of the world down under!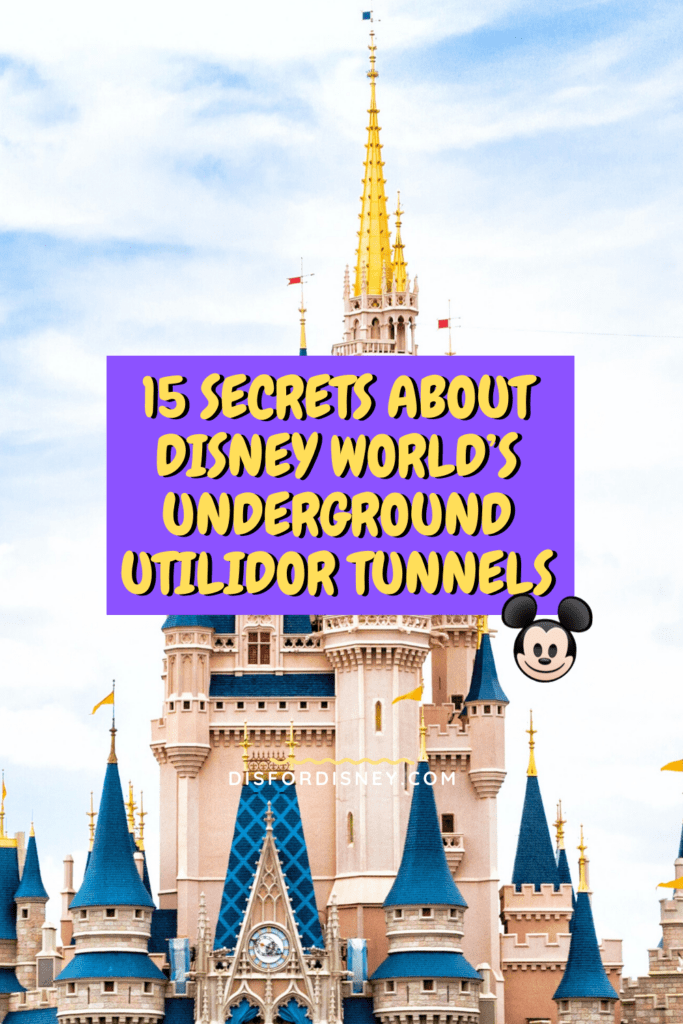 Share this post on your Facebook, Twitter, or Pinterest page with the easy share icons below.
Neal Tucker is one of the world's most engaging Disney influencers, with thousands of views and responses across his blog, podcast, and social media profiles every month.
Get started with more D Is For Disney content here