We're all beyond excited for the Disney theme parks to reopen. Shanghai Disneyland reopened, Hong Kong is reopening soon, and Walt Disney World will reopen their gates in July. But, many are wondering if it will be the same park we're used to. One big question people are asking is this: "Will there be character dining meals when Disney World reopens?"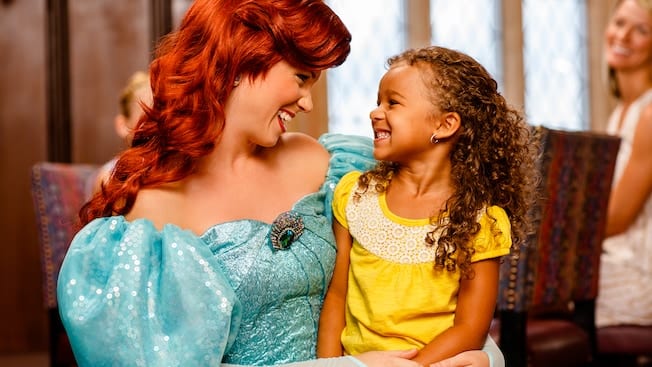 Will There Be Disney Character Dining Meals When WDW Reopens?
One of the biggest questions coming up in recent weeks concerns WDW reopening.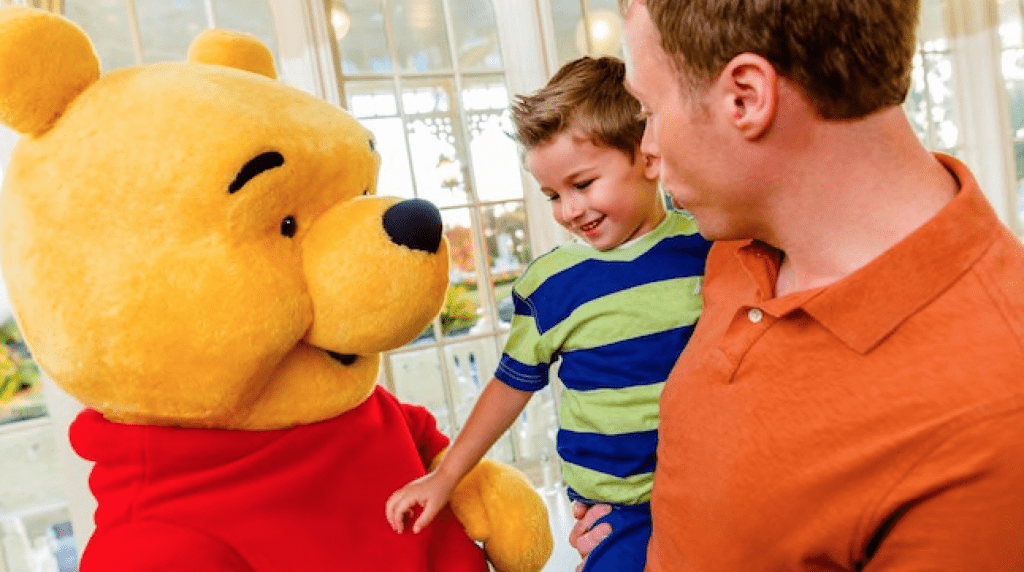 This particular concern has to do with character dining meals and whether the parks will allow them for now.
We know a few things so far:
Yes, character dining will be allowed when Walt Disney World reopens.
Reservations will be limited, and some menu items won't be available.
Most importantly, which characters can children choose to dine with? And where will the character meals take place at Walt Disney World Resort?
Currently, there will be only one character meal experience upon reopening. It will take place at Topolino's Terrace at Disney's Riviera Resort.
As it stands on Disney World's website: "Character Dining will not be offered during the initial reopening, with the exception of a modified Character Dining experience at Topolino's Terrace – Flavors of the Riviera."
Other changes include the following:
Additional changes to Walt Disney World dining experiences include:
Menu items may vary. For specific menu information, check the restaurant's online menu when the restaurant reopens.

Dinner shows will not be offered during the initial reopening.

Dining locations will be limited in capacity. Some locations will remain temporarily closed.

Private dining and in-room delivery will not be offered during the initial reopening window.

Mobile order service will be offered at select quick-service dining locations throughout the Walt Disney World theme parks (when open), Disney Springs and select Disney Resort hotels.

Walt Disney World
That's quite a few changes, but it's all for a very good reason, of course.
Disney wants to maintain the health and safety of Cast Members and theme parks guests as much as possible.
Breakfast á la Art with Mickey and Friends
Children can experience "Breakfast á la Art" with Mickey and Friends at Topolina's Terrace.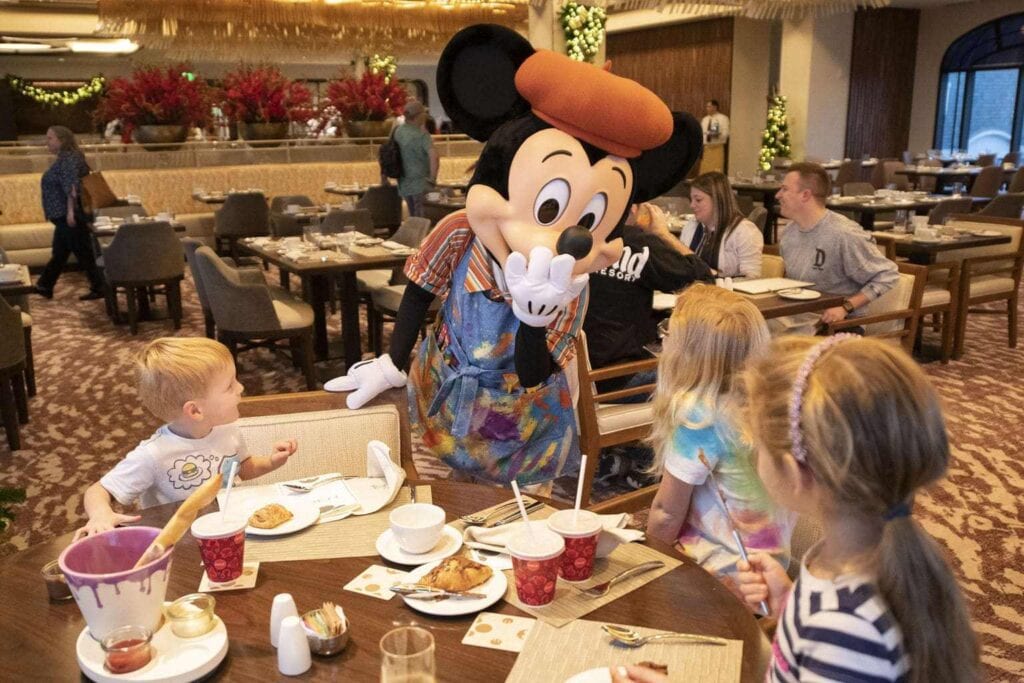 Of course, Disney notes that the experience will be "modified". We also know that certain menu items may not be immediately available.
Even so, it's sure to be a magical experience.
One of my favorite memories in life is the character breakfast I had on my first trip to Walt Disney World. It's something that I'll truly never forget.
Here's how Disney World describes the meal:
Start your morning with breakfast at this beautiful rooftop restaurant offering an exclusive storybook dining experience. The prix fixe menu offers delicious choices to please everyone in the family.

While enjoying breakfast and the bird's eye views, meet some of your favorite Disney Friends for a perfect photo and autograph opportunity! You may find yourself mingling with Mickey Mouse, Minnie Mouse, Donald Duck and Daisy Duck—stylishly dressed from head to toe in outfits unique to Topolino's Terrace!

Walt Disney World
Sounds pretty special to me! All of the storybook dining experiences are wonderful. Disney makes sure of that.
What's the Menu at Topolino's Terrace at Disney's Riviera Resort?
As Disney World has mentioned, some options may not be available.
Even so, view the menu options below, and watch this great video for a quick walkthrough of all the food and character experiences you can expect here.
Here's the standard menu options for Breakfast á la Art with Mickey and Friends.
Breakfast begins with fresh pastries—delicious Danish, croissants, blueberry scones, or Epi bread—a rustic pull-apart baguette shaped like a wheat stalk.

Your choice of entrées follows: Quiche Gruyère with house-made pancetta, Sour Cream Waffle, Wood-fired Butchers Steak, Smoked Salmon, Spiced Sausage Hash, Two Eggs Any Style, plant-based "Egg" Omelet and more.

Walt Disney World
They end the description with these words: "Whichever you select, breakfast in this charming café is an enchanting way to start your day."
Speaking from my own experience with character breakfasts, I can 100% vouch for this. It's as special as anything else you'll do at Disney World with your kids.
Learn more about the Disney character breakfast at Topolino's Terrace at Disney's Riviera Resort here.
What Else Will Change at Disney World?
Disney World will reopen its gates on July 11th and July 15th, depending on the theme park.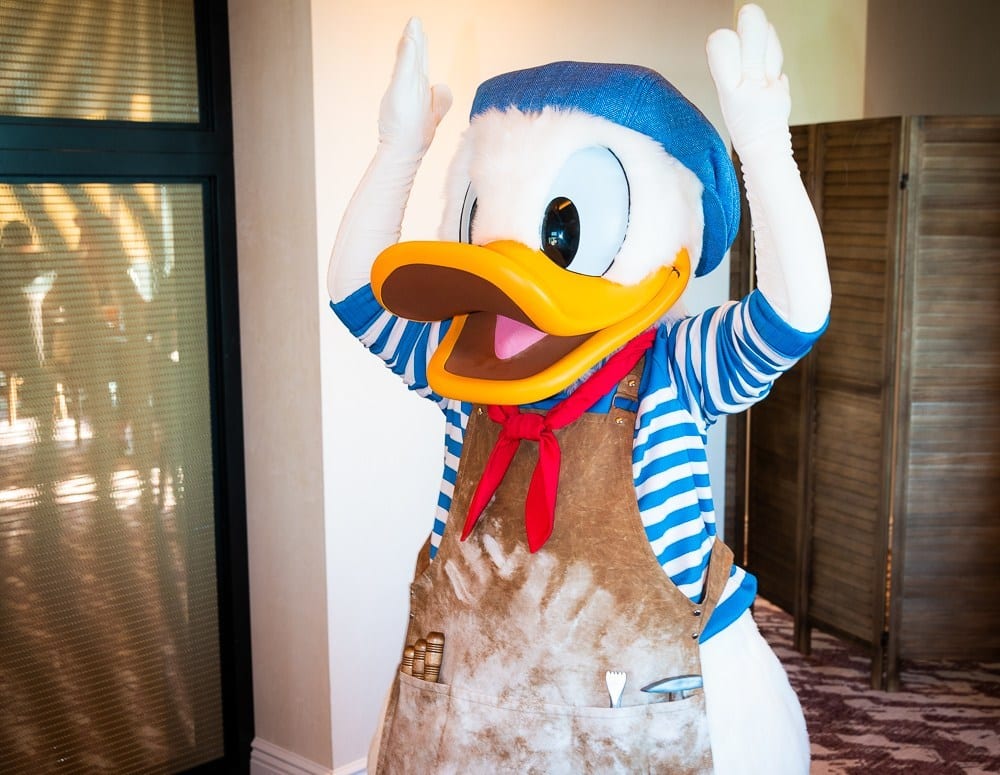 When that happens, we all know that we should expect a number of changes to the overall experience.
For one thing, we'll have to get our temperature checked before entering. We also know that social distancing will be enforced, both by ground markers and by helpful Stormtroopers.
Of course, other aspects will have to change, too. We discovered recently that Cast Members won't be allowed to hold our phones or cameras. This is, of course, to help prevent the spread of illness.
Whatever other changes there may be, I'm fine with it. I just want to get back to Disneyland as soon as humanly possible. I've got a good feeling you feel the same way! 🙂
Find out exactly what to expect when Disney World reopens and learn all about the new virtual reservation system at Disney World.
Share this post on your Facebook, Twitter, or Pinterest page with the easy share icons below.
Neal Tucker is one of the world's most engaging Disney influencers, with thousands of views and responses across his blog, podcast, and social media profiles every month.
Get started with more D Is For Disney content here