The Tampa Bay Buccaneers just won the Super Bowl LV on February 7 at home at their very own Raymond James Stadium. And to celebrate his 7th Super Bowl ring, Tom Brady and his teammate Rob Gronkowski (now with 4 rings) are going to…you guessed it…Disney World!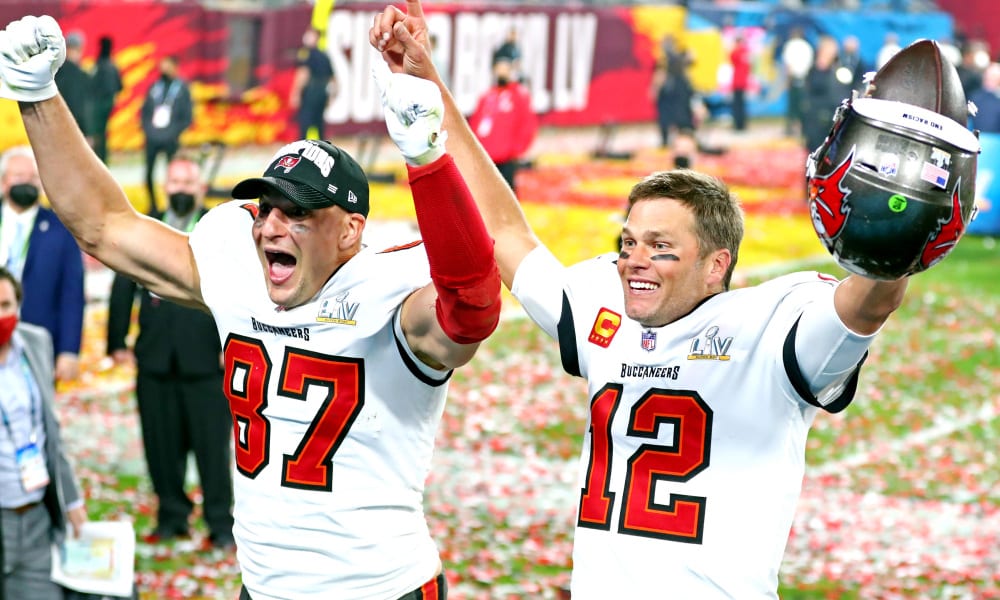 Tom Brady & Rob Gronkowski: "We're Going to Disney World!"
Every year, the commercial features victorious Super Bowl stars and their happy faces.
This time, the stars of the spot came from the Tampa Bay Buccaneers, winning with a final score of 31-9 over the Kansas City Chiefs.
The long-time teammates and star players Tom Brady and Rob Gronkowski capped the night by appearing in the traditional "I'm Going to Disney World" commercial.
The commercial aired on social media and television.
Disney World's Support to the Buccaneers & Healthcare Heroes
After the game, Walt Disney World Resort showed its support by lighting up Cinderella's Castle with the Buccaneers' colors.
However, this year, Disney did not only celebrate the football champions. The castle was also illuminated in blue to honor the healthcare heroes who are on the frontlines bravely battling the pandemic.
Tom Brady Is Super Bowl LV MVP
Did you know that Brady now has 7 victories out of his 10 Super Bowl appearances? Amazing, isn't it?
In fact, he had said the "I'm going to Disney World" line THREE TIMES(!) before — in 2002, 2004, and as recently as 2019.
Saying the magical line is not new to Brady, who was named MVP right after the game.
The quarterback was spotted hugging and kissing his kids and celebrating with his family.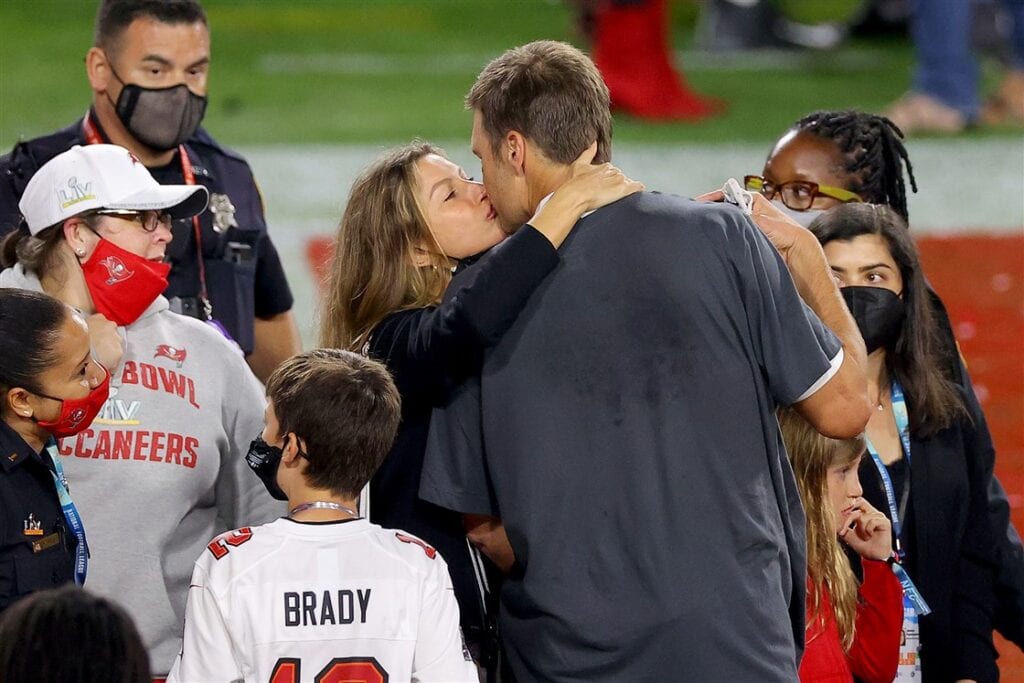 Brady and his wife, Gisele Bündchen, have a son named Benjamin Rein, 11, and a daughter named Vivian Lake, 8.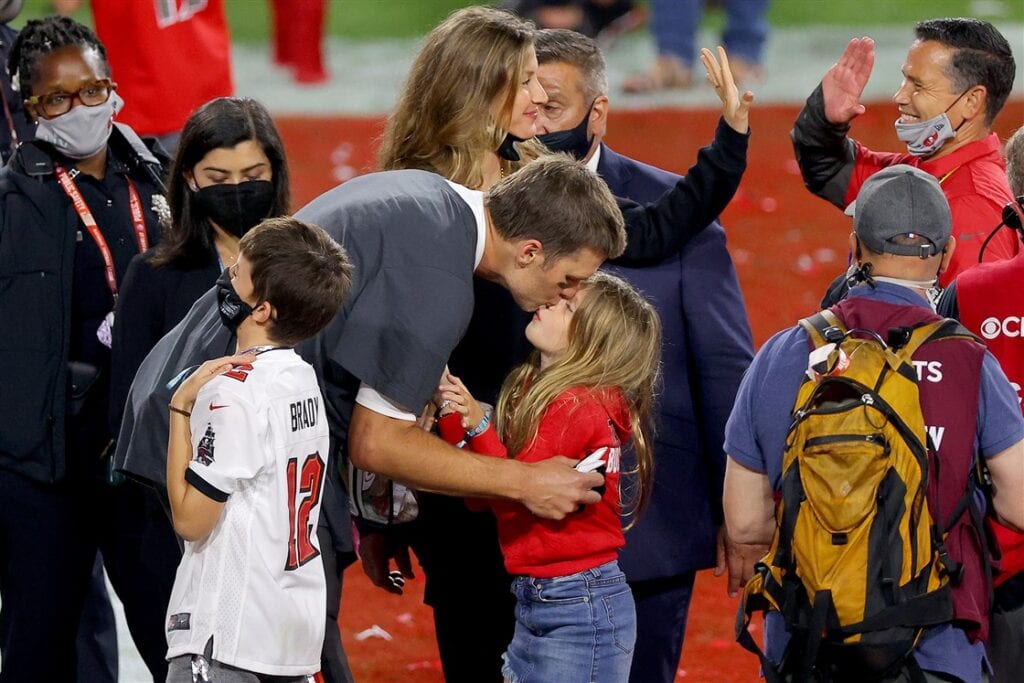 Brady is also a dad to John "Jack" Edward, 13, whom he shares with Bridget Moynahan, from a previous relationship.
Gronkowski Goes to Disney World
Gronkowski, nicknamed Gronk, came out of retirement to join the Buccaneers, and with the team's recent victory, he clearly made the right choice.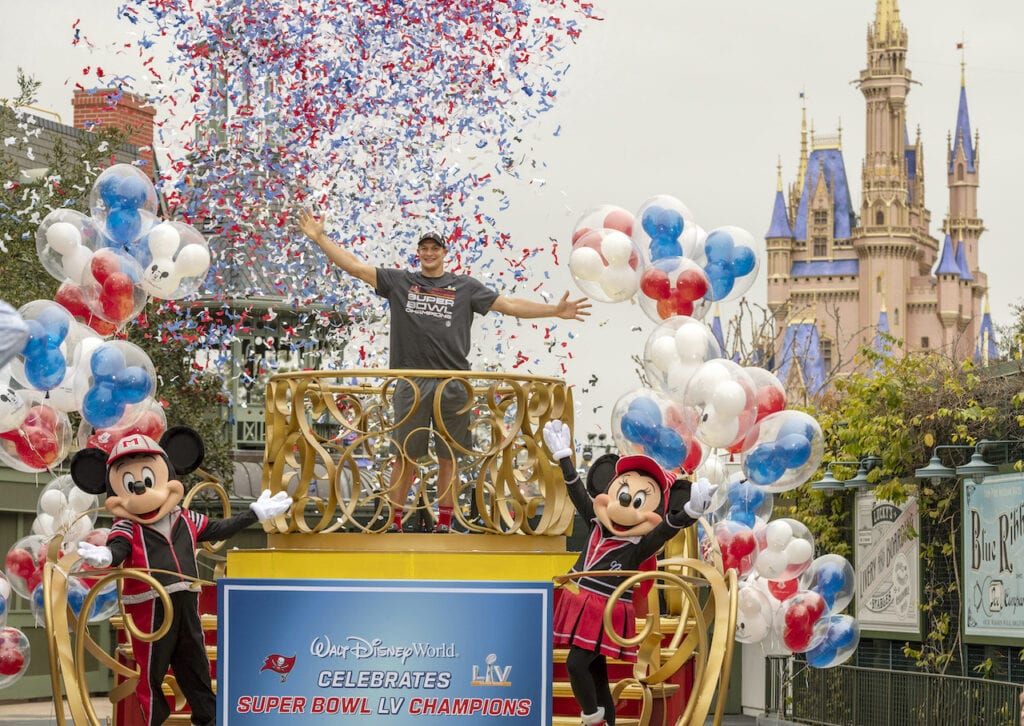 On February 8, he headed to Disney World, celebrating his team's triumph by enjoying the park's attractions.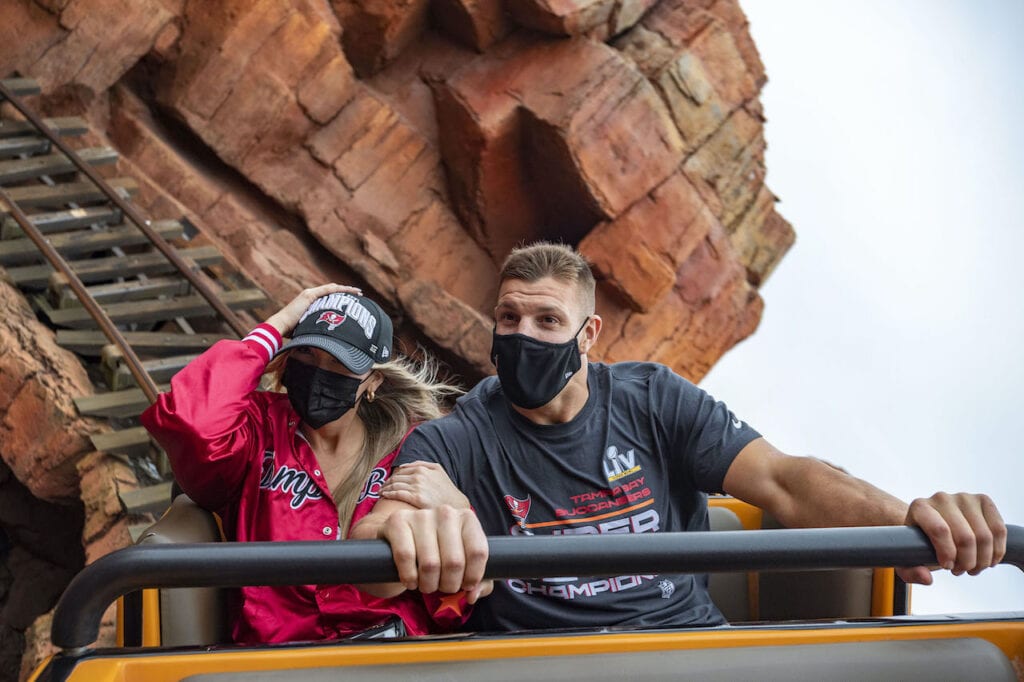 The gregarious tight end had his own adventure in a galaxy far, far away in Star Wars: Rise of the Resistance at Disney's Hollywood Studios. He also braved "the wildest ride in the wilderness," Big Thunder Mountain Railroad, at Magic Kingdom Park. And he even had a few moments to celebrate backstage near Cinderella Castle with Mickey Mouse and Minnie Mouse.

Disney Parks Blog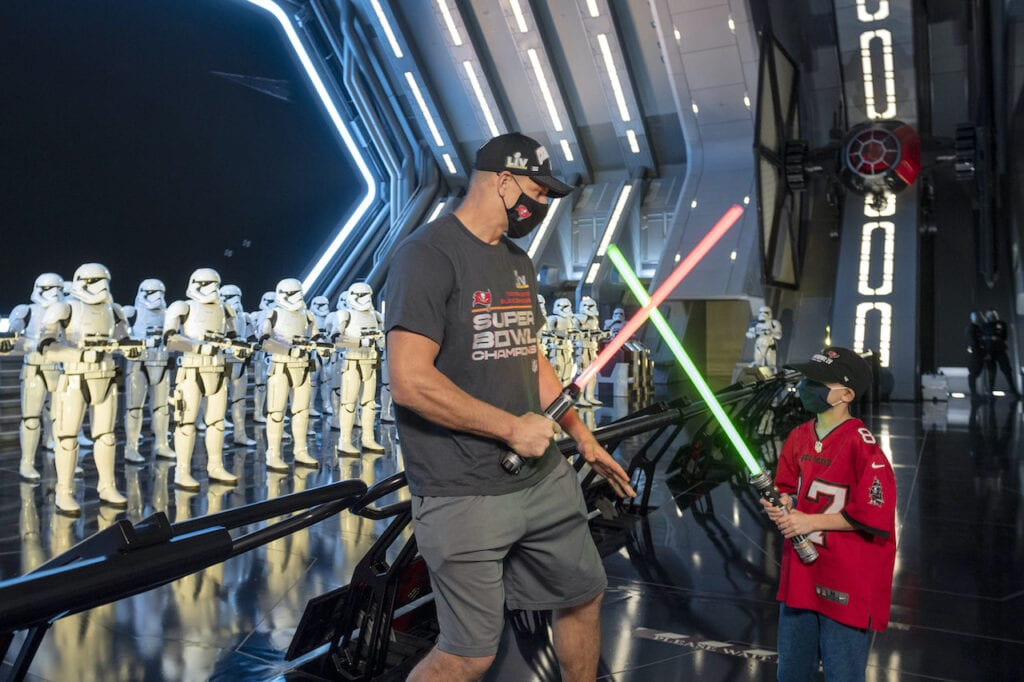 On the other hand, Disney says plans are underway for MVP Tom Brady.
According to Disney, Brady will mostly visit the Most Magical Place on Earth in the coming months.
Unfortunately, the annual parade down Main Street, U.S.A., won't be happening this time.
The History Behind "I'm Going to Disney World"
For those who didn't know, the iconic commercial began way back in 1987.
After the 1987 Super Bowl game, Phil Simms, the quarterback of the winning team, New York Giants, uttered that magical line for the first time.
Since then, the commercial has been played at the end of the Super Bowl game almost every year, except in 2005 Super Bowl XXXIX and 2016 Super Bowl 50, when no commercials aired.
Still, Peyton Manning, Super Bowl 50's winning quarterback, went to Disneyland anyway.
In case you're wondering, the players who utter the sentence really do visit Disneyland or Disney World! 🙂
Usually, they go the day after the game.
Final Thoughts
Gronk has already celebrated their victory with spectacular sights, sounds, and thrills of Disney World.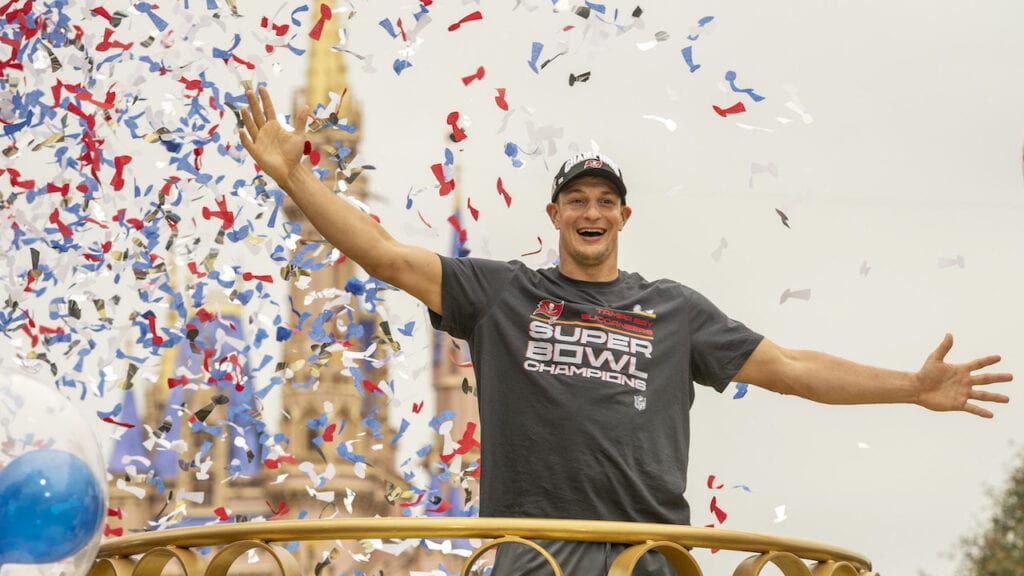 Was he surprised by the updates at Disney World? We may never know.
What we know (from the videos and photos) is that he enjoyed his visit.
On the other hand, there's no exact date for Brady's visit yet, but one thing's for sure: he'll be having a magical time!
Have a magical day!
Keep Reading
How to Get Free Disney Tickets to Disneyland and Walt Disney World [UPDATED]
Share this post on your Facebook, Twitter, or Pinterest page with the easy share icons below.
Neal Tucker is one of the world's most engaging Disney influencers, with thousands of views and responses across his blog, podcast, and social media profiles every month.
Get started with more D Is For Disney content here